Few restaurants in the world can boast a castle view, but the Plaza Restaurant in Disney World's Magic Kingdom is one location with an enviable vantage point. You can look out and enjoy the sight of Cinderella Castle as you dine from this cozy restaurant just off Main Street U.S.A. Plus, now the location recently updated its menus for Breakfast, Lunch, and Dinner.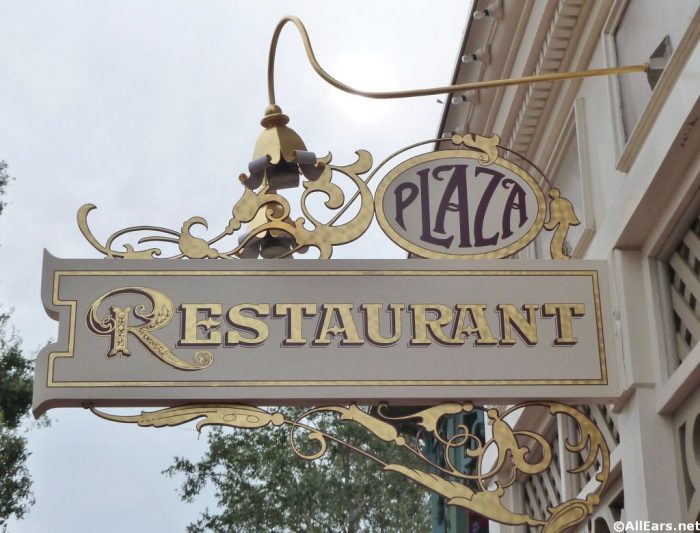 We work to maintain and update our menus on a continual basis to help you plan your trips. Recently, we spotted some significant changes to the Plaza that you'll want to be aware of.
Until this past November, the Plaza Restaurant was only open for Lunch and Dinner and used the same menu for both meals. Now the Plaza offers Breakfast, Lunch, and Dinner — and all three meals have a separate listing of items on offer.
Breakfast Menu at the Plaza Restaurant
Breakfast service started at the Plaza in November and originally ran as a test, slated to end on January 4, 2019. The test must have proven successful, however, as breakfast service was extended into March, and now we see that Advanced Dining Reservations are available on Disney World's website through June 1, 2019.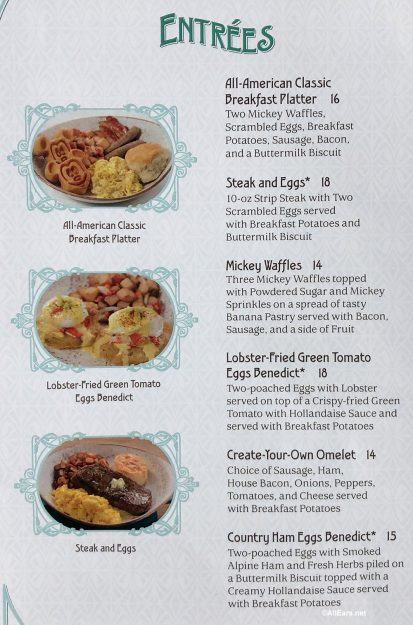 Options for Breakfast include
All American Classic Breakfast Platter
Steak and Effs
Mickey Waffles
Lobster-Fried Green Tomoto Eggs Benedict
Country Ham Eggs Benedict
The kids can get in on some of the breakfast fun as well! When we were there we even spotted sprinkles on their Mickey Waffles!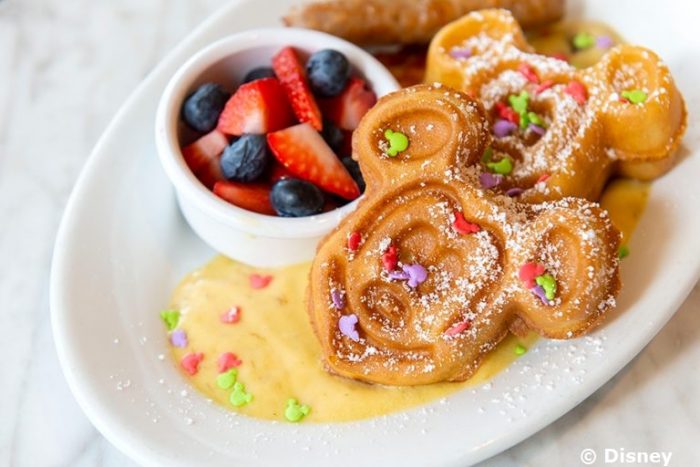 Lunch Menu at the Plaza Restaurant
The Lunch menu is basically what most regular visitors to the Plaza Restaurant have been used to as the previous Lunch/Dinner menu.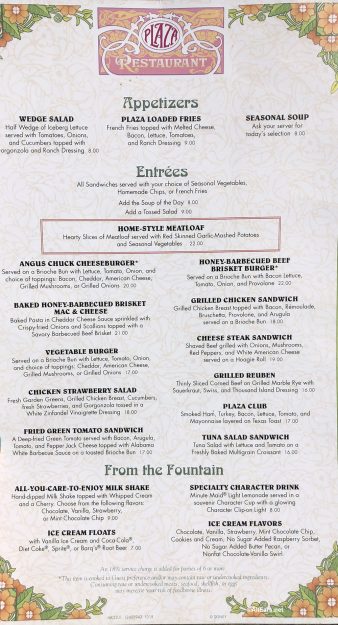 You'll find the classics including Meatloaf, Plaza Club, and the Grilled Reuben. Plus, some "specials" have now made their way to "permanent" status on the menu, such as the Plaza Loaded Fries, and the Baked Honey-Barbecued Brisket Mac & Cheese.
To close out your lunch you can still order the All-You-Care-To-Enjoy Milk Shake as well as other specialties from the fountain.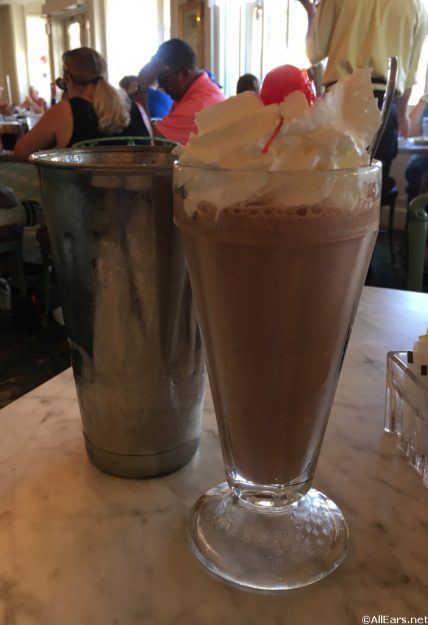 Dinner Menu at the Plaza Restaurant
Dinnertime is when the Plaza has shaken things up a bit. The updated Dinner menu includes some classics from the Lunch menu, such as the Meatloaf and Angus Chuck Cheeseburger. But, a number of lunchtime faves have been removed: Grilled Reuben, Cheese Steak Sandwich, Grilled Chicken Sandwich, Tuna Salad Sandwich, Plaza Club, Vegetable Burger, Honey-Barbecued Beef Brisket Burger.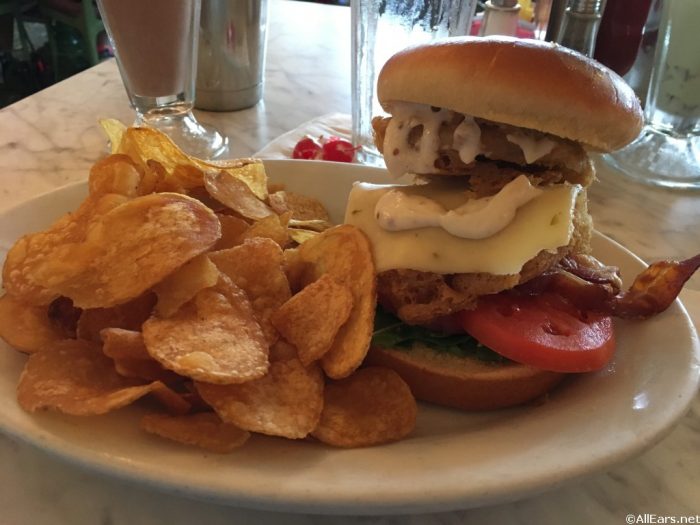 Instead, you'll find some Dinner-only items like the Lobster Fried Green Tomatoes, Lobster Cobb Salad, Kentucky Turkey Hot Brown Sandwich, Smoked Pork Chop, Vegetarian Bangers and Mash, and Strip Steak.
Dinner also offers some specialty alcoholic and non-alcoholic drinks. You can indulge in the Milkshakes and Floats from the fountain during dinner as well!
We update our menus very frequently, and if you're looking for recent changes there's an easy way to do just that. Click on, "Click here to view recent changes" under the Last Updated date on the menu page and there you'll see what changes have been made to the page.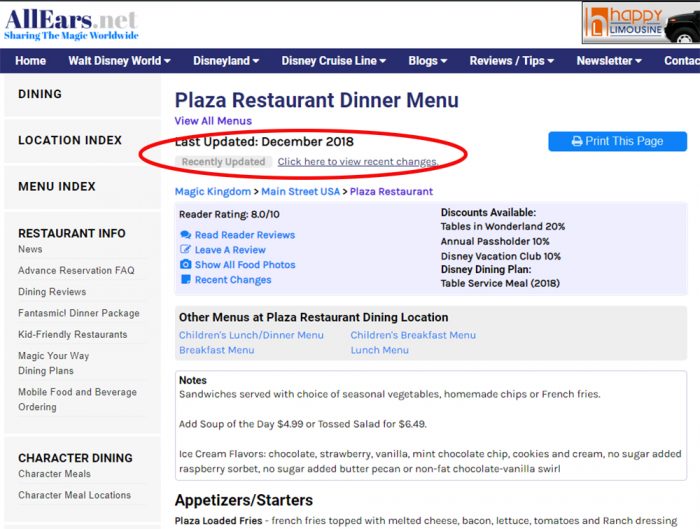 When was the last time you dined at the Plaza Restaurant? Let us know in the comments below, and don't forget to visit our Rate and Review section to leave your review!
Remember! When you're in Disney tag us @allearsnet in your photos!
Want more AllEars.Net content? Be sure to check out our YouTube Channel for reviews, news, information and more! 
Subscribe to the AllEars® newsletter so you don't miss any exciting Disney news!