With new badges to earn in Pandora, there are now a total of 31 Wilderness Explorer badge opportunities. Want to learn how you can score them all in just one visit? Wait — do you even know what a Wilderness Explorer Badge is?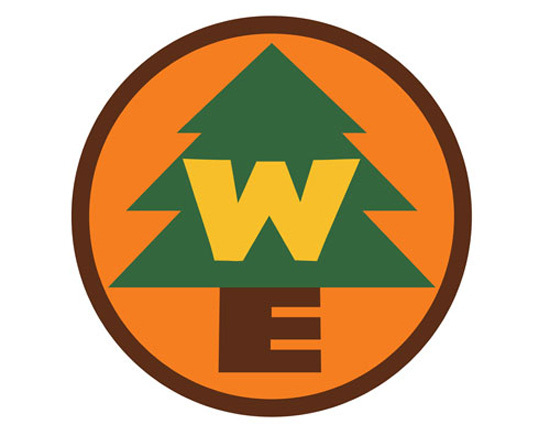 Well, come along Explorers! We'll teach you everything you need to know. The wilderness must be explored! CA-CA! RAAWWRR!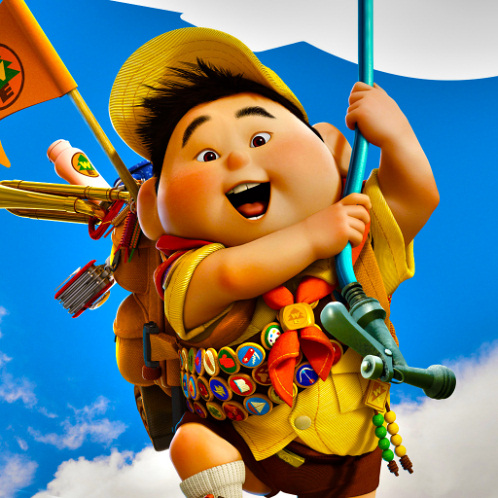 The idea behind the Wilderness Explorer badges is borrowed from the Disney-Pixar movie UP. In the film, young Russell is one of these Boy Scout-types trying to earn his "Assisting the Elderly" badge by helping our favorite grumpy old man, Carl Fredriksen. (If you haven't seen this UPlifting tear-jerker before, you should add it to your must-see Disney flicks list!)
The "worldwide organization" of Wilderness Explorers gives kids (and adults who are kids at heart) the opportunity to earn badges (stickers) as they explore the wilderness of Disney's Animal Kingdom, learning about conservation for our environment and fun animal facts along the way. You can earn your badges by completing activities, both hands-on and in workbook format, as you travel through different lands around the park. This is a great activity for youngsters to complete while their older counterparts enjoy the rides, but it's just as much fun for the whole family to do together.
Starting Out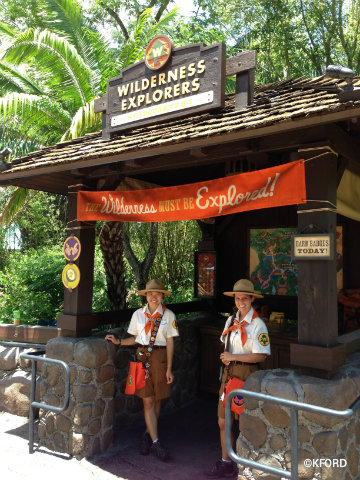 To get started, visit the Wilderness Explorers Headquarters. You'll find this location at the bridge leading into Discovery Island. Just look for the brightly colored Wilderness Explorer logo (it marks the locations for each activity). Troop Leaders (in uniform) will teach you the Wilderness Explorer Call and motto, which earns you the first badge. Grab your official Handbook and a pencil before heading off on your journey. Watch out for animals all day long to earn your Animal Find Badge. It can take you anywhere from just a few minutes to a half-hour to earn each badge, and there is some reading involved, so be prepared to give your littlest Explorers a hand. Keep your eyes open for Badge Guides, who will be wearing a Badge Satchel, in each location on your map. They'll be the folks who will give you your stickers and will also give you hints when you get stuck.
Recommended Path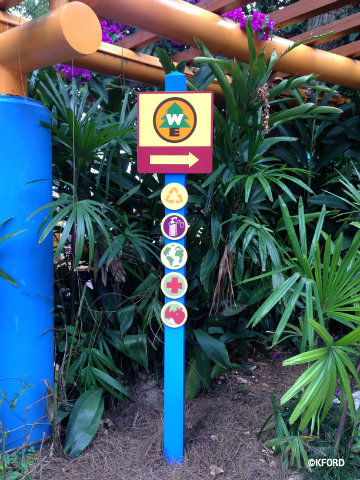 We suggest that you arrive at Animal Kindom early to start on your WE quest.  Pandora – The World of Avatar  is very popular and can be a very hard land to maneuver around in. Therefore, we advise that you start here after picking up your Handbook. There are two badges to earn in Pandora, where you'll learn about its animals and foliage.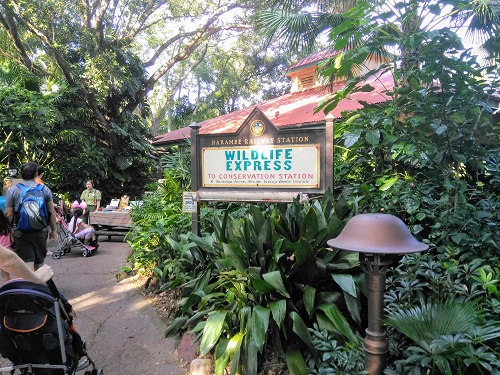 Next, head into Africa, where you'll have the opportunity to score 13 different badges. We think you should start with the Safari Badge and work your way through the different hiking trails. Next, head over to the station for the Wildlife Express train. The train, which normally takes park-goers to Rafiki's Planet Watch, isn't currently operating while RPW is closed for refurbishment, but there are still Badge Guides at the station ready to assist young Wilderness Explorers. You can earn five badges there in one convenient grouping. Don't forget to pick up the Music Badge before exiting Africa. Consult your map at the front of your Handbook to make sure you don't skip badges!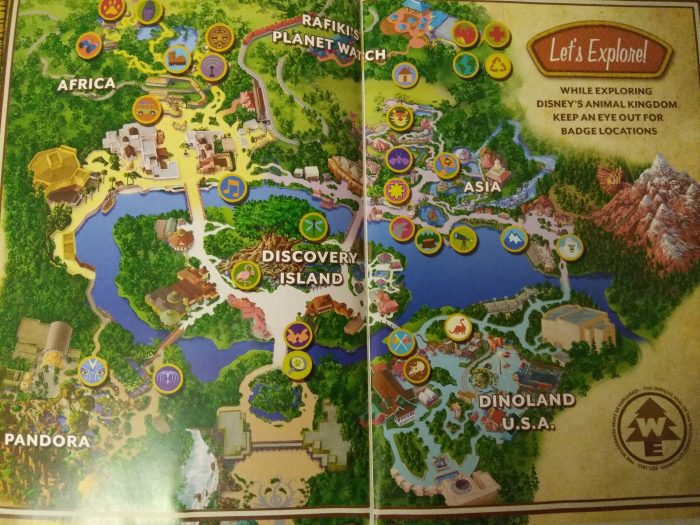 Head over to Asia after you finish up in Africa. Earn a few badges on your way back to the Maharajah Jungle Trek, where you can then work for your Tiger Badge. Be sure to check your map, as there are three badges in the front of this area that are easy to miss: The Animal Call Badge, the Forestry Badge, and the Telescope Badge. Earn two more badges in front of Expedition Everest for a total of nine badges for this land.
Follow the path to Dinoland, U.S.A. where you can earn three more badges by learning about fossils and digs. Start with your Dinosaur Badge in the Boneyard. Then, head across to the Troop Leader Post area before working your way to the main entrance of this land for the final Dinoland badge.
Head back to the Tree of Life area where you'll work your way around to the exit of It's Tough to be a Bug! for your Insect Badge. Then walk over to the flamingos in Discovery Island to pick up your final badge of the day. Don't forget your Animal Find Badge on your way out of the park!
And that's all 31 badges! We hope you remember which feathered and furry friends you saw throughout your adventures.
If you don't complete everything in one trip, that's OK. You can bring your booklet back to the park as many times as you'd like.
Rankings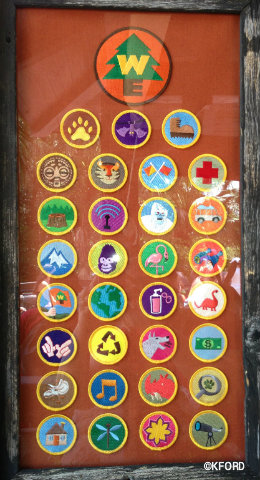 The back of your Handbook features a rankings list. Earning five badges makes you a Tadpole, 10 badges a Minnow, and 20 badges or more makes you a Fish. If you score all the badges, you'll be considered a Senior Wilderness Explorer.
Will you be taking on this challenge? Let us know in the comments below! And don't forget to check out the new UP! A Great Bird Adventure show in Animal Kingdom for more fun with Russell and Dug!
And if you or someone you know is a big fan of UP, don't forget that shopdisney.com has a great selection of UP-themed merchandise for sale!