Introducing Pandora – The World of Avatar
by Debra Martin Koma
AllEars® Editor
Feature Article
This article appeared in the May 30, 2017 Issue #923 of ALL EARS® (ISSN: 1533-0753)
Editor's Note: This story/information was accurate when it was published. Please be sure to confirm all current rates, information and other details before planning your trip.
Are you tired yet of all the stories, photos and videos about Pandora – The World of Avatar, which finally opened over the weekend after years of anticipation? Can you stand one more person's thoughts on the subject?
Well, if you can, let me tell you, lest you think that the newest land in Disney's Animal Kingdom can't possibly live up to all the hype — it DOES!
I had the opportunity to experience Pandora myself last week during Walt Disney World's press preview, and I must say I was overwhelmed. Please allow me to share my "take" on this new land and its attractions.

THE THEME
When you read about Pandora – TheWorld of Avatar, you're bound to come across phrases like, "They nailed it!" or "They hit it out of the park!" And the truth is, they — they being the Walt Disney Imagineers — really did. I've been intrigued over the last months, watching the construction at Disney's Animal Kingdom from a distance, seeing the bridge leading from what used to be Camp Minnie-Mickey into a mysterious unknown. And as I saw the floating islands take shape, my anticipation grew. I was not a huge fan of the original AVATAR film, but I saw the potential for Disney to create a whole new fantastical world based on what the movie had started. I really thought it could be great.
Let me tell you, that seeing the floating islands from afar, or seeing photos of the new Mo'ara Valley, does not come close to experiencing it all in person. Standing under those floating islands for the first time, I felt a sense of awe – on one hand I marveled at the ingenuity it took to create the illusion of rocks simply floating in the air. On the other, I realized that I felt like I was actually in another world – I was IN Pandora. Waterfalls cascaded in the background. Plants of no shape or colors I had seen in plants on Earth surrounded me. There were even sound effects of creatures that I couldn't name. I felt transported.
When I returned to see Pandora at night, that feeling intensified. The bioluminescence of the flora and walkways was magical, and the nighttime noises gave the whole land an eerie and wild feeling. As Matt Beiler, an Imagineer who spent the last several years working on Pandora noted, "This is the first land that tells a single story, and we want you to be fully immersed in that story. We think that the story is seamless throughout Pandora."
Yep, I'd say as far as theming goes, Pandora – The World of Avatar has set the bar at an incredibly high level for all future efforts. (Which makes me even more excited for Star Wars Land than I already was!)
THE ATTRACTIONS
As you probably already know, Pandora has two attractions — the Na'vi River Journey and Avatar Flight of Passage.
SPOILERS AHEAD! If you don't want to know more about these new attractions skip this section!
The Na'vi River Journey is a very gentle boat ride through the bioluminescent forest of Pandora at night. I found it to be a beautiful, smooth ride with a lot to look at. At times, I wasn't sure if the figures I saw were actual animatronics, or simply projections. Beiler said that they were especially proud of the Shaman of Songs, the Audio-Animatronic that makes an appearance near the end of the boat ride.
"The Shaman is the most technologically advanced animatronic to date," he noted. "We wanted her performance to be as realistic and believable as possible, which required us to push the technology. Her movements are so fluid and you can even see the emotion on her face."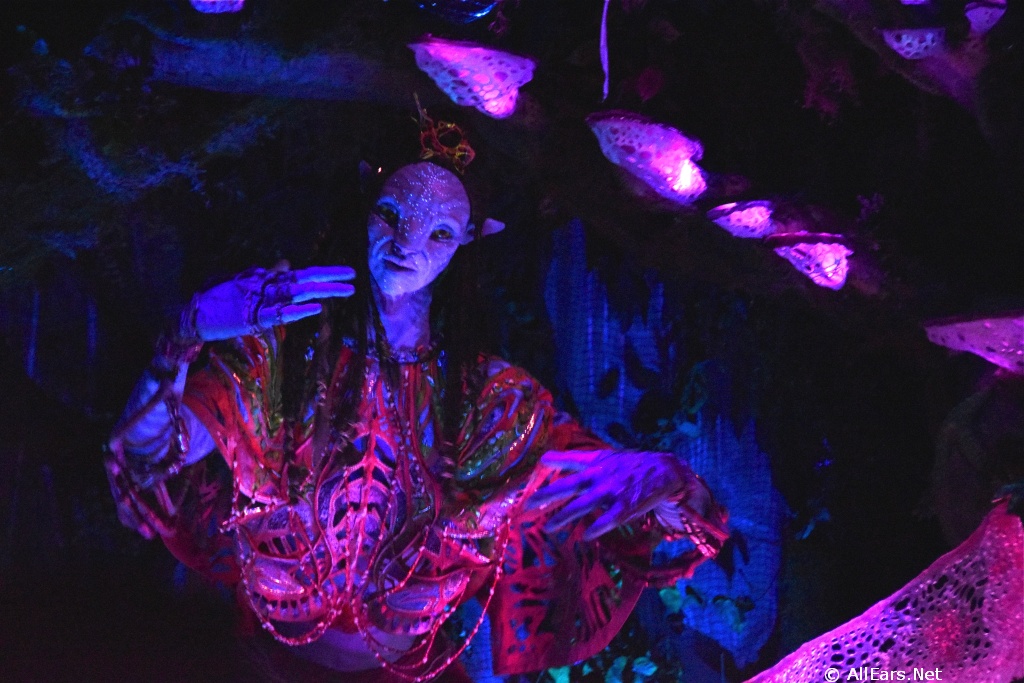 I have to agree that the Shaman is impressive. The ride actually stopped for a good long while in front of the Shaman when I was on it, so I had plenty of time to really scrutinize the animatronic. Its movements are extremely smooth, as Beiler pointed out, and I enjoyed watching it as it cycled through the songs several times. My major complaint about the ride, though, is that it may be difficult for those with physical disabilities to ride. There is no wheelchair-accessible vehicle — riders must get out of their wheelchair or scooter to board. When I asked about this, Beiler said that the goal was always to make all the rides accessible to every guest, but if they can't leave their chair or scooter, they could still enjoy the many other aspects of Pandora.
The big "e-ticket" attraction of the new land is Avatar Flight of Passage, and I can safely say it is the most exhilarating ride I've ever experienced — all other roller coasters and motion simulators I've ever tried included. Imagineer Zsolt Hormay said that this attraction is designed "to transport you on more than one level. It is a connecting process between you and the movie (AVATAR). It also connects you to the Pandora landscape. You feel the wind and the mist in your face. And it connects you to the banshee — you can feel it between your legs, you can feel it breathing. You feel like you're really flying on a banshee."
Yes, you really do. I've heard some people call Flight of Passage a combination of Soarin' Around the World and Star Tours, and that's close, as far as it goes. But it is somehow even more than that. From the moment you straddle the "banshee" vehicle and start to feel its chest heaving as it "breathes" between your legs, this ride throws one surprise after another at you. Every sense is engaged so that you are completely immersed in the experience. You feel the wind rushing around you and the mist on your face as you soar under a gigantic wave, you smell the dank, moist earth and the fragrant flowers as you fly into a cave, you hear the sounds of the banshees and other creatures as they scream and squawk, and you see the astounding scenery whoosh by in 3D as your banshee careens through the forest at alarming speed. You've never had 4 ½ minutes go by so quickly.
Although I had no problems either getting on the banshee vehicle or riding the ride, I have heard some reports from guests who have been unable to experience this amazing new attraction. The banshee vehicle design is restrictive for some people of size; others who have claustrophobia may not be able to withstand the back and leg restraints. Still others who have a fear of heights or motion sensitivity may want to avoid the attraction, due to the intense sensations it creates. There is now a ride vehicle outside the attraction so that you can determine beforehand whether you will be able to ride comfortably. There is also a test vehicle inside if you want to see or feel the restraints. And if you decide not to ride for whatever reason, you can still proceed through the richly detailed 1/3-mile long queue and view the pre-boarding videos, before exiting.
But I would strongly urge to give the ride a try if you can do so without causing too many problems for yourself. To again use an often overused word, it is simply AMAZING!

THE FOOD

The main eatery in Pandora is Satu'li Canteen, a "fast-casual" spot that serves non-traditional fast food. Anna Otero-Knox, the proprietor of Satu'li Canteen, said the cuisine reflects an "eclectic mix of influences — Asian, South American, African" — with an emphasis on the healthy ingredients that the Na'vi would have had available to them. The signature dish is a Create-Your-Own Satu'li Bowl, which allows you to mix and match a variety of proteins (beef, chicken, fish or tofu), bases (mixed grains, salads, or hash) and sauces (chimichurri, black bean vinaigrette, or creamy herb dressing). The canteen also offers bao bun "pods" filled with cheeseburger or vegetable curry.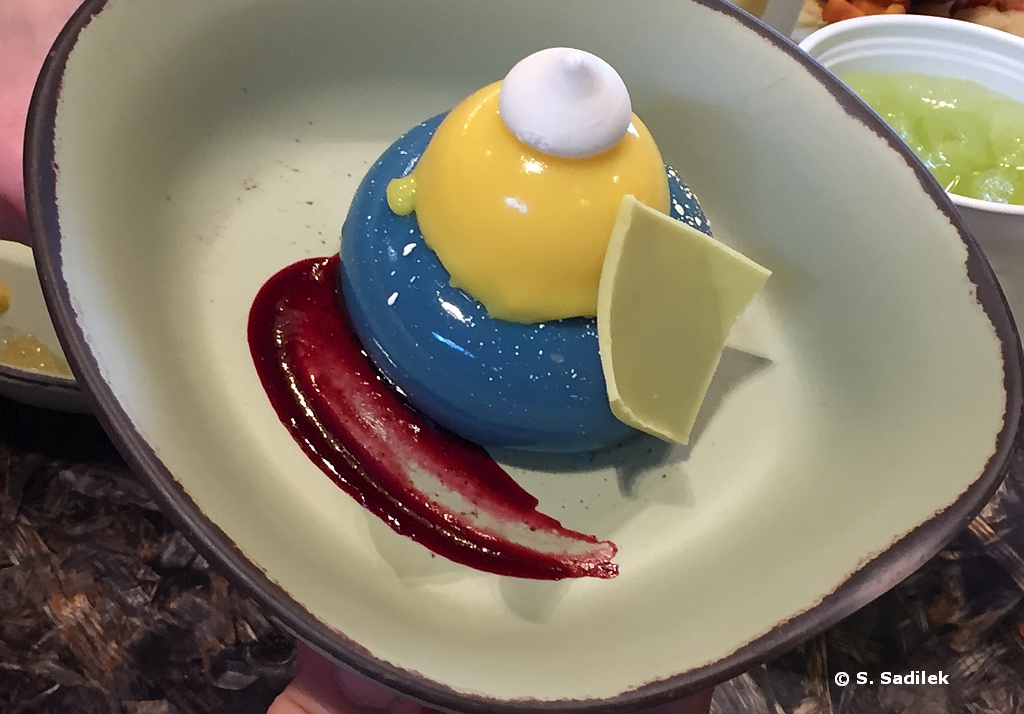 Otero-Knox explained that the building itself is made to resemble an old Quonset hut, a leftover from the days of the RDA, which, if you've seen the movie AVATAR, you know were the military-type Bad Guys who invaded the land of the Na'vi. As the back story goes, the canteen is now operated by Alpha Centauri Expeditions (ACE), an eco-tour group, as a combination mess hall and cultural museum, where you can experience the "bountiful harvest" of Pandora while taking in the exhibits on display like the collection of Na'vi cooking tools and woven Na'vi tapestries.
I had the chance to sample many of the items on the canteen's menu and found everything quite tasty I'm a fairly adventurous eater who appreciates a good curry, and found the vegetable curry pod particularly enjoyable — a little on the sweet side, with a good amount of spice (not spicy hot, just flavorful). The beef and chicken were slightly smoky, but not overpoweringly so, and the sauces added just the right amount of contrast to the main ingredients. I found both desserts, the chocolate cake and the blueberry cream cheese mousse, quite good as well, with the intensely rich chocolate edging out the cheesecake. The only thing I really didn't care for was the vegetable curry base, which had a little too much green pepper for me.
Adjacent to the canteen is the Pongu Pongu beverage kiosk. According to Otero-Knox, this rustic hut is operated by an ex-pat named Zach Hawkes, a former military man who decided to make his home in Pandora. His gathering spot, whose name means Party Party in Na'vi, features a number of specialty drinks and craft beers (one is even GREEN!). I sampled the frozen non-alcoholic Night Blossom, a colorful layered combination of limeade with green apple and desert pear flavors topped with passion fruit boba balls. So sweet it made my teeth sing! Definitely one for the kids, or those who can't get enough sugar. The one snack Pongu Pongu offers, though, is for everyone — the lumpia, which is a pineapple cream cheese filling in phyllo, deep-fried and sprinkled with cinnamon sugar. Served hot, these tasty morsels are truly a Party Party for your mouth!
THE SHOPPING

OK, you know I'm not much of a shopper. But the Pandora gift shop, Windtraders, is pretty interesting and full of merchandise that you won't find elsewhere at Disney World. Those interactive banshees that you've been hearing about are so dang cute, even if they do cost $50. And the apparel that interacts with the bioluminescent forest at night? It's very cool, especially the light-up flip-flops. AllEars.Net's family blogger Kristin Ford has shared more about the shopping options at Windtraders in her blog — I'll let you all read the advice from an expert shopper there!
To sum up, I can't say enough about Pandora – The World of Avatar. In my opinion, the theme is exceptionally well-executed, from small details like the moss that covers everything to the imposing floating islands. I loved the attractions, I loved the food, I loved just standing there looking at the waterfalls and walking through the bioluminescence at night. I may not have been a huge fan of the AVATAR film, but Pandora – The World of Avatar has grabbed my imagination and I can't wait to go back and explore it again.
DISCLAIMER: I was a guest of Walt Disney World for its media and passholder previews. This did not affect my story; my opinions are my own.
= = = = = = = = =
RELATED LINKS
= = = = = = = = =
Disney Dedicates Pandora – The World of Avatar
VIDEO: Meet an ACE Guide at Pandora – The World of Avatar
VIDEO: Na'vi River Journey Preview
VIDEO: Na'vi River Journey's Shaman of Songs
VIDEO: Avatar Flight of Passage Standby Queue
VIDEO: Avatar Flight of Passage "Pre-Show"
VIDEO: Interactive Banshee Demonstration
Avatar Flight of Passage Photo Gallery
Na'vi River Journey Photo Gallery
Valley of Mo'ara Photo Gallery
REVIEW: Satu'li Canteen Lunch
Parents' Guide to Pandora
Theming of Pandora – The World of Avatar
Pongu Pongu Menu and Photos
Shopping at Windtraders at Pandora – The World of Avatar
RATE AND REVIEW: Let Us Know What You Think
-o-o-o-o-o-o-o-o-o-o-o-
Editor's Note: This story/information was accurate when it was published. Please be sure to confirm all current rates, information and other details before planning your trip.