AllEars® Newsletter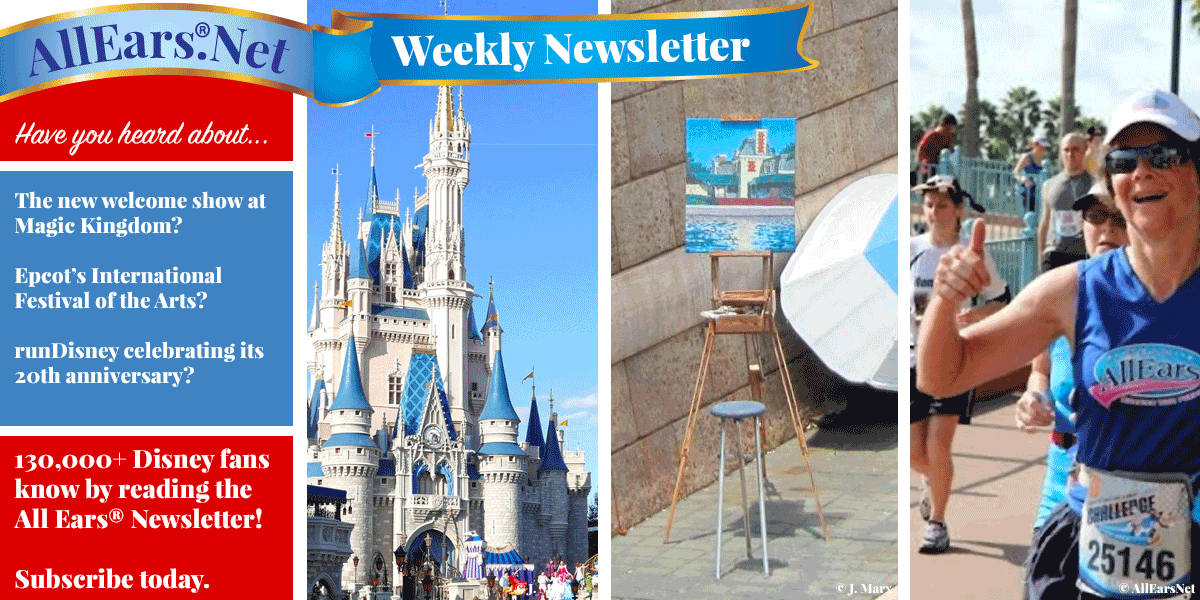 AllEars® is delivered FREE each week to 130,000 subscribers who share an interest in the Walt Disney World resort in Orlando, Florida. You should be one of them! Sign up today!
Click here to start receiving AllEars®, the FREE weekly electronic newsletter with the most current, accurate and comprehensive information for folks interested in Walt Disney World. Each AllEars® is chock full of facts, helpful tips and, of course, the latest Walt Disney World news, as well as restaurant and resort reviews, previews, interviews, snippets of timely information and insightful guest columns.
Once you've subscribed, don't forget to set your preferences to receive our special promotional mailing called EARS THE DEAL™. A few times each month, we'll send you a bonus email with money-saving offers and promotions for Walt Disney World and the Orlando area, exclusive to you, our AllEars® subscribers! (Click HERE for instructions on subscribing to Ears the Deal™!)
WELCOME TO THE HOME OF
an unofficial electronic newsletter about The Walt Disney World Resort in Orlando, Florida, published weekly in conjunction with AllEars.Net, Deb's Unofficial Walt Disney World Information Guide
Established September 1999
Library of Congress ISSN:1533-0753

To get a taste of what AllEars® has to offer each and every week, click on the links below -- these tidbits are from our December 2016 "WDW Bits and Bites" issue:
---
STEP BACK IN TIME
by Joan L. Feder
AllEars® Guest Writer


We hunt through our archives for this monthly featurette, which looks at the history of Walt Disney World and The Walt Disney Company. This month, as we approach the upcoming birthday of Walt Disney, we travel back to 2001 and the worldwide celebration of the man's 100th birthday.
As many Disney enthusiasts know, Walter Elias Disney was born in Chicago, Illinois, on December 5, 1901. At the age of 4, his family moved to a farm in Marceline, Missouri. After a brief return to Chicago, and a couple of stops in Kansas City, Walt headed west to Los Angeles. There, he and his older brother, Roy, opened the Disney Brothers Studios. In 1926, it became the Walt Disney Studios and Oswald the Lucky Rabbit was born. After losing Oswald in a contractual battle, Walt created Mickey Mouse, and together, they built the Walt Disney Company.
On Wednesday, December 5, 2001, the 100th anniversary of Walt Disney's birth was celebrated by fans all over the world. In Marceline, two Disney films that premiered there years before ("The Spirit of Mickey" and "The Great Locomotive Chase"), were shown free of charge. Later that day, the city had a sparkling fruit juice toast in Walt's honor. At Disneyland Paris, 100 Disney characters, from Mickey to Woody, celebrated Walt's birthday with guests, and enjoyed a special fireworks display over the castle. In California, Disneyland's Partners statue was rededicated, and a birthday ceremony was held at the Plaza Hub on Main Street. That evening, the Academy of Motion Picture Arts and Sciences held a Centennial Tribute to Walt in Beverly Hills. It was hosted by film critic Leonard Maltin and attended by many luminaries, including Walt's daughter, Diane Disney Miller, and three of Disney's Nine Old Men of animation, Ollie Johnston, Ward Kimball, and Frank Thomas.
The most extensive celebration, called "100 Years of Magic," took place at Walt Disney World. Disney-MGM (now Disney's Hollywood) Studios was the focal point of the celebration. Even before the real party started, the Sorcerer's Hat, a 122-foot replica of Mickey's head gear in Fantasia, was built in front of the park's Chinese Theater. The attraction "Walt Disney: One Man's Dream" opened in September, giving guests a chance to see rare and unusual items from the Walt Disney Archives. Artifacts included early Mickey Mouse collectibles, TV costumes, and even Walt's grammar school desk. There was also a short film with previously unseen footage that chronicled his life and hardships.
The "100 Years of Magic" celebration officially started on October 1, 2001. There were special activities, shows and parades at all of the theme parks. At Disney-MGM Studios, the "Disney Stars and Motor Cars" parade appeared daily, and there was a new show for pre-schoolers from "Playhouse Disney". Animal Kingdom hosted its first full-scale parade called "Mickey's Jammin' Jungle Parade." At the Magic Kingdom, the "Share a Dream Come True" parade had floats that featured Disney characters, and Walt himself, in gigantic snow globes. The Castle forecourt stage held a special show called "Cinderella's Surprise Celebration". Over at Epcot, the "Tapestry of Nations" parade was updated and became the "Tapestry of Dreams".
On December 5, 2001, the focus returned to the Disney-MGM Studios. Special dedication ceremonies were held for both the Sorcerer's Hat and "Walt Disney: One Man's Dream" in honor of Walt's 100th birthday. The 2001 Disney Legends, including Howard Ashman, Alan Menken and Marty Sklar, were inducted by the Walt Disney Company. One hundred sheet cakes formed a huge 25 by 17-foot birthday cake in front of the Sorcerer's Hat that was shared by guests, characters and cast members alike.
The "100 Years of Magic" was originally scheduled to end after 15 months. It was such a big hit that it was extended, and continued on until February 28, 2003. Some remnants of the celebration hung on even longer than that. The Sorcerer's Hat was not removed until early 2015. And even today you can still visit "Walt Disney: One Man's Dream" (albeit a revised version) at Disney's Hollywood Studios.
Happy Birthday, Walt Disney!
=-=-=-=-=-=-=-=-=

RELATED LINKS
---
MAGICAL MOMENTS
Each month, we like to share a few heart-warming Magical Moments brought to us by the amazing Disney cast members!
JP Carnell: We celebrated our 25th anniversary in May 2016. We thought about a trip somewhere new but decided the place we really like to be is WDW, so we went back there. We always stay on Hotel Plaza Blvd with an easy walk to the Marketplace, as we very much like being there. It is particularly pleasant early in the morning. There are few other people and it's quiet for breakfast, chatting, reading the paper, etc. You can get breakfast at Earl of Sandwich or Wolfgang Puck's before the shops open, sit in a sunny spot and truly enjoy. Because it was our 25th, we decided to have a portrait taken early one morning just as the Disney photo shop opened at Guest Relations. So we dressed up a bit and off we went, had a lovely, quiet breakfast and headed for the photo shop. The two young men were fantastic! We all laughed and carried on and they took multiple shots and backgrounds. They had a great time together because it was so early and no one else was around. We chose a couple of the pictures, they were printed and the young man handed the package to me. I asked for the bill to pay but was told it was their gift to us! Of course we were deeply touched. We next chose a wooden, custom engraved frame from Arribas Bros (very reasonable -- check them out!), which was ready in a day or so. At home now back in Nova Scotia, we have the custom frame holding that anniversary picture and our memories of our early morning visit to the Marketplace and meeting those two remarkable cast members.
Kelly DeAmico: My 4-year-old daughter loves Tangled and its characters. We were in the Tangled restroom area looking for hidden Pascals. It was dark and difficult to locate any. We asked a cast member nearby to help us out and she pointed out an area that Pascal likes to hide. She left us alone to search and we still couldn't find him! She came back when she realized we were not having any luck. She pointed him out and made sure our daughter could see one. She then said that she had some FastPasses for our entire family to ride any ride we wanted. Our daughter had been on Seven Dwarfs Mine Train for the very first time earlier that day as she was finally tall enough to ride. It had been the highlight of her day. She was beyond thrilled to be able to go on "in the dark" for a second ride on the same day! She still tells everyone about that ride and how it was even faster "in the dark"! It was truly a magical moment for our whole family!
Taylor K.: On a recent trip to the World, the last day of vacation happened to fall on my 16th birthday. I was super excited to be able to wear the classic birthday button and get all the special attention that comes with it. During the day I had a lot of fun, but the best part came when my family and I decided to go to the Magic Kingdom at the end of the night for Extra Magic Hours. One of my personal favorite rides is the Jungle Cruise, so we decided to ride it that night since we hadn't had the chance to ride it that trip. The cast members who were working treated me like a princess. They were having a lot of fun joking around with me in a very punny way. Each cast member wished me a happy birthday when I walked by them, and they escorted me onto the boat to my "VIP" seat right by the skipper. The skipper was very fun, too. He let me in on little jokes and got me involved with the show, and obviously was having a lot of fun making this a very memorable experience for me. I will forever remember this cruise as my favorite.
Brian S.: My girlfriend and I just spent several days at Walt Disney World, and while we had a great time throughout the trip, I wanted to share one particular fun moment. One morning, we got to the Hollywood Studios for park opening, and headed straight to Toy Story Mania to start the day. As we stepped inside to get in line, we heard a classic "shave-and-a-haircut" knock from the other side of a wall. Assuming it was another guest ahead of us in line, I naturally knocked back "two-bits" (you can't leave someone hanging like that!) and thought no more about it. However, as we disembarked at the end of the ride, a cast member asked, "You're the guy who knocked back, right?" When I confirmed this, he smiled and gave us four FastPasses good for any ride in the park. So the next time you're heading into Toy Story Mania, keep your ears open!
-=-=-=-=-=-=-=-=-=-=-=-=-=-=-=-=-=-=-=-=-
We just bet you have a story to tell about an unforgettable moment during your Disney vacation! Please send your favorite memory for inclusion in a future AllEars® to our Contact Us page.
Thank you all for sharing!
---
ARCHIVES
Feature Archives
Missed the last issue of AllEars®? Or just want to re-read that feature on cruises again? You'll find a listing of past AllEars® newsletter features here.
Tips Archives
We have a searchable database of all the tips that appear in our newsletters! Take a look at the archive of our helpful ideas here!

If you want to receive the rest of the AllEars® news and other juicy bits of timely WDW information, you must be a subscriber! Why not sign up now?
http://www.mailermailer.com/x?oid=02757g
---
Copyright - Disclaimer - Reprint - Contact
©1999-2017, All Rights Reserved. RYI Enterprises, LLC.
RYI Enterprises, LLC owns and operates AllEars.Net, which comprises Deb's Unofficial Walt Disney World Information Guide and the AllEars® weekly newsletter (allears.net). AllEars.Net and AllEars® are not affiliated with, authorized or endorsed by, or in any way officially connected with, The Walt Disney Company, Disney Enterprises, Inc., or any of their affiliates. For official Disney information, visit http://www.disney.com

Editor in Chief: Deb Wills
Editor: Debra Martin Koma
For prompt replies to questions or comments about this newsletter or info that appears on AllEars.Net, send a query using our feedback form.

Direct any US Mail correspondence to:
Deb Wills
President
RYI Enterprises, LLC
8297 ChampionsGate Blvd. #360
ChampionsGate, FL 33896
NOTE: No parts of this newsletter may be reprinted without prior written permission from RYI Enterprises, LLC and AllEars.Net.
Advertisements appearing in AllEars® are paid advertisements and are not meant as an endorsement by Deb Wills, RYI Enterprises, LLC, AllEars® or AllEars.Net.
---
READER FEEDBACK
We are nothing without our readers! Please drop us a line and let us know what you're thinking! We can't wait to hear from you. Use our handy Feedback Form to reach us. See what others are saying about us here!
Want to write for us? Please take a minute to read our Writer's Guidelines!
---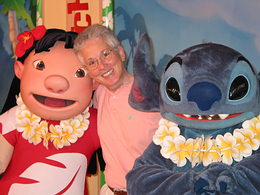 AllEars® is published by Deb Wills, a recognized Walt Disney World expert who also publishes one of the worldwide web's most popular sites, AllEars.Net, which receives more than 7 million page views per month from visitors around the globe.
Deb Wills
Editor-in-Chief and Publisher

AllEars® Editor is Debra Martin Koma.
-o-o-o-o-o-o-o-o-o-o-o-
Editor's Note: This story/information was accurate when it was published. Please be sure to confirm all current rates, information and other details before planning your trip.