AllEars® Newsletter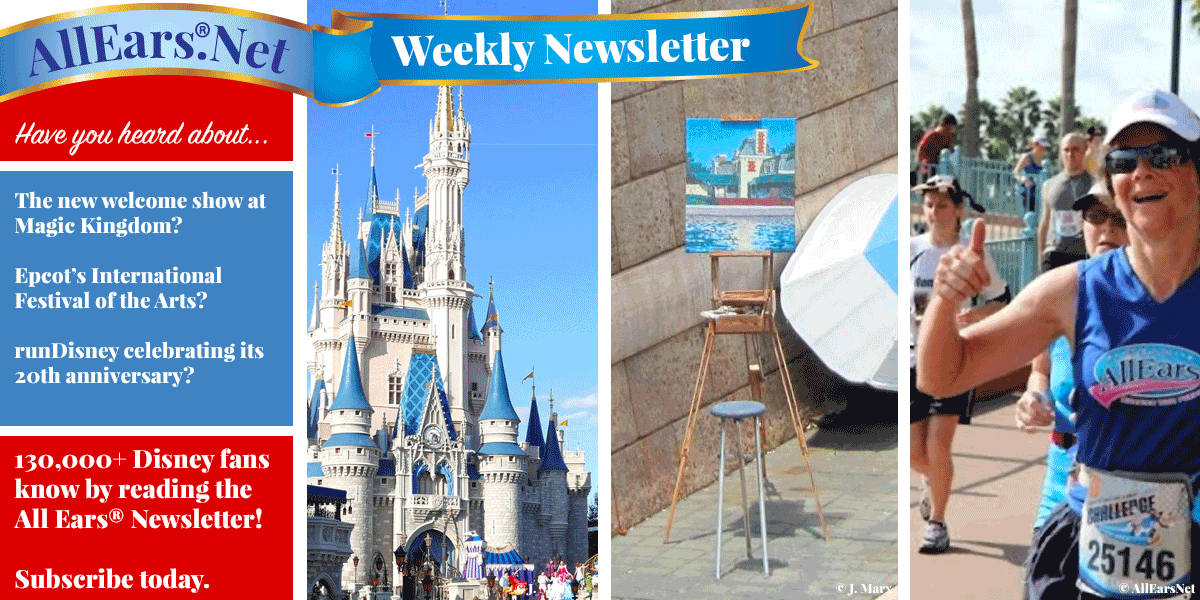 AllEars® is delivered FREE each week to 130,000 subscribers who share an interest in the Walt Disney World resort in Orlando, Florida. You should be one of them! Sign up today!
Click here to start receiving AllEars®, the FREE weekly electronic newsletter with the most current, accurate and comprehensive information for folks interested in Walt Disney World. Each AllEars® is chock full of facts, helpful tips and, of course, the latest Walt Disney World news, as well as restaurant and resort reviews, previews, interviews, snippets of timely information and insightful guest columns.
Once you've subscribed, don't forget to set your preferences to receive our special promotional mailing called EARS THE DEAL™. A few times each month, we'll send you a bonus email with money-saving offers and promotions for Walt Disney World and the Orlando area, exclusive to you, our AllEars® subscribers! (Click HERE for instructions on subscribing to Ears the Deal™!)
WELCOME TO THE HOME OF
an unofficial electronic newsletter about The Walt Disney World Resort in Orlando, Florida, published weekly in conjunction with AllEars.Net, Deb's Unofficial Walt Disney World Information Guide
Established September 1999
Library of Congress ISSN:1533-0753

To get a taste of what AllEars® has to offer each and every week, click on the links below -- these tidbits are from our April 2017 "WDW Bits and Bites" issue:
---
STEP BACK IN TIME
by Joan L. Feder
AllEars® Guest Writer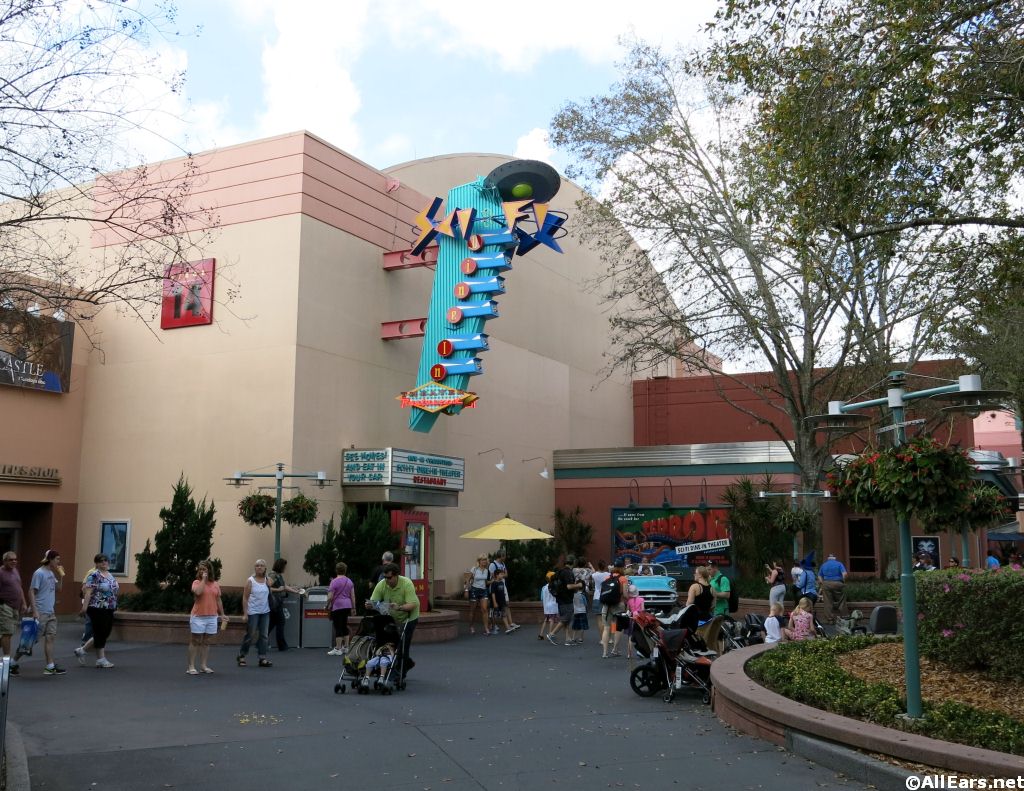 We hunt through our archives for this monthly featurette, which looks at the history of Walt Disney World and The Walt Disney Company. This month, we travel back 26 years to see what the Sci-Fi Dine-In Theater at Disney's Hollywood Studios was like when it first opened.
This heavily themed restaurant, located at the end of Commissary Lane in Disney's Hollywood Studios, officially opened on April 20, 1991, and has remained essentially the same since opening day. Upon entering, you are transported to a beautiful night at a drive-in movie theater from the 1950s. A carhop ushers you to your table under a sky filled with twinkling fiber optic stars. A fence surrounds the theater, and the hills of southern California glow in the sunset just beyond. Most of the tables are made to look like old-fashioned convertibles. Each one is outfitted with whitewall tires, 1955 license plates and glowing tail lights. Speakers are mounted on poles next to the cars, just like at a real drive-in.
The atmosphere is just part of the fun at the Sci-Fi; there is also the entertainment. The tables/cars are all parked facing a large screen that has shown the same 47-minute movie reel of "thrilling, chilling sci-fi scenes", since opening day. There are trailers and clips from campy grade B horror films like the "Attack of the 50 Foot Woman," "The Giant Gila Monster" and the infamous "Plan 9 from Outer Space." Vintage black and white news reels describe inventions of tomorrow, including self-driving electric cars and video phones. Old drive-in ads encourage movie-goers to buy candy and popcorn. There are also cartoons with alien and space travel themes, and even a clip of Walt Disney with his pal Garco, the robot. The only time this movie was changed was for the special Star Wars Galactic Dine-In breakfasts, held during Star Wars weekends in 2015, when Stars Wars clips were shown instead.
Some things have changed, though, since opening day. Gone are the complimentary popcorn and the roller-skating carhops. The improvisational cast members (like the policeman searching for deadbeat movie-goers) are no more. Another thing of the past are the punny menu item names, like the "Attack of the Killer Club Sandwich" and the "Tossed in Space" garden salad. The menu now lists more descriptive but ordinary choices; instead of the "Beast from 1,000 Islands", just order the reuben sandwich.
The food at the Sci-Fi is still American-style cuisine, but today's menu is the same whether you come for lunch or dinner. Appetizers include spinach and artichoke dip, onion rings and fried pickles. Entrees range from steak and fish to pasta and sandwiches. There are glowing beverages and flavored sodas, like cherry and vanilla Cokes, for kids of all ages. The Sci-Fi also boasts a full bar, including "Cosmic Concoctions" for adults. The creamy and decadent milkshakes are a specialty of the house, and also come in grown-up versions (try the Orbiting Oreos with Godiva Chocolate Liqueur).
Within a year of opening, the Sci-Fi was the most popular restaurant at Hollywood Studios. In fact, when Walt Disney World marked its 20th anniversary on October 1, 1991, the advertising campaign for the 15-month "Year of Surprises" enticed guests to visit the Sci-Fi Dine-In Theater as one of the "20 New Reasons to Visit Walt Disney World."
At its peak, the Sci-Fi Dine-In Theater serves more than 2,200 people a day. For some guests, the Sci-Fi is still a must-do every time they visit Walt Disney World. Others are not so sure, complaining that the food is too plain or too expensive. In this writer's opinion, the Sci-Fi is worth a visit. While the food is good (particularly the shakes and fried pickles), the atmosphere is even better.
The Sci-Fi currently accepts the Disney Dining Plan (one table service credit) and Tables In Wonderland. Kids' menus, vegetarian options and accessible seating are available. The Sci-Fi remains a very popular destination, so Advanced Dining reservations are recommended in order to avoid disappointment.
RELATED LINKS:
-- Sci Fi Dine In Theater
-- Rocketeer Artifacts in the Sci-Fi
-- Where in the World is the Rocketeer?
-- Recipe: Artichoke Spinach Dip
-- Recipe: Oreo Milkshake
---
MAGICAL MOMENTS
Each month, we like to share a few heart-warming Magical Moments brought to us by the amazing Disney cast members!
Ruth Morehart: My husband and I both decided to get ECVs while visiting Epcot on our most recent visit. He needed one because of his recent back surgery, and I was having a fibromyalgia flare-up. We arrived in Epcot early, and went directly to the ECV rental office. I told the cast member that we both needed to rent ECVs for the day, and she immediately said, "The first couple, wait right here." She acted excited and we wondered what was going on. It was Valentine's Day, so they had a special treat in store. First we filled out our name cards, which were white with a huge heart. Then they brought out my husband's ECV. It had a large red valentine balloon tied to the back of his seat and the basket was lined with red tinsel with hearts. The look on his face was priceless. He wasn't real excited about all the red embellishments, but he went with it. My cart had a large pink balloon with red hearts on it. The basket was also embellished with tinsel and hearts. The cast member took our picture and told us to stop in at Guest Relations to see about IllumiNations that night. Instead, we rode all around Epcot with our pink and red decorated carts waving at people. It was amazing, as almost everyone smiled, laughed, and generally got a kick out of us on these decorated carts. My husband got into it and we talked, laughed, and visited with many people. When we were ready to leave the park, we gave our balloons to a couple of little girls dressed up like princesses. My little girl looked totally in awe of getting this balloon as I said, "This balloon is for you, Princess." She had a big smile on her face. But our magical moment was not over yet. I finally went to Guest Relations to see what the cast member from the ECV rental place had meant. The cast member at Guest Relations told me that we were on a list to be admitted to the VIP viewing area for illumiNations that night. What a thrill! Our routine Valentine's Day turned into a magical moment for us -- one we will never forget!
Domenica Colonna: I had a wonderful experience on my last vacation. I had reservations with my daughter and granddaughter for breakfast at Cinderella Castle. I arrived at 8:20 a.m. for an 8:40 reservation. I went to check in, but the cast member could not find my reservation! After the cast member made several attempts to locate it without success, I finally looked at My Disney Experience account and discovered that my reservation was for the NEXT day. I felt awful. My granddaughter was going to be so disappointed. But the cast member worked miracles and managed to find us a table. I could not thank all the wonderful cast members enough. After breakfast we walked to the Bibbidi Bobbidi Boutique for a princess makeover. What a wonderful morning for my 6-year-old granddaughter! It was a day she will never forget!
Katie: My family and I visited our favorite vacation spot, Walt Disney World, for my 21st birthday. We had a 10-day reservation to stay in a Little Mermaid standard room for our first time at the Art of Animation Resort. When we arrived at the resort after the Magical Express bus ride my dad heard a cast member calling our name. She went on to say "Happy Birthday" to me and that for my 21st birthday they wanted to upgrade us to a suite! Instead of staying in the standard Little Mermaid room we got to stay in a wonderful two-bedroom Cars family suite. We were thrilled! To make the upgrade even more magical, the suite was on the second floor, which is exactly want we wanted for the standard room, and it had a view of the lake! This was my 10th and, by far, most magical trip to WDW. Thanks to cast member Jean and everyone at Art of Animation for making my 21st birthday and our family vacation more magical than we could have ever imagined!
-=-=-=-=-=-=-=-=-=-=-=-=-=-=-=-=-=-=-=-=-
We just bet you have a story to tell about an unforgettable moment during your Disney vacation! Please send your favorite memory for inclusion in a future AllEars® to our Contact Us page.
Thank you all for sharing!
---
ARCHIVES
Feature Archives
Missed the last issue of AllEars®? Or just want to re-read that feature on cruises again? You'll find a listing of past AllEars® newsletter features here.
Tips Archives
We have a searchable database of all the tips that appear in our newsletters! Take a look at the archive of our helpful ideas here!

If you want to receive the rest of the AllEars® news and other juicy bits of timely WDW information, you must be a subscriber! Why not sign up now?
http://www.mailermailer.com/x?oid=02757g
---
Copyright - Disclaimer - Reprint - Contact
©1999-2017, All Rights Reserved. RYI Enterprises, LLC.
RYI Enterprises, LLC owns and operates AllEars.Net, which comprises Deb's Unofficial Walt Disney World Information Guide and the AllEars® weekly newsletter (allears.net). AllEars.Net and AllEars® are not affiliated with, authorized or endorsed by, or in any way officially connected with, The Walt Disney Company, Disney Enterprises, Inc., or any of their affiliates. For official Disney information, visit http://www.disney.com

Editor in Chief: Deb Wills
Editor: Debra Martin Koma
For prompt replies to questions or comments about this newsletter or info that appears on AllEars.Net, send a query using our feedback form.

Direct any US Mail correspondence to:
Deb Wills
President
RYI Enterprises, LLC
8297 ChampionsGate Blvd. #360
ChampionsGate, FL 33896
NOTE: No parts of this newsletter may be reprinted without prior written permission from RYI Enterprises, LLC and AllEars.Net.
Advertisements appearing in AllEars® are paid advertisements and are not meant as an endorsement by Deb Wills, RYI Enterprises, LLC, AllEars® or AllEars.Net.
---
READER FEEDBACK
We are nothing without our readers! Please drop us a line and let us know what you're thinking! We can't wait to hear from you. Use our handy Feedback Form to reach us. See what others are saying about us here!
Want to write for us? Please take a minute to read our Writer's Guidelines!
---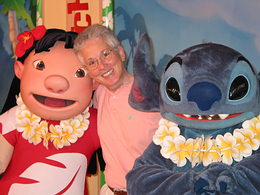 AllEars® is published by Deb Wills, a recognized Walt Disney World expert who also publishes one of the worldwide web's most popular sites, AllEars.Net, which receives more than 7 million page views per month from visitors around the globe.
Deb Wills
Editor-in-Chief and Publisher

AllEars® Editor is Debra Martin Koma.
-o-o-o-o-o-o-o-o-o-o-o-
Editor's Note: This story/information was accurate when it was published. Please be sure to confirm all current rates, information and other details before planning your trip.