AllEars® Newsletter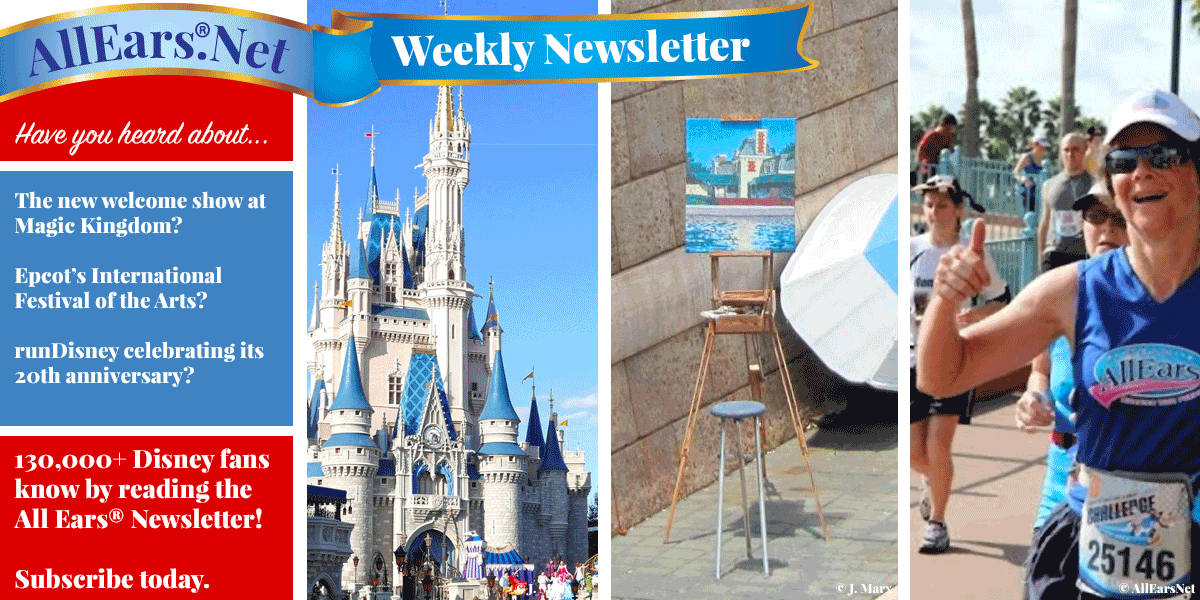 AllEars® is delivered FREE each week to about 125,000 subscribers who share an interest in the Walt Disney World resort in Orlando, Florida. You should be one of them! Sign up today!
Click here to start receiving AllEars®, the FREE weekly electronic newsletter with the most current, accurate and comprehensive information for folks interested in Walt Disney World. Each AllEars® newsletter is chock full of facts, helpful tips and, of course, the latest Walt Disney World news, as well as restaurant and resort reviews, previews, interviews, snippets of timely information and insightful, entertaining guest columns.
Once you've subscribed, don't forget to set your preferences to receive our special promotional mailing called EARS THE DEAL™. A few times each month, we'll send you a bonus email with money-saving offers and promotions for Walt Disney World and the Orlando area, exclusive to you, our AllEars® subscribers! (Click HERE for instructions on subscribing to Ears the Deal™!)
WELCOME TO THE HOME OF
an unofficial electronic newsletter about The Walt Disney World Resort in Orlando, Florida, published weekly in conjunction with AllEars.Net, Deb's Unofficial Walt Disney World Information Guide
Established September 1999
Library of Congress ISSN:1533-0753

To get a taste of what AllEars® has to offer each and every week, click on the links below -- these tidbits are from our May 2018 "WDW Bits and Bites" issue:
---
STEP BACK IN TIME
by Joan L. Feder
AllEars® Staff Writer
We hunt through our archives for this monthly featurette, which looks at the history of Walt Disney World and The Walt Disney Company. This month we go back more than two decades to the opening of the Fantasia Gardens and Fairways Miniature Golf.
Potential concepts for Walt Disney World's first miniature golf course ran the gamut from Alice in Wonderland to Roger Rabbit. Eventually the 1940 film Fantasia was picked as the theme. A location near the Swan Resort was chosen so that it could be enjoyed by conventioneers and park-goers alike. "Fantasia Gardens" had been bandied about as the possible name for several different Disney attractions over the years; at various times it was going to be a boat ride at Disneyland, the Magic Kingdom, or the Beastly Kingdom, which was never built at Animal Kingdom. On May 20, 1996, Minnie and Mickey were on hand to open the 11-acre complex. Fully named Fantasia Gardens and Fairways, it is two very different courses: one for the whole family and the other for the skilled golf enthusiast.
The Fantasia Gardens course is a traditional miniature golf experience plussed by special Disney magic. This 18-hole course is full of interactive obstacles featuring Fantasia's settings and characters, including tutu-clad hippos, Sorcerer Mickey and Mount Olympus. Music from the movie enhances the theme of each hole, and includes several surprises. For example, at hole 9 if you "putt straight and true", a faun from The Pastoral Symphony plays a tune!
The Fairways at Fantasia Gardens, on the other hand, are NOT for the faint of heart. With an emphasis on skill, it is not a Putt-Putt experience, so much as a conventional golf course that has been miniaturized by about one-third. The holes range in length from 63 to 109 feet long, and are par three or five, with an overall par of 72. The challenges include those of a full size course including rugged terrain, water hazards, and sand traps. It has been touted by many, including Tiger Woods, as one of the toughest golf courses in the world. Yet it still has a touch of Disney whimsy related to the Fantasia theme. For instance, hole 15 warns: "The trick here is to make like plumed ballet dancer from Dance of the Hours and get Upanova the bridge."
The Fantasia Gardens and Fairways are within walking distance from any of the Epcot area resorts. Telephone reservations are not accepted, but must be made in person. There are discounts for multiple rounds played on the same day. DVC members and Annual Passholders should also ask about discounts. Currently, adults cost $14 per person, while kids, age 3 to 9, are $12 each. A unique Disney experience whether you are a skilled duffer or just looking to putt around, Fantasia Gardens and Fairways is a great way to spend a couple of hours.
RELATED LINKS:
Walt Disney World Chronicles: Fantasia Gardens
Fantasia Gardens Miniature Golf
---
MAGICAL MOMENTS
Each month, we like to share a few heart-warming Magical Moments brought to us by the amazing Disney cast members!
Jennifer L.: Our group of two families stayed one night at the Bora Bora Bungalows at Disney's Polynesian Village Resort using some extra purchased DVC points. This was a surprise to both families as only the ladies of the family knew about it. We were celebrating three birthdays noted in our reservation. We had stayed the three nights previous at Old Key West with our final night at the Polynesian. We had planned to order the 'Ohana Twilight Dinner and have it delivered to the room. As we were checking in the cast member asked us our plans and we told her all about the 'Ohana dinner. To our surprise she told us that we should order it as soon as we got into our room and that it would be complimentary! What a wonderful surprise! We had planned to pay using the card attached to the reservation, but thanks to this wonderful cast member it was truly magical... and A LOT of food. We didn't put a dent in it. We were able to share what we had as leftovers with the bungalow next to us and they were happy to oblige. Noodles made for a yummy breakfast the next morning, too! Thanks Bailey from the Polynesian, you made our stay very magical!
Renee S.: A couple years ago my dad was diagnosed with esophageal cancer and had 2/3 of his stomach and half of his esophagus removed. It was very traumatic for my mom. She worked very hard caring for him during his recovery. My sister and I wanted to do something nice for her, and to give her a break for the stress of caring for him. Six months after his surgery, she and I decided Mom needed a Disney vacation (it was her birthday, too). We made arrangements for someone to look after my dad (he was able to care for himself by this time, but didn't want my mom worrying about him). My parents live in Florida and go to Disney often, but I wanted to do something she had never done. I wrote a letter to our resort asking about something that might be newer that Mom probably hadn't done. I received a call from a woman at the hotel, who suggested a backstage tour at Magic Kingdom. It was the Magical Memories tour, all about Walt's life and plans for the park. We signed up! When we arrived at our hotel a month later, we found it all decorated for Mom's birthday with balloons and lots of Pop Century stuff. That isn't the best part. My dad called us a couple days later to tell us that he got a get well card and autographed photo from Mickey Mouse. He thought we had done it, but it was the resort. It was so touching that they would go to the trouble for this. I love Disney World.
Sheila C.: We were on our way to Rivers of Light at the Animal Kingdom when my husband's rented scooter decided to stop working. Since he can't walk long distances, this was a problem. We asked a cast member for advice and she immediately got her supervisor, Brandon. Even though we did not get the scooter through Walt Disney World, he went out of his way to help. He brought us a wheelchair that we could take to the park entrance and said to change it there for one we could take to the parking area. He checked on us during the show and again at the end of the show to see if he could give us any more assistance (like a cast member to push the wheelchair!). Since we had four other family members with us, it was fine and we got back to our car without any more issues. Brandon was so helpful and let us know that we could count on him for any help we may have needed. We love the magic of a WDW vacation and this is just a sample of why. Thank you, Brandon!
-=-=-=-=-=--=-=-=-=-=-=-=-=-=-=
We just bet you have a story to tell about an unforgettable moment during your Disney vacation! Please send your favorite memory for inclusion in a future AllEars® to our Contact Us page.
Thank you all for sharing!
---
ARCHIVES
Feature Archives
Missed the last issue of AllEars®? Or just want to re-read that feature on cruises again? You'll find a listing of past AllEars® newsletter features here.
Tips Archives
We have a searchable database of all the tips that appear in our newsletters. Take a look at the archive of our helpful ideas here!

If you want to receive the rest of the AllEars® news and other juicy bits of timely WDW information, you must be a subscriber! Why not sign up now?
---
Copyright - Disclaimer - Reprint - Contact
©1999-2018, All Rights Reserved. RYI Enterprises, LLC.
RYI Enterprises, LLC owns and operates AllEars.Net, which comprises Deb's Unofficial Walt Disney World Information Guide and the AllEars® weekly newsletter (allears.net). AllEars.Net and AllEars® are not affiliated with, authorized or endorsed by, or in any way officially connected with, The Walt Disney Company, Disney Enterprises, Inc., or any of their affiliates. For official Disney information, visit http://www.disney.com

Editor in Chief: Deb Wills
Editor: Debra Martin Koma
For prompt replies to questions or comments about this newsletter or info that appears on AllEars.Net, send a query using our feedback form.

Direct any US Mail correspondence to:
Deb Wills
President
RYI Enterprises, LLC
8297 ChampionsGate Blvd. #360
ChampionsGate, FL 33896
NOTE: No parts of this newsletter may be reprinted without prior written permission from RYI Enterprises, LLC and AllEars.Net.
Advertisements appearing in AllEars® are paid advertisements and are not meant as an endorsement by Deb Wills, RYI Enterprises, LLC, AllEars® or AllEars.Net.
---
READER FEEDBACK
We are nothing without our readers! Please drop us a line and let us know what you're thinking! We can't wait to hear from you. Use our handy Feedback Form to reach us. See what others are saying about us here!
Want to write for us? Please take a minute to read our Writer's Guidelines!
---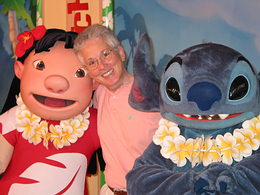 AllEars® is published by Deb Wills, a recognized Walt Disney World expert who also publishes one of the worldwide web's most popular sites, AllEars.Net, which receives more than 7 million page views per month from visitors around the globe.
Deb Wills
Editor-in-Chief and Publisher

AllEars® Editor is Debra Martin Koma.
-o-o-o-o-o-o-o-o-o-o-o-
Editor's Note: This story/information was accurate when it was published. Please be sure to confirm all current rates, information and other details before planning your trip.