AllEars® Newsletter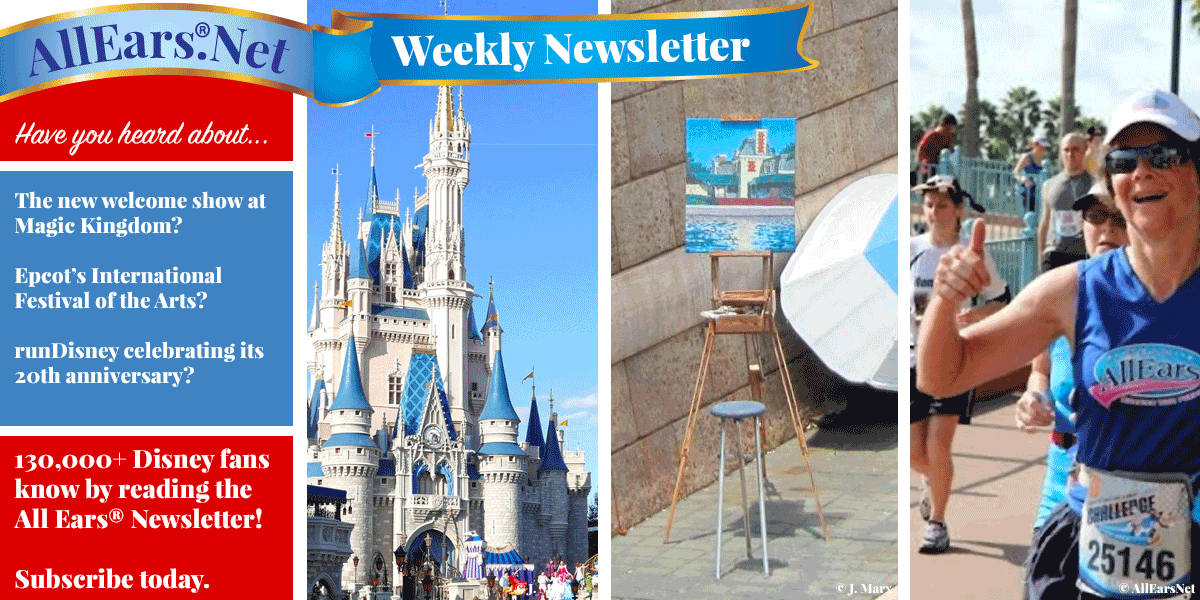 AllEars® is delivered FREE each week to about 127,000 subscribers who share an interest in the Walt Disney World resort in Orlando, Florida. You should be one of them! Sign up today!
Click here to start receiving AllEars®, the FREE weekly electronic newsletter with the most current, accurate and comprehensive information for folks interested in Walt Disney World. Each AllEars® is chock full of facts, helpful tips and, of course, the latest Walt Disney World news, as well as restaurant and resort reviews, previews, interviews, snippets of timely information and insightful guest columns.
Once you've subscribed, don't forget to set your preferences to receive our special promotional mailing called EARS THE DEAL™. A few times each month, we'll send you a bonus email with money-saving offers and promotions for Walt Disney World and the Orlando area, exclusive to you, our AllEars® subscribers! (Click HERE for instructions on subscribing to Ears the Deal™!)
WELCOME TO THE HOME OF
an unofficial electronic newsletter about The Walt Disney World Resort in Orlando, Florida, published weekly in conjunction with AllEars.Net, Deb's Unofficial Walt Disney World Information Guide
Established September 1999
Library of Congress ISSN:1533-0753

To get a taste of what AllEars® has to offer each and every week, click on the links below -- these tidbits are from our November 2017 "WDW Bits and Bites" issue:
---
STEP BACK IN TIME
by Joan L. Feder
AllEars® Contributor
We hunt through our archives for this monthly featurette, which looks at the history of Walt Disney World and The Walt Disney Company. This month we take a long look back at Stitch's Great Escape! and the other attractions that once sat on that same location.
Yes, Stitch's Great Escape! is the fourth attraction to occupy the site at the entrance of Tomorrowland. The first, Flight to the Moon, opened on December 24, 1971. After a pre-show, guests would learn about their flight and Mission Control from Mr. Tom Morrow (an audio-animatronic figure). Passengers then took their seats on the Lunar Transport that would "fly" them to the moon. This theater-in-the-round had large viewing screens in the center of the floor and ceiling as well as on the walls. During the experience, seats would be lowered and raised, simulating G-forces caused by acceleration and weightlessness, respectively. Upon reaching the moon, guests watched an interview with an astronaut, and visited the dark side. The trip was interrupted by a meteoroid shower, which set off blaring alarms, flickering lights, and bobbing seats before the return to Earth.
Flight to the Moon was obsolete before it opened. Four moon landings had already taken place before its debut at the Magic Kingdom. The ride closed in under four years on April 15, 1975. Just a few months later, on June 7, 1975, Mission to Mars took its place. The quick turnover was possible due to the minimal changes made between the two attractions. Mr. Morrow became Mr. Johnson, who explained the workings of Mission Control. The same theater, screens and seats were used. This time the ship flew over Mars until a meteor shower necessitated the return to Earth.
In 1993, Mission to Mars closed, making way for ExtraTERRORestrial Alien Encounter which officially opened on June 20, 1995. This was an attempt by Disney to make the theme parks more edgy and therefore more popular with teenagers and young adults. Alien Encounter used the same theater-in-the-round as the prior incarnations; a tube in the center of the room replaced the floor and ceiling viewing screens. Shoulder harnesses were installed, and the seats were upgraded, allowing for higher quality sound and better special effects. In this version, a corporate demonstration of teleportation goes wrong. A terrifying alien is beamed into the theater. The power fails and the room is plunged into darkness. Glass shatters, giant wings take flight. The Alien escaped! Horrified guests felt the Alien's warm breath, the drip of his drool and even the lick of his tongue. While this attraction developed a cult following, it was too frightening for Disney's core audience. It closed on October 12, 2003.
Stitch's Great Escape! opened a little more than a year later on November 18, 2004. The same theater space and seats were reused. Many of Alien Encounter's animatronics and other show elements remained, albeit in a less scary and purportedly more comedic way. Guests were trainees at an intergalactic prison, and were shown how to handle a Level 1 criminal. Unexpectedly, the recruits are ordered to help transport an extraordinarily dangerous Level 3 prisoner. They proceeded to the high security teleportation chamber where they were harnessed into their seats for safety. The tube in the middle of the room filled with smoke, receiving the prisoner, which turned out to be an audio-animatronic Stitch. Spitting into the cannons meant to contain him, Stitch caused them to misfire and shorted out the system. The lights flashed, and the room went black. Guests could hear and feel the escaped Stitch running around misbehaving. Eventually power was restored, just as Stitch transported himself to a place called Floor-ee-dah. The screens showed cartoon Stitch climbing Cinderella Castle and running amok, as the training came to an end.
Stitch's Great Escape! was not a success. It was not terrifying enough for teens, yet it was too scary for little kids. Many felt the story was weak and not very funny or charming. In October last year it became a seasonally operated attraction and, on September 30, 2017, the sign was changed to read "Stitch's Alien Encounter Character Greeting." Right now, Stitch's Great Escape! is still included as an attraction on Disney's website, but no hours of operation are listed. There were rumors that a Wreck-It Ralph virtual reality experience was in the works, but that has not been confirmed. Hopefully it won't be long before we know more.
RELATED LINKS:
ExtraTERRORestrial Alien Encounter
---
MAGICAL MOMENTS
Each month, we like to share a few heart-warming Magical Moments brought to us by the amazing Disney cast members!
Ben Sargent: It was a hot day at Animal Kingdom, so to take a break from the heat/sweat/crying we ventured on the train to Rafiki's Planet Watch. Upon arrival the two little ones had calmed after the train ride and we ventured inside. Once we entered, our 3-year-old couldn't believe his eyes. It was Doc McStuffins! We got several pictures and everyone was ecstatic! But as we ventured through the building, Doc kept coming back to our 3-year-old! The two of them winked, high-fived, and hugged for a good 10 minutes as the rest of our party checked everything out. We've been home for almost a month and our 3-year-old still talks about it. Thanks, Doc!
Kelli Heintz: My husband and I recently enjoyed a short stay at the Grand Floridian and a wonderful 10-night Disney cruise. This was our first trip without our son, who is now in the Navy. As we pulled up to the check-in I began to cry -- it finally hit me that he was not with us. In fact, he was home on leave and would be heading to his first duty station (Japan) the day we were to board the Fantasy. I walked up to the concierge kiosk with tears streaming. The poor cast member was quite taken aback (I'm sure most people are not crying when they check in). He asked if I was OK and I explained the situation. He quickly asked if we were celebrating anything and I said yes, our 30th wedding anniversary. At that point my husband arrived and we went to our room. The next evening (after a soaking wet trip to Epcot) we opened to door to our room to find amazing treats at every turn! From a beautiful picture frame, fruit platter, wine chilling, and coffee mugs (plus more). We searched for a card with no luck. I went to the concierge desk and they let us know that it was a gift from the resort to help us celebrate our anniversary. Needless to say were WOWED! We had a wonderful trip. It was different without our son, but it was great. He arrived at his duty station and will be meeting his ship soon. I've warned him it won't be like the Disney Cruise Line...
Lori DeWall: Back in March, my two daughters and I went on a last-minute trip to Disney World over spring break. We are DVC members and I was able to get a room at Old Key West Resort. My oldest daughter was about to graduate from high school, and had enlisted in the US Marine Corps. She was leaving for boot camp at the end of June, so we don't know when the next trip together will be. I mentioned this during a phone call, and when we checked in, the cast member said that they would do something special for her. The next day after a full day at the parks, we arrived back in our room to find a beautifully packaged certificate signed by Mickey Mouse (the CEO -- Chief Ear Officer) and a medal celebrating her "Commitment to our Country." The gift was signed from "Your Old Key West Family." My 18-year-old daughter said that it was the coolest thing she'd ever seen! As our family enters a new chapter in our lives, it's nice to see that Disney recognizes and appreciates the military. The three of us had a fantastic trip together, and I am so thankful that we were able to spend this time together. This was a very special memory that we will all treasure.
-=-=-=-=-=-=-=-=-=-=-=-=-=-=-=-=-=-=-=-=-
We just bet you have a story to tell about an unforgettable moment during your Disney vacation! Please send your favorite memory for inclusion in a future AllEars® to our Contact Us page.
Thank you all for sharing!
---
ARCHIVES
Feature Archives
Missed the last issue of AllEars®? Or just want to re-read that feature on cruises again? You'll find a listing of past AllEars® newsletter features here.
Tips Archives
We have a searchable database of all the tips that appear in our newsletters. Take a look at the archive of our helpful ideas here!

If you want to receive the rest of the AllEars® news and other juicy bits of timely WDW information, you must be a subscriber! Why not sign up now?
---
Copyright - Disclaimer - Reprint - Contact
©1999-2017, All Rights Reserved. RYI Enterprises, LLC.
RYI Enterprises, LLC owns and operates AllEars.Net, which comprises Deb's Unofficial Walt Disney World Information Guide and the AllEars® weekly newsletter (allears.net). AllEars.Net and AllEars® are not affiliated with, authorized or endorsed by, or in any way officially connected with, The Walt Disney Company, Disney Enterprises, Inc., or any of their affiliates. For official Disney information, visit http://www.disney.com

Editor in Chief: Deb Wills
Editor: Debra Martin Koma
For prompt replies to questions or comments about this newsletter or info that appears on AllEars.Net, send a query using our feedback form.

Direct any US Mail correspondence to:
Deb Wills
President
RYI Enterprises, LLC
8297 ChampionsGate Blvd. #360
ChampionsGate, FL 33896
NOTE: No parts of this newsletter may be reprinted without prior written permission from RYI Enterprises, LLC and AllEars.Net.
Advertisements appearing in AllEars® are paid advertisements and are not meant as an endorsement by Deb Wills, RYI Enterprises, LLC, AllEars® or AllEars.Net.
---
READER FEEDBACK
We are nothing without our readers! Please drop us a line and let us know what you're thinking! We can't wait to hear from you. Use our handy Feedback Form to reach us. See what others are saying about us here!
Want to write for us? Please take a minute to read our Writer's Guidelines!
---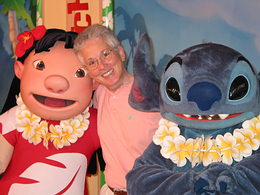 AllEars® is published by Deb Wills, a recognized Walt Disney World expert who also publishes one of the worldwide web's most popular sites, AllEars.Net, which receives more than 7 million page views per month from visitors around the globe.
Deb Wills
Editor-in-Chief and Publisher

AllEars® Editor is Debra Martin Koma.
-o-o-o-o-o-o-o-o-o-o-o-
Editor's Note: This story/information was accurate when it was published. Please be sure to confirm all current rates, information and other details before planning your trip.