AllEars® Newsletter
WELCOME TO THE HOME OF
an unofficial electronic newsletter about The Walt Disney World Resort in Orlando, Florida, published weekly in conjunction with AllEars.Net, Deb's Unofficial Walt Disney World Information Guide

Established September 1999
Library of Congress ISSN:1533-0753
---
AllEars® is delivered FREE each week to about 140,000 subscribers who share an interest in the Walt Disney World resort in Orlando, Florida. You should be one of them! Sign up today!
Click here to start receiving AllEars®, the FREE weekly electronic newsletter with the most current, accurate and comprehensive information for folks interested in Walt Disney World. Each AllEars® is chock full of facts, helpful tips and, of course, the latest Walt Disney World news, as well as restaurant and resort reviews, previews, interviews, snippets of timely information and insightful guest columns.
Once you've subscribed, don't forget to set your preferences to receive our special promotional mailing called EARS THE DEAL™. A few times each month, we'll send you a bonus email with money-saving offers and promotions for Walt Disney World and the Orlando area, exclusive to you, our AllEars® subscribers! (Click HERE for instructions on subscribing to Ears the Deal™!)

To get a taste of what AllEars® has to offer each and every week, click on the links below -- these tidbits are from our August 2015 "WDW Bits and Bites" issue:
---
STEP BACK IN TIME
Each month, we rummage around in our archives for this featurette, which indulges in a bit of nostalgia, taking you back in history for a glimpse of Walt Disney World and The Walt Disney Company through the ages. This month, we journey back to the fall of 1982 to look at a ground-breaking attraction that opened that October.
The 3D movie Magic Journey debuted on Epcot's opening day, October 1, 1982. Presented by Kodak in the theme park's Imagination Pavilion, Magic Journeys was the first-ever polarized 3D film. The 17-minute presentation took a look at the world through the eyes and imagination of a child. The attraction's sign welcomed visitors: "Follow Figment to Magic Journeys, a 3D Film Fantasy."
The Magic Journeys pre-show, Working for Peanuts, was an animated 3D short film starring Donald Duck and Chip and Dale that was produced in 1953. The pre-show lasted eight minutes. Throughout the lobby of the attraction were 3D pictures of the cast and crew of Working for Peanuts. There was also a countdown clock for those wondering, "When does the next show start?"
The introduction of Michael Jackson's Captain EO film forced Magic Journeys to move to the Fantasyland Theater in the Magic Kingdom on December 15, 1987. It remained there until December 1, 1993.
Magic Journeys also appeared in Disneyland from 1984 to 1986, and in Tokyo Disneyland, where it played from 1985 to 1987.
---
MAGICAL MOMENTS
Nathan F.: I just came back from Walt Disney World, a father/daughter trip I took with my 9-year-old daughter, and had to write in about a Magical Moment we had. My daughter had just met with Alice outside the cottage on the main road at the United Kingdom pavilion in Epcot. We asked a cast member when Mary Poppins would be coming to the cottage since my daughter wanted to meet her. The cast member told us that Mary Poppins doesn't meet at the cottage, but down the path next to the cottage, near Twinings Tea Shop. Just as we were about to go, the cast member said, "Oh, here comes Mary Poppins now," and to my daughter's delight, she saw Mary Poppins walking towards her. Mary Poppins saw my daughter waiting by the path, and started walking with her, just my daughter and Mary Poppins walking down the path, alone, to the place where she needs to be for her meet-and-greet. She got to her destination and said, "Oh, I see there are people waiting to meet me! Thank you for walking with me." The smile on my daughter's face was priceless -- this was a dream come true, not just for my daughter but me, too.
Carolyn Brooke-Millward: We have many, many happy memories of trips to Walt Disney World over the last 25 years, (from the UK, no less!), but one of the loveliest recent ones happened to us in 2013. I LOVE Epcot, it is my absolute favourite park, and I am always so excited to go there again. On our first day there in November 2013, as we approached the turnstiles I began to tear up a bit. This is nothing unusual for me when at a Disney park, although it usually happens during parades and fireworks. Oh, and shows. And when leaving each park for the last time on that trip. And when I first walk up Main Street and see the castle. Anyway, I digress -- we got through the turnstiles and I was staring at Spaceship Earth, tears streaming down my face and my husband trying to ignore me, when a very tall and magnificent cast member said to him, "Is she crying ALREADY? Man, it's gonna be a looooooong day!" This made us both fall about laughing, and stopped me from grizzling my way 'round the entire park that morning!
Robert B.: It was our 20th anniversary and we chose to go to the World. We stayed at BoardWalk Villas because Epcot is my wife's favorite park. The whole day of our anniversary was made special by all the cast members, but one event was really special. We were at the American Adventure watching the singers perform when a cast member came up to us and asked us to follow him. We were a little confused as he brought us to a room and said there was a phone call for us. On the line were Mickey and Minnie wishing us a happy anniversary! Then we were led to an elevator that allowed us to get our seats before everyone else. It was just that extra touch that made our day extra special. Thank you, Disney.
-=-=-=-=-=-=-=-=-=-=-=-=-=-=-=-=-=-=-=-=-
We just bet you have a story to tell about an unforgettable moment during your Disney vacation! Please send your favorite memory for inclusion in a future AllEars® to: allearsnet@yahoo.com
Thank you all for sharing!
---
ARCHIVES
Feature Archives
Missed the last issue of AllEars®? Or just want to re-read that feature on cruises again? You'll find a listing of past AllEars® newsletter features here.
Tips Archives
We have a searchable database of all the tips that appear in our newsletters! Take a look at the archive of our helpful ideas here!

If you want to receive the rest of the AllEars® news and other juicy bits of timely WDW information, you must be a subscriber! Why not sign up now?
http://www.mailermailer.com/x?oid=02757g
---
Copyright - Disclaimer - Reprint - Contact
©1999-2015, All Rights Reserved. RYI Enterprises, LLC.
RYI Enterprises, LLC owns and operates AllEars.Net, which comprises Deb's Unofficial Walt Disney World Information Guide and the AllEars® weekly newsletter (allears.net). AllEars.Net and AllEars® are not affiliated with, authorized or endorsed by, or in any way officially connected with, The Walt Disney Company, Disney Enterprises, Inc., or any of their affiliates. For official Disney information, visit http://www.disney.com

Editor in Chief: Deb Wills
Editor: Debra Martin Koma
For prompt replies to questions or comments about this newsletter or info that appears on AllEars.Net, send a query using our feedback form.

Direct any US Mail correspondence to:
Deb Wills
President
RYI Enterprises, LLC
8297 ChampionsGate Blvd. #360
ChampionsGate, FL 33896
NOTE: No parts of this newsletter may be reprinted without prior written permission from RYI Enterprises, LLC and AllEars.Net.
Advertisements appearing in AllEars® are paid advertisements and are not meant as an endorsement by Deb Wills, RYI Enterprises, LLC, AllEars® or AllEars.Net.
---
READER FEEDBACK
We are nothing without our readers! Please drop us a line and let us know what you're thinking! We can't wait to hear from you. Use our handy Feedback Form to reach us. See what others are saying about us here!
---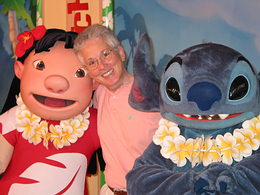 AllEars® is published by Deb Wills, a recognized Walt Disney World expert who also publishes one of the worldwide web's most popular sites, AllEars.Net, which receives more than 7 million page views per month from visitors around the globe.
Deb Wills
Editor-in-Chief and Publisher

AllEars® Editor is Debra Martin Koma.
-o-o-o-o-o-o-o-o-o-o-o-
Editor's Note: This story/information was accurate when it was published. Please be sure to confirm all current rates, information and other details before planning your trip.