To all who come to this photo trivia game, Welcome! Along the way, the photos can make us relive memories and see details Walt's Imagineers put into everything we love in Walt Disney World!
Happy Bastille Day to all our French Players!

Now for Challenge #440

And here's the answer: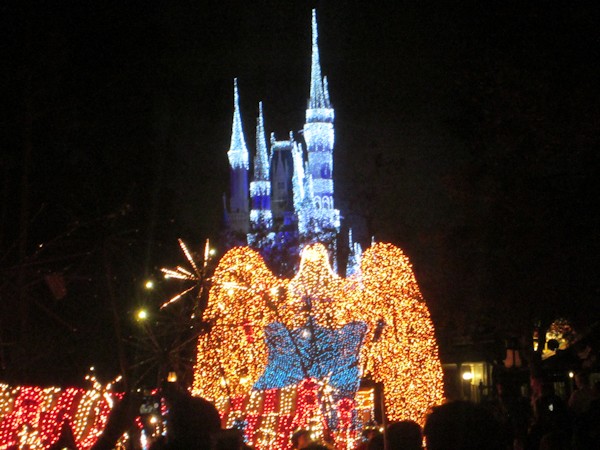 Copyright © Erin Blackwell
The Bald Eagle in the Honor America float of The Main Street Electrical Parade! And he's headed for the Castle!
I love this parade! I do miss SpectroMagic though and I wish we could have both.
Ashley Collins, that parade sounds awesome! (Except for the cold. 😉 )
Vanessa Gordon, too old for Disney?! Silly parents. 🙂
Jeff Blank and Matt Holley, I'm thinking of a piece of music. It rhymes with Garoque Soedown, but I wouldn't put anything in your heads for the rest of the week.
Mark Hardy was the first to send in the correct answer! Congratulations to Mark and to all our winners this week! Ken, Lisa And Makayla Daube, Aimee, Bill Owen , Colette S, Carol Lyons, Kelly Sroka, Barbara Coleman, Margaret Convery, Vera And Izzy Williams, Sarah And Chris, Stacie Doughty , Paul Moore, Hillary Waldroop, Mike Mondoux, Kathy, Brooke And Kennedy, Courtney, Olszak Family, Julie Holding, Cathy Clippard, Jen Eacret, Scott Tatelman, Ryan Mccorristin, Kristen Funk, Candy Shaffer, Ellen Sullivan, Jennifer Rowell, Shawn Basler, Jen Tremley, Lynzi Cathey, Denise Mcevoy, Becky H, Leah Broussard , Mark Donahue, John Warner, Emily Eldridge, Stacey Diamond, Kristen , Janet H., Robert Wescovich, Maryann Eckenrode, Martha Collins, Susan Pittman, The Long Family, Team Hill, The Curley Family, Meredith Anzur, Eric Johnson , Naomi Taylor, Michele Lindemann, Nancy Doty, Joyce And Steve, Nancy Ahlsen , Danielle Murgia, Dianne Mcginty, Christa B, Brooke Harless, Nan Amor, Mary Beth Tarbet, Robert P. Flaherty, Mary Tougas, Gloria Martin , Holly Mistark , Sharon Russo, Phyllis, Rich Schmaltz, Sharon Powell , Claire Gregory, Brian Yesutis, The Tisdale Family, Marsha Waidelich, Rosalind, Kristy , Bev , Kate Nejman, Susn Higginbotham, Christi Ison, Laura Donmoyer, Ben M, Otts Family, Emma Ramsey, Joanne Yarin, Vickie Barca, Karla Dwyer, Karen Nablo, Lesanddean, Becky Norman, Gina Shaw, Chad Citro, John Stella, Gina Falzone , Virginia Pierce, Angie Swindell, Mike Walter, Mike Malampy( Malampy Benco Family), Phyllis, Mike O'brien , Michaela O'brien , Karen O'brien, Sharon Pierce, Bob & Kathy Mckim, Linda Scrivano, Sandie Albrecht, The Kertes Family, Leach Family, Ken Savage, Carla C, Eric Berger, Kerri Coggins, Evanna Huda, Mike Haeberle, Ed Elder, Chris Kelly, The Parker Family, The Gunnels Gang , Scott C., Eleza & Lara Crook, Karen Schlumpf, Brian Richmond, Grumpy's Groupies, Antoinette Leblanc , Al & Kerry Ganter, Tracey Mcgann, Tricia Petty, Sands Family, Pat Schwier, Erin Loring, Russ Morgan, Belicia, Beth D, Ruben O'meara, Andy Hickey, Ed Suscreba, Deb Ragno, Bob Patterson, John Bickers, K Beasley, Kye Layton, Paul Dickson, Wendy T Faler, Smitty, Ed Adams, Phil Vickers, Hobbes And Snorky, Maureen And Warren Handy, Lori Rienhardt, Lenz Family, Lee Anastasi, Adolph And Kimberly Timm, Jamie Marie, Theresa Maradei, Kenny, Jim & Lorie Sonnen, Ashley Collins, Les Whitten , Jim Finley, Bruce Hinterleitner, Andrew Carrieri, Jason Steinmetz, Theresa Iaria, Josh Weiss, The Modecki's, Linda Lundsten, Donna Frank, Kristi Strembicki, Mickey Eckert, Susie Howard, Frances Donahue , Elaine Tomko-deluca, Vanessa Gordon, The Fosbender Family, The Harper Gang, Renee Worsnop, Heidi Burke, Cathy Fleming, Ken Maikowski, Tonia Dodd, Kyra, Jeff Blank, Diane Curfman, Luis Rodriguez , Tammy Warmouth, Jeremy Hardy, Kris Nixon, Theresa Rucando, Jodi Cook, Ron Nufranick, Paula Massarelli, Arlene Vicek, Janet. T Thorn, Cynthia, Bonnie Jean, Jamesd (dzneynut), Kristan Bertelmann, Robert Hildebrandt, Matt Wildey, Jen Cerce, Wendy Barney, Chris Bauman, Matt Holley, Melody Odonnell, Rob Blundin, Karrie Rodriguez, Rebecca Keenan, Dave Carriere, Jeremy Reichelt, Scott Sangston, Maureen Tavrell, Jim Logue, Team Bonnie Sue, Alison Rosenberger, Terry W., Matthew Frey, Herb Miller, Jamie Steiner, Paul Ignudo, Joseph M. Zafia, Barclay Bakkum, Chris, Gretchen, And Katie Barnes, Vicki Britt, Dawn Bach, Linda Hoffman, Liz Moreau, Don Purney, Sherry Trapp, Shirley Garcowski, Jared Orth, Caroline Burmester, George Mundy Jr, Sherri Pell, Clay Anthony, Steve Knapp, Jamie Poynton, Angela Johns, Todd Johns, Tom Koval, Jackie Graebel, Jane Johnson, Tommy Montgomery, Cheryl Costello, The Patterson Family, Gallagher Family, Terri Thornton, Michael & Jackie Mclucas, Linda Ranatza, Jim Thompson, Margie Larmon, Maryann Romagnano, and Lisa Pinder!
__________________________________ _____________________
Challenge #441 Where in the world is this?
We're switching parks!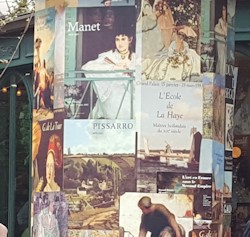 Do you know? Do you have a guess? Please send in your answer, before the end of the day on Thursday, July 14th, by clicking on the blue box below.
Please do not post answers using the Feedback Form link at the bottom of this post.
See you soon, Players!


_______________________________________________________________________
Everyone who sends in a correct answer to a Where in the World Challenge this month will be entered in a drawing at the end of the month for some special AllEars® goodies!