To all who come to this photo trivia game, Welcome! Along the way, the photos can make us relive memories and see details Walt's Imagineers put into everything we love in Walt Disney World!
I have an announcement, Players. I will be away for two weeks after this challenge because I need to take care of a family situation. You will obviously be in good hands while I am away and the game will be going on during my little hiatus! Enjoy my challenge this week and I can't wait to see what challenges lay ahead. I will announce the November monthly winner when I get back. Promise!
This is the point where I had planned to apologize to Claire Gregory for a mistake I made, but then she rubbed it in that she's at Disney and I'm not. So! Instead, I bring you this, an image of Claire revealing her true colors:

Oh I can't stay mad at any of you players! I found the Disney bear of comfort for your post-vacation blues, Claire. Lots of trips coming up and ending so be ready to share!

Now for Challenge #358: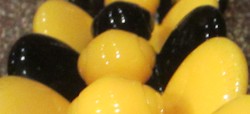 And here's the answer: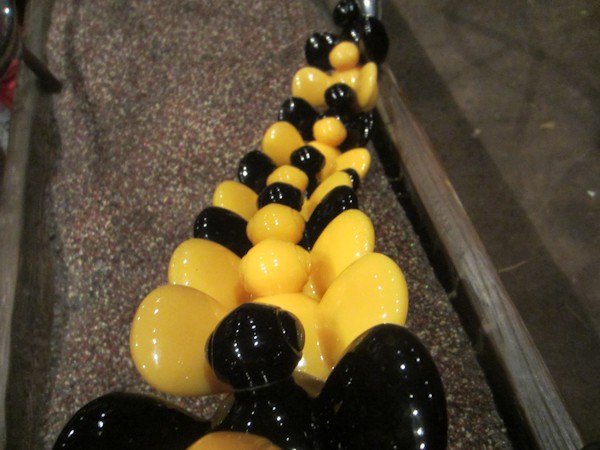 Copyright © Erin Blackwell
It's the little hunny bees from the interactive queue at The Many Adventures of Winnie the Pooh in the Magic Kingdom! As I mentioned, you might be more used to seeing these from the side as you slide the bees on their metal rails! Like this: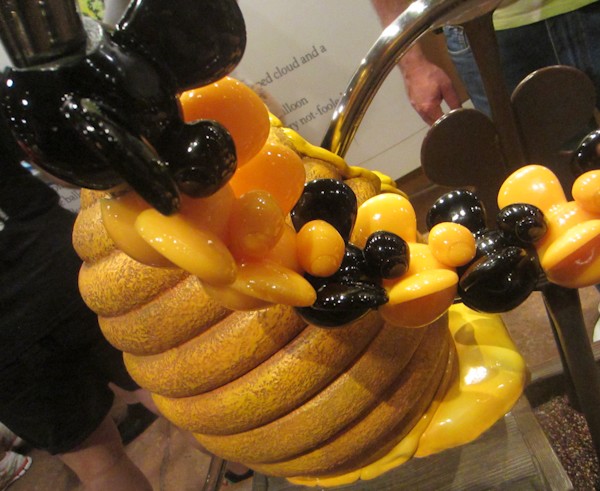 Copyright © Erin Blackwell
Aren't you amused on how I took this different angle? Like I was a real grown up artsy person? No?
I blame the bees.
Oh no, Grumpy's Groupies actually waved the white flag of surrender! (hugs) It wasn't you guys. It was the bees. Those tricky, tricky bees.

Jim & Lorie Sonnen was the first to send in the correct answer! Congratulations to Jim & Lorie and to all our winners this week! Eric Berger, Jerry Felder, Jim Finley, Hillary Waldroop, Clare, Mary Beth Tarbet, Mary Thatcher, Gabriella, Terry And Matthieu, Shannon Murray, Shannon Savoia, Kenny, Emily Canales, Chloe Mayhew, The States Family, Theresa Rucando, Robin Fitts, Anastasia Macneil, Tricia Petty, Christine Twomey, Tiffany Gibb, Nathan Y, Arlene Vicek, Kate Fischer, Patrick Broaddus, Matthew Frey, Ryan Filiater, Elaine Tomko-deluca, Caroline Burmester, Jan Rosato, The Foley Family, Michaela O'brien, Sarah And Chris, Nicole Benoit, Mike O'brien, Kerri Coggins, Virginia Pierce, Vera And Izzy Williams, and Sharon Pierce!
__________________________________ _____________________
Challenge #359 Where in the world is this?
Staying inside the parks but we're going to a different one!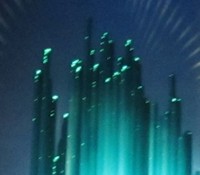 Do you know? Do you have a guess? Please send in your answer, before the end of the day on Thursday, November 27th, by clicking on the blue box below. Please do not post answers using the Feedback Form link at the bottom of this post.
See you soon, Players!


_______________________________________________________________________
Everyone who sends in a correct answer to a Where in the World Challenge this month will be entered in a drawing at the end of the month for some special AllEars® goodies!