I have sailed three times on Disney Cruise Line's Disney Dream cruise ship. Each time I have enjoyed myself more than the time before. There is always something new to try, do and explore. On this voyage, the stop at Castaway Cay, Disney's private island, was vacation photo perfect. Warm weather with a soft breeze giving the Caribbean water the beautiful greens and blues. I stopped at Pop's Props and Boat Repair on the way back to the ship for another Konk Kooler. I saw this young girl sitting and looking out at the docked Disney Dream. Maybe she was daydreaming. I thought, yes, the ship is like a dream.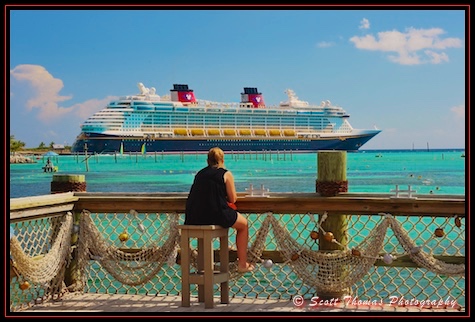 Disney Dream cruise ship docked at Castaway Cay.
Nikon D700/28-300VR, 1/125s, f/13, ISO 200, EV -0.3, 85mm focal length.
I have written many articles about the Disney Dream which you can see here: Disney Dream Archives
Deb Wills will be here tomorrow to share her "Disney Dream".