Another year is about to close. At this time, Lisa and I would like to share with you our highlights from this year's Disney vacations. Today, I am going to share with you two photographs from my trip to Disney's California Adventure and Disneyland. I will share my Walt Disney World ones on Friday.
Many people told me Carsland would blow me away and they were right. It was like being on the movie set during the day. When night came, Radiator Springs' neon lights transported me from the movie set into the actual movie. If the Cozy Cone had rooms instead of a series of snack cones, I would have wanted to stay in one.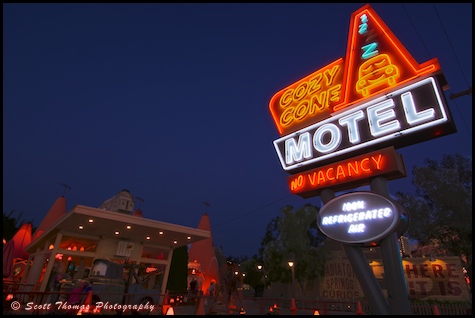 Neon Sign for the Cozy Cone Motel.
Nikon D7100/Tokina 11-16mm, 2s, f/16, ISO 100, EV 0, 14mm focal length, tripod.
Disneyland was nostalgic for me. Many of the attractions I remember seeing on TV with Walt Disney introducing them and explaining how he expected me..I mean, Disneyland guests to experience them. Great Moments with Mr. Lincoln was one such attraction and is located on Main Street USA. The show is amazing in its details of how the 16th President of the United States looked, moved and sounded.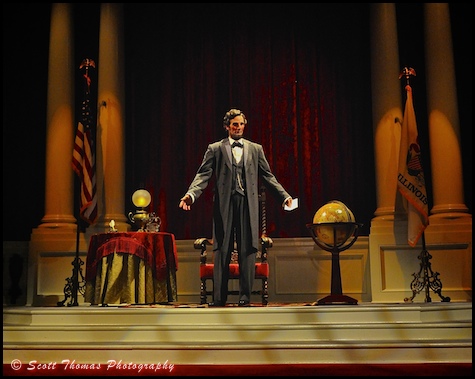 Great Moments with Mr. Lincoln on Main Street USA.
Nikon D700/28-300VR, 1/200s, f/5, ISO 6400, EV 0, 36mm focal length.
Lisa will be here on Thursday to share her Disney Pic of the Week with her 2013 Review containing highlights and maybe even some lowlights, too.