To all who come to this photo trivia game, Welcome! Along the way, the photos can make us relive memories and see details Walt's Imagineers put into everything we love in Walt Disney World!
I can't believe it. This week is the end of 2013 and begins 2014.
And we've already started Kwanzaa!

Chris Kelly, welcome back! I thought you were going to Disney this week. How are you doing with post-magic blues?
From last week: Challenge #311: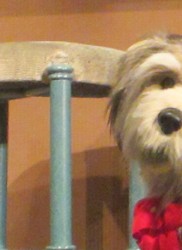 And here's the answer:


Copyright © Erin Blackwell
It's Rover in the final scene for Carousel of Progress in the Magic Kingdom! Remember when he used to have different names in different scenes like Sport and Queenie? I took his picture in each scene this last trip. 🙂
Josh Weiss, Chloe Mayhew, and Annie Snodgrass did it; they put the song in my head.
So everyone together! Jennifer Rowell, are you ready? Cheryl Costello, make sure your husband can hear us!
Carol Gamill, you start us off:
There's a great big beautiful tomorrow.
Shining at the end of everyday.
There's a great big beautiful tomorrow.
Just a dream away!
Suzanne Gray was the first to send in the correct answer! Congratulations to Suzanne and all our winners this week! Kris Nixon, Colette Stanton , Jen Eacret , Yedliw, Jim Riddle, Lauren Black, Jill Vieck, Michelle Gurn, Fred Shakeshaft, Vanessa Stjohn, Linda Bowles, Josh Weiss, Shawn Dilts, Teala Van De Ven, Heather Long, Jennifer Ingle, Jim And Lorie Sonnen, Kristi Strembicki, Harvey Householder, Bruce Jones, Colleen Leclair, Mary Ann Lamay, Renata Aragao, Bethany Angermaier, Vincent Pullo, Nishelle, Annie Snodgrass, Sharon Pierce, Phyllis, Shawn Atkins, Brian Stansbury, Linda Ranatza, Laurie Johnson, Mary Beth Tarbet, Donna, Carol Ney, Bill Mckim, Mike Walter, Donald Leblanc, Jenny Brennan, Nicole Methven, Melissa Rookard, Michelle Norris, Suzanne Baker, Kelly Deleon, Laura V., Cindy Pink, Danielle Ciotti Harsley, Ed Elder, Vera Dercole, Emma Johansen, Kerri Coggins, Rebecca Smith, Agnes Ciotti, Andrew Carrieri, Michael And Michaela Frisbee, Rex Biederman, Maggie Biederman, Trina Noggle, Jonathan Ward, Demetrios Makres, Barbara Ajak , Ellen Sullivan, Claire Gregory, Rita Garcia, Antoinette Leblanc, Carla Nale, The Gunnels Family, Dave Wang, Paul Dickson, Jennifer Rowell, Carrie Mcdaniel, The Kertes Family, Ruth Senecal, Jacquelyn Law, Mike Malampy, Elizabeth Hillery, Pollyanna Buff, Jennifer Snook, Crystal King, Double Family, Michelle Darabaris, Les Stewart, Kara Cummings , Evelyn Fayard, Judy Simonsen, Bob Patterson, Belicia Cullen, Joy Laughlin, Scott Cullen, Riley Carroll, Zach Szymko, Tem Hill, Chris Nichols, Liz Moreau, Elaine Kleinhenz, Diane Furtado, Julia Wickware, Dawn Miller, Jamie Robertson , Megan K, Brittany Jaynes, Olszak Family, Bill Cudney , Lee Anastasi, Michelle Rosner, Craig Livingston, Wendy Beaudoin, John Mahoney, Pat Schwier, Linda Scrivano, Michele Smith, Ken Maikowski, Carolyn Como, Chuck Sands, Stefan Owens, Doug Olson Family, Hunter Armstrong, Mary Ann Eckenrode, Gabriella, Terry And Matthieu, Pam Vanaustin, Chris Thomas, Leach Family, Angela Mansell, Robin Robinson , The Kahle Family, Tricia Petty, Michelle Striegel , Rhonda Tomlinson, Patti Gumiela, Dave Freemyer, Emily Hudson, Scott Greenbaum, Maggie Klotz, Paul Knott, Robert Wescovich, Abigail, Johnathan, And Michael Hulse, Lorine Landon, Kathleen Glovna, Brian Miller, Patty Norman, K Beasley , Christie Chojnacki, Matt Petty, Julie And Kody Rider, Jackie Purcell, Melissa Such, Paul Moore, Chloe Mayhew, Maureen Handy, Annette Stephen, Cheryl Costello, Jodi Gorfinkel, Ashley Collins, Craig, Hallie Gleave, Jeremy Hardy, Karen Schlumpf, Bill Schmid, Carrie Kwiat, Jason &Melinda Lenz, Dwayne Fontenot, Rob Hepler, Nicole Benoit, Erin Hammer, Deb Ragno, Katia , Jodi Cook, Patti Mccaffrey, Hobbes And Snorky, Laurie Walker, Derek Carty, Theresa Rucando, Taylor K, Carol Gamill, Betsy Silvestri, Chad Citro, Helen Smith, Chris, Gretchen, And Katie Barnes, Matt Holley, The Parker Family, Roxanne, Kevin Miller, Sarah Calvario, Audra Miller, Jim Vandenberghe , Christina R., Eric Enli , Bruce Nash, Temple Klevesahl, Karen Ramirez, Larry Sprenkle, Jerry Ladwig, Elizabeth And Vicki Edwards, Lauren Thomas, Melissa Littman, Ruben O'meara, Michelle Palazzo, Dean Poppe, Josette Gabel, Patty Carty, Nathaniel Clements, Larry Drum, John Bickers, Carol Hoffman, Russ Morgan, John P, Melanie Dalton, Nigel Mcquire (wales Uk), Joe Bateman, Christina , Jennifer Shaw, Vera And Izzy Williams, Amy Hayes, Robert Wescovich, Linda College, Diane Ramos, Janet T Thorn, Tricia Noble, Tom Donnelly, Jeremy Reichelt, Ina Edwards, Wayne Witherspoon, Dayna Guay, Elizabeth Scarborough, Melesia Love, Alison Rosenberger, Randy Thomas, Terry Fleming, The Patterson Family, Carla C, Alan Mize, Marie Seilus, Josh Carney, Anastasia Macneil, Melanie Dunlap, Lori Rienhardt, Diane Curfman, Steve Knapp, Jen Arabian, George Mundy Jr, Mark Franklin, Mike Cerce, Ken Rhinehart, Jenn Durham, Andrew Swiatowicz, The Hutchinson Family, Ashley Martz, Rob Blundin, Kylene Hershberger, Heidi Goodhue, Janna Jewett , Kris Curcio, Abigail Grasso, Caryn Schill, [email protected], Tom Koval, Beth Josuweit, Kevin Geiger, Dawn Bach, Nan Amor, Kim Wolfe, Linda Lee, Walter N. Clark, Joseph M. Zafia, Jackie Graebel, Team Meeker, Smitty, Grumpy's Groupies, Ruth Cookson, Karla Garard, Murr Family, Chris Kelly, Sarah, Ainsley Poe, Gallagher Family, Duskin Henard, Rob And April – Team Vanderpool, Tom Higbee, Susan Higginbotham, Ashley P. , Ronald Delorey, Alex Gamill, Vicki Britt, Vicki Finnegan, Nathan York, Kerry Mccaffrey, Jullie Pudem, and Jane Johnson. Each of you are entered in this month's winners' drawing.
_____________________________________________________ _____________________
Challenge #312 Where in the world is this?
Maybe this is a good way to end one year and start another: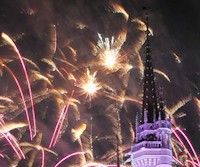 Do you know? Do you have a guess? Please send in your answer, before the end of the day on Thursday, December 26th, by clicking on the blue box below. Please do not post answers using the Feedback Form link at the bottom of this post.
See you next week, Players!


_______________________________________________________________________
Everyone who sends in a correct answer to a Where in the World Challenge this month will be entered in a drawing at the end of the month for some special AllEars® goodies!