To all who come to this photo trivia game, Welcome! Along the way, the photos can make us relive memories and see details Walt's Imagineers put into everything we love in Walt Disney World!
Thank you, Players, for your continued Good Wishes for my health, like the notes I got from Mary Beth Tarbet, Danielle Ciotti,Susan & Mike Hill, Agnes Ciotti, and Kerry A.!
Here was the September 9th challenge: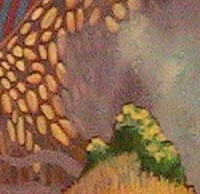 And here's the answer!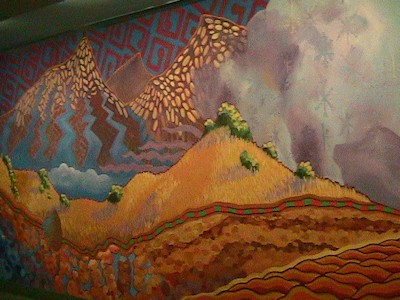 Copyright © Erin Blackwell
It's the mural in the Living with the Land attraction in Epcot. Everybody sing!

Just make believe you're a tiny little seed,
a tiny little seed that's reaching up to meet your need.
With the right amount of faith and the right amount of earth
you'll grow to see the sunshine on your day of birth.
Let's listen to the land we all love.
Nature's plan will shine above.
Listen to the land, listen to the land.
I LOVE that song!
Amy Schweizer was the first to send in the correct answer! Congratulations to Amy and to all the readers who got the answer right: Gabriella And Matthieu, Alex And Carol Gamill, Paul Jeffers, Anne Marie Cronin, Liz, Mickey Eckert, Louise Barton, Colette S, Rob Anderson, Jenny Stoneburner, Dee Cote, Nick Bentz, Vicki, Elizabeth And William Edwards, Ruth Senecal, Kerry A., Morgan M., Paul Ignudo Jr., Clay Anthony, Callie Conrad, Chuck Everson, Patrick Broaddus, Jim Finley, Karen Ramirez, Emily Hudson, Carla Nale, Allie Reckendorf, Jan Rosato, Kristy Garrity, Carol Eaton, Rob Blundin, Cynthia Hitchcock, and Danielle Ciotti. Each of you are entered in this month's winners' drawing.
_____________________________________________________ _____________________
Challenge #247: Where in the world is this?
I thought last week's Challenge was going to be easier, but I realized that it depended on what I showed in the thumbnail. So let's try it better this week! We're still in the parks.
Do you know? Do you have a guess? Please send in your answer, before the end of the day on Thursday, September 20th, by clicking on the blue box below. Please do not post answers using the Feedback Form link at the bottom of this post.
See you next week, Players!


_______________________________________________________________________
Everyone who sends in a correct answer to a Where in the World Challenge this month will be entered in a drawing at the end of the month for some special AllEars® goodies!