It wouldn't be one of my Disney trip reports without a blog entry on the food, right? 🙂
Friday night we had dinner at Ralph Brennan's Jazz Kitchen in Downtown Disney. We don't eat here very often, and I don't really know why, because we always look at the menu and have a hard time choosing – there are so many things that look good! I had made a priority seating for 8:00, and we were quickly seated at an outdoor table on the ground floor right against the railing, so we had a great spot to people-watch those going by.
We started with the Bourbon Street Sampler. The items on this change periodically – this time it was fried calamari, coconut shrimp, parmesan artichoke hearts, and meat pies, with three dipping sauces. We substituted more shrimp instead of the calamari – they are happy to do that. It was all good.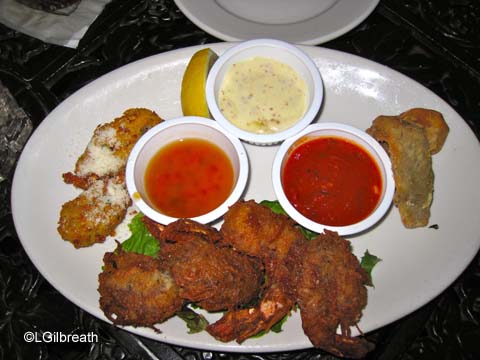 I had one of their specials as my entree – it was a blackened shrimp and fried green tomato salad with avocado, radishes, bacon, and dijon-ranch dressing. It was really delicious! The fried green tomatoes were breaded and nicely cooked. The shrimp had a little bit of a kick, but not too bad.
Lee ordered the Pasta Jambalaya – Gulf shrimp, andouille sausage, roasted chicken and spinach fettuccine. He also enjoyed that, and couldn't finish it.
We ordered a side of Cajun Corn Bread. It was good – not too dry like corn bread often is. It had some peppers in it – Lee got the bite with most of the heat in it. 🙂
Their signature dessert, the Double Chocolate Bread Pudding Souffle, takes time to prepare so they ask that you pre-order it. We asked to look at the dessert menu just in case there was something else we wanted…and there were other interesting-looking desserts but we went with the bread pudding. It comes with white chocolate sauce and dark chocolate sauce – our server cut a chunk out of the middle of the souffle and poured both sauces in then replaced the chunk…and then we dug in. Mmm…this was really good! When he first brought it out it seemed a little small for two of us, but it was very filling and satisfying – and I was glad that it wasn't any bigger. There were chunks of chocolate baked into it in addition to the chocolate sauce – I think the secret is to dig down to the bottom so you get some chocolate sauce with every bite.
Saturday morning we tried the La Brea Bakery Express – we hadn't eaten here since it was remodeled. It's a lot bigger now with a more extensive menu, but they need to do something about the line, because it moves incredibly slowly. They need more cashiers. I was boring and had oatmeal (though it was good oatmeal), though I bought a box of their fruit/granola/nut clusters and added some of that to it. Lee had one of the breakfast sandwiches, and he enjoyed that. They have a good-sized outdoor seating area and it was a very pleasant morning to sit outside. I'd eat here again as long as there weren't more than 3-4 people in front of me in line – otherwise I'd try elsewhere.
That afternoon we had a late lunch at Trader Sam's at the Disneyland Hotel. We were lucky to be able to find a table inside for the five of us – it's not a very big place. It has lots of atmosphere – like thunder, lightning, and erupting volcanoes… 🙂 (There are certain special effects that happen when people order several of the drinks.)
We ordered a couple of the non-alcoholic brews, since we were still in training. I had the Jungle River Sunset – soda water with OJ, falernum (whatever that is), and hibiscus grenadine. It was very colorful but very sweet – less ice and more soda water would have been good. Lee had the Schweitzer Falls – Sprite with tropical juices and Sam's Gorilla Grog. That one isn't quite as sweet.
We ordered the Chicken-Lettuce Wraps. This is a "do-it-yourself" – they bring a platter with lettuce leaves, chicken, rice noodles, and hoisin sauce and you make your own. The chicken was very good, and we enjoyed these.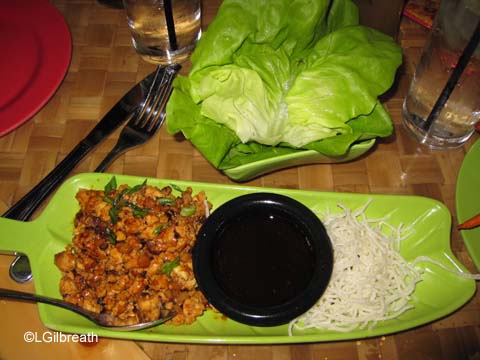 We also had the Fish Tacos. Three smallish corn tortillas with grilled mahi-mahi, and a pepper slaw on the side. They were very tasty, but pretty small.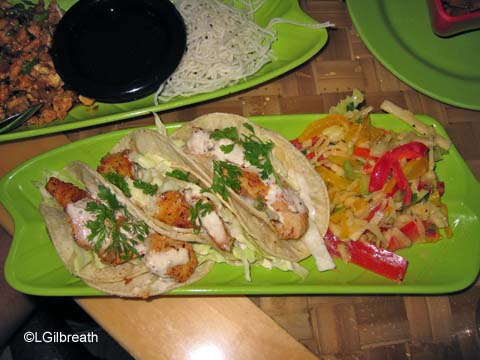 Our tablemates had the Kahlua Pork Flatbread and the Cheese Flatbread. Judging by how fast they disappeared, they really enjoyed them. 🙂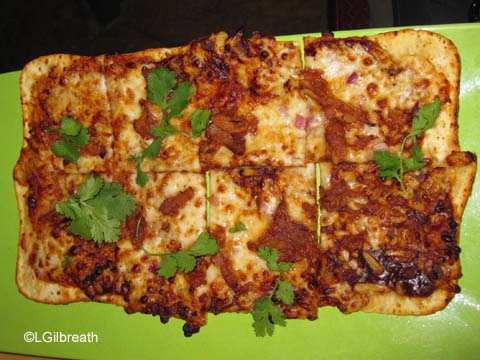 It was the night before a race, so of course we went in search of pasta. 🙂 Last year there was no one in Boardwalk Pizza and Pasta but this year the word has gotten out about that place and there was a line – we had to wait 5-10 minutes to get the Three Cheese Ravioli. It's very good.
We also split a Boardwalk Field Greens Salad – a little too much dressing and bleu cheese for me, though.
And Lee had the BBQ Chicken Flat Bread Pizza. He really likes that, but I don't like the flat bread crust.
After the race on Sunday we rewarded ourselves with the breakfast buffet at Storytellers Cafe in the Grand Californian. The breakfast buffet has just about all of the items that are on the a la carte menu, and doesn't cost that much more. It's a very nice spread – fresh fruit, yogurt, lox and bagels, scrambled eggs, sausage, bacon, hash browns, hot and cold cereal, pastries, eggs Benedict, and, my favorite, made-to-order omelets. Pancakes and Mickey waffles are also available – just ask your server, and they are served fresh and hot to your table! Hot beverages and juices are also included. Not surprisingly it was VERY popular with runners, and the line at the buffet was longer than I've ever seen it. 🙁 If you want to do this on race day, make reservations at least a couple of weeks before – they were still taking walk-ups, but they were being told it was a 45-minute wait, and we got in with about a 5-minute wait.
It's a character meal, though as character meals go it's fairly calm. We saw Dale, Terk and Kenai, but Koda and Chip didn't make it to our table. In the past I've seen Rafiki and Meeko, too.
That afternoon we met up with members of Team AllEars at Clarabelle's Hand-Scooped Ice Cream in DCA for ice cream (though a couple of people opted for Starbuck's beverages from the Pig Cafe next door instead). I had the Mocha Sundae – mocha almond ice cream, caramel sauce, hot fudge, whipped cream and a cherry in a waffle cup. Yum.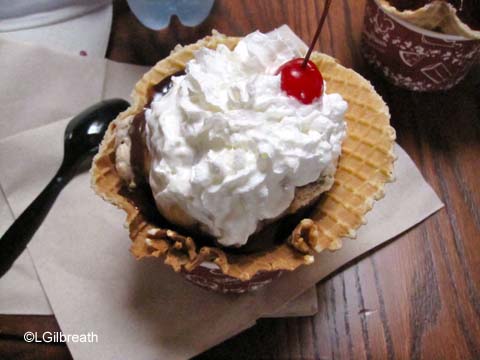 Lee had the Strawberry Sundae with vanilla ice cream, strawberry sauce, whipped cream and a cherry in a waffle cup. He enjoyed that, too.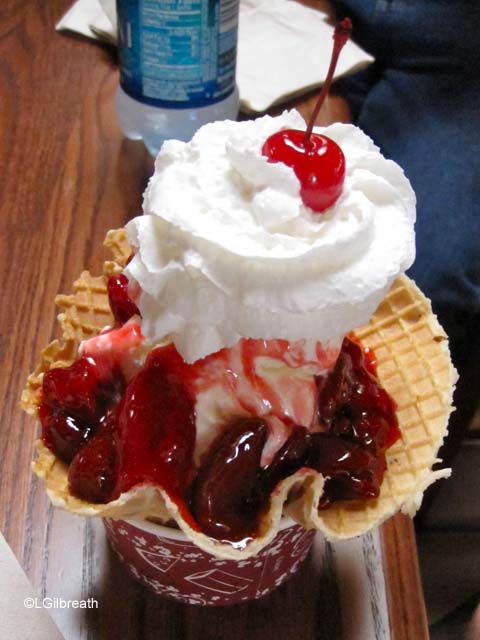 We had dinner that night at Steakhouse 55 in the Disneyland Hotel. We'd never been there for a "regular" dinner before – our other dinners were Winemaker dinners during the Food and Wine Festivals. We've had breakfast there several times, and enjoy that. Overall it wasn't a great experience – the food was good, but our server was a little odd. He didn't welcome us to the restaurant or ask us if we were celebrating anything (which we were), didn't really tell us about the menu, didn't ask Lee if he wanted anything on his steak – really didn't interact with us very much at all and it was kind of uncomfortable.
Lee started with the scallops, and really enjoyed them.
I had the Spring Greens Salad with raspberry vinaigrette – and to my surprise it was freshly made raspberry vinaigrette with real crushed raspberries in it! It was very good.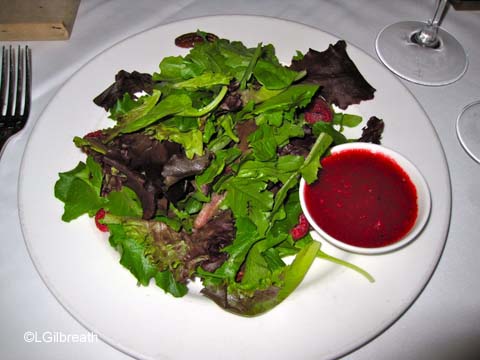 Oh, the bread service was really good, too – a loaf of fresh hot sourdough bread. I would've been very happy with just bread and salad. 🙂
My entree was Pork Chops with Roasted Apples. The pork was moist and flavorful and especially good when eaten with a bit of the applesauce that came with it.
As a side I ordered the Potato Stack Au Gratin. Oh my…that was SO good! Cheesy but with a bit of a crust on top. I loved it.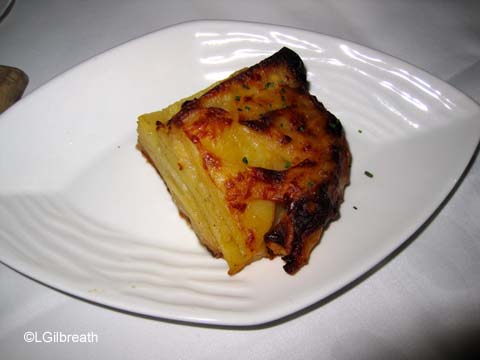 Lee had the New York Strip Steak. Since our server didn't ask him if he wanted anything on top of it he used some of the butter that came with our bread instead, and enjoyed that.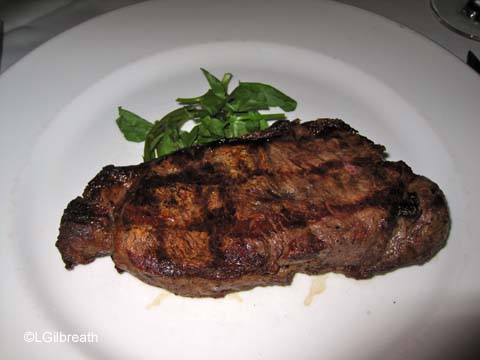 He had Macaroni and Cheese as a side. It was good, but the potato stack was better. 🙂
Nothing on the dessert menu really appealed to us – while I was intrigued by the 24-layer chocolate cake, they ruin it by using Grand Marnier in it. (That violates Laura's First Chocolate Commandment: Thou Shalt Not Mix Chocolate and Citrus.) So we went to the Cupcake Store in Downtown Disney and had cupcakes instead – Pure Chocolate for me and Coconut for Lee. Not quite as good as a great chocolate dessert would have been, but still satisfying.
On Monday morning they had Magic Morning at DCA for hotel guests. After we'd ridden Radiator Springs Racers, Luigi's Flying Tires, Mater's Junkyard Jamboree and Toy Story Mania, we had breakfast at Flo's V8 Cafe. We both had the Chicken Tamale Breakfast – a chicken tamale with scrambled eggs, salsa verde, and pico de gallo. This was just ok…the tamale was good, but the eggs were more like chunks from an egg casserole, and the whole dish was not overly warm. I probably would not get it again.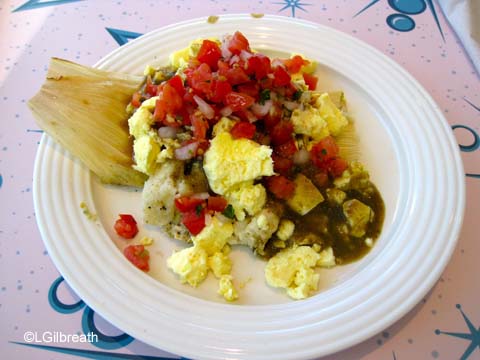 I also tried Mater's Tulsa Tea – this was green iced tea with a tropical fruit foam on top. It was a little too sweet for me, though not as sweet as I thought it might be. It did have a pretty good flavor apart from the sweetness.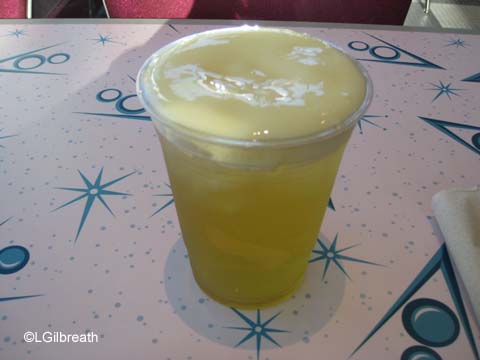 It was a great weekend, and nice to have some new dining experiences in addition to some familiar favorites.