When guests board the Disney Dream at the Port Canaveral terminal, they are loudly heralded by a Disney Cruise Cast Member as they walk into the Atrium on Deck 3. The Atrium is three decks high and features the large Swarovski crystal chandelier, statue of Admiral Donald Duck, marble and carpeted flooring, glass elevators and a grand staircase leading up to Deck 4. The Atrium hosts many of the Disney character Meet and Greets including the very popular Princess line up. Each of these Meets and Greets are listed in the ship's daily newsletter called The Navigator.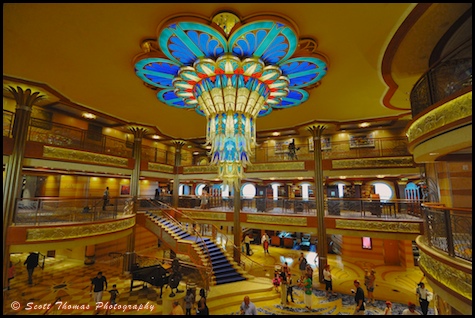 Disney Dream Atrium as seen from Deck 4.
Nikon D700/Tokina 11-16mm, 1/50s, f/8, ISO 3200, EV -0.7, 16mm focal length.
I have shown you the Disney Dream chandelier before. I told you then it measureed twenty-two feet (seven meters) in diameter and is decorated with Swarovski crystals. It is covered with 24-karat gold plating and cascades thirteen feet (four meters) down from the three deck high Atrium ceiling. Did I mention the Mickeys? They are not hidden as they are part of the design.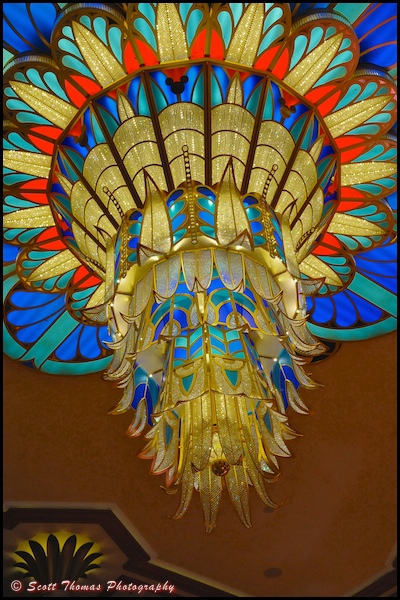 Close up of the Disney Dream Chandelier in the Atrium. See Mickey?
Nikon D700/28-300VR, 1/60s, f/8, ISO 2200, EV +0.3, 52mm focal length.
Wonder what it might be like to walk down the Grand Staircase? I hope this will give you an idea of what it looks like to do so.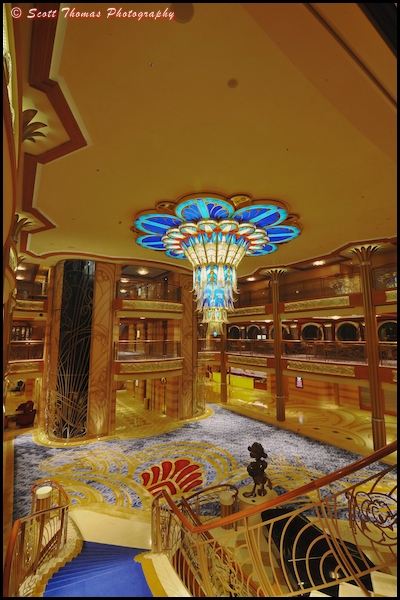 A walk down the Grand Staircase from Deck 4 of the Disney Dream.
Nikon D700/Tokina 11-16mm, 2s, f/16, ISO 200, EV 0, 16mm focal length, tripod.
At midnight, the ship is very quiet and is a good time to use a tripod so as not to get in anyone's way.