Last time I sailed on the Disney Dream was for her Christening Cruise back in January of 2011. On that cruise there were fewer than 1,000 passengers and most of them were media and travel professionals without their families. As you can imagine, I wondered how a 4-Night Caribbean cruise would be with almost a full complement of passengers, nearly 4,000, and most of them being families would be like traveling as an adult couple. Could an adult couple enjoy a Disney cruise?
Can Adult Couples really enjoy a Disney Cruise?
Nikon D700/28-300VR, 1/160s, f/16, ISO 200, EV 0, 28mm focal length.
I guess you can ask the same question to all of us adults who go to any of the Disney parks and resorts. However, on a cruise ship there is limited space and there are a lot of children, preteens and teens on board. I can tell you the Disney Cruise Line knows what it is doing. There are enough activities, locations and events to keep adult couples happy and relaxed. In fact, you have to take the attitude one would take at the parks and resorts. You do what you want and enjoy the experience. If it becomes to much to handle, you can return to your room or head to one of the adult only locations on the ship. One such area can be found on Decks 11 & 12 Forward.
Decks 11 and 12 Forward on the Disney Dream cruise ship are reserved for Adults Only.
Nikon D700/Tokina 11-16mm, 1/160s, f/16, ISO 200, EV 0, 16mm focal length.
The adult pool and four bars are located in this area with lots of space for couples to lounge in the Caribbean sunshine or curl up together in an over-sized chair. Entertainment for this area was a singer/guitar player who sang island and easy listening favorites. A cool tropical drink or other adult beverages are just a few steps away. The area was quiet and calm unlike where the families were frolicking at the Mickey Mouse and Donald Duck pools.
Note about the photo above: The extra Disney stacks you see in the background are from the Disney Magic who was berthed along side of the Dream when we visited Nassau, Bahamas.
When I travel to places, I like to seek out historical and cultural locations and events. With that in mind, my wife and I chose the Nassau Forts and Junkanoo Discovery excursion at the Port of Call of Nassau. We, along with two other families, were driven by a local tour guide to Fort Fincastle to learn about its history, walked down the Queen's Staircase and visited the Ivern House, which is an interactive museum that taught us about the Bahamian festival of Junkanoo. We, along with our fellow tourists, had a ball playing bells and drums as we learned about the origins and traditions of the colorful and loud festival. Even got to try on Junkanoo hats.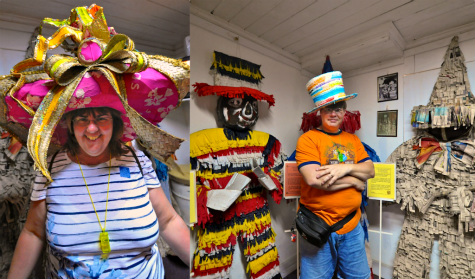 Scott and his wife try on colorful and heavy Junkanoo hats.
Dining on a Disney cruise ship may be a concern to couples. It was not for us. Our table in each of the restaurants was located with other couples and families with older children. We had a most pleasant experience in part because of our Dining crew, who stayed with us each night for dinner. I remember grumblings from the very first Disney Dream cruises about the service. That is a thing of the past as we experienced excellent service. They were very personable, quick and remembered our preferences after the first night. We were so impressed with them, we called over the Head Waiter and voiced our pleasure to him directly. Then asked them all to pose for a photo to remember them by. A fellow passenger was kind enough to use my camera so even I could be included.
Scott and his wife's Dining Crew on the Disney Dream taken at Pirate Night.
Nikon D700/28-300VR, 1/60s, f/8, ISO 3200, EV -0.6, 28mm focal length, bounced flash.
Do not forget to try one of the upscale restaurants of Palo or Remy, which cater to adults only. We enjoyed a leisurely meal in Palo as the Disney Dream left the Port of Nassau. Our server for the evening pointed out all the homes to the stars as we went by. The food was great everywhere on the Dream but Palo was just a notch above. Very flavorful and not too filling that we could not enjoy our Chocolate Souffle dessert.
Being a Disney-owned ship, you know you will see Disney's famous characters from animated shorts to full-length movies. Adults were just as happy to see them as the kids. Characters were around the adult-only areas as well as announced locations around the ship and on Castaway Cay. The daily Navigator newsletter kept everyone informed to what was happening and when.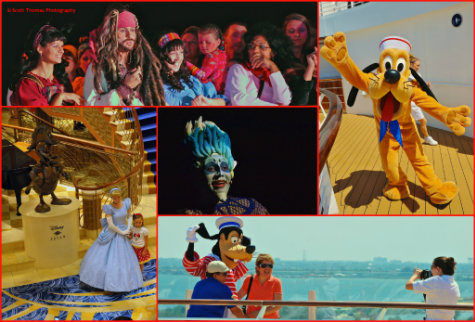 Disney characters on the Disney Dream cruise ship.
You are probably all familiar with Castaway Cay's adult beach called Serenity Bay. Again, a nice quiet place for adults to enjoy the Caribbean lifestyle. They serve a BBQ Buffet right there so you do not have to go back to Cookies near the family beach to eat your fill. The Castaway Air Bar will keep you hydrated with its famous Konk Kooler drink made up of rum, coconut, pineapple, orange juices and passion fruit. Oh, yea, it's as good as it sounds.
There are many activities you can do on Castaway Cay. Before my wife and I settled at Serenity Bay, we rented bicycles and rode the trails out to the Lookout Tower. As the day was windy with a threat of rain, many others did the same. They have water locations all along the trails to keep people cool in the Caribbean heat and humidity.
A family riding rented bikes on Castaway Cay.
Nikon D700/28-300VR, 1/200s, f/7.1, ISO 200, EV +0.3, 48mm focal length.
All in all, my wife and I found lots of places to relax and enjoy ourselves as well as things to do. We took in two of the fabulous live Broadway caliber shows in the Walt Disney Theatre, watched the 3-D adventure movie, The Avengers, in the Buena Vista Theater, took in the fireworks show and dessert buffet on Pirates Night, grabbed an ice cream and a burger from the quick service locations and drank strawberry daiquiris while watching a beautiful sunset from the promenade deck. As you can see, couples can have a relaxing, enjoyable and, yes, romantic cruise on a Disney ship.
Oh, and let me not forget The District. An adult only nightclub and lounge area with places for every kind of adult fun; sports, cocktail lounge, comedy, dancing and games. I even watched a Stanley Cup playoff hockey game in the middle of the Caribbean at the 687 Sports Bar one night.
Scott and his wife sitting on a port hole in the District adult only nightclub area.
Nikon D700/Tokina 11-16mm, 1/125s, f/5.6, ISO 200, EV 0, 16mm focal length, bounced flash.
Click here for more information about the Disney Cruise Line.