To all who come to this photo trivia game, Welcome! Along the way, the photos can make us relive memories and see details Walt's Imagineers put into everything we love in Walt Disney World!
Deb Ragno, you weren't first with the answer and rightly so, since your three year old grandson was playing at your house. So here's to the two of you: the first note! 🙂
Players, it's birthday shout out time! It's someone all of you know, although maybe not personally, but… if you don't mind: Erin Blackwell —
WHAT?! You guys! I am so surprised! I never expected – wait, flowers and chocolates?! Aw, stop, you're making me blush!
Speaking of shout outs: John Ames! So good to see you here! I didn't know you played the game!
Now, everybody wave hi to Rob And April of Team Vanderpool who are enjoying a Walt Disney World vacation! They are enjoying magical moments and I'm sure they are thinking of us!
Speaking of vacations: ALOHA, Kerri Coggins! Oh, I hope you do get to check out Aulani, but I know you are so enjoying yourself at Oahu!
Vera Williams, I'm glad you liked last week's photo! My foot is fine. The gator mostly just gummed it; it tickled. And Patti Mccaffrey, you have so been to Discovery Island in Disney's Animal Kingdom. Because as soon as you walk over the bridge and see the Tree, you are there! Ask Jeremy, he can tell you. 🙂
Sandie Albrecht, Kameo Crea, P.j. Popsuj, and Carolyn R. Conway, thank you for your notes! Everyone here at the photo blog loves you right back! Because without all of you, we wouldn't be here. 🙂
Here was last week's Challenge: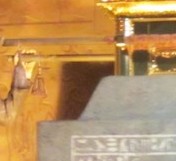 And here's the answer: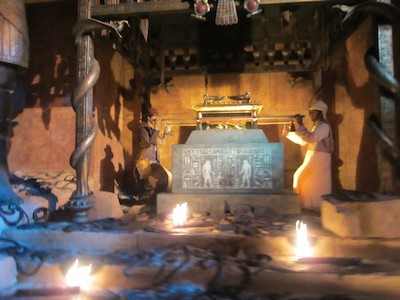 Copyright © 2011 Erin Blackwell, Canon PowerShot ELPH 300 HS, f2.7, 1/10sec, 4mm, ISO-1600
Clinton Dickinson, you chose the Indiana Jones section of The Great Movie Ride in Disney's Hollywood Studios for 300. The answer is: The entrance music to the Team Hill wedding reception. "What is the Raiders of the Lost Ark theme song?" Correct!
And thanks to Ainsley Poe singing it, I have that theme song stuck in my head. Thanks, Ainsley!
As Matt Holley and Chris Kelly pointed out, there are two great Hidden Mickeys here. One is at the base of the Ark and the other is Mickey and Donald on the opposite wall from Indy. Have you guys also seen the wonderful hidden R2-D2 and C3PO on that wall? I've tried to take a picture of it, but it's so dark on that part of the wall that I can't get it clearly.
Gabriella wants to thank Matthieu for getting the answer right for the two of them! Mary Tackett is also very thankful for the "Mom, D'UH! Indiana Jones!" she undoubtedly got when she asked. LOL!
Jenn Steele, I never judge. Never. …well, maybe occasionally, but NEVER you! And Annie Snodgrass, it's been FOREVER since I heard a good Easy peasy lemon squeezey! Booyah!
Chris Masse was the first to send in the correct answer! Congratulations to Chris and to all the readers who got the answer right: Teresa Plunkett, Audra Miller, Larissa Huda, Al Desimone, David W., Kenny, Dave Wang, Kevin Miller, Staci Plunkett, Debbie Desimone, Debbie Desimone, Emily Dagney, Mary Beth Tarbet, Paul Knott, David B, Emily Hudson, Jennifer Dealmeida, Brian Gallant, Rob And April – Team Vanderpool, Dale Knight, Linda Scrivano, Sam Fritz, Brenda Mcguire, Jen Tremley, Jennifer Rowell, James Schmidt, Jim Mcdermott, Kelsey, Janet Fishman, Frank Domizio, Matt Holley, Jen Cerce, Joe Black, Kathryn Perkins, Ken Maikowski, Ed Elder, Hayley Valk, Stephanie Newell, Amanda Sage, The Kertes Family, Laura V., Vincent Coppola, Scott Cullen, Katherine Pretzman , Mike Walter, Belicia Cullen, Margaret West, Marie Seilus, Paul Sankey, T.treloar-rhodes, Sharon Pierce, Russ Morgan, Brian Beck, Vera Williams, David And Angie, Kameo Crea, Antoinette Leblanc, Phil Vickers, James And Kathy Berry, Daniel Record, Deborah Boucher, Liz Weiter, Chris Hanna, Liana Imbrogno, Mackenzie D., Ali Yesutis, Tina Santacroce, Team Hill, Craig, Tiffany Gibb, Kye Layton, Gabriella And Matthieu, Courtney Payne, Emily Jabas, Christopher Tweedle, Lee Anastasi, Nicole Duddy, Sharynne Smith, Bob Hendrix, Megan Krainski, Kerri Coggins, Linda College, Amy Schweizer, Rebecca Smith, Stephanie Visco, Christoper Bourassa, Morgan M. , Chris Surette, Deb Ragno, The Malesky Family, Jason And Melinda Lenz, John Ames, Becky Noto, Mike Venere, Wendy T Faler, Anne Marie Cronin, Jonathan Thomas, Lauren Thomas, Pam Vanaustin, Diane Marciuliano, Gaylene Gray, Nancy Johansen, Cara Richards, Hobbes And Snorky, Erika Loboda, Aaron Harpel, Kellie Harpel, Lily-pierre Couet, The Moore Family, Claire Gregory, Carla C, Paul Newman, Katie Bray, Josh Weiss, Annie Snodgrass, Scott Precise, Regina Seaner, Maggie Klotz, Donna Currier, Carolyn Como, Brendan Abel, Michael Gainey, Vicki Edwards, Melesia Love, Kelly Mager, Elaine Tomko-deluca, Bill Cudney, Christopher Barnes, Kim Kusser, Mary Virginia Clause, Liliana Rivera, Vickie Smialkowski, Caryn Schill, Susie Howard, Dan Johnston, Michelle White, Rob Blundin, Lauren Blundin, Rich Hall, Karen Ramirez, Dawn Bach, Jennifer Townsend, Laurie Walker, Gregg Mcglasson, Matt Cofone, Sharon Dale, Chris Kelly, Nick Bentz, Walter N. Clark, Brian Miller, Beth Mcmeekin, Bruce Arnold, Amy Miller, Vanessa Gordon, Robert Anderson, Doug Olson Family, Jeffrey Dunne, John Duncan, Scott Lau, Kathryn Willer, Jackie Purcell, Wayne Chadourne, Allyson Sodrosky, Cameron Lange, Clinton Dickinson, Ken Fischler, Dan Mangini, Andrew Drummond, Andrew Pettit, Jackie Knapp, Brian Grabowski, Zachary Ott, Jared Orth, Josh Carney, Alan Mize, Bonnie Tulenko, Dee Riccio, Christopher Hall, Mary Tackett, Michelle Roth-smoot, Michele Delorenzo, Austin O'blenis, Kristi Strembicki, Pamela Gerdes, Chuck Everson, Alison Rosenberger, Chuck Everson, Dick Smith, Earl Wilcher, Paul Ignudo, Jr., Gail Hirsch, Brad Scott, Regina Brown, Heather Calvey, Davida Kosa, Callie Conrad, Shelly Borella, Rachel Hoover, Carri Marotto, Kim Steiner, Greg Cusano, Dave Carriere, Regina Allen, Kelli Sangston, Erin Hammer, Anastasia Macneil, P.j. Popsuj, Andy Schumacher, Patti Mccaffrey, Kerry Finnamore, Stephanie Linares, Jeff Finger, George Mundy Jr, Allison Caputa, Ainsley Poe , Jennifer Chartier, Ed Suscreba, Jenn Steele, Danielle Ciotti Harsley, Bob Henriksen, Mike Pennington, Matt Ciccone, Jackie Bastien, Erica Zielewski, Heidi Goodhue, Leach Family, Paul Dickson, Nicole Lopresti, Nicole Benoit, Matt Degrandis, Karen Hotchkiss, Lexi , James Greene, Carla Nale, Jenny Lopresti, Emma Ramsey, Tom Buck, M'shel Bowen, Carolyn R. Conway, Jenifer Moyer, Joshua Swainston, Mukta Mohapatra, Jeff Blank, Rick Shea, Bob Patterson, Scott, Hillary Waldroop, Chris, Heather Hynes, Karen Schlumpf, Patrick Broaddus, Lisa Zitek, Sam Thomas, Courtney Broaddus, Ashley Elizabeth, Bruce Hinterleitner, William Sharp, Mike O'brien, Jeffrey Martin, Clay Anthony, Patti Deluca, Cleopatra room, Robert Bostic, John Pasqueralli, Melissa Kirk, Maureen Handy, Kerry Mccaffrey, Jeremy Mccaffrey, Kerrie Hogan, Kris Blamphin, Sandie Albrecht, Robert P. Flaherty, Mark Cullison, David Ballard, Kate Flanagan, Betsy Silvestri, Jennifer Bogdan, Walter N. Clark, Melissa Dye, Debbie Poole, Tom Koval, Sandy Kanigowski, Dave Kanigowski, Chris Bauman, Barclay Bakkum, Thomas Higbee, Wayne Witherspoon, Kristin Dormuth, Jessica Haywood, Paula B, Stacy Murphy, Mary Kay Samluk, Shirley Garcowski, Bill Gallagher, Emily Chronas, Derek Carty, Patty Carty, Jackie, John Foggo, Tina Horlick, Theresa Rucando, Tom & Susan Linder , Linda Mac, Mike Haeberle, Sarah Holodick, Margie Larmon, Barbara Sims, Chris Stockton, Agnes Ciotti, Melissa Love, Ryan , William Smith, Wendy Snelgrove, Stefan Owens, Mickey Eckert, Jamie K, Jane Johnson, Gerald Buford, Jack Foley, Cindy Nagel , J Brizzle, and Ben Sodrosky Each of you are entered in this month's winners' drawing.
_____________________________________________________ _____________________
Challenge #234: Where in the world is this?
Keep your park passes out, because we are staying in them! So where in Walt Disney World would you see this?
Do you know? Do you have a guess? Please send in your answer, before the end of the day on Thursday, June 21st, by clicking on the blue box below. Please do not post answers using the Feedback Form link at the bottom of this post.
See you next week, Players!


_______________________________________________________________________
Everyone who sends in a correct answer to a Where in the World Challenge this month will be entered in a drawing at the end of the month for some special AllEars® goodies!