When it comes to the countries of World Showcase, Mexico is one of my favorites to spend time in. While the pavilion's Mayan pyramid exterior is certainly impressive, it is what lies inside that makes Mexico truly unique among all the countries. It is unfortunate that more than a few guests to Epcot do not even know that there is an indoor portion to the Mexican pavilion and just pass by without getting to experience one of World Showcase's most immersive atmospheres. When it comes to transporting guests to a totally different time and place, no country does it quite as well as Mexico. From the minute you step inside you will almost forget that you are in Disney World and become completely immersed in the sights and sounds of a bustling Mexican nighttime marketplace.
Of course, no journey to Mexico would be complete without sampling the country's cuisine. Fortunately for guests, the pavilion offers a variety of dining options, from La Hacienda de San Angel and La Cantina de San Angel along the shores of the World Showcase Lagoon to the pavilion's tequila bar La Cava del Tequila. Each dining location has a something a little different to offer, but my personal favorite is the San Angel Inn. Not only does this restaurant deliver authentic Mexican cuisine, but it features an atmosphere unlike any other at Disney World.
Overview:
The San Angel Inn has its roots in Mexico itself and has a very fascinating history. The origins of the San Angel Inn in Mexico City actually go all the way back to 1692 when a beautiful hacienda was built near the town. Originally intended to be a monastery, the hacienda served as a tranquil retreat for the Mexican aristocracy. Among some of the more notable figures to visit the hacienda were General Santa Ana and Pancho Villa. The hacienda actually became a pulque (an alcoholic cactus beverage) factory before being purchased by the San Angel Land Company in 1906. The hacienda was then converted into a hotel and restaurant and named the San Angel Inn.
The San Angel Inn at Epcot's Mexico pavilion looks to continue the legacy of the original in Mexico City and deliver a dining experience which is truly authentic. As is stated on the restaurant's menu the San Angel Inn strives to "present the subtle flavors and surprising tastes which are genuinely Mexican." However, this is a restaurant that delivers an experience which is about so much more than just the food and this is what so successfully helps to create a complete sense of immersion into Mexican culture. The San Angel Inn is a restaurant that combines the "style and spirit of old Mexico, the warmth of hacienda hospitality, and the assurance of exceptionally fine food." Together, this is what makes the San Angel Inn a truly memorable dining experience.
Atmosphere:
The mood is set as soon as you step into the pyramid and make your way to the Plaza de los Amigos (Plaza of the Friends). The nighttime setting of the marketplace was specifically chosen by Disney Imagineers because it would be more authentic to the operating hours of a typical Mexican market. The marketplace is crammed with various carts and stands selling traditional Mexican items ranging from sombreros and piñatas to blankets, ceramic pottery, jewelry, and other hand-made goods.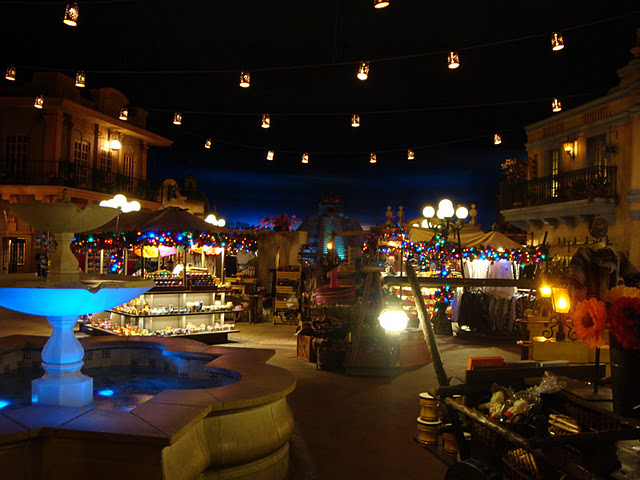 As you meander your way through the marketplace toward the rear of the pavilion you will eventually come to the San Angel Inn. The restaurant's out of the way location may sometimes cause it to go overlooked by those not specifically seeking it out.
One of the most notable features of the San Angel Inn is its position along the banks of the Grand Fiesta Tour boat ride. Guests sitting at tables on the water's edge dine as they watch other guests in their boats passing by. The Mayan pyramid and lush tropical jungle on the opposite side of the river serve as an impressive backdrop for the restaurant. There is even a smoldering, smoking volcano that erupts occasionally as well. It is certainly a beautiful setting to enjoy your meal.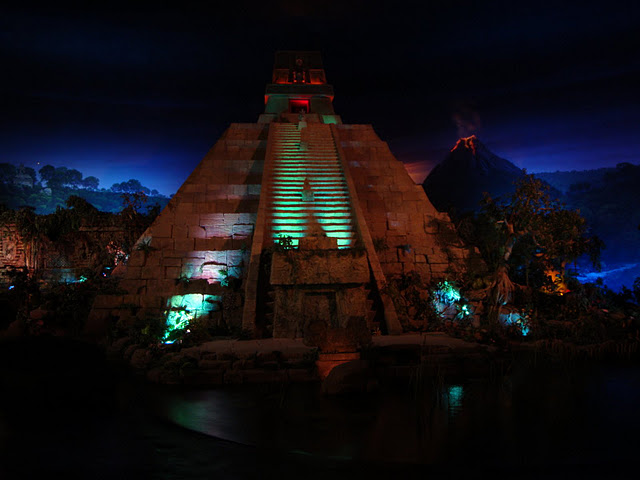 This is a concept the likes of which cannot be found anywhere else in Disney World, but most likely has its roots in Disneyland with the Blue Bayou Restaurant which sits inside of Pirates of the Caribbean.
The nighttime setting of the restaurant gives the San Angel Inn an intimate, slightly romantic feel. The atmosphere is so effective in creating an open-air, outdoor feel that you may actually forget that you are dining inside. Despite being right next to the Grand Fiesta Tour and adjacent to the busy marketplace, the restaurant is surprisingly quiet. This is a great restaurant if you are looking for a romantic meal, whether celebrating an anniversary or just wanting to spend some time alone away from the kids. At the same time, it is still a restaurant that is perfect for the entire family. Children will be greatly entertained watching the boats sail by on the river and the restaurant, although more upscale and refined, still has a warm and inviting feel.
San Angel Inn not too long ago underwent a minor change in its décor, one that might go unnoticed by most but still had an impact on the overall feel of the restaurant. Prior to this, the San Angel Inn featured tables and chairs that were very bright and vibrant in color.
These yellow tables with their green, pink, red, and yellow chairs were replaced by tables draped with white tablecloths and natural-colored wooden chairs. Even the layout of the tables in the restaurant was changed, with tables now positioned in straight rows.
On the tables themselves, the place settings now feature new flatware and china that is inspired by those found at the original San Angel Inn in Mexico City.
These changes not only help give the restaurant more of an upscale feel, but also increase the sense of authenticity. You really feel as though you are dining in the middle of Mexico.
The Menu:
Just as the San Angel Inn's décor was recently changed, the menu also underwent some transformations to deliver more authentic Mexican dishes similar to those found at the restaurant's Mexico City counterpart. The lunch and dinner menus are relatively similar with the major difference between the two being the price. The prices that I include here reflect those found on the dinner menu.
The menu features many intriguing appetizer offerings including Coctel de Camaron ($12.00), an Acopolco-style shrimp cocktail with a spicy marinated tomato sauce. Other items are the Tostadas de Tinga ($10.00), pulled chicken seasoned with roasted tomato and chipotle served on tostadas with refried beans, green tomatillo sauce, queso fresco, and sour cream, Tlacoyos de Chilorio ($11.00), corncakes topped with refried beans, pork, queso fresco, green tomatillo sauce, and sour cream, Tacos de Filete ($13.00) featuring beef tenderloin served on soft flour tortillas topped with a chipotle pepper sauce, Sopa Azteca ($7.00) served with fried tortilla strips, avocado, cheese, and pasilla pepper, and Ensalada Cesar ($10.00). It might seem unusual to see a Cesear salad at a Mexican restaurant, but it was actually created in Mexico in the 1920's by a restaurateur named Caesar Cardini and has been served at the San Angel Inn in Mexico City since 1963.
The entrée selections offer a little something for everyone with a variety of meat and seafood dishes. One common thread throughout all the dishes is their tremendous flavor, using a variety of herbs and seasonings you may not be familiar with. While there are many spicy selections on the menu that are certainly not for the faint of heart, there are others that are a little more mild in flavor. If you are an adventurous eater who likes to try new and different dishes this is a great restaurant for you, if not, my best advice would be to ask your server to provide recommendations as to which of the menu items are on the milder side.
Entrée selections include Mole Poblano ($23.00), a grilled chicken breast served over poblano rice with a mole sauce made of nuts, spcies, chiles, and a hint of cocao, Pollo a las Rajas ($23.00) featuring a grilled chicken breast served with a red pepper and onion cream sauce over poblano rice, Mahi Mahi a la Veracruzana ($23.00) prepared with capers, olives, bell peppers, Spanish onions, and tomatoes, seasoned with white wine and spices, and served over poblano rice, Tilapia al Huitlacoche ($25.00) served over poblano rice and finished with a corn mushroom sauce, Carne Asada a la Tampique ($28.00), featuring a grilled beef tenderloin topped with red bell pepper and onions served with a cheese enchilada, refried beans, Mexican rice, and guacamole, Chile Relleno ($24.00), a poblano pepper stuffed with pork, pine nuts, and almonds topped with a roasted tomato sauce, Lomo de Puerco en Pipian ($26.00), a pork tenderloin served over roasted vegetables and a "pipian" of pumpkin, chilies, and almond sauce, and Camarones a la Diabla ($26.00) featuring roasted shrimp and poblano rice served over a yucca puree and topped with a chile sauce.
You might want to save room for dessert because there are several delectable options available including Crema Bavaria ($8.00), a creamy Bavarian mousse served with mixed berries, cinnamon, and orange liqueur, Isla Flotante ($8.00), a caramelized lime meringue served over vanilla sauce with mixed berries, Helado de Dolce de Leche ($7.00), which is caramel ice cream, and Crepas de Cajeta ($8.00) featuring warm crepes topped with caramel sauce and toasted almonds.
For my entrée I decided on the Carne Asada a la Tampique. What drew my attention to this entrée was not only the steak itself, but also the variety of accompaniments that it comes served with. The steak itself was extremely tender and juicy, grilled just the way I ordered it (medium-well so that it was just slightly pink in color on the inside). The steak had a great taste on its own, but it also came topped with grilled red peppers and onions the provided even extra flavor. The steak had the noticeable taste of crushed black pepper and was probably seasoned with the pepper before being grilled. While this flavor was certainly not overpowering by any means, it did provide a nice little kick to the steak without taking away from it.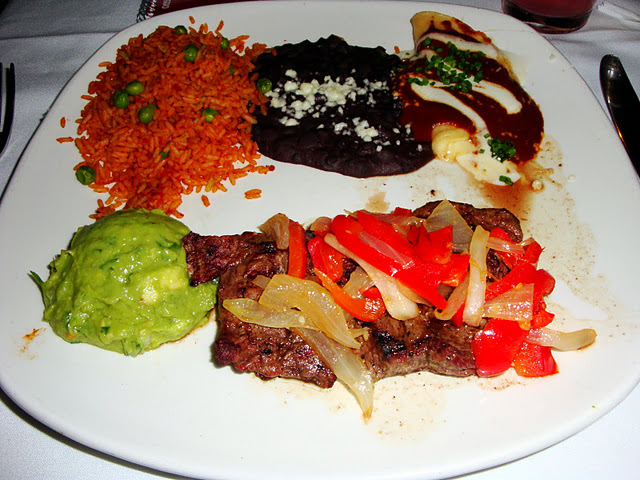 Alongside the steak was a generous portion of Mexican rice and refried beans. I found the rice to be a little on the dry side, but it still had good flavor and a slight spiciness. I was very impressed with the refried beans. I am not the biggest fan of refried beans, but these were extremely good, providing a nice contrast in flavor and texture to that of the steak. Also served with the steak was a cheese enchilada. While this is a less conventional item to have with a steak, I actually found the two went along well with each other. The softness and cheesiness of the enchilada provided a contrast to the flavor of the steak and gave the dish a distinctly Mexican feel. Overall, I found the serving size to be very generous, the steak and its accompaniments making for a very filling meal.
For dessert I ordered the Crepas de Cajeta and it was one of the sweeter desserts I have had. The crepes come completely smothered in caramel sauce. While the crepes themselves were nice and light, the sauce was extremely rich and filling and I was not even able to finish the entire dessert. The crunchiness of the almonds provided a nice contrast in texture to the softer crepes and they helped add a little extra flavor to the dish.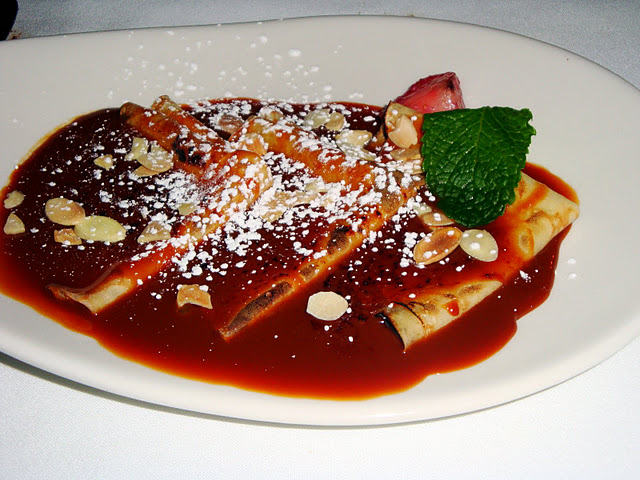 I do not usually say this, but this was a dessert that was almost too sweet. I love caramel, but the sauce really overpowered the crepes. Even though I thoroughly enjoyed the dessert, I think a little less caramel sauce would have actually been better . Also, a scoop of vanilla ice cream would have gone a long way in providing a much needed light and refreshing contrast in flavor.
Service:
As with all the restaurants around World Showcase, the servers at San Angel Inn are actually from Mexico. This is something that helps to add an extra degree of authenticity to your dining experience. The severs here do much more than take your order and deliver your food, but they actually help transport you to Mexico; they are cultural representatives that can give insight into what life in Mexico is actually like. I have had several experiences here and other restaurants across World Showcase where severs will openly talk about life in their native countries and how things in the United States are different from their homes. This really helps add a whole other element to your dining experience and enables guests to gain greater appreciation of these foreign cultures; it is something that makes dining in World Showcase unique.
As with any restaurant, you will have some severs that are more talkative and personable than others. One downside to having severs with English as their second language is that there is sometimes a language barrier. Your server might not fully understand some questions you may be asking and guests can sometimes have difficultly understanding what the servers are trying to say. That being said, I found all the servers at San Angel Inn to be very courteous and respectful, seeking to deliver the best dining experience possible.
Dining on a Budget:
My best advice if you are looking to save some money would be to dine at San Angel Inn for lunch rather than dinner. While the menus are very similar, the lunch items are generally cheaper. Even those items that are found on both the lunch and dinner menus are cheaper at lunch. For example, the Pollo a las Rajas costs $17 for lunch, but for dinner the price jumps to $23.
One of the best values on the menu is the Traditional Mexican Lunch/Dinner. This is a prix fixe selection that includes an appetizer, entrée, and dessert and, even though there are no substitutions allowed, it is very reasonable price. The lunch offering includes Sopa Azteca (a traditional tortilla soup), Falda, which is a grilled skirt served with corn, spring onions, and black refried beans, and Flan for dessert all for just $25. The dinner is comprised of Tostadas de Tinga, which is pulled chicken seasoned with roasted tomato and chipotle served on tostadas with refried beans, green tomatillo sauce, queso fresco, and sour cream, Tacos de Pescado (fish tacos with cabbage, lime, and a green tomatillo sauce), and the Crema Bavaria dessert all for $34.
If you were to order just the Tostadas de Tinga and Crema Bavaria off the dinner menu individually the cost would be $18 alone, so it is like you are getting the entrée for $16. Making the deal even better is that both lunch and dinner offerings come with a soft drink included in the price. These three course meals are a great way to sample a greater variety of Mexican flavors for a very reasonable price.
The San Angel Inn is a slightly less expensive option, for dinner and especially for lunch, than La Hacienda de San Angel located outside on the shores of the World Showcase lagoon. However, it should be noted that the menus and dishes offered at the two restaurants are totally different from each other. If you are in the mood for Mexican food but just want a quick and relatively inexpensive meal, I would highly recommend La Cantina de San Angel (also located outside along the lagoon) which has a variety of offering ranging from tacos and nachos to empanadas. This is one of the better-quality quick service dining locations you will find at Epcot with prices ranging from $10 to $12.
The San Angel Inn does participate on the Disney Dining Plan and is worth one table service credit for both lunch and dinner. The restaurant also offers a 10% discount for Annual Passholders, but only for lunch on Mondays through Fridays. There is no discount for Disney Vacation Club members, however. The San Angel Inn does participate in Tables in Wonderland and thus offers the 20% for members.
The Overall Experience:
The San Angel Inn delivers a truly memorable dining experience on multiple levels. The restaurant features a menu of flavorful, authentic Mexican cuisine, a group of dedicated and passionate servers from Mexico itself, and a breathtaking, one-of-a-kind atmosphere that is unmatched by any other dining location in Disney World. All these things combine help make the San Angel Inn one of the most immersive restaurants in World Showcase. You are so completely wrapped up in the sounds, sights, and tastes of Mexico that you will easily forget that you are actually sitting in the middle of a theme park.
While both the food and service are extremely good, it is the restaurant's atmosphere that keeps making me want to go back again and again. It is a restaurant that enables you to feel as though you are dining outside under the stars, but without having to put up with insects or the elements. Calm and quiet, with a slightly refined and romantic feel, the San Angel Inn is certainly one of the most beautiful restaurants you will find in all of Disney World. Dining here is about so much more than just the food, it is about the complete dining experience; it is a little bit of Mexico in the middle of Florida.
See past reviews by Guest Blogger Andrew Rossi.
Check out Reader Reviews of San Angel Inn and post your own too!