by Pam Passwater
Guest Blogger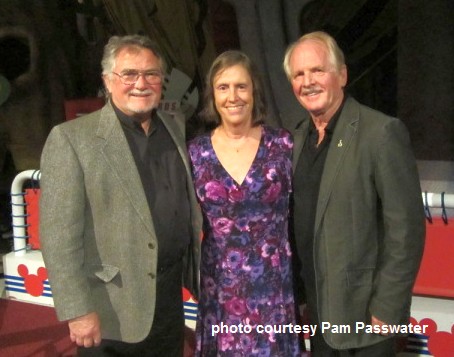 Like most of us growing up in the late '50s, every afternoon found me glued to the television watching the Mickey Mouse Club and the Mouseketeers, and enjoying one of their special series. My very favorite, hands down, was The Adventures of Spin and Marty, a serial about a group of boys spending the summer at a horse ranch, the Triple R. There were picnics, trail rides, swimming, a rodeo, campfires, the infamous snipe hunt, and lots of camaraderie. Later editions featured Annette and Darlene (two of the Mouseketeers) attending a neighboring girls' ranch. Tim Considine and David Stollery starred in all of them, and the show was wildly popular.
Flash-forward to December 2011 when the World Chapter of the Disneyana Fan Club in Orlando announced that its holiday party would have Spin and Marty as the special guests! I immediately signed up and got the second to the last of the 90 limited tickets, but I promise you that I would have been the first gate crasher in their history if no more were available! Ticket in hand, I began telling friends, as well as anyone who would listen to me, that I was going to meet Spin and Marty, and to a woman, they swooned, confessing their love for one or the other. No one needed an explanation of just who they were.
The evening started when we got to the Hollywood Studios and waited a few minutes for our guide to lead us through the park to the Backlot area. We looked just like those foreign tour groups, except that we were all carrying gifts for the Toys for Tots campaign. We arrived at the old prop room, which had been part of the park's old walking tour, and discovered a beautiful set-up with tables full of auction items and two tables loaded with food produced by the Disney catering company.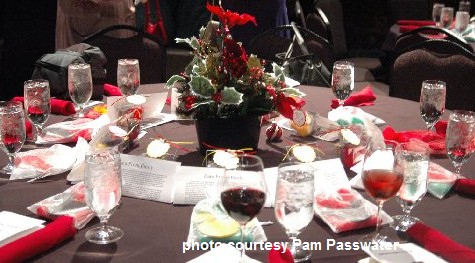 My fantasy started when I barely got inside and a photographer from the Orlando Sentinel grabbed my friend and me and took our photo with David Stollery (AKA Marty)! We visited with him for about five minutes and then it was someone else's turn.
We walked around looking at the great silent and live auction items and bid on a few, with all proceeds going to Give Kids the World village in Kissimmee. Thanks to all of the generous attendees, they will receive a sizable check for their programs. After an enjoyable dinner, one of the first Disney cartoons was shown, and then Tim and David took the stage.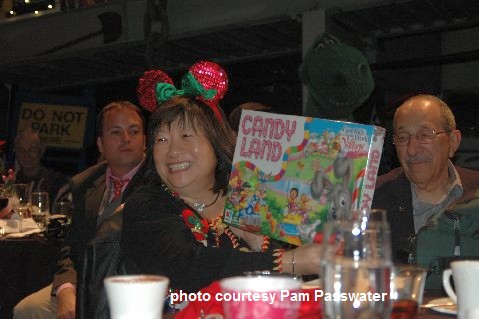 Although they were both from theater families, and had worked extensively before Walt Disney discovered them, neither made a career out of acting. They told us about their lives "after Disney" and then answered audience questions; mostly about their days as Spin and Marty. They said that they didn't know how to ride before filming and had to take riding lessons every day for four months to get them ready for the show.
David worked a few more years for Disney Studios and then went back to school to get a degree in Industrial Design from The Art Center College of Design. He worked for General Motors for seven years and was then hired by Toyota to establish and manage the California first Design group. David is credited with the design of the Second Generation A-40, 1978 Toyota Celica that was named Motor Trend Import Car of the Year! He later worked on 22 other vehicles for the automotive giant. He also designed a monorail and formed his own company, which now produces high-quality fiberglass lifeguard platforms.
Tim also did more work for Disney and then played the older son, Mike, in the TV show My Three Sons, before embarking on a career as a photographer and author. His latest book, American Grand Prix Racing: a Century of Drivers and Cars, shows off his skills as an automobile historian, photographer, and writer. Several of us had pre-purchased the book and he graciously autographed them for the future recipients. (My husband is a racing buff, and he was more than pleased with it.) Tim is now a high-priced and highly prized Beverly Hills photographer.
At the end of their talks, Allan Halcrow, Disneyana Fan Club Legend Chairperson, presented Tim and David with the highly coveted Disney Legend award. Only a few of the tens of thousands of people who have worked for the Walt Disney Company have been selected to receive this, and Tim and David were both surprised and appreciative. Then they signed photos and other mementos for guests, and graciously posed for pictures.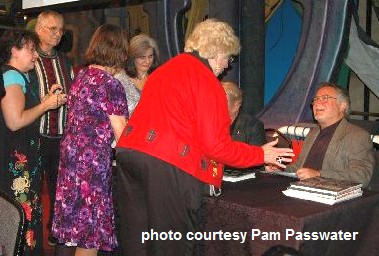 Local artist, Barbara Schneid, who had met Tim and David at several previous Disney events, presented them with personalized quilts depicting their varying careers while highlighting their Spin and Marty days.
All night I was wondering why there were so many people there that I didn't know, and later I found out why — they were from all over the country!
"It was a perfect evening," said Arlen Miller, past president of the Disneyana Fan Club World chapter. I couldn't agree more.
For information: go to www.DisneyanaFanClub.org Meetings are every other month, and the next one is in February.
For more information, Contact us at: [email protected] Also visit World Chapter on Facebook at:
http://www.facebook.com/groups/95390299991/