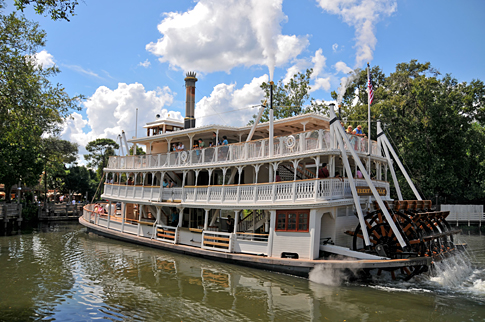 Copyright © 2007 Barrie Brewer, Nikon D300, 18-200mm VR, 1/2500s shutter, f3.5, ISO 200
For a relaxing break from the crowds, take a cruise down the Rivers of America on the Liberty Belle, my Pic of the Week for Liberty Square. The Liberty Square Riverboat is located in Liberty Square across from the Hall of Presidents, in the Magic Kingdom. You can get some great pictures of Tom Sawyer Island, Big Thunder Mountain Railroad and the Haunted Mansion from the top deck of this authentic steam-powered sternwheeler.
Do you want to join in on the fun and share your Liberty Square pictures too? We'd love to see them. Head on over to Google+ and post your photo(s), adding the hashtag of #disneypics-libertysquare. Then share it publicly so we can all see it. Search for #disneypics-libertysquare in Google+ to see everyone's pictures.