The Disneyland Hotel has been undergoing extensive renovation for a while now. Major facelifts to the three towers, as well as the construction of a new pool area and restaurant complex. The two new restaurants opened last week, and the pool area opened on Sunday, May 29, so I wanted to share some photos from my visit last Thursday.
There's still a lot of construction walls blocking the normal walkways, so there are signs like these directing guests to the new restaurants.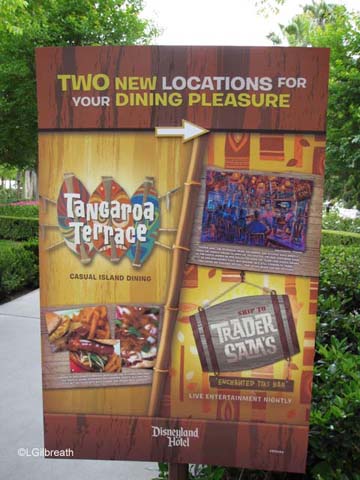 Tangaroa Terrace is a counter service restaurant open for breakfast, lunch, and dinner.
— Breakfast Menu
— All Day Menu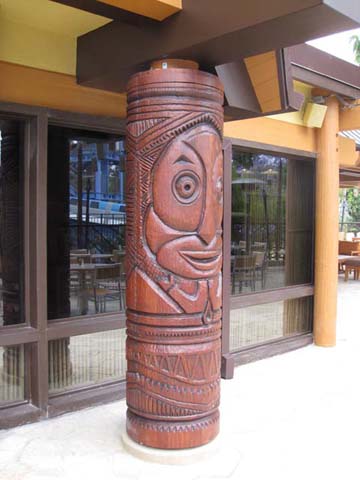 Those familiar with Captain Cook's at the Polynesian Resort at Walt Disney World will recognize the order kiosks.
In addition to foods ordered off the menu there is a grab-and-go case with items like salads, sandwiches, and yogurt parfaits, and also a self-serve pastry case. I tried the pineapple/coconut/macadamia nut muffin and it was really good. Beverages are also self-serve. Unlike Captain Cooks, there is not a Dole Whip machine at Tangaroa Terrace.
There is some seating indoors.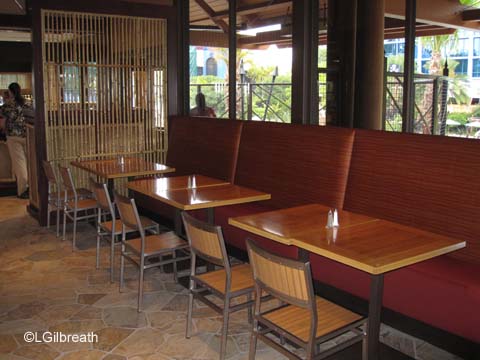 There is more seating outdoors.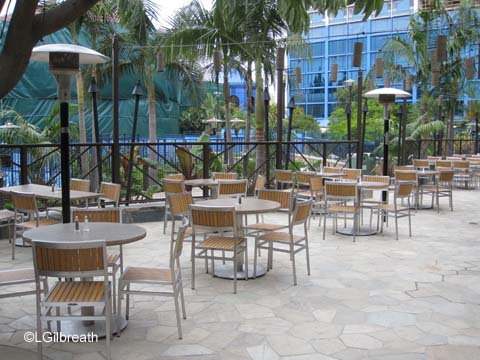 Trader Sam's Enchanted Tiki Bar opens at 11:30 and is open until after midnight. In addition the bar offerings, food is also available, things like fish tacos, wings, and flatbreads. The menu is HERE. Some of the names of the specialty beverages and their descriptions are pretty amusing.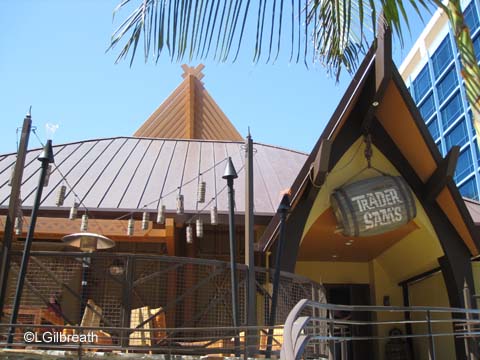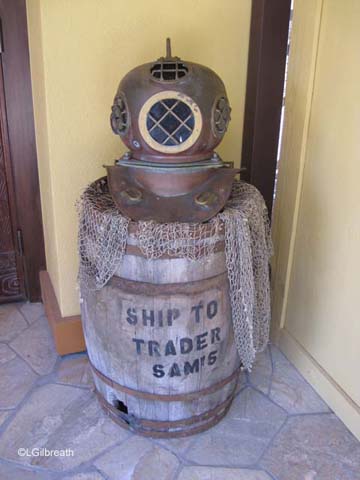 Seating on the patio outside Trader Sam's.
There's a great outdoor seating area below Trader Sam's, complete with huge fireplace (which was lit and burning, even during the day).
The decor inside Trader Sam's is somewhat reminiscent of that at the former Adventurer's Club at Walt Disney World. It's much smaller, though.
Here's what's printed inside the menu:
"Aloha, ahoy, aha! And welcome to the mystery, romance, and adventure of Trader Sam's Enchanted Tiki Bar. Here, at the edge of civilization, a poison dart's throw from the deepest, darkest, most dangerous region where the hand of man has never step foot, my fearless friend established this happy outpost for all to enjoy!

Who is Trader Sam? Why, he's the head salesman of the jungle, the one who's always ready to trade two of his heads for just one of yours! His expertise in head-shrinking potions grew into an interest in mixology. Bitten by the bartending bug (just one of thousands he's been bitten by), Sam searched the Amazon, Congo, Polynesia, and every tropical locale in-between for magical ingredients to mix into his delectable libations. Along the way he picked up many of the trinkets and artifacts you see around you.

In the tiki bar business, it's a jungle out there. But once Trader Sam began serving his exotic elixirs to tourists, the word really spread! So welcome aboard…ashore…or wherever you are! Cheers! Drink Up! Tulleeho! Kanpai! Prost! Kungaloosh! Ooogy Wawa! And above all, enjoy the time you spend with us at the world-famous Trader Sam's Enchanted Tiki Bar.

[signed] Skip

founder, Jungle Cruise Navigational Company

P.S. Just so you know – this place isn't called 'Enchanted' for nothing.

P.P.S. If you're wearing yellow, don't act like a banana."
I didn't see any "enchanted" shenanigans going on, but I was there in the afternoon and it was pretty quiet.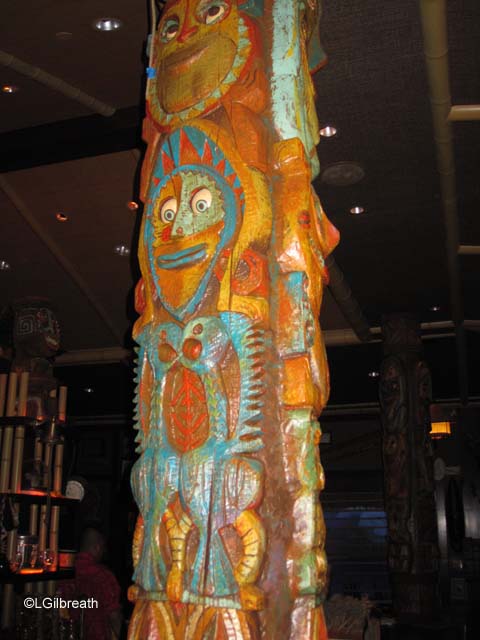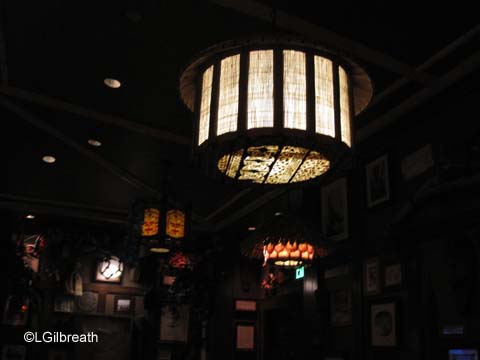 I tried one of the non-alcoholic drinks – the Schweitzer Falls. It's described as "Tropical Juices and Sam's Gorilla Grog topped with Sprite". It was good, and refreshing, but it mostly tasted like pineapple juice.
Here's one of the gates into the pool area.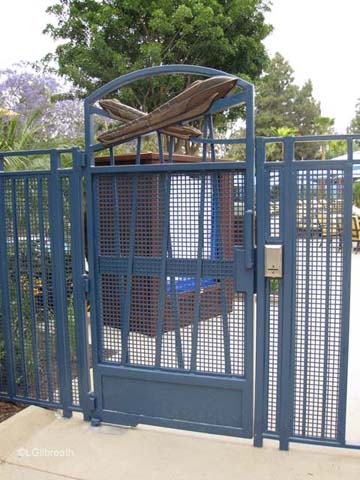 Lots of chaise lounges ready for sun-worshipers!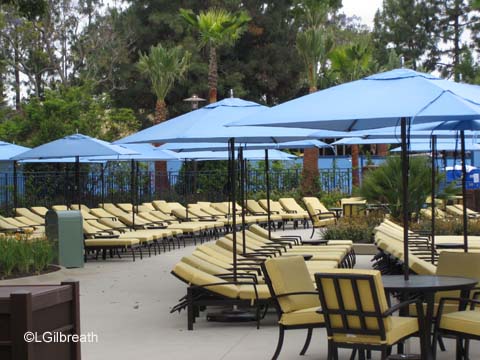 Like the Grand Californian, there will also be private cabanas available to rent.
The big slide into the pool.
The deeper swimming pool.
There's a splash play area under the slide.