Day 2 of my very short trip to Orlando:
Since today was a Magic Kingdom day, I figured it would be a great chance to check out all the new things since my last visit two months ago — and there have been quite a few.
My first stop was at the new Town Square Theater. It was really beautiful inside, but it was bustling with activity, and I didn't have enough time to wait or actually walk through to see Mickey or the princesses — next trip, I hope.
While I was in the Town Square, I asked a cast member about the missing Goofy bench in front of Tony's. She told me that with the recent construction for Town Hall there, they had also put in a new entrance for the restaurant, moved the check-in podium down to the spot where the bench had been. The podium is now blocking the electrical outlet that talking Goofy needed — so now there's really no place to put the bench unless they do some rewiring in the area. I hope they decide to find a new home for the bench — it was one of those little surprises that are such fun.
I also noticed that the Confectionery is still under a partial scrim, but they've definitely made progress since I was last there.
I was excited to see all the detail that's been added to the Beast's castle in the Fantasyland expansion area. Even from a distance, it already looks amazing. I've kept this photo a little larger so you can see for yourself.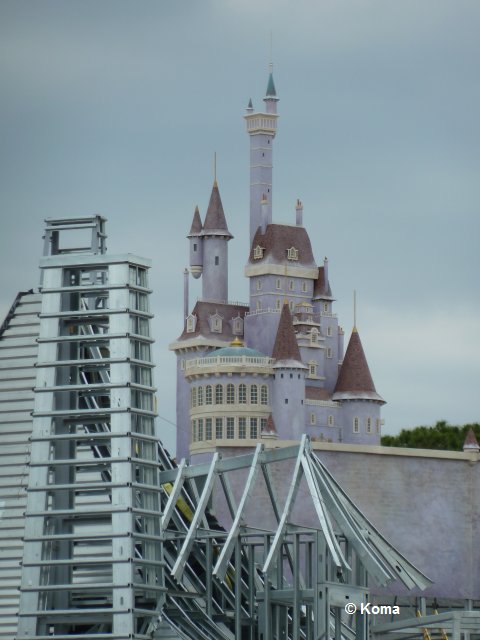 You can also spy quite a bit more of the new construction poking up from behind the wall now — just enough to tease us!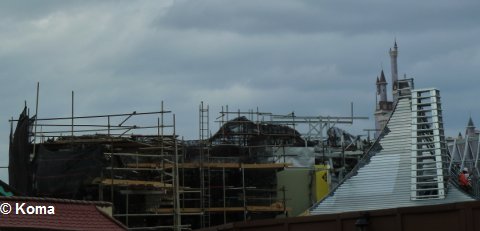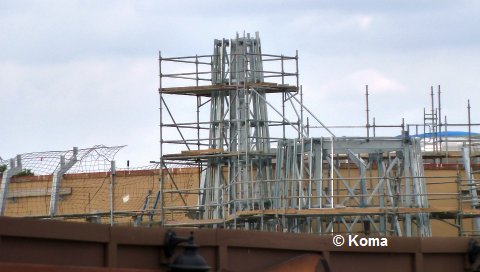 It had been a while since I had done many of the Fantasyland attractions, but since I was touring with my cousin who had brought her nearly 4-year-old daughter, that's where we spent a good deal of the morning. I was surprised to discover that the Fastpass machines for The Many Adventures of Winnie-the-Pooh were actually over at Mickey's PhilharMagic! It was pointed out to me that they've been there a while, actually — I probably read about the move some time ago and had forgotten it, as it's been more than a year since I've ridden Pooh. Wish I'd remembered, as it could have saved me a bit of running around!
We stopped in at Pinocchio's Village Haus for a bite to eat, and I found that they're offering a yummy grilled cheese as a kid's meal option — it's not on the regular menu, just on a sign at the cash register stations. Seemed like it took a little extra time to prepare, but it made one little girl happy.
Crowds were pretty heavy by the time we rode Winnie-the-Pooh, so it was hard to get any good photos of the interactive queue, but here's a shot of one scene. You can't really tell from this photo, but the "honey" is actually a moving image — it looks like the honey is oozing down the page. The screen must be heat- or pressure-sensitive, so that when little hands press on it, they leave crazy impressions and interrupt the flow.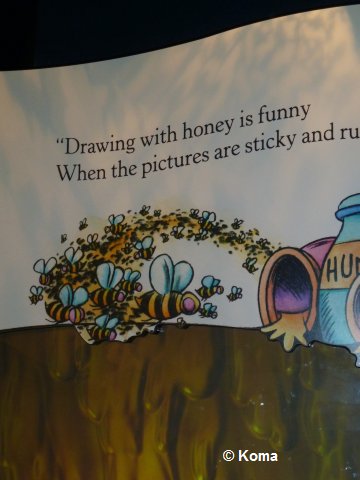 All the new additions to the queue seemed to be doing their job — kids were having a great time playing with all the new hands-on activities and didn't seem to mind the 50-minute wait at all. (Even with our Fastpasses, we had a 15-minute wait at this attraction, by the way. It's just so slow-loading.)
Speaking of interactive queues — even though it was a 35-minute wait for the Haunted Mansion, I just HAD to see the new queue elements there, so I waited. They were well worth it! I'm sure you've all seen plenty of photos since the new queue opened, but I have to share at least one. I absolutely loved all this detail, and wish it hadn't been quite so crowded so I could have taken more time to play.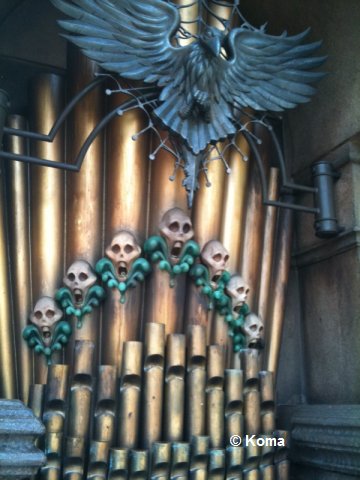 Finally, this isn't something new, it's just something I love — daytime fireworks. (I love fireworks at any time, but during the day they're always a surprise!). A storm was brewing, so the dramatic sky heightened the effect — well, I enjoyed it, anyway.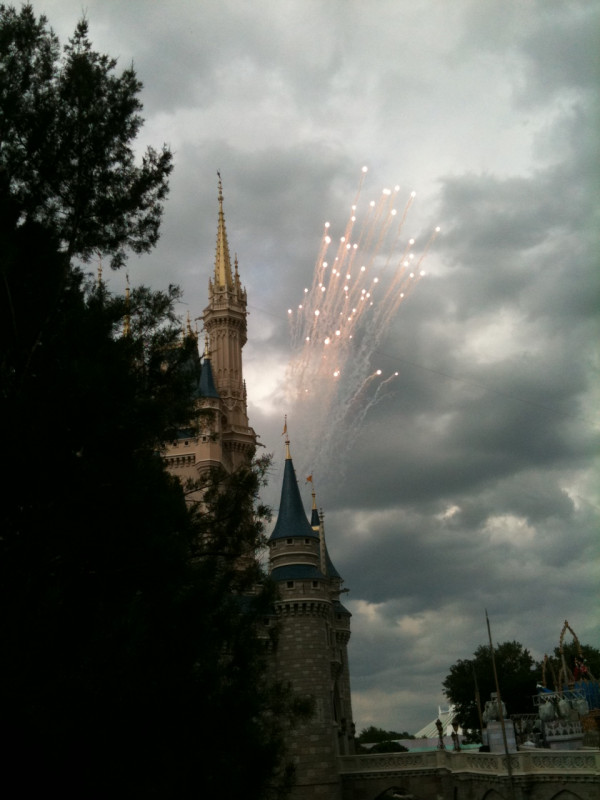 Wish I'd had time to do and see more, but I'll be back in the World in a few weeks, so I can catch up on everything I missed!