This was Challenge #133:


And here's the answer:


Copyright © 2010 Barrie Brewer, Nikon D300, 11-16mm, 1/25s shutter, f/2.8, ISO 800
When I exited Test Track in Epcot, I was totally enthralled by the colors and lines of the assembly line that you pass through at the end of the ride. I had a new lens to play with, a wide angle lens, and I was having just as much fun taking pictures as I did on the ride just moments before. Good thing I was with friends or I might have gotten sidetracked in there for hours. I know, I'm easily amused!
FYI, if you guessed Star Tours was the answer, you weren't alone. That was the second most guessed answer this week.
John Leach was the first to send in the correct answer for the challenge! Congratulations to John and all the other readers who got the answer right: Sharon Lee, Megan Krainski, Dawn Bach, Chris Masse, Paul Cooper, Fred Shakeshaft, Jen Schultz, Teri Jo Fuson, Bryan Timko, Christi Ison, Wendy Crober, Marina Crober, Jen Cerce, Mary Jane Keeble, James Greene, Mia W., Shane Kropp, Tim Johansnen, Lee Anastasi, Brendan Abel, Shawna Richards, Marshal K., Mike Walter, Tracy Discher, Michael Joel Gainey, Margaret Vattes, Elizabeth Scarborough, Sherry Klinefelter, Theresa Rucando, Kelli Olthoff, John Agnew, Karen Nelson, Chris Lomonaco, Gretchen Shively, Erin Loring, Brenda Mcguire, Emily Currier, Caryn Schill, Becca Brooks, Ed Aleszczyk, Laurie Walker, Ashley Ryan, Ken Maikowski, Linda Scrivano, Angie Young, Maryann Eckenrode, Mike Kaczanowski, Craig, Penny Urell, Brian S., Bill Daniel, Michael Malampy, Ryan Benco, Tina Benco , Scott Otis, Mckinley Yeaman, Pollyanna Buff, Tom Koval, Brian Yesutis, Double Family, Steve Pocopanni, Kye Layton, Joshua Swainston, John Dupre, Charity Maas, Tom & Susan Linder, Paul Newman, Dale Knight, Jen Snapp, David, Diane Curfman, Linda Kasych, Karen Schlumpf, Jennifer, Louise Barton, Katie Bray, Cindy Dore', Belicia Dawson, Debbie Connors, Denise Cayz, Chris And Alison, Ashley Hill, Pasquale Crea, Steve Toponak, Diane Furtado, Sue Thompson, Cameron Love, Jennifer Parajon, Nicole Henisse, Sandi B, Hillary Waldroop, Shannon Murray, Kelly Zanauskas, Lisa Mccormack, Amy Sapp, Kelsi Bruno, Jennifer Townsend, Tiffany W. , Kim Meyer, James Berry, Chris J, Tom Hermes, Jeremy Hardy, Susan Stanley, Steve Bieniek, Andrea Weedmark, Misty Mehelic, Ken Fischler, Dan Mangini, Cameron Lange, Bruce Lawson, Jessica Folan, Rob Blundin, Christopher Hall, Dana Schirnhofer, Alison Rosenberger, Dennis Blackburn, Kristen Mccoy, Mark Franklin, Ed Suscreba, Jim Finley, Carla C, Erin, Greg Strohmeyer, The Kahle Family, Cathy Skiba, Megan Evans, Karrie Duffey, Dave Carriere, Cait Rush, Rachel Hoover, Jeremy Reichelt, Nicole Lauzon, Wendy Snelgrove, Tim Rachuba, Nicole Ruzinski, Mike Gillardi, Dennis, Debbie Desimone, Wade A. Williams, Matthew Jadro, Becky Terjung, Stacey Van Dyke, Sandra Edwards, Claire Natsis, Matt And Danielle Murgia, Jennifer Hoffman, Elaine Tomko-deluca, Chloe, Nate, Mickey Eckert, Becky Norman, Sharon Pierce, Sandy B., Jay Reagan, James Berry, Kathy Berry, Carol Baranowsky, Kelly Scott, Julie Wickware, Emily Cummings, Stacie Gatzemeyer, Linda College, Hale Mcsharry, Jason Skow, Derek Carty, Kristin Mazur, Christopher Bourassa, Gabriella Rizzo, Teresa, Chris Connors, Jacquelyn Law, Deanna Simmons, Amy Lucas, Karon Colwell, Maja Kodani, Noreen Rachuba, Kurt Knappman, Louise Maxwell, Stephanie Pcolinsky, Maryann Eckenrode, Liz Zaczek, Karen Donald, Jim, Patty Cartry, Katerina Purdy, Madi M., Mark Swayze, Nicole Alley, Richard Capri, Kathryn Barnes, Suzanne, Vickie Scioneaux, Ana And Lucas Marlett, Stacey Barboza, Matt Cofone, Luis Rodriguez, Clarissa K, Matt & Allison, Ellen Feldman, Thomas Auckland, Marylynn Miles, Joseph Zafia, David Williams, Walter Clark, Sharon Jones, Diane Miske, Nancy Bennett, Bill Monahan, Kristin Dormuth, Heather Coursen, Kelly Mager, Liz Weiter, Robin Mcconnell, Ray Vinciguerro, Debra Moscara, Sabrina Bogart, Roye Ann Morris, Mike Venere, April Haddock, Christine And Erin Claeys, Michelle Bates, Daniel Mills and Chuck Sands. Each of you will be entered in the June winners' drawing.
_______________________________________________________________________
Challenge #134: Where in the world is this?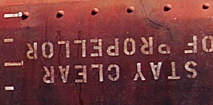 Do you know? Do you have a guess? Please send in your answer, before the end of the day on Thursday, June 17, by clicking on the blue box below. Please do not post answers using the Feedback Form link at the bottom of this post. Remember to be specific with your answer – just naming a park will not get you into the drawing.


_______________________________________________________________________
Everyone who sends in a correct answer to a Where in the World Challenge this month will be entered in a drawing at the end of the month for some special AllEars® goodies and a cool Disney book!