Last night (June 8, 2010), I checked out the Summer Nightastic events going on at Disney's Hollywood Studios. The first happening was the Rock N' Glow Dance Party being presented on a large stage erected in front of the Sorcerer Hat. On Tuesdays, and Thursdays through Sundays, a DJ takes center stage and livens things up with a wide variety of prerecorded rock and roll. While he's at it, he also teaches the crowd a few dance steps and gets the entire audience movin' together. Disney characters also get into the act and dance with all willing participants.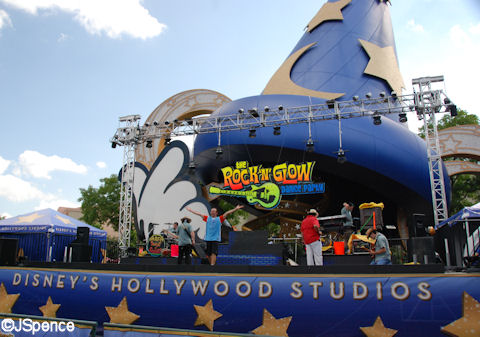 Live music is also on hand for portions of the evening with Mulch, Sweat, and Shears performing.
The Dance Party begins each evening three hours before park closing. Since I visited on a day when the park closed at 7pm, the event kicked off at 4pm. There are a number of lighting effects positioned around the dance/courtyard, but since I was there while the sun was still shining brightly, none of these were in use. I suspect this area will be far more festive when the park is open late and the dance party takes place at night.
For all of you who have experienced the dance parties that now take place in Tomorrowland at the Magic Kingdom, this is a very similar experience except that you also have a live band to add to the excitement.
SPOILER ALERT
The Tower of Terror (TOT) was also given some new effects for Summer Nightastic and I rode it twice last night so I could check everything out.
First, here's what hasn't changed: The outside and lobby queue, the preshow in the Library, and the boiler room queue.
The first noticeable difference happens while ascending in the elevator when you stop to view the hallway sequence and the hotels' guests disappear before your eyes. Here, your picture is taken – to be used later in a special effect.
When you exit into the 5th dimension room, you'll notice that the glass walls have all been covered with black scrim and have been studded with hundreds of fiber optic lights, creating a star field. As you move forward, you'll see the picture that was taken earlier of your elevator and its inhabitants projected on the wall/doors before you. As you continue to move forward, the inhabitants of the elevator car slowly disappear right before your eyes. Then, as usual, the elevator doors open and you proceed into the drop shaft and experience an all-new drop sequence.
For those of you who have ridden the Tower of Terror at California, Tokyo, and/or Paris, you will recognize this "disappearing guests" effect. However, since this effect was designed into these other TOTs, it is far more effective at these other locales. In fact, the first time I rode TOT last night, I wasn't completely sure what I was seeing. It took a second go-round to be sure.
I was also less than impressed with the black scrim that lines the walls of the 5th dimension room. This effect looks more like a construction wall than a star field and I felt it was distracting. Something as makeshift as this doesn't belong in a ride as fantastic as TOT.
But on the up side, I will give the new drop sequence extremely high marks. I've ridden TOT more times than I can count and can be somewhat blasé when I experience this attraction. But last night my stomach and I parted ways several times as we were dropped, and redropped, and redropped.
Bottom line"¦ If you're a TOT fan, then by all means experience this summer enhancement. But if you don't ride it for some reason, don't worry that you missed something great. You haven't.