All Ears Guest Blogger Emily Owens Pickle is back – this time with a 3 part blog on Animal Kingdom Lodge's Concierge Service, the Kilimanjaro Club – Part 3.
DAY 2
It takes us at least three hours to get up, dressed, fed, and into a park nowadays. So, three hours post-wake-up we finally were able to hit Disney's Animal Kingdom. We had an excellent experience with the bus to and from the resort to DAK. The bus was waiting both times we went to board and it is a hop-jump-and a half a skip away to get back and forth between DAK and AKL.
One of the reasons we opted for DAK instead of Disney's Hollywood Studios (DHS) is because of the poor quick-service offerings at DHS. I have spent more moments than I should standing in DHS scratching my ahead and tossing back and forth food ideas before finally boarding a boat and traveling to EPCOT to eat.
Incidentally, we went to one of my favorite quick-service stops, Flame Tree BBQ. Our Tables in Wonderland card works at this restaurant and the seating by the water is fantastic. The bread on my sandwich was a little soggy but besides that I can't complain.
I digress… upon entering DAK we immediately headed to Camp Mickey and Minnie so Lily could visit with some of her favorite pals.The lines were amazing! Even Mickey and Minnie were less than a five minute wait each.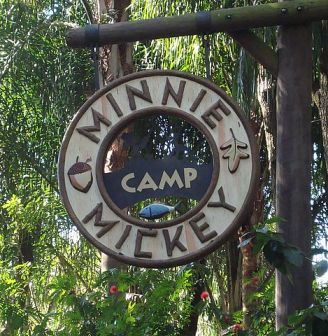 After we visited Mickey, Minnie, Chip and Dale, folks came pouring out of the first showing of Festival of the Lion King for the day and the character lines immediately tripled-I would certainly recommend heading to the characters in the morning, preferably timed while others are in shows or trying to get in a quick popular attraction before the masses come through the turnstiles.
I am not one for spending half of my day at a park waiting in line for an attraction or show but I have to say, Finding Nemo: The Musical is worth it. This show runs about four times a day at DAK and is something both children and adults should experience. The caliber of theater, stage, costuming, and performance is outstanding. This was the fourth time I have seen the show but I was immediately sucked in (and am, in fact, still humming the soundtrack three days later).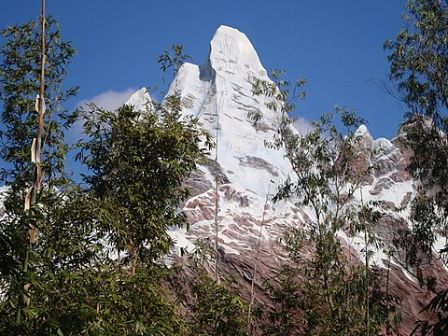 I had only seen Flights of Wonder once before; two of our friends joined us in the afternoon and they had never been to the show. We decided to attend the last performance and I was much more impressed than I was the first time I saw the show. The main host, Eric, was more comfortable in his role than the previous host I had seen and the co-host, Joe Guano, was a riot.
It was nice to have a 'show-day' and think less about attractions; not having to cram everything into a day or two is a luxury of either living close to Disney or being able to visit often. The timing of shows and Fast Passes sometimes makes it difficult to hit more than one show and do many attractions in the same day. After our relaxing Saturday none of us felt very inclined to move quickly from attraction to attraction. We strolled, enjoyed our surroundings, and even then, the seven hours in the park still flew by.
I had heard such great things about the Royal Anandapur Tea Company that we stopped and sampled some different teas (my receipt said Joffrey's Coffee Cart so I would assume this is also one of the 'good' coffee stops). The tea was excellent-and PIPING hot!! We had to wait about thirty minutes before we could even sip from our cups.
We headed back to the lodge before going to another park and were able to catch the first of the evening appetizers. They put out the Carrot Ginger Soup from Boma-yum! They also had bite-sized bobotie, chicken wings, and variety of other samplings such as olives, heart of palm salad, and little 'nibbles'.
We decided our daughter just wasn't going to be able to make it through 'Wishes' so we decided to reluctantly head to our car and back home. Evan's parents headed to Magic Kingdom and unfortunately we did miss Terry being called out as 'That Guy!' on the Monster's Inc Laugh Floor… darn!
So, should you make your stay Club Level? I can only speak from my experience at one resort so far but I will say this, I returned to work Monday morning relaxed and refreshed. I didn't have to pack bags of snacks, juices, milks, etc into our car and then always have a constant snack-contingency plan waiting for my daughter. We did spend less on food during the weekend than we normally would have but that did not put us 'ahead'. It was very nice to have a semi-contained area that was not our hotel room but somewhere more public where we could soak up lodge ambiance and not have to stay twelve inches from Lily the entire time.
The one big problem with staying Club Level is this: how do you not stay Club Level every time? Last weekend I traveled a road that led me to chocolate and never-ending coffee and Diet Coke… how do I come back from that? Do I even want to?
In all seriousness, I think you have to decide what's really important to you. Do you travel to WDW often? Is it really a big deal for you to fit fifty juice boxes into your luggage or arrange shipping beforehand? Do you mind a five-day vacation instead of an eight-day vacation if you can have the extra amenities? Are you a park-fiend or do you enjoy spending time at your resort? The only piece I would recommend is staying on the savannas; even if you have to cut your trip a night short. I guarantee you will feel more connected to the world that has been created at the Animal Kingdom Lodge.
It was a short trip we will treasure and it has given us an introduction to Disney's fantastic Concierge Level Service. It was also a great way to celebrate our family and spend some time just laughing and being with one another which is priceless no matter where it happens.
~Emily Owens Pickle