Recently, I visited Rafiki's Planet Watch at Disney's Animal Kingdom.
This area is a real treasure trove of Hidden Mickeys; you could easily spend several hours here searching for the little gems. On the order of 42 Hidden Mickeys live here, and a few more undiscovered ones may be waiting for us to find them.
One of the best side profile Mickeys anywhere is just past the entrance doors to Conservation Station, on the chin of a hippopotamus. It's the fifth animal from the left along the bottom of the entrance mural on the left wall. A side profile of Mickey Mouse is on its lower jaw, under the middle tooth. One of my favorites!
Now for some new images.
Sharon Dale alerted me to three circles arranged correctly on the ground in a mosaic just before the entrance doors to Conservation Station. This Mickey is below and between the elephant tusks and above the second "T" in "STATION". It's not a perfect image, but it's close enough for me!
Sonali showed me a new image in the main lobby of Conservation Station. It's formed from holes in the tree leaves overhead, directly above the first left entrance (as you enter the lobby) to the Song of the Rainforest area. It seems a bit distorted to me, so I put it in the Questionable section of my website for folks to vote on it. What do you think?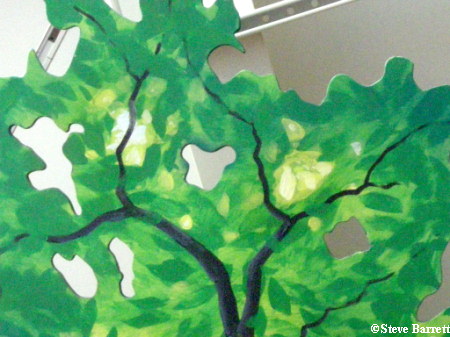 Read more about Steve's Hidden Mickey finds on AllEarsNet.com
Steve maintains a Catalog of Hidden Mickeys on the Hidden Mickeys Guide.