May 25, 2008
Port of Call: Los Angeles — Disneyland Resort
Much as we wanted to sleep in, Linda had to disembark by 7:30am so we were up early. While she got ready, I went up on Deck 10 to watch the Disney Magic come into Port.
The sun was just coming up which made for a pretty sky. It was a beautiful sunrise on the starboard side.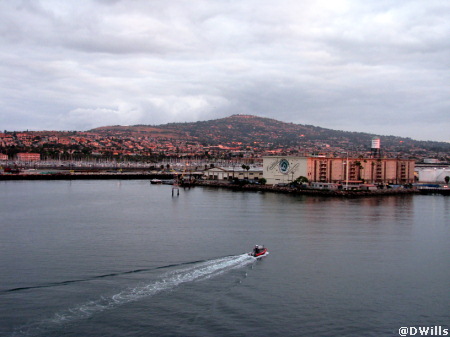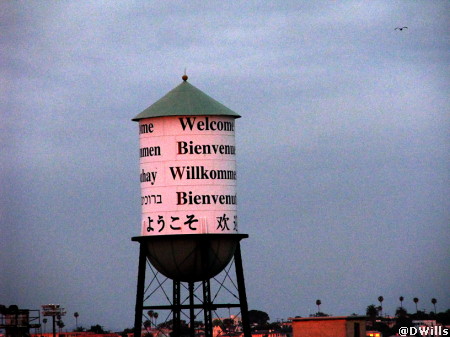 We were escorted in by a boat shooting water fountains.
And greeted by a group of folks waving Mickey Hands and a Welcome Back banner.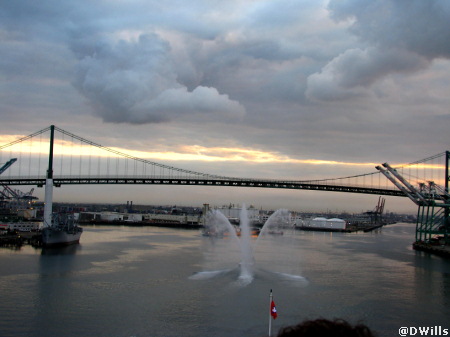 Back in the cabin I looked at the report from the bridge and wowed at where we traveled the last 2 weeks. Follow the white line from north of Miami Florida to LA California.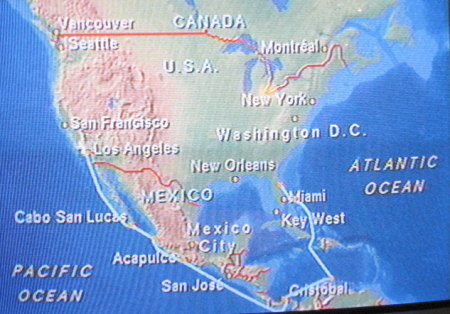 It was quickly time for Linda to head to customs and Los Angeles Airport. She had a 1pm flight home. I was heading to Disneyland.
Breakfast on Disembarkation morning is at the restaurant you dined at the night before. So, minus Linda and Sharon, the rest of us gathered. For some, it was hugs and teary goodbyes (until we meet again), for others we were headed to Disneyland.
As we were getting our belongings ready to depart, I received quite an amazing surprise! Disney Magic Captain Thord, who I had not met, came up to me and called me by name! WOW! That was an incredible magical moment and I was very honored.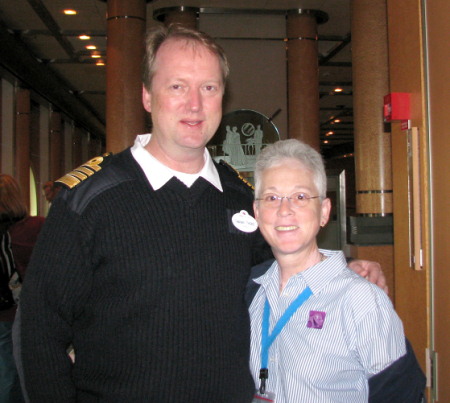 Clearing customs was a lengthy process, but we were ready for that. It is quite different from Port Canaveral, so those used to that process will need to adjust. You leave the ship by group (character stickers are provided) and then clear customs withOUT your luggage. Once you are passed customs, you go down to the luggage area. A porter will be available to take your bags outside.
Although this photo doesn't show it, the outside area is small and conjested so keep your group together.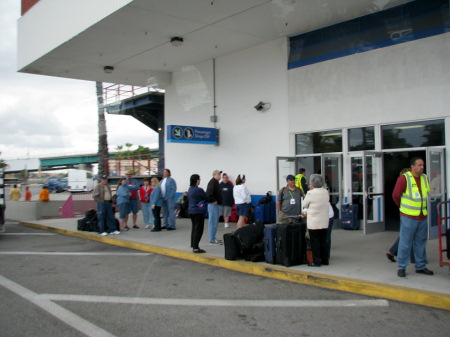 Before long we were on our van and our way to Disneyland!
Ann, George and I got off first at the Paradise Pier, Beci and Chris went onto the Disneyland Hotel. I had quite a difference experience this time at the Paradise Pier. It was packed in the lobby, the check in area is small, luggage service was SO backed up and the room was not ready. Ok, I wasn't expecting the room to be ready but….
I was staying concierge and the experience is QUITE different than concierge at a WDW resort. For those of you contimplating a concierge stay at Paradise Pier, I would advise you to think again.
First, there was no pre-arrival contact from the resort. At WDW, you either receive a phone call or a letter from the itinerary planning department to assist in pre-arrival dining reservations etc.
Next, there was no separate concierge check in. At WDW, you tell Bell Services you are concierge and are escorted to the club lounge to check in and get some refreshments. Also, if your room is not ready you then have a quieter place to wait and decide what to do next.
At Paradise Pier, there was no such experience and the Cast Member at the front desk actually seemed put out when I asked questions.
Ann and George's room was not ready either, so we decided to head over to the parks. While we didn't plan to go inside, I wanted to show them just how close the hotel was to Downtown Disney as well as the Disneyland and Disney California Adventure park.
Tired as we were, we meandered to the park entrance. It was neat to see their expressions as it was their very first vist. Here they are near the mural of California Adventure. From what I understand, the mural will be going away as part of the extensive rehab scheduled for the park.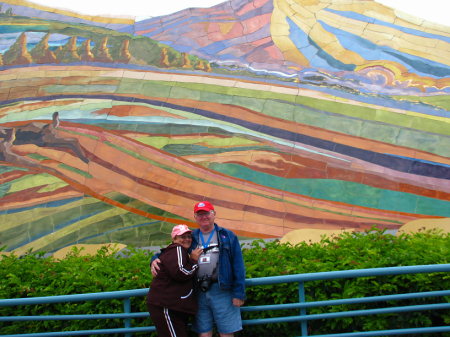 When we returned to the Grand Californian, we wandered over to Napa Rose. Dinner tonight was here to celebrate friend's anniversary.
Soon it was time for lunch at Storyteller's Cafe in the Grand Californian Hotel. This is perhaps my favorite sit down restaurant at Disneyland for all 3 meals.
We met back up with Beci and Chris and AllEars team member Linda Mac (who arrived in town several days earlier).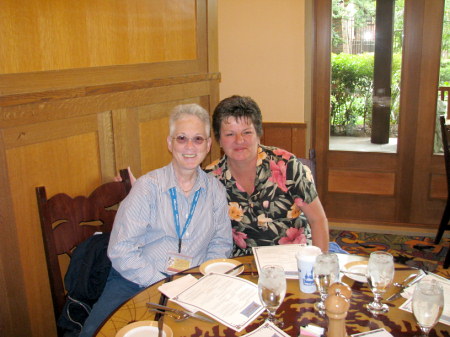 Also at lunch, the table next to us had 2 AllEars Fans, Walt and Liz, who also happened to be on the Panama Canal cruise!
We hung out more after lunch and then about 3:20 our rooms were ready! YEA!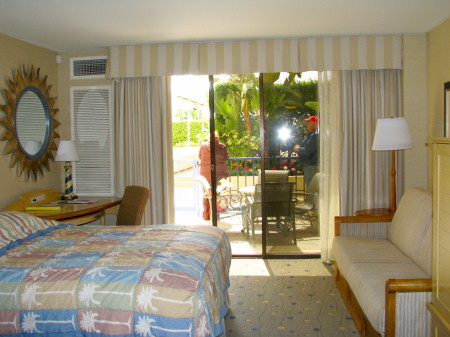 It was supposed to be an upgraded room. Ann and George thought it looked the same size as their room, but mine had a make up mirror in the bathroom. It was on the third floor (335) but a patio room. It would have been very convenient for a family who used the pool. My preference is not to have a room on the ground level as I like to keep the curtains open for light and the door open at night for fresh air. If I wasn't so tired, I would have asked to move.
I took a quick 20 minute power nap, showered and was met my friends at the Grand Californian Lobby: Mari, Raleigh, Allison and Lauren. Linda and I had met Raleigh and Mari in 2005 on the Mexican Riveria Disney Magic Cruise. Last year, all four of them were our tablemates for the 11 night Mediterrean Disney Magic Cruise.
Gary and Karen were also part of dinner (as well as Ann, George, Beci and Chris) and also were on the cruise last year.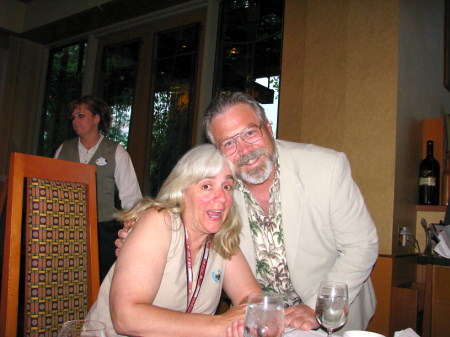 Our experience at the Napa Rose was VERY disappointing. The food was spectacular the service bordered on horrible. I'll be writing a separate review on our dinner.
After dinner, everyone went their separate ways. We'd be enjoying Disneyland in the morning!
Follow my Panama Canal Cruise and Disneyland Blogs. Beginning entries at the top, for most recent entries scroll down.
Deb