Ah…. it's always a great feeling being back onboard the Disney Wonder and today was no different.
HEADING TO THE PORT
Our day started with an early departure from the Animal Kingdom Lodge Villas with a pickup from Happy Limo (one of the AllEars's advertisers). Linda and I are feeling like we are traveling with half our closet! Between us we have 3 full suitcases, one with just goodies for folks on the MouseFest cruise. We also have a few bottles of wine, for some special events in the Walt Disney Suite.
Before heading to the Port, we had an important stop to make. Together with Colleen, Beci and Annette, we cooked up a little magic for 2 of MouseFanTravel's clients, the McElvains! I had met Tim several years ago at a December meet and we have stayed in touch off and on through the years. We thought it'd be a great treat to pick up he and his daughter at Port Orleans in a Stretch Limo! Beci, Stephanie, and Annette were there to sprinkle pixie dust and capture the moment!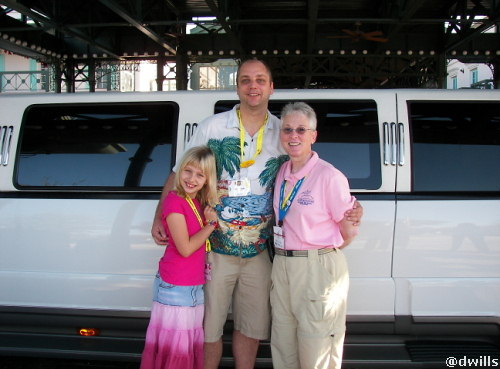 The ride to the Port went quickly and soon we could see the Disney Wonder's smoke stacks through the car window! Getting to the port at 10am is nice because not many people are there yet! It's easier to get through security and up into the main port area.
MOUSEFEST AT THE PORT
This is when the fun really begins. There are a number of regular MouseFest cruisers and we look forward to sailing with them every year. There have also been some folks we have gotten to know really well who have become dear friends. I could try to name them all, but I would probably forget someone and I don't want to do that. You know who you are 🙂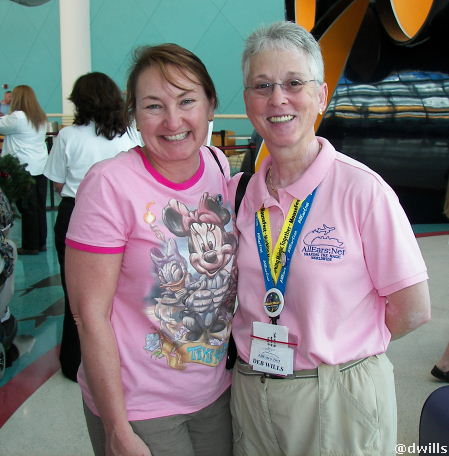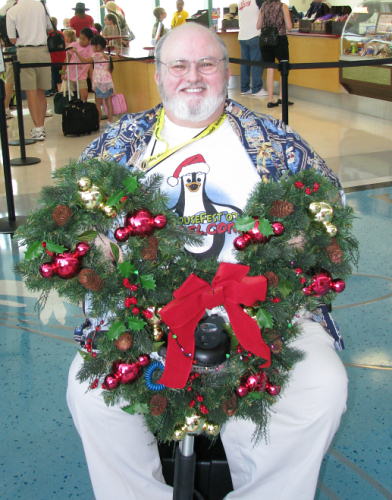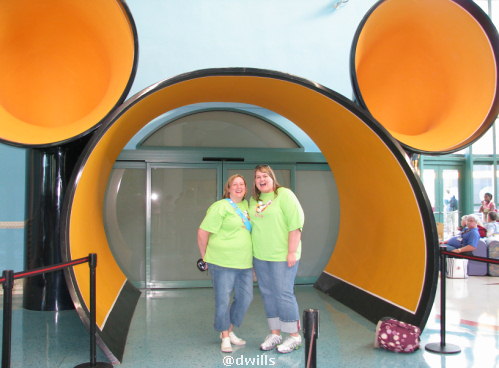 The MouseFest folks usually wait down in the far right corner of the Port so we can look out the windows and see the ship. It also puts us right near the huge Mickey Ears that welcome us onboard!
Part 3 coming…..