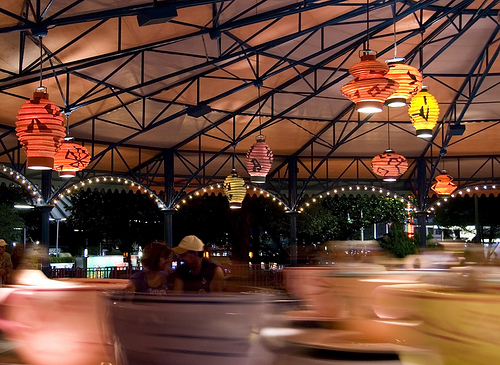 Copyright © 2007 Barrie Brewer, Nikon D50/18-200VR, 0.333s shutter, f4.2
Accidents happen! Here's one that was a nice surprise when I got home. I was practicing taking night photos of the Mad Tea Party ride and had way more than I actually wanted, but I didn't want to take the time to delete any of the extras while I was in the park. When I got home I was glad I kept them all because I discovered this sweet couple when I was looking at the full size shots on my computer. I love how the all of the teacups are a total blur except theirs. It's almost as if they were the only ones there. I'm sure they thought they were!
Quick Tip: Don't delete your photos until you get a chance to see them in large format. Sometimes there may be a hidden gem that you'll be glad you saved.