Welcome TrooperBill as our guest blogger. He visited Epcot (8/1/07) and sends these photos and updates:
The wand that once adorned Spaceship Earth continues to be dismantled. You can see progress daily.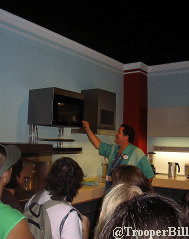 The House of Tomorrow in Innoventions recently reopened — the entrance way is still the same, with the fingerprint doorlock access, and the outside camera. The kitchen room seems to have magically transformed to all Siemens appliances. Included is a microwave that is wall mounted, and the lower part drops down to have the food placed in it, sort of like an elevator. The fridge has a TV built in, which was displaying recipes during the presentation. The family room had a large hi-def TV, that can also be run from the home computer, and linked to the kitchen appliances. I seem to recall something similar in the previous edition of HOT.
The game room has a programmable shelf mounted robot, that can be used as a security feature They also had an advanced electric guitar and drum set, each of which can basically play themselves. The girls bedroom has what they called a "floating bed" which is a round circular mattress hung from the ceiling. There is also a Magic Planet, which is basicaly an interactive computer globe.
The dining room had a table and chairs made of cardboard, which can be seen in the pictures, and looked much sturdier in person than one would think. The bathroom had a tankless commode which looks more like a ceramic hamper than a toilet. They also had a DTV (digital thermal valve) controlled shower stall, which was as large as a spa and had eight separate spray vales, all controlled via the DTV.
The garage boasted pretty much the same set of shelves, and now has an electric scooter plugged in to wall. Supposedly it can do 150 miles and 55mph on a charge. They also had some sort of hot water drian recycle thingy setup, that uses heat from hot drain water to heat the intake pipe of the hot water heater, thus lowering the cost of heating fresh water. There was also an electric car in the final area.
Also at Innoventions East, the two areas housing the Internet Zone and City of Opportunity have been walled off and are being dismantled. I found out that Waste Management ( a large garbage/recycling company) has purchased ( or leased) the space space, and will be putting an exhibit there. Supposedly it will be centered around recycling, and hopefully will not consist of a large Waste Management dumpster in the room!!
The Voices of Liberty recently completed a 2 week hiatus, during which they broke in several new singers. I caught 2 shows today, and each one featured four of the new performers, with a separate group for each show. I didn't get to confirm if they are still auditioning or have actually joined the regular cast, next time I'm there I'll ask and find out.
The Heritage Gallery at the American Adventure has closed, and the Africa artifacts have been removed. The new exhibit will be called National Treasures, and will feature items on loan from various American Musuems, in particular the Smithsonian, with items dealing with American history. This exhibit should be open in a few months.
The kids splash fountain between Future World and World Showcase is walled off. I'm don't know if it is just refurbishment or something else.