AllEars® Team member Jack Spence visited the Contemporary Resort recently.
According to reports, the Food and Fun Center was supposed to close this past weekend. I ate lunch at Concourse Steakhouse Tuesday, 7/31, so I could take pictures of the Tempo Grab and Go (temporary replacement) next to the Outer Rim. It isn't there yet. In fact, the Fun and Food Center is still open. We asked our server when it would open and all she knew was "very soon."
I noticed a couple other "construction" projects going on at the resort.
Actual construction has begun where the North Wing once stood at the Contemporary Resort. This is the possible site of the rumored new Disney Vacation Club resort.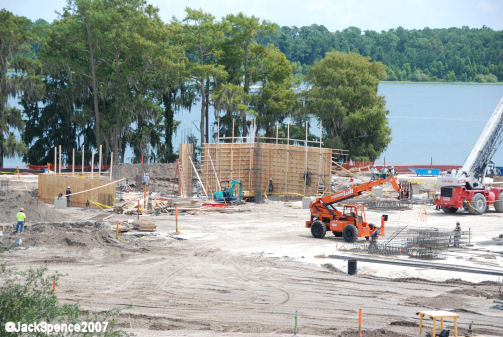 All of the public doors into the Contemporary Resort are being remodeled. The revolving doors are being replaced with sliding doors with an "airlock" room inbetween.