Evening 4/21/2007
Tonight we dined at Jiko to celebrate our dear friends Tod and Sue's anniversary. Our dinner was simply amazing and highlighted by manager Jeremy who paired each of our courses with a special South African Wine. We actually never did have a "main course" per se… but did manage to have several courses of items from the Cooking Place and the appetizer list. Oh, and dessert.
In this photo, Jeremy is pouring the Chocolate Box red wine for Sue — it was YUMMMY!!
Sunday, April 22, 2007
I hadn't spent much time in the World Showcase portion of Epcot so Linda and I headed there on Sunday. What a beautiful weather day… mostly blue skies, mild temps and a small breeze. We strolled from pavilion to pavilion enjoying all the beautiful flowers and topiaries.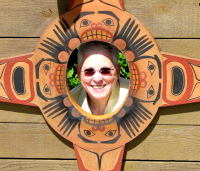 Along the way, we had lunch at the Yakatori House in Japan. It was ok, nothing special, but decent. By mid afternoon we strolled back to the front of Epcot to try and get better photos of the entrance topiaries.
Back to Wilderness Lodge where we spent some time talking with the concierge staff. Lisa, Gerrianne, Jack and everyone was just super!
Sunday evening we dined at Il Mulino in the Swan, the new Italian place. Being such a huge fan of Palio (the former Italian restaurant), I had such high hopes. Alas, I found the place disappointing and way overpriced. Our dining companions, Steve Barrett (Mr. Hidden Mickey) and his lovely wife Vickie, made the evening very special.
Monday morning we were off to the airport at 6:30am for a flight home. A great trip with great memories!
Deb —
Life IT too short!