Well, as you can see, I didn't quite finish the "live" updates from Walt Disney World. Things just got so hectic. Allow me now, to finish up the trip as best I can…..
4/20/07 Evening….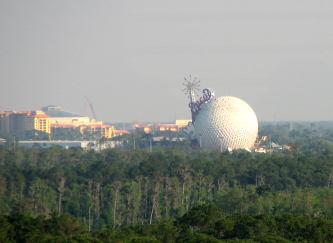 Dinner at California Grill was wonderful, as it always is for me. We were seating in the wine room in the back and had a great view of Epcot's Spaceship Earth as well as the Walt Disney World Swan and Dolphin. As I mentioned, I"ll be doing an article for the AllEars® newsletter on our California Grill experience.
4/21/07
Saturday morning we decided to have breakfast at Whispering Canyon Cafe. If you haven't been there yet, let's just say is a Wild and Crazy dining experience. Lots of whopping it up… so be ready for noise, even early in the am! The kids all got to ride around on their stick ponies (even some "older" kids) and it was fun to watch. Our server was very into his role and sometimes he couldn't stop himself from laughing. Food was very good but huge quantities and most of us couldn't finish our breakfast!!
The four of us went over to Epcot to see the Flower and Garden Festival. It certainly had more "color" than I remembered from last year.
The Pirate ship at the entrance is just magnificent with Peter Pan, Tinker Bell, Captain Hook, the gator and Pirate "Mr. Smee" Stitch!
We rode the new Gran Fiesta Tour in Mexico. Certainly more colorful and lively that the former El Rio de Tiempo which definitely needed updating. If I didn't know the story line in advance, I would have been wondering exactly what it was. It wasn't clear to me until near the end that the Caballeros were looking for Donald. Be that as it may, it was cute and a strong "C-ticket" attraction.
There were gorgeous orchids along the path outside of Mexico and we spent a great deal of time admiring and taking photos of them.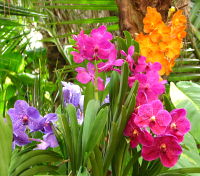 At this point I left my friends and headed off to do some resort research at Saratoga Springs and Port Orleans French Quarter. My friends continued to enjoy the Festival.
Deb
Life — IT too short!