Mickey's Birthday Land 1988 Magic Kingdom Archives
By Lou Mongello
The article first appeared in the June 27, 2006 issue of AllEars® Weekly Newsletter
Tempted as I am to delight you with my awful rendition of "Happy Birthday" – I won't. Believe me, my singing's bad even when it's just typed.
However, our trip aboard the Walt Disney World Wayback Machine IS going to take us back through time to a very big birthday party. No, not my 21st. Let's just not go there, OK? Someone MUCH more important than me, anyway.
It was all started by a mouse after all, so we're going to go back about 28 years or so, to when Mickey Mouse celebrated his 60th birthday in a very special way.
When most people celebrate a birthday, they get clothes, maybe an Xbox if they're lucky, or if you're sixty, maybe a tie or a gadget from a catalog. Not Mickey. Nope. He got something bigger – and better!
Lou plunks two quarters into the slot in the Wayback Machine (yes, I am a child of the video-game era), and off we go.
It's Summer, 1988, and although Mickey's "official" birthday is a few months off (November 18), preparations are in full swing to kick off a birthday party in the Magic Kingdom like no other. Oh, sure, they held one here once for Donald's 50th in 1984, but it was nothing like this. He got a parade, and all of his character friends were invited, singing "Happy Happy Birthday to You" (which you can find on the old "Splashtacular album), but that was about it.
But for Mickey it had to be something spectacular, and what better present to give the Mouse than a giant "surprise party" in his own, new land in the Magic Kingdom. Yup. Disney decided to take some prime real estate between Fantasyland and Tomorrowland, and carve out a place for a big (yet intentionally temporary) birthday bash. It was to aptly be called "Mickey's Birthdayland", and would not only include the construction of new buildings, but an unprecedented new stop along the Walt Disney World railroad line. In fact, not only did he get a new station, but they even renamed the entire rail line as "Mickey's Birthdayland Express." It remains as the first and only new land to be added to the Magic Kingdom since its opening in 1971.
Cindy Williams – yes THAT Cindy Williams from the 80's TV show, "Laverne & Shirley" – was on hand for the grand opening on June 18, 1988. Alongside First Lady Nancy Reagan (told you this was a big party!), Cindy cut the ribbon, dedicating Mickey's Birthdayland.
Using land that had previously been nondescript "backstage" areas, the new town that Mickey would call home was nestled in between 20,000 Leagues Under the Sea and the Grand Prix Raceway. In fact, the Raceway (now known as the Tomorrowland Indy Speedway), had to have its track moved and shortened in order to allow for construction of Mickey's Birthdayland.
This may have been a "surprise" for Mickey, but you first learned about this "surprise party" even before you entered the park. Form promotional materials in your room, to Minnie's narration along the monorail routes, Guests were invited to this new land to share in the festivities. As you boarded the WDWRR from the Main Street, USA station, you notice first the decorative elements added to the engine, as well as new narrations and songs celebrating the event. Along the way, you passed by some of Mickey's friends… well… sort of. More like cardboard cutouts placed along the route, on their way to the party (although they didn't really look as though they were making very good time). One of the funniest was the three little pigs in a straw house upon a raft, rowing their way to the tents.
One you arrived in Birthdayland, whether it be by foot through the new entrance, train (or hitched a ride with the aforementioned pigs), you were invited to head on over to Mickey's house, where the surprise party was taking place. Not unlike it's current state, the house was merely a walk-through "attraction", in which you saw his bedroom, office, backyard, etc., and his plump, red, one-seater convertible parked outside. (Trivia bonus – Do you remember what his license plate said? Look at the end of the article for the answer). Of course, the way the house looked inside and out in 1988 is quite different than what you see now, but we'll get to that a little later.
As you exited Mickey's house (where I don't really remember much of a party going on), you could see Pluto's' requisite doghouse, Mickey's clothesline and lawnmower, and well-manicured lawn. From there, you would then make your way into three large tents. Inside, they were showing Disney cartoons, Minnie's kitchen, with the third tent housing a show with other Disney characters. The show, called "Minnie's Surprise Party," took place in her kitchen, and is where Guests could finally see the Mouse of Honor, along with the rest of the Fab 5, Chip and Dale, and other Cast Member participants. Of course, in true Goofy fashion, you can imagine who almost ruins the whole thing!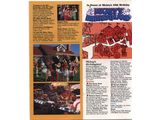 Leaving the tents (and the party), you could tour the town of "Duckburg" (taken from the Ducktales TV show), where Mickey's house was located. Radically different than what you see today, the town, with a population of "'bill'ions and still growing" was complete with pint-sized storefront façades such as the "Duckburg News", Barber Shop, D. Duck's candy store, and the original "Donald's Boat", the S.S. Donald Duck. Although you couldn't enter these stores, they did a nice job of hiding the tents somewhat. Don't worry, there was more to do, though. Kids could interact with live animals at Grandma Ducks' Farm, which was presented by Friskies. (Note: I have also seen it written as "Old MacDonald Duck's Petting Farm – Disney News; Fall, 1998). Here, the star was a cow destined for fame, as "Minnie Moo" was born with a large, classic, three-circle Hidden Mickey on her side. (Steve Barrett, back me up on this one, OK?). She was later moved to the petting farm in Fort Wilderness and moo-ved on to greener pastures in the summer of 2001. (Sorry, I couldn't resist). There was also Mickey's Playground, Mousercising, and a Mousekmaze of topiary shrubs and trees.
Now remember that this land was only meant to be something temporary (the relative crude nature of the façades was a dead giveaway), and was intended to be removed at the end of the 60th birthday celebration. However, in 1989, a decision was made to keep the new land, as it proved to be more popular than they may have predicted. Thus, plans were set in motion to retheme this area, and lose the birthday motif. In Disney terms, it was being "repurposed."
On April 22, 1990, Mickey's birthday bash was officially over, and just a few weeks later, on May 26, Mickey's Starland was born. (insert early 90's funky music here).
When it opened, the temporary buildings were changed, and it looked very much more like a permanent town. To that end, some of the attractions and shows changed as well. Minnie's Suprise Party became "Mickey's Magical TV World". This show featured the stars of the Disney Afternoon cartoons, such as Ducktales, Adventures of the Gummi Bears, Chip 'n' Dale's Rescue Rangers, and Tale Spin. The show's story involved Scrooge McDuck being trapped in a bank vault, with the heroic Disney characters coming to the rescue. Do I even have to mention the computer that sang that "rap" song? Yikes. (Hey, listen… you were listening to "Pump Up the Jam" and wearing your acid washed jeans, Hypercolor shirts and spandex, too. Admit it!)
So we all agree that "Starland" definitely has an 80's sound to it, right? Well, I think Disney agreed, and felt that Starland's days were numbered. In 1996, Disney took the opportunity to "repurpose" the land again, this time to coincide with Walt Disney World's 25th Anniversary. Based on the success of Disneyland's "Mickey's Toontown", the land was refurbished once again, renamed "Mickey's Toontown Fair." It's official rededication was on June 29, 1996. Oh, by the way, if you want to get a glimpse of the area before it become Toontown should look for the episode of TV's "Full House." Here, the family goes to Walt Disney World, and can be seen in front of some of the old building facades.
The refurbishment included further upgrades to the buildings, as well as the addition of new attractions. Minnie moved next door into her own Country House, Donald got a new Boat, and Goofy took over Grandma's Duck Farm, Pete set up shop with his gas station (a.k.a. rest rooms), Goofy and got his own Barnstormer at Goofy's Wiseacre Farm roller coaster.
Donald's Boat, the S.S. Miss Daisy, opened on April 15, 1996, replacing Mickey's Hollywood Theatre. The boat was named fater Donald's "lady friend", and is a water play area for children. Be sure to let them go inside, turn the Captain's wheel, and blow the ship's whistle (see what happens outside!). Look for special decorations around the holidays, when the boat becomes a make-believe Christmas tree lot!
The old party tents now house the "Hall of Fame", and its entrance is marked by "Cornelius Coot Commons." The town's founder, Cornelius Coot, is honored by a statue sitting atop ears of corn. Cornelius is part of the Scrooge McDuck Universe. He is Donald Duck's great-great-grandfather, and the founder of Duckburg, Calisota and Mickey's Toontown Fair (according to the statue). The Hall of Fame contains three character rooms, where Guests can meet classic Disney characters, Pooh and friends, and the last is usually for characters from Disney's latest animated film. The Hall of Fame is next to "Cornelius Coot's County Bounty," a merchandise shop.
Today, Mickey's Toontown Fair is a nice place for kids to run and play (Toon Park and Donald's Boat do a nice job of keeping kids cool and helping to expend some extra energy), meet their favorite characters, and tour some of the most famous homes in the neighborhood. It's come a long way over the years, and is a far cry from the "temporary" land it was originally meant to be (-cough- can you say, "Camp Minnie-Mickey"?).
Well, I'm out of quarters and I guess those are some of the highlights from Birthdayland.. I mean Starland.. .I mean…
So, let's hop back into the Wayba… Oh, before I forget… the answer to the trivia question about the license plate? Mickey's car's Florida license plate read: "MIK MIN". Hopeless romantic, that mouse.
(Lou grabs some souvenirs, hops back in his Wayback Machine, and finds himself back in Scotch Plains, NJ. Ugh).
Back in 2006, Mickey's Toontown Fair is pretty much as it was when it was dedicated, save for a few minor things here and there. But being the trivia buff who loves all the details Disney's Imagineers place throughout the parks, there is a wealth of things to see in Toontown. Stroll through Mickey's garage and take a look at the tool and books; spend some time really exploring his kitchen; learn about the plane on the Barnstormer as you walk through the queue. Sure, I could tell you what to look for, explain it all, but that's what discovering the true magic of Walt Disney World is all about.
Lou is the author of the Walt Disney World Trivia Book and Owner of DisneyWorldTrivia.com
Photos courtesy of Pat Whitson (DisneyDame2004) and copyright DisneyWorldTrivia.com