Do you want to be a more adventurous eater? Want to take your regular hot dog to the next level?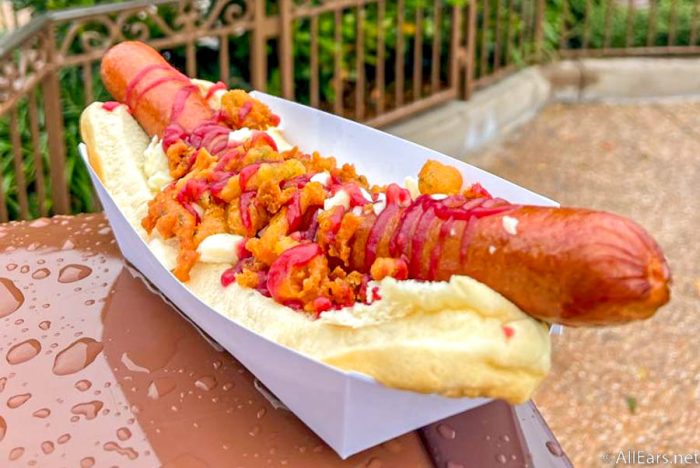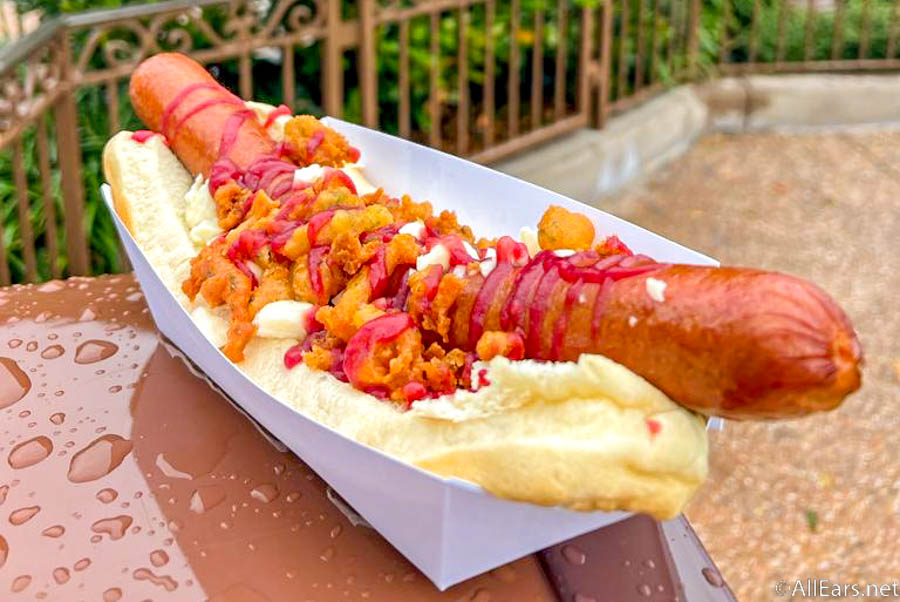 This seasonal hot dog from Casey's Corner in Magic Kingdom might be a great way to test the waters and take yourself a bit more out of your comfort zone, while still serving up some classic flavors.
While the idea of a holiday hot dog might call to mind a frank covered in green and red icing with sprinkles (or maybe that's just us!), the Holiday Dinner Dog is a little more unique! The chefs at the iconic eatery on Main Street, U.S.A. in Magic Kingdom have created a festive take on the backyard barbecue staple.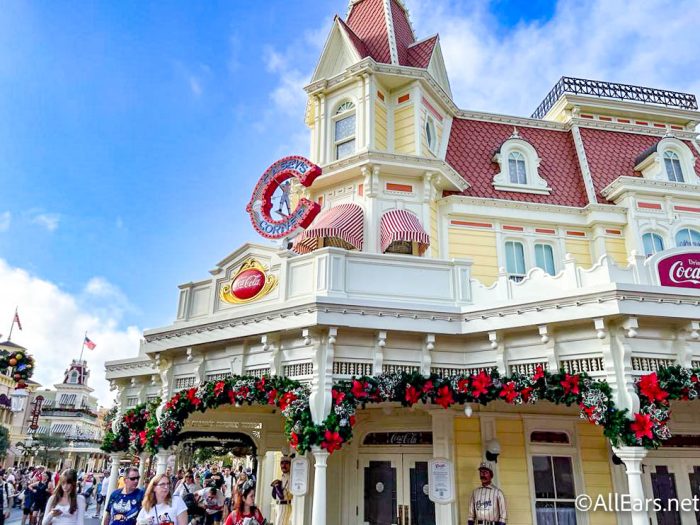 The ingredients in this dish are the perfect marriage of fair food and holiday eats: the hot dog and classic bun are paired with cranberry mustard, funnel cake stuffing, and cheese curds. The sweet and savory combo will make your taste buds do a little jig!
You can grab it at Casey's Corner through December 31st for $12.99 (or $14.29 as a foot long). But if you won't make it to the park in time, follow the recipe below to create it at home!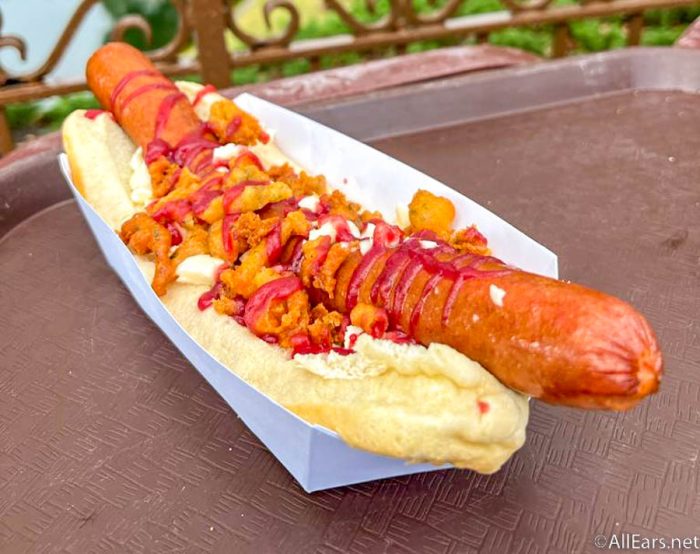 Ingredients
Cranberry Mustard
1 cup cranberry sauce
1 tablespoon Dijon mustard
1/4 teaspoon water
Savory Funnel Cake Crisps
Oil, for frying
1/3 cup milk
1 egg
1 tablespoon sugar
1/2 teaspoon vanilla extract
3/4 cup all-purpose flour
1/2 teaspoon baking powder
1/4 teaspoon salt
1/2 teaspoon chicken bouillon powder
1/4 teaspoon dried parsley
1/8 teaspoon onion powder
1/8 teaspoon garlic powder
1/8 teaspoon dried sage
1/8 teaspoon celery salt
Hot Dogs
8 hot dog buns
8 all-beef hot, cooked according to package instructions
Reserved funnel cake crisps
8 ounces cheese curds, coarsely chopped
Reserved cranberry mustard
1/2 teaspoon chicken bouillon powder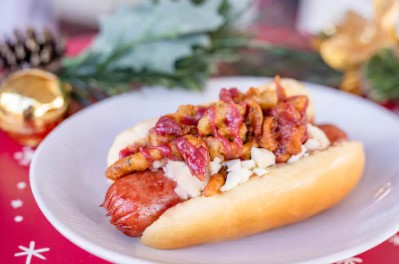 Recipe
First, create the cranberry mustard. Combine the cranberry sauce, Dijon mustard, and water in a mixing bowl and whisk until smooth. Transfer your cranberry mustard to your refrigerator until you are ready to serve. If you want an authentic experience, fill a squeeze bottle with your new mustard!
To create the savory funnel cake crisps begin by heating 2 inches of oil in a frying pan or Dutch oven to 350 degrees Fahrenheit.
In a mixing bowl combine your milk, egg, sugar, and vanilla.
In a separate bowl whisk flour, baking powder, salt, chicken bouillon powder, dried parsley, onion powder, garlic powder, dried sage, and celery salt.
Slowly stir your dry mixture into the milk mixture, and mix until smooth.
Transfer this batter into a piping bag or squeeze bottle. (If you have neither, you could try to put the batter in a gallon freezer bag and squeeze out all of the air before locking closed. Push the batter towards one of the bottom corners and twist the opposite upper corner, then snip the bottom corner to create a piping bag in a pinch!)
Prepare a plate with paper towels to place your funnel cakes on after they are cooked.
Carefully, squeeze half of the batter into the oil in a swirling motion to create the classic funnel cake shape.
Let this cook for 1-2 minutes, then slowly flip with tongs. Allow this to cook for one more minute, then use the tongs to transfer the cooked funnel cake to your paper towel-covered plate to allow the excess oil to drain.
Repeat this process with the second half of the batter.
Once both funnel cakes have cooled for 5-10 minutes, cut them into 1-inch strips.
Finally, cook your hot dogs following the instructions on the packaging. If you like your buns steamed or toasted, you can do that at this stage now.
The last step is assembling your holiday dogs! Place a hot dog inside a bun, then drizzle your desired amount of cranberry mustard. Add some cheese curds and funnel cake strips, then finish off with a sprinkle of chicken bouillon powder.
Break out this recipe at your next holiday dinner party for a unique departure from the standard fare, or get your family together in the kitchen to make this dish. Bon Appetit!
For more Magic Kingdom snacks, check out our ranking before your next trip! 👇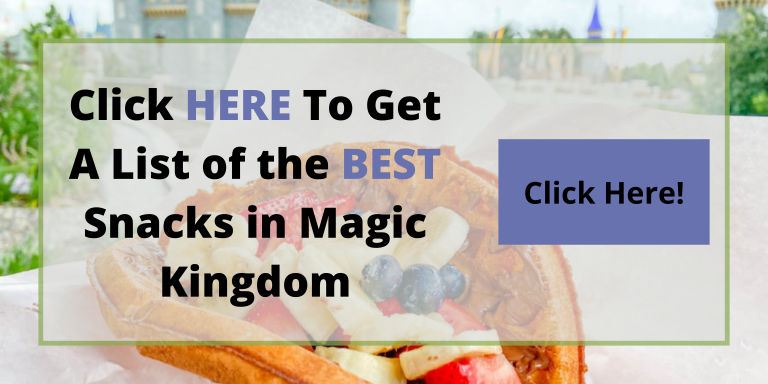 Would you try this dish? What parts look best to you or don't suit your tastes? Let us know in the comments!