DISCLOSURE: This post may contain affiliate links, which means when you click a link and make a purchase, we receive a commission.
Rainy days are a fact of life in Disney World, and you can thank the unpredictable Florida weather for that! Those days can actually be fun — Cast Members will make sure you are still entertained and having a great time even when the heavens open up.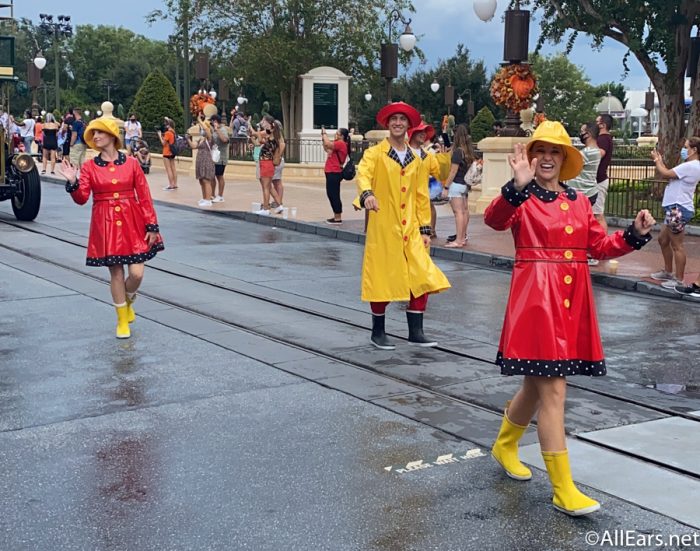 One of the things we enjoy about visiting the parks is picking out outfits and dressing up, and this doesn't have to be foiled by some silly rain!
We've put together some great outfits you can wear to Disney, even in rain showers. You might even look forward to those days so you can show off your look!
While some might argue it never gets truly "cold" in Florida, there definitely are some days that are chillier than others! This is more true as we head into the fall and winter months. Beat the wet cold with this outfit! Insulating leggings will help keep you warm, along with this cute Neverland sweatshirt. Layer a rain jacket over your sweatshirt for waterproofing as well as another way to trap in heat. Carrying an umbrella can be cumbersome, so we prefer to stick to hats to keep the rain off of our faces. Waterproof boots like this super cute ankle boot Hunters are perfect for walking around the parks, which often amass fairly deep puddles! We're also really loving the minimalistic color scheme of this outfit, which let your sweatshirt and hat designs shine.
If you prefer to dress more flashy for Disney, this is a great outfit option! The star-covered coat and attention-grabbing leggings can brighten up your day when the sun isn't there to do so. Pair with your favorite Jasmine top, like this gorgeous tank with a detailed royal frame design. Walking shoes are a must and we picked these that are a similar color to Jasmine's outfit in Aladdin! This outfit shows you don't have to sacrifice your style for comfort when the weather is less than perfect.
We can already hear the Imperial March! You will see TONS of ponchos at Disney on rainy days, but most are plain and don't offer much in the style department. Skip the standard poncho and instead opt for this Darth Vader one that is Empire-approved! A matching hat serves as a modern version of Lord Vader's helmet, and we've paired it with simple black shorts and shoes. We also have to admit we are kind of obsessed with the t-shirt and think that Star Wars fans will love it too! Finish off your look with an appropriate MagicBand and you're ready to head off to Galaxy's Edge!
Is it just us, or can you also imagine Pooh Bear wearing this outfit to Disney? This sweet ensemble is mostly comprised of his iconic red and yellow color scheme, but the colors are complimented by a light blue v-neck featuring Winnie the Pooh and his favorite thing in the world: "hunny"! If you're planning on wearing wellies to the parks, we suggest sizing up and wearing fluffy socks to maximize your comfort when you're walking all day. This look is topped off with a totally-appropriate bee and honeycomb umbrella — just remember to stick to using your hood when the wind starts to pick up!
This outfit is for the fashion-adventurous, with its eye-catching mix of colors and patterns. The tie-dye Daisy Duck tee is a fun focal point, and we pulled in some of the purple from that shirt with this light purple rain jacket. Black leggings are a great item to pack any time you are going to Disney because they pretty much go with everything! These leggings are extra amazing because they have POCKETS. If you like wearing hats to Disney, we threw a trendy bucket hat option with the perfect pattern on it, but the jacket has a hood for those who aren't keen on lids. Of course we had to choose yellow boots for the shoes on this outfit; they remind us so much of Daisy's feet!
Next time we head out to the parks, you just might see us in one of these looks. Maybe we'll be outfit twinning!
If you have a trip coming up, don't forget to check out this cheat sheet to Magic Kingdom!
Do you like rainy days at Disney? Why or why not? Tell us your thoughts in the comments!