UPDATE: Disney World will be conducting a phased reopening of the theme parks and Disney Springs on September 30th. Click here for more information.
Hurricane season has impacted Florida hard this week.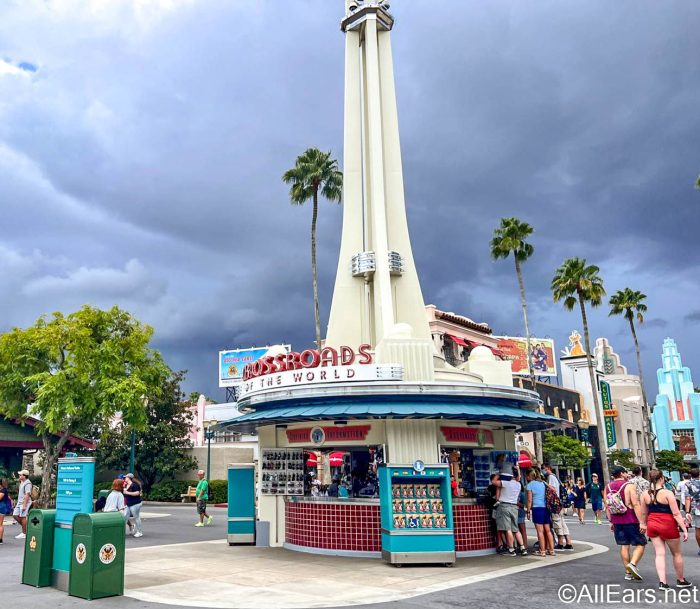 Tropical Depression Nine was upgraded into Tropical Storm Ian, and strengthened into a hurricane by Sunday night. Here's everything you need to know.
Hurricane Updates
The most current updates are marked in red below.
ABC shared that Tropical Storm Ian is forecasted to "become a Category 4 storm by Tuesday afternoon." The storm will then continue moving, with it projected to reach the west coast of Florida by midday Thursday.
While "increased wind shear" may help weaken the storm before it makes landfall, it's still too early to predict. Regardless, in preparation for the possible hurricane, Governor Ron DeSantis declared a state of emergency for the entire state of Florida.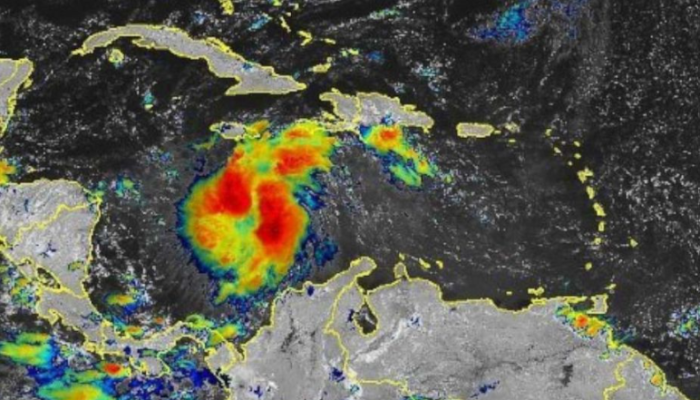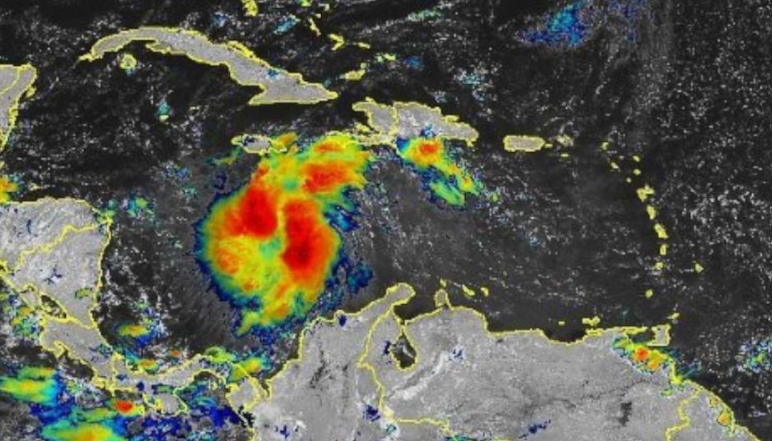 The Orlando International Airport has already announced that they'll be shifting operations due to the incoming storm.
In anticipation of the possible incoming weather, it has been decided that the relocation dates for jetBlue & Caribbean Airlines to Terminal C will be rescheduled. Please contact your airline directly for any specific details in regards to their flight operations. Thank you.

— Orlando International Airport (@MCO) September 23, 2022
So far, relocation dates for specific airlines to Terminal C have been delayed. We'll let you know if any other changes are made to operations.
As of the 5PM update on September 24th, Tropical Storm Ian is projected to continue gaining strength as it moves, with its trajectory shifting slightly to the west.
As of 8AM on September 25th, the storm had shifted back to the east. You can see the shift in the video below. The storm was expected to strengthen to a hurricane at some point on Sunday.
Most of yesterday the models trended west but since late last night they have edged back eastward. Here's a look at the trends! We all remain in the cone with impacts to be felt here Wednesday/Thursday. Stay with @WESH for updates. pic.twitter.com/AdTg2zBzKv

— Tony Mainolfi (@TMainolfiWESH) September 25, 2022
As for the weather, on Sunday, September 25th, Orlando was around 89 degrees with a 30% chance of rain. On Monday, September 26th, that rain chance is expected to increase to 40% according to Click Orlando.
Here is a look at the 11AM update from Sunday.
And here is the 5PM update from Sunday. At this time, a tropical storm watch has been issued for the Lower Florida Keys.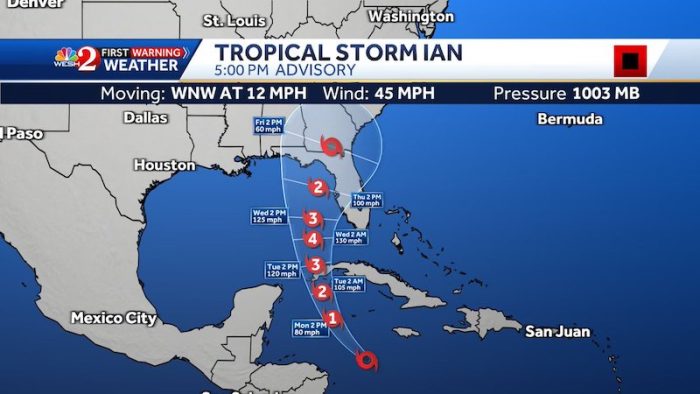 You can see a good visual movement of the storm in the video below.
Here's at look at the models for #IanL. Still a good spread across the Easter Gulf of Mexico but the trend has inched eastward today with two camps setting up. We will get active weather Wednesday/Thursday either way. Stay with @WESH for updates. #weshwx pic.twitter.com/ZgERXBeEt6

— Tony Mainolfi (@TMainolfiWESH) September 25, 2022
By Monday, Tropical Storm Ian had strengthened to a hurricane and was expected to become a Category 3 storm by Monday night, according to ABC. Here's a look at the storm's path on Monday.
#Ian continues to strengthen and is expected to rapidly intensify into a major hurricane by Tuesday morning! We're monitoring all the latest impacts! Stay with @wesh for updates! #weshwx pic.twitter.com/i62IH0cpBL

— Tony Mainolfi (@TMainolfiWESH) September 26, 2022
Here is a look at the 11AM update from Monday. According to WESH, evacuations have been issued for the Tampa area.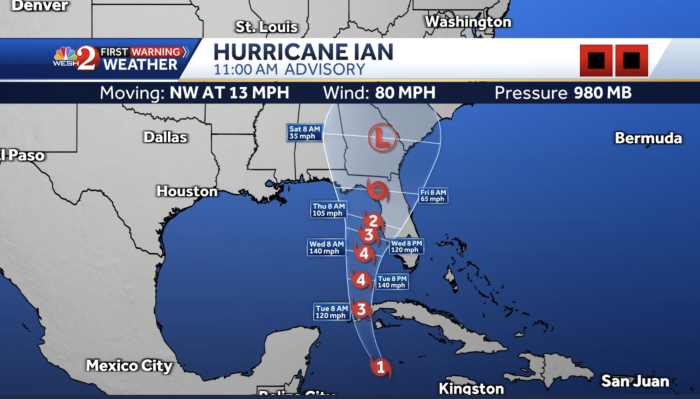 By Monday afternoon, Hurricane Ian was up to 85 mph and is expected to intensify more, according to Orlando Sentinel. On top of the areas that are being asked to evacuate, there was a Tropical Storm Watch for many Central Florida counties including Orange County and Osceola County where Disney World is located.
Below is a look at where Hurricane Ian could head in the next few days.
Here's a look at the latest futurecast data on #Ian! Outer bands start arriving down south Tuesday evening. Stay with @WESH for updates on Ian. #weshwx pic.twitter.com/MNQx1p9mRv

— Tony Mainolfi (@TMainolfiWESH) September 26, 2022
On Tuesday morning, as predicted, Hurricane Ian became a Category 3 storm. By 11AM, winds were up to 115mph. The map shows a projected look at the hurricane's path.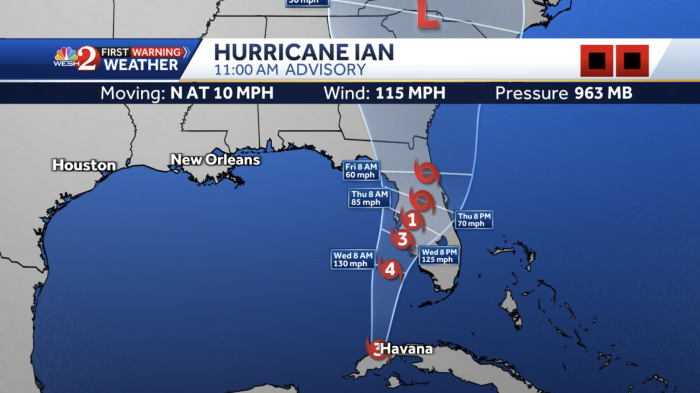 Here is a look at Hurricane Ian around 2PM on Tuesday.
Several Florida counties are now under Hurricane Watch as the storm moves closer.
Winds are still at 120 mph and Hurricane Ian is getting closer to Florida in the 5PM update.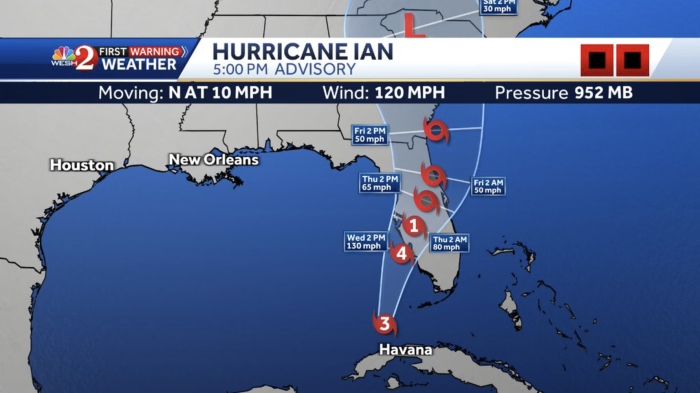 September 28th UPDATE: As of 9AM, Hurricane Ian has strengthened to a Category 4 with near Category 5 strength winds reported. Currently, it is located 60 miles west of Naples, and approximately 185 miles south-southwest of Orlando.
September 29th UPDATE: Hurricane Ian made its way through parts of Orlando and ultimately dumped over a foot of rain on Disney World. Various areas of Orlando and other surrounding areas experienced flooding, with even some roadways leading to the airport having been flooded.
Ian was downgraded to a Tropical Storm, but later strengthened to a hurricane again over the Atlantic. It is expected to impact South and North Carolina. Ongoing major-to-record river flooding is expected to continue across parts of central Florida.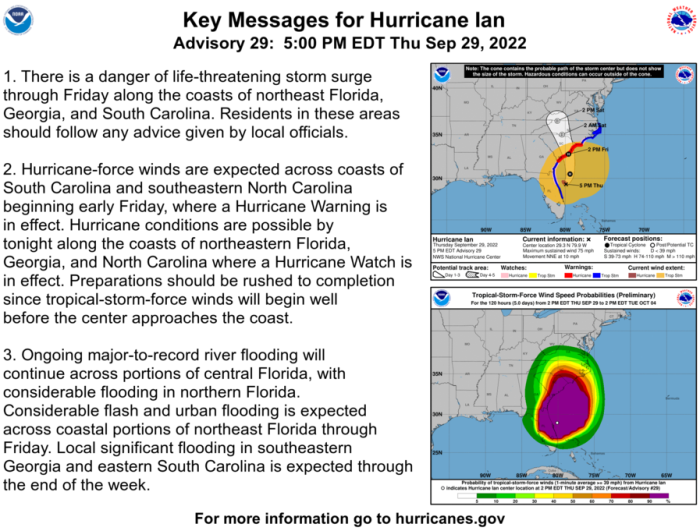 We'll continue to look for updates.
Impact on Disney World/Disney Cruise Line
On September 27th, Disney announced they would be closing Disney World's theme parks and water parks on September 28th and 29th. Additionally, Disney Springs was closed on September 28th and 29th.
UPDATE: Disney has since announced that it will be conducting a phased reopening for the theme parks and Disney Springs on September 30th.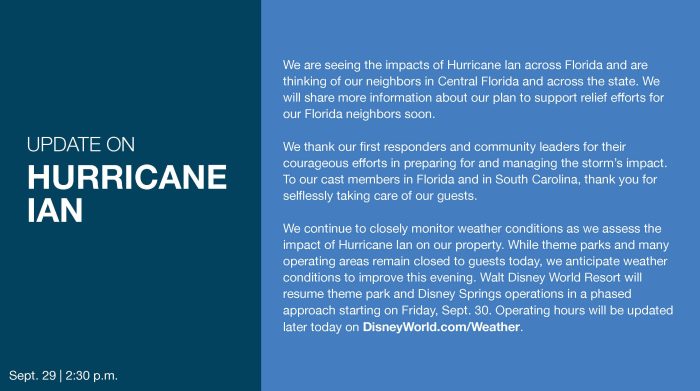 On the Disney World website, we noticed that there is currently no availability for several days following Hurricane Ian. While it is possible that the hotels are fully booked up, it is also possible that this has something to do with Hurricane Ian.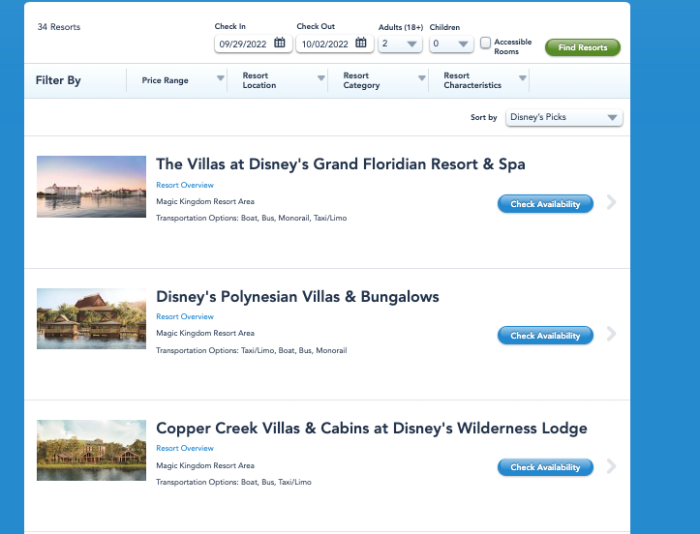 When looking for dates starting on October 3rd, a few hotels are available for booking. We'll continue to watch the Disney World hotel availability during this storm.
On Monday night, Disney announced a few closures happening due to the hurricane and temporarily changed their cancelation policies.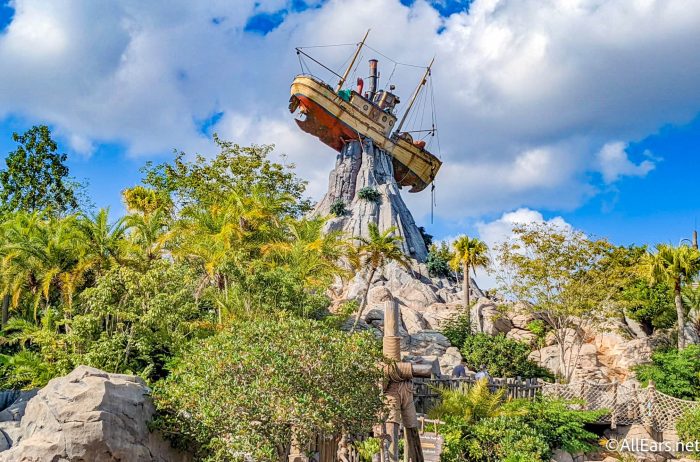 Some of the closures include Typhoon Lagoon, certain Disney World hotels, and experiences like mini golf. We'll continue to update if anything changes.
As we mentioned above, Disney World counties went under Hurricane Watch for a period of time.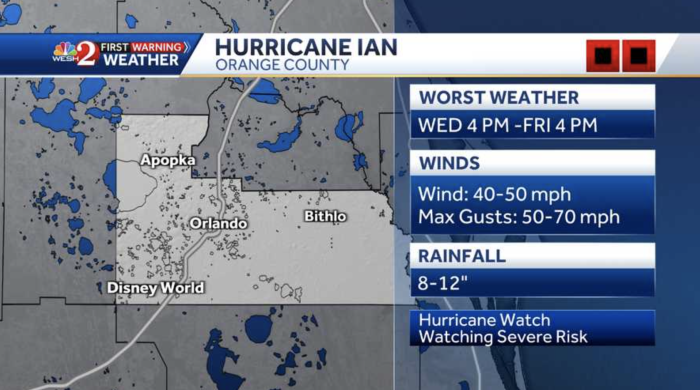 They were previously under Tropical Storm Watch and Tropical Storm Warning.
UPDATE: Orange County, Florida, and Osceola County, Florida are under a Flood Warning and Tropical Storm Warning until later in the evening on September 29th. An airport weather warning is also in effect for the Orlando International Airport.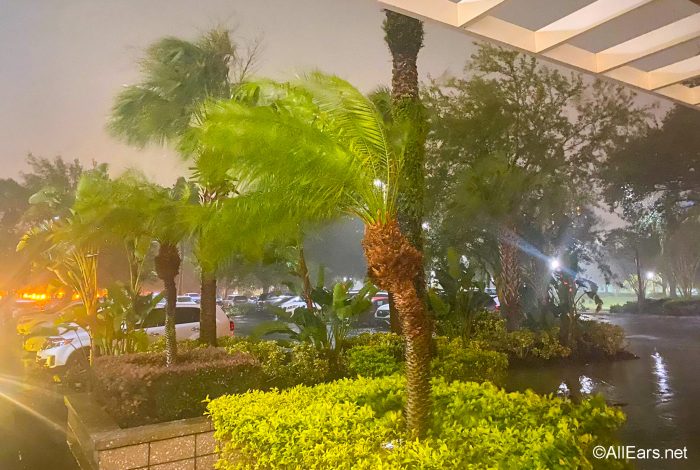 Hurricane Ian made landfall in Florida on September 28th, with the storm affecting the Orlando area September 28th into September 29th. It was then downgraded to a tropical storm, though it strengthened to a hurricane in the Atlantic.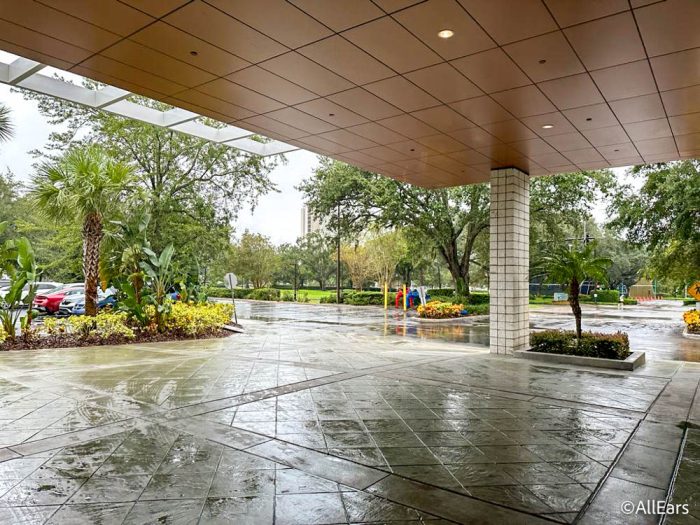 The Orlando Airport has issued an update that they will remain closed September 29th, with plans to resume flights on September 30th.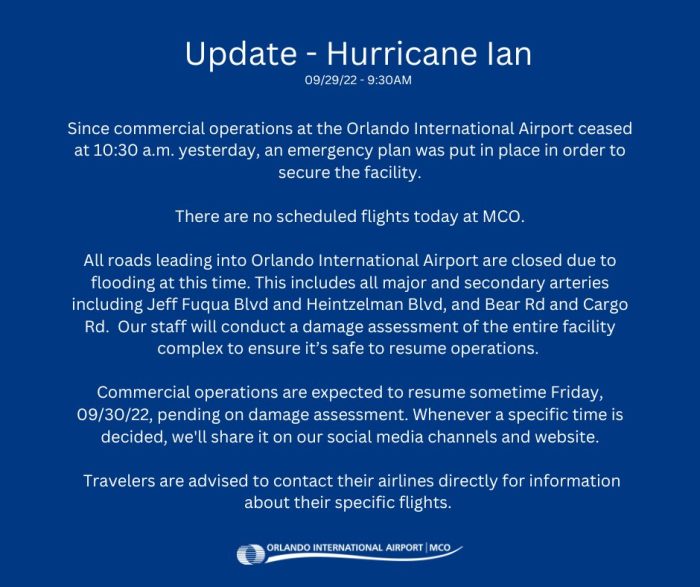 Disney Cruise Line also released a statement about the impacts Hurricane Ian had on the sailings this week.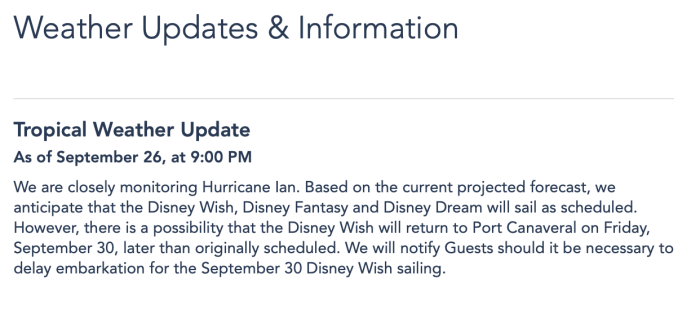 There were not too many changes to the cruises at first.
UPDATE: On Tuesday evening, the September 30th sailing of the Disney Wish was canceled. Learn more here.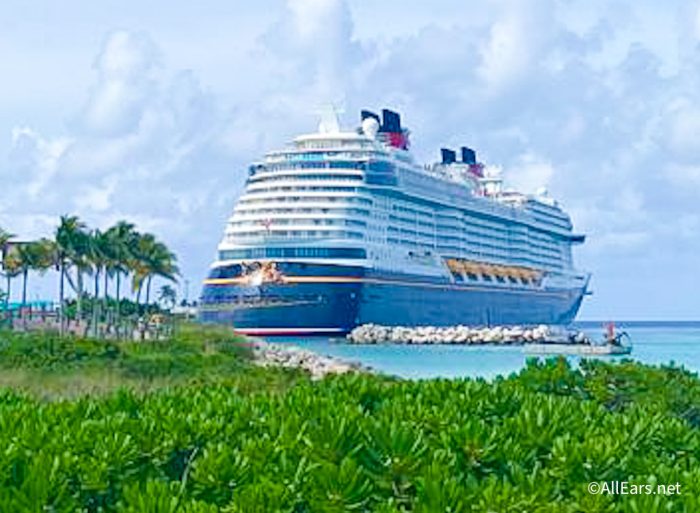 We'll continue to monitor the storm and bring you the latest updates, so stay tuned to AllEars.
To help prepare for an upcoming visit during Hurricane Season, check out the 5 must-haves for hurricane season in Disney World, and how to prepare differently for hurricane season in the resort.
Join the AllEars.net Newsletter to stay on top of ALL the breaking Disney News! You'll also get access to AllEars tips, reviews, trivia, and MORE! Click here to Subscribe!

Will you be visiting the resort during this storm? Let us know in the comments.