UPDATE: Disney World will be conducting a phased reopening of the theme parks and Disney Springs on September 30th. Click here for more information.
We've been closely monitoring weather conditions in the Central Florida area this week, due to the incoming Hurricane Ian.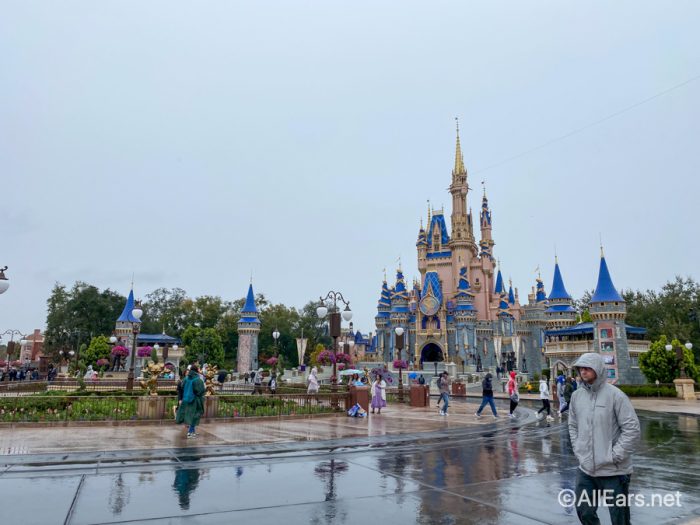 Some cities have issued evacuation notices to residents, and special preparations have begun for inclement weather at the theme parks. But now, Disney World has announced a temporary closure because of the storm.
Disney World shared that the theme parks will be temporarily closing on Wednesday, September 28th and Thursday, September 29th .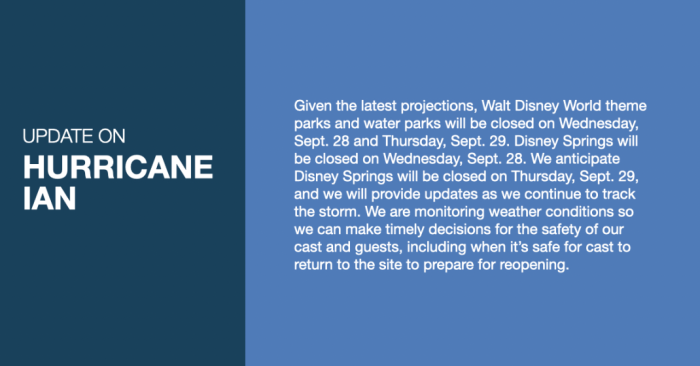 They're actively monitoring the weather situation to see when conditions are safe for guests again.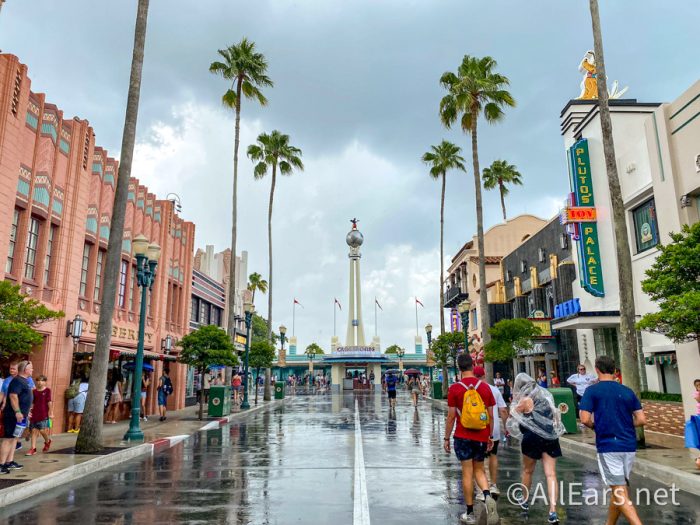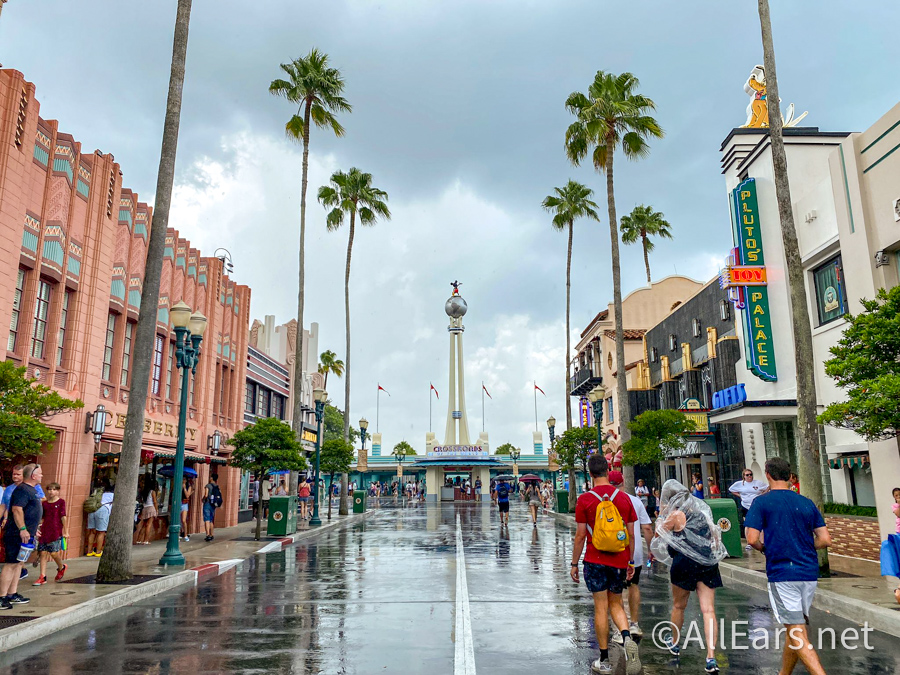 Disney Springs will also be closed on September 28th and September 29th.
There are no hours listed on the Disney World calendar for the 28th and Disney Springs is the only spot listed on the 29th.

UPDATE: Disney World will be conducting a phased reopening of the theme parks and Disney Springs on September 30th. Click here for more information.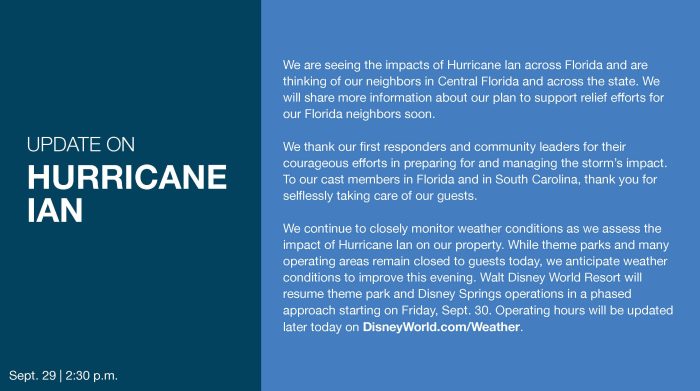 Disney has precautionary measures in place for guests who are staying at the resorts. If you have tickets to the parks for these dates, check out everything you need to know about Disney World's hurricane policies as a next step.
Disney announced that "partially used multi-day theme park tickets with a usage window impacted by Hurricane Ian related park closure will automatically be extended to use the remaining entitlements through any date through September 30, 2023."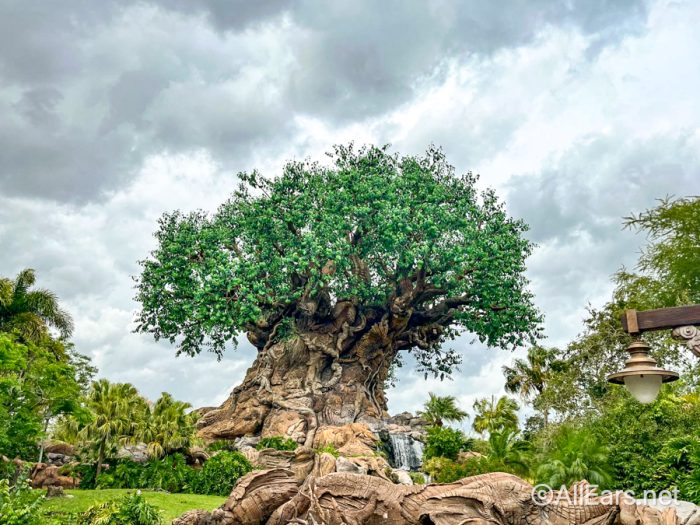 We've been continuing to watch the path of Hurricane Ian.
We've also been monitoring the path of the storm and experts have said it is difficult to tell exactly where it will make landfall.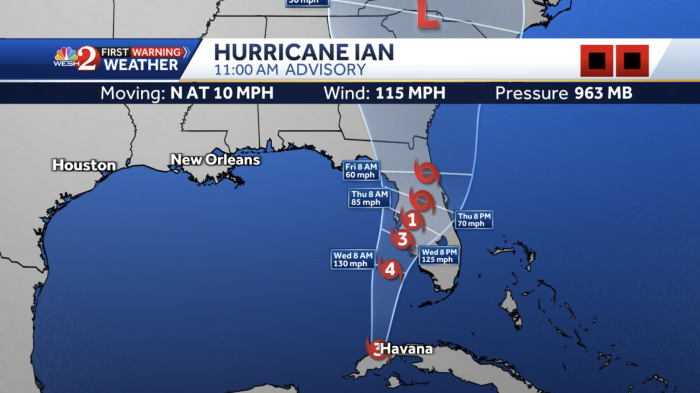 UPDATE: Hurricane Ian made its way through parts of Orlando and ultimately dumped over a foot of rain on Disney World. Various areas of Orlando and other surrounding areas experienced flooding, with even some roadways leading to the airport having been flooded.
Ian was downgraded to a Tropical Storm, but later strengthened to a hurricane again over the Atlantic. It is expected to impact South and North Carolina. Ongoing major-to-record river flooding is expected to continue across parts of central Florida.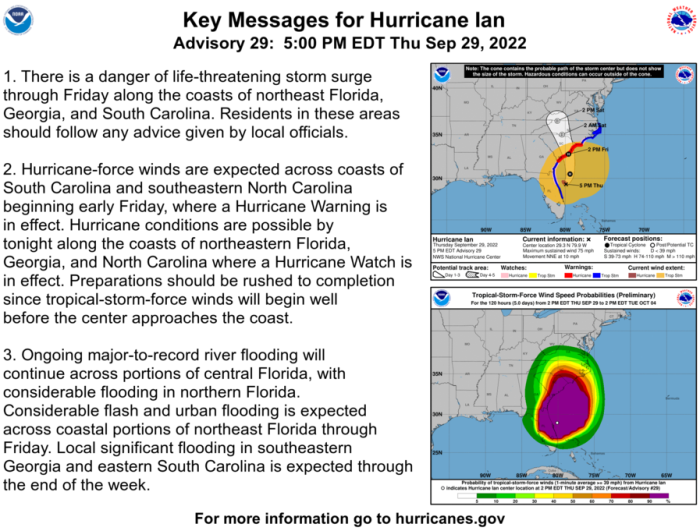 Disney World is not the only theme park in Florida to close. Universal Orlando just announced that their parks will also be closed due to the storm this week.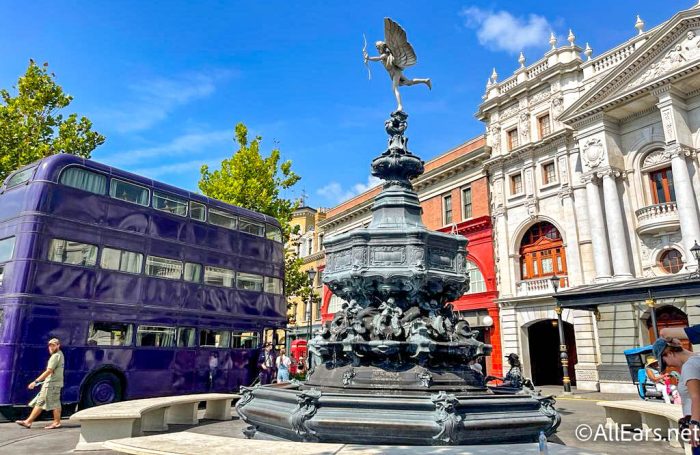 You won't be able to visit on September 28th and 29th.
If you need to alter your Universal Orlando vacation, we've also got a full guide to their severe weather policies.
Legoland Florida is also closing for the storm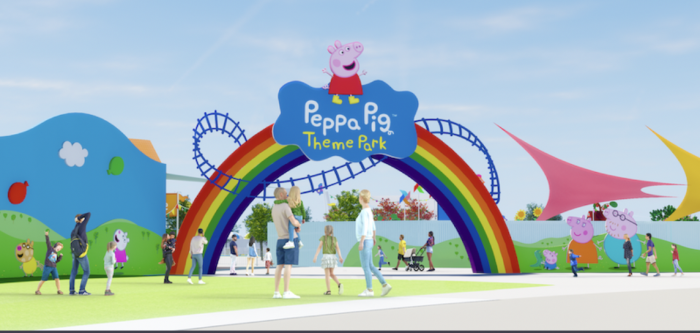 The parks and experiences will be closed on September 28th and 29th.
We'll make sure to keep you updated with any more details or announcements that Disney makes in the next few days. Keep in mind that wait times on phone lines will likely be long at this time, so if you need to reschedule your vacation, be prepared to wait. If you want to read up on more hurricane posts, we've got plenty of helpful posts:
We're monitoring the weather conditions and sharing any important updates, so stay tuned. And if you're in the path of the storm, stay safe!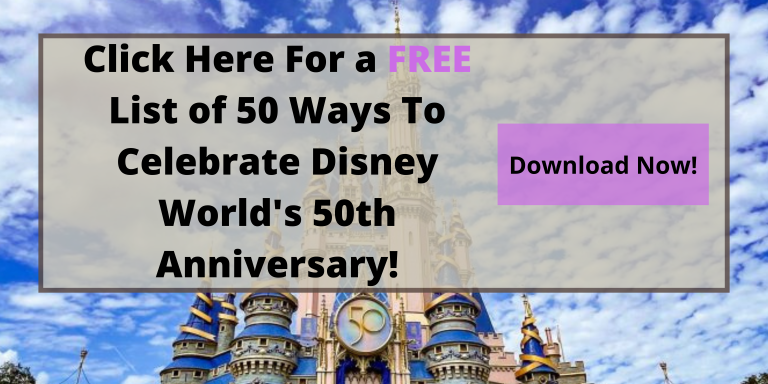 Is the hurricane affecting your vacation plans? Tell us in the comments.