With news of Hurricane Ian heading for Florida this week, we've been keeping a close eye on how the impending storm will impact Disney World.
We've already seen several closures and cancelations as the parks and resorts brace for bad weather. While the predicted path of Hurricane Ian has changed frequently over the past few days, it is now being reported how the storm could impact Disney World.
The National Weather Service shared on Tuesday, September 27th that parts of Disney World were under a hurricane watch ahead of Hurricane Ian's arrival in Florida.
11AM 9/27 | The latest on Hurricane Ian

Ian has emerged off the northern coast of Cuba, moving north & eventually northeast toward FL. Hurricane Watches are now in effect for all inland east central FL counties.

Residents should finalize preparations today! pic.twitter.com/I6DvaxzRwd

— NWS Melbourne (@NWSMelbourne) September 27, 2022
On Tuesday afternoon, a hurricane warning was issued for Disney World's counties. This means that hurricane conditions are expected sometime in the next 36 hours.
NWS has also upgraded our hurricane watches to hurricane warnings. This means hurricane conditions are EXPECTED within 36 hours. pic.twitter.com/mTB0d3SKqj

— Eric Burris (@EricBurrisWESH) September 27, 2022
Disney World is located in both Orange and Osceola counties, both of which are currently listed as being under a hurricane watch.
So, what exactly does this mean? Currently, Hurricane Ian is expected to make landfall along Florida's west coast as a Category 3 hurricane. This means Disney World, which is located in Central Florida, will likely see strong winds and heavy rains as a result.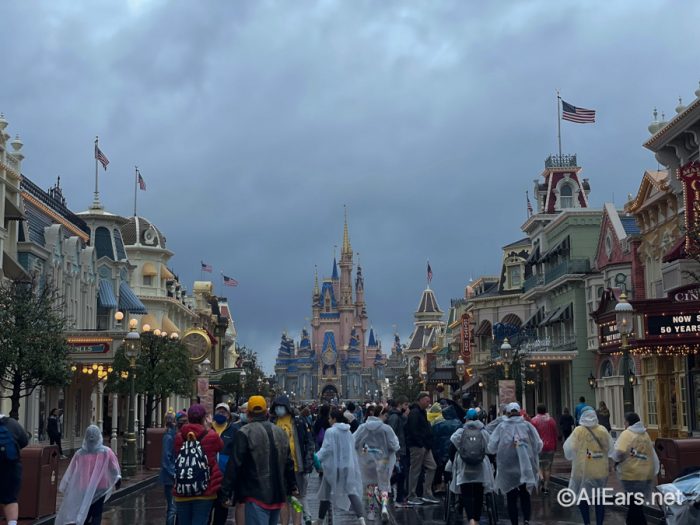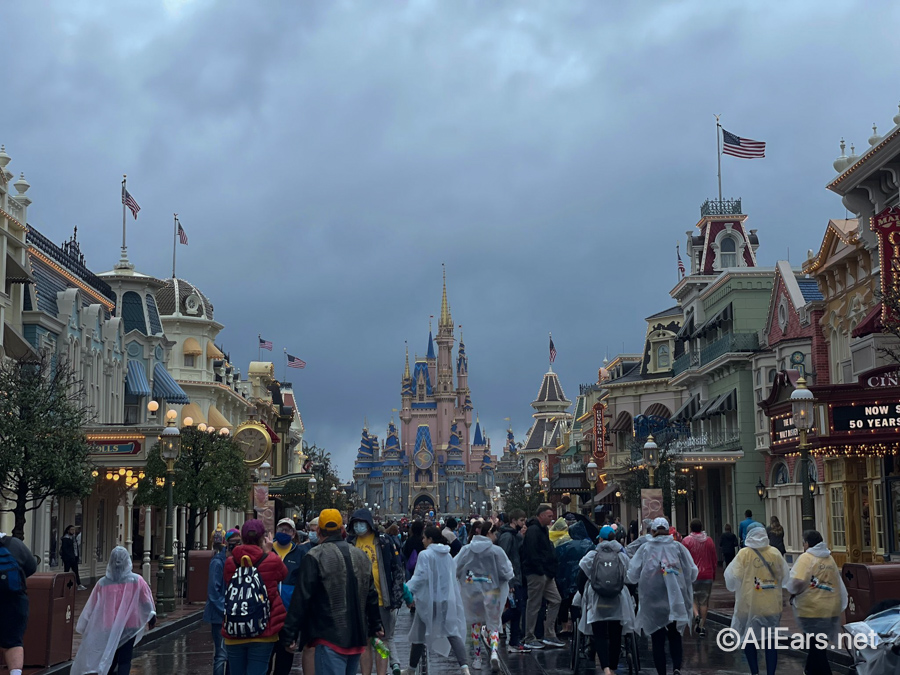 UPDATE: As of September 28th, Hurricane Ian has been upgraded to a Category 4, with near Category 5-strength winds reported. Currently, Disney World's counties are under a tornado watch.
According to WESH2, Orange County is expected to have its worst weather between Wednesday September 28th at 4PM and Friday September 30th at 4PM. During this time, winds of 40-50mph are expected, with maximum gusts of 50-70mph. Orange County is also expecting 8-12″ of rainfall.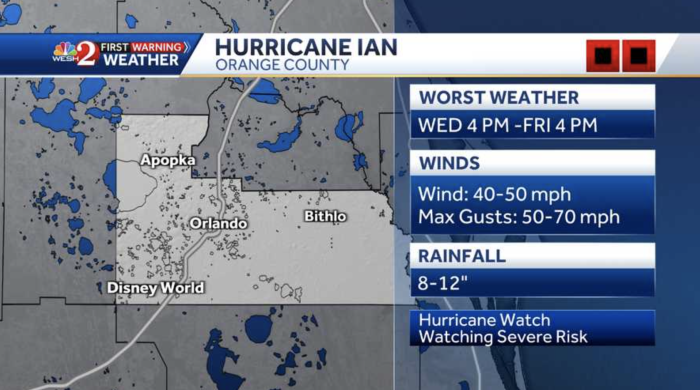 Osceola County has similar numbers, though their worst weather is predicted from 8AM Wednesday through 11PM on Friday.
UPDATE: Hurricane Ian made its way through parts of Orlando and ultimately dumped over a foot of rain on Disney World. Various areas of Orlando and other surrounding areas experienced flooding, with even some roadways leading to the airport having been flooded.
Ian was downgraded to a Tropical Storm, but later strengthened to a hurricane again over the Atlantic. It is expected to impact South and North Carolina. Ongoing major-to-record river flooding is expected to continue across parts of central Florida.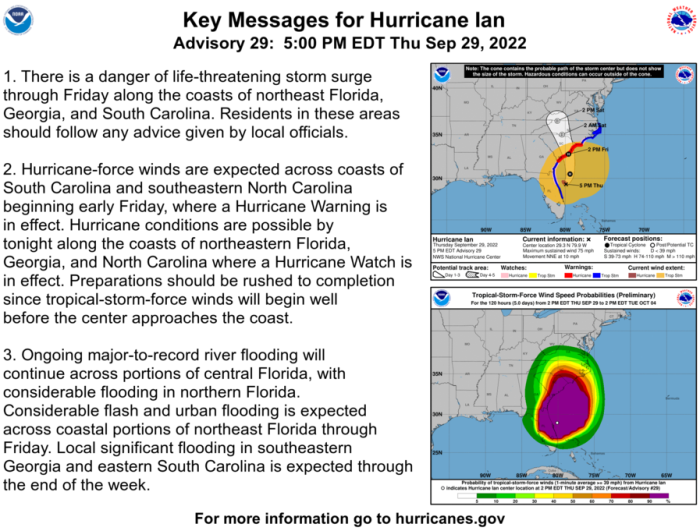 Disney has shared that it will be closing its theme parks and water parks on September 28th and 29th, 2022. Disney Springs will be closed on September 28th, and Disney shared they they expect it to be closed September 29th as well.
UPDATE: Disney World will be conducting a phased reopening of the theme parks and Disney Springs on September 30th. Click here for more information.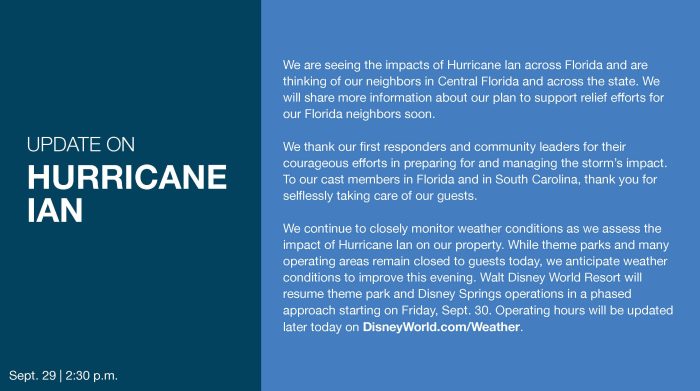 Disney has precautionary measures in place for guests who are staying at the resorts. If you have tickets to the parks for these dates, check out everything you need to know about Disney World's hurricane policies as a next step.
As we continue to learn more about Hurricane Ian and its impact on Disney World, we will be continuing to share all the latest, so stay tuned to AllEars!