DISCLOSURE: This post may contain affiliate links, meaning when you click the links and make a purchase, we receive a commission.
Loungefly bags. Even if you don't own any, you've probably seen them all over Disney. They have TONS of designs featuring our favorite characters, rides, and even snacks! We get why they're a popular choice for park bags.
However, these bags can get kind of pricey! Especially if you are a collector and can't resist each time they drop a new design.
Whether you're a diehard Loungefly fan looking for some new pieces or someone who's admired them from afar because of your budget, you might find a bag on this list that catches your eye!
How cute is this? A young Kida and her mother embrace in their beautiful home of the lost city of Atlantis. Many Atlantis: The Lost Empire fans say this  movie doesn't get enough representation in the parks, so why not pick this as your next park bag?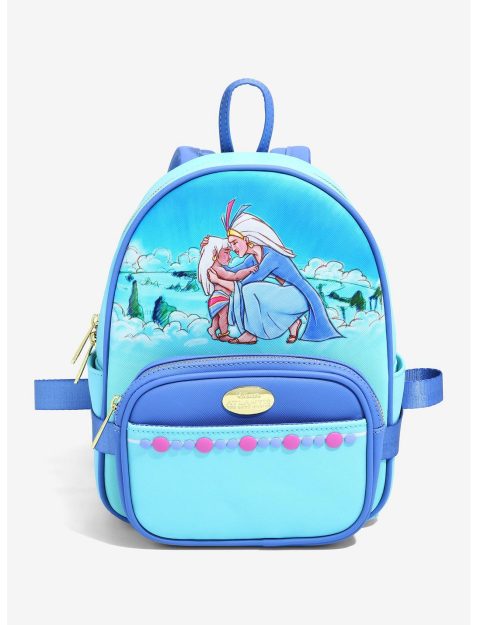 This mini backpack has a cool trick — the front pocket can detach and turns into a handy dandy fanny pack! Wear them both at the same time or mix and match with your outfits. The fanny pack reattaches simply with a strap and buttons, and functions as an extra compartment on your bag.
This backpack design is basically a scene right out of Ratatouille! Chef Skinner peeks out the kitchen door window on this gorgeous deep red bag. But wait! The doors actually open to reveal Remy and his friends working away in the kitchen! Friends and family will marvel over the adorable design.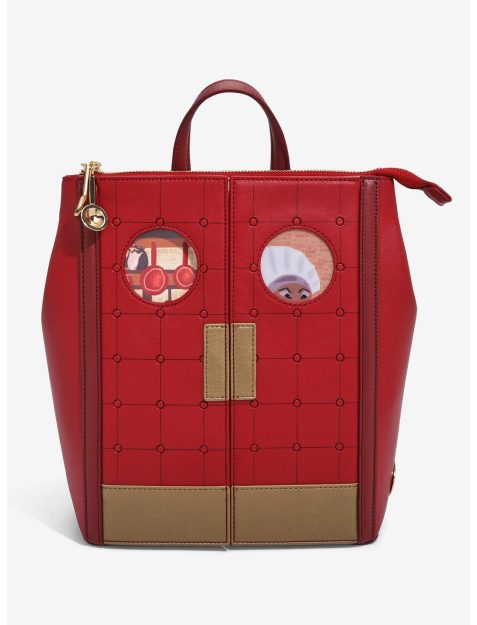 The detail on this bag is impeccable. The zipper pull even has a tiny gold ladle and spatula! This is the perfect bag for your next visit to EPCOT, where you'll fit right in on Remy's Ratatouille Adventure!
We're not crying, you're crying! Tod and Copper frolic in the woods together on this Danielle Nicole mini backpack. Flowers, clouds, and a butterfly add to the feel-good design celebrating one of Disney's classic friendships.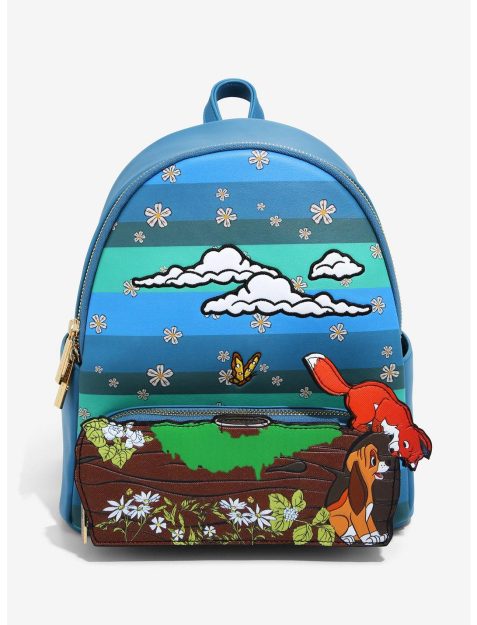 This mini backpack has plenty of compartments, so you can organize all your belongings. There's even an internal zipper pocket for you to separate your items. No more digging around for your debit card or lip balm!
How gorgeous is this backpack featuring Jasmine? The floating flowers and pastel tones in a watercolor style are giving us spring vibes for sure, and we can totally imagine bringing this with us to the Flower and Garden Festival!
This backpack has external and internal pockets, all adorned with gold hardware and zippers. The front external pocket has a zipper pull shaped like a lotus, and the Her Universe Disney logo is front and center on a gorgeous pink and gold enamel plaque.
For those who prefer something a little more macabre we found this totally creepy but cute Nightmare Before Christmas backpack. This print features your favorite characters in an adorable chibi style!
The characters are printed atop a midnight blue background, all made of a durable faux leather material. This spooky backpack is accented with black hardware and straps, which are adjustable. We'll be bringing this with us to Mickey's Not So Scary Halloween Party for sure!
Get your tropical vacation on with this backpack featuring Stitch looking adorable as ever. This sketched-art design shows him with his tongue out, probably thinking about what mischief he's going to get into next. The background is a pattern of tropical leaves in beautiful blue-green shades.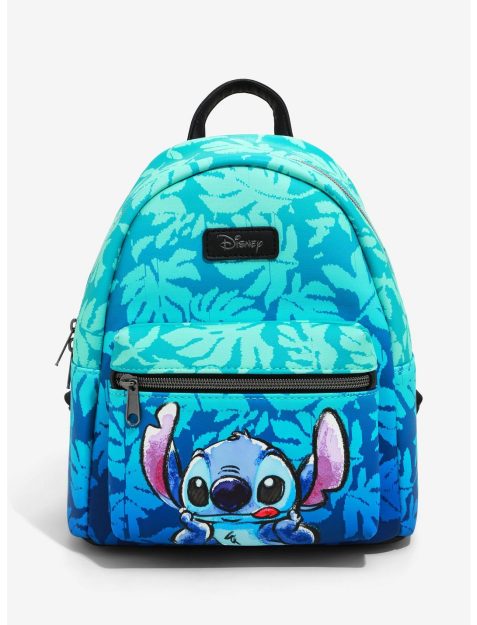 This backpack has a smaller front compartment and a large main compartment, both zippered. Inside the roomy main compartment is an additional zippered pocket. Think of all the snacks you could fit in there!
Don't worry Star Wars fans, we've got you! Use this backpack to carry your own precious cargo while you're out and about. Grogu smiles on the front of this bag, but Mando isn't far behind! Whether you're a fan of the Disney+ series or loved Star Wars since the first films, this bag is a great option for you.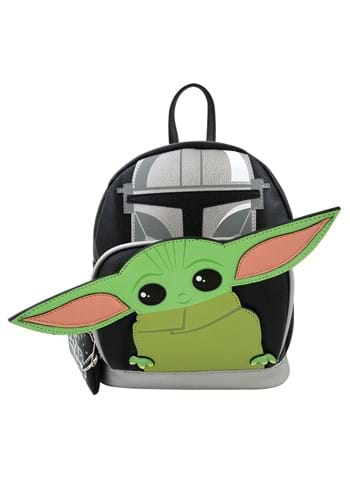 The Grogu cutout sits in front of a zippered compartment. The main interior compartment can be accessed from a top zipper. While the backpack is mostly black, you can find Grogu's signature green as a pop of color on the adjustable shoulder straps!
We're taking it back to the classics with this gorgeous Minnie Mouse-inspired backpack. This bag is covered in Minnie's signature look- red, white, black, and polka dots! There's even a gorgeous sequined red bow right in between her ears.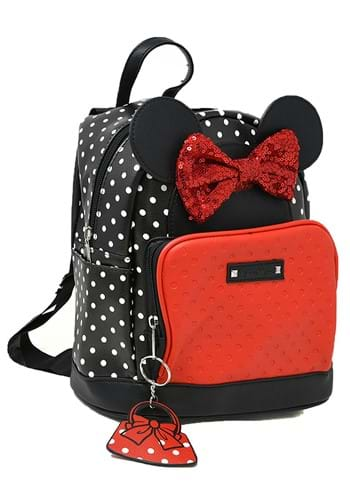 This faux leather bag has a bright red front compartment and black and white polka dots cover the main portion. Besides that stunning bow, our favorite aspect of this bag is the adorable mini handbag keychain. It's a bag on a bag!
Ready to head out to the parks? Check out our guide to Genie+ below!
Click here to subscribe