Earlier this month, Florida Governor Ron DeSantis requested that the major theme parks, including Disney World, Universal Orlando, and SeaWorld, submit proposals that included their reopening plan and date for approval.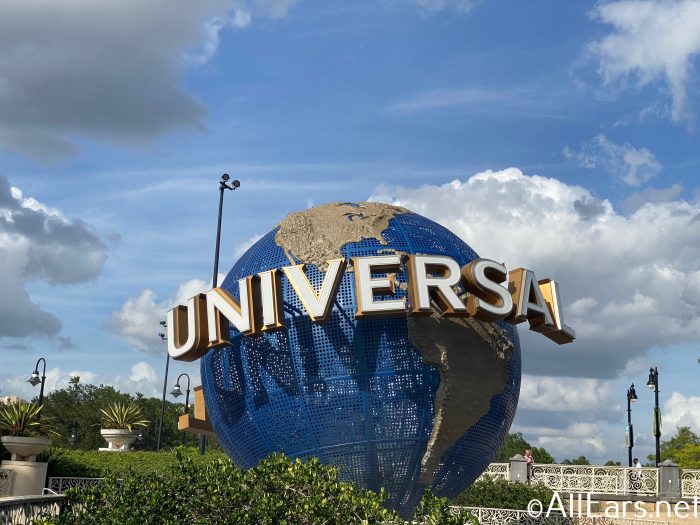 Today, the first of these three parks, Universal Orlando, made their presentation to Florida's Orange County Task Force, including a proposed date and plan for their reopening.
Yesterday, it was announced that Universal Orlando would be sharing their proposal with the Orange County Task Force today, with plans for SeaWorld and Disney World to follow suit later on.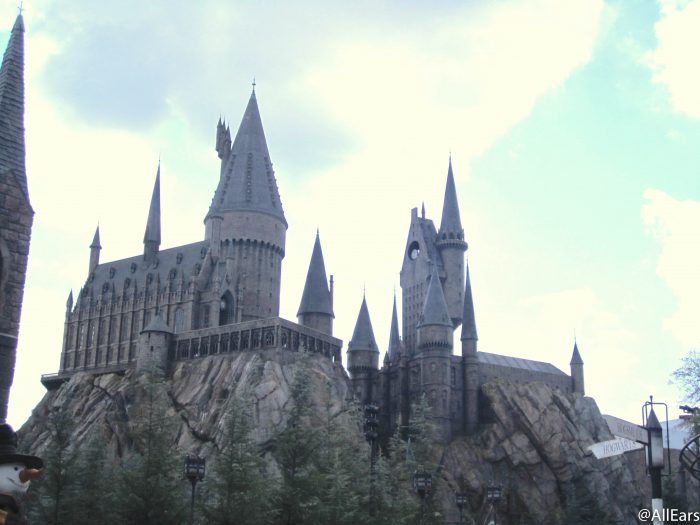 In their reopening proposal, Universal Orlando shared their proposed re-opening timeline. June 1st and 2nd will serve as an opening for team members. Invited members, like Annual Passholders, will be welcomed on June 3rd and 4th to visit the parks. The parks are then proposed to reopen to the public on June 5th.
Screening, Sanitation, and Spacing Standards
Universal Orlando Executive Vice President of Resort Operations Rich Costales and Senior Vice of Resort Operations John Sprouls helped map out a "guest journey" to showcase the new experiences and procedures that will be occurring. They are following a Three S guide with screening, sanitation, and spacing standards.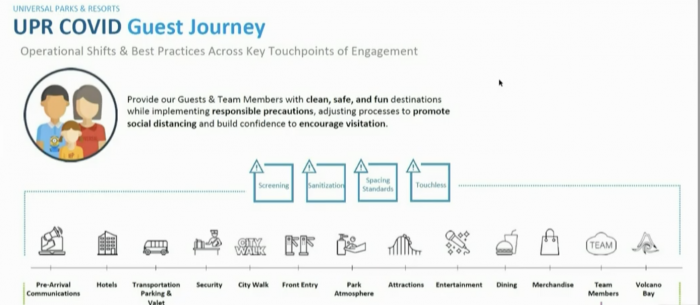 There will be pre-arrival communication on the Universal Orlando website, social media, and the app. They want to make things very clear about what the parks intend to do to keep everyone safe and what their expectations of their guests happen to be. He stated that "some things are going to be different" and guests will be asked to "cooperate."
Ambassadors will be visibly scattered throughout the resort to help guests with the new procedures and answer questions.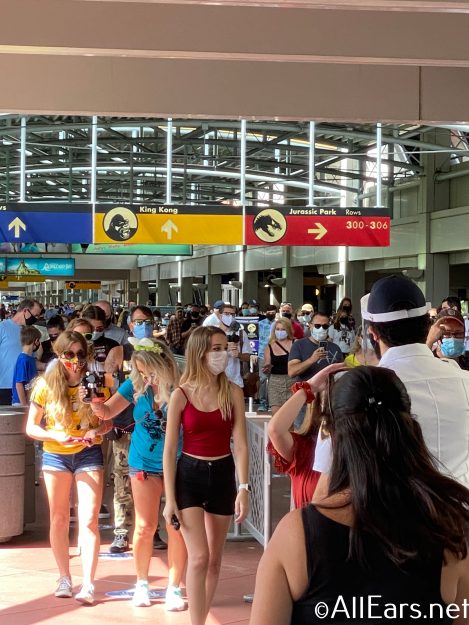 Team Member Protocol
The next part of the "journey" is how the new protocols will be affecting team members. Universal Orlando will be encouraging employees to practice safe distancing, even when they are not at work. Team members will be taking self- temperature checks at home before work. When they arrive for their shift, they will experience another temperature check with handheld thermometers and answer questions about the chance of any contact.
All entrances will have temperature checks. Team members will experience more breaks so they can wash their hands every 30 minutes and remove masks, if they can get away from the guest area. Break rooms will be staggered so there is social distancing between employees. They will put the mask on before returning to work.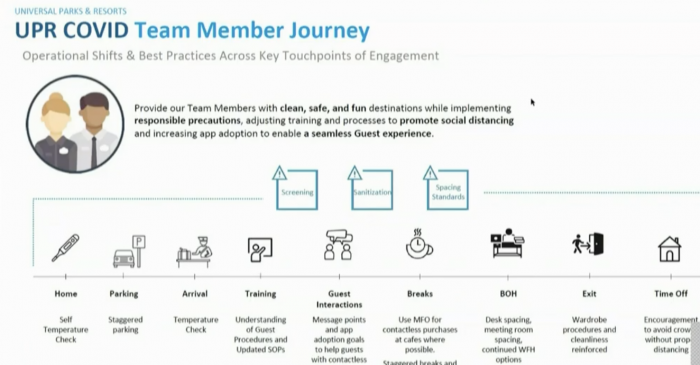 Since there will be new guest procedures, employees will be going through training this weekend regarding restaurants, attractions, and other experiences. There are plans in place for spatial distancing in all venues within the parks. There will be mobile food ordering as well. Menus at the restaurants will be single-use paper menus that will be disposed after each use. Universal Orlando will be encouraging contactless payments (like Apple Pay, Google Pay, or within the Universal app). However, they will not refuse cash.
Staggers Parking, Spatial Distancing, and Face Masks for Guests
Universal Orlando will host a staggered parking lot where no two cars are parked next to one another in both the employee and guest lots. Valet parking will be halted during this time. After arriving, guests will experience temperature checks upon entering the parks or CityWalk. Both guests and team members will be required to wear masks. If someone arrives without a mask, Universal will provide them with a free disposable mask.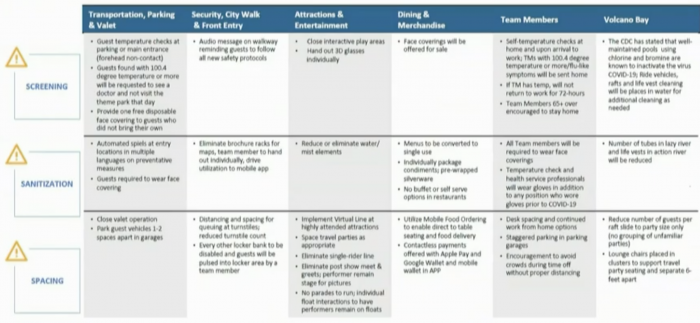 Signage will be placed throughout the parks regarding new health and safety procedures surrounding masks, temperature checks, hand-washing, and social distancing. Floor markings are already installed at every venue to promote distancing. There will be communication handouts available in multiple languages for guests visiting. Capacity is going to be managed in the parks and ramped up slowly. Currently, it sounds like there are plans in place for Halloween Horror Nights and the holidays in regards to crowd control.
Virtual Lines
At this time, Universal will be implementing virtual lines at their attractions and eliminating single rider lines. Most water and mist elements from rides in Universal Orlando will be stopped. Post-show meet and greets will also be halted, even though characters will be kept on stage for guests to take photos of (but they will not mingle with guests). At each attraction queue entry, there will be a social distance plan posted so guests are aware of the system in place.
When it came time to vote, Mayor Demings asked if there were any members that would be recusing themselves, which Thomas Mazoulm from Disney World, Brad Gilmour from SeaWorld, and Rich Costales from Universal Orlando rall did. The vote for Universal Orlando's reopening was unanimously in favor of the plan.
Sprouls went on to say after the vote that they have had over 30,000 interactions in regards to temperature checks and attractions. He confirmed that the "technology works great." They have experienced a small handful of people with temperatures above 100.4 degrees. After letting them sit for 20 minutes, many of them were fine. However, one person was still above 100.4 and was then turned away from entering the parks.
There haven't been many complaints about the temperature checks or masks, according to Sprouls. Many team members have said they are happy to be back to work and that the measures in place make them feel safe.
From here, the proposal will be reviewed by Orange County Mayor Jerry Demings for the next 24 to 48 hours, before moving on to Florida Governor Ron DeSantis for approval.
At this time, Disney World and SeaWorld have not given dates for their own proposals to the Orange County Task Force, however, in a meeting with Vice President Mike Pence yesterday, a SeaWorld representative noted that they would like to reopen by the end of June.
Stay tuned as we provide more updates as this situation develops!
Join the AllEars.net Newsletter to stay on top of ALL the breaking Disney News! You'll also get access to AllEars tips, reviews, trivia, and MORE! Click here to Subscribe!