Maybe the holiday season has arrived at Disney World, but don't worry — we haven't forgotten about Thanksgiving!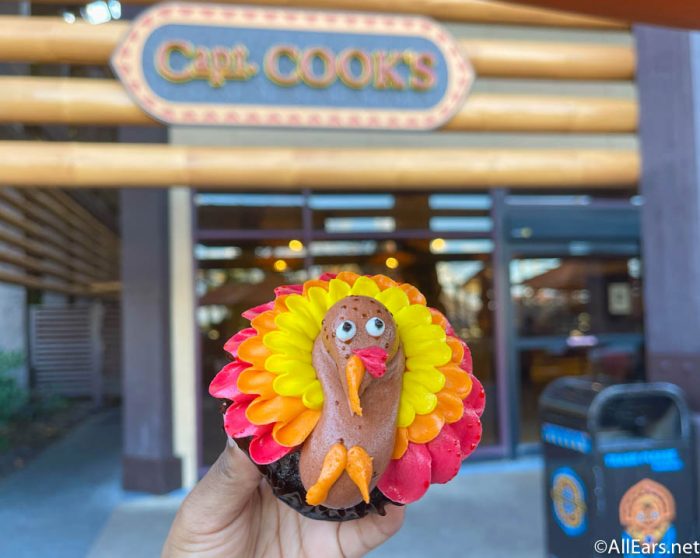 And if you're struggling to come up with a good menu, why not use Disney recipes as an inspiration? So we've put together a list of 12 Disney recipes that would be perfect for Turkey Day!
Drinks
First up is a cocktail from California Grill at Disney's Contemporary Resort. It's got cranberry juice in it, making it the perfect drink for Thanksgiving dinner.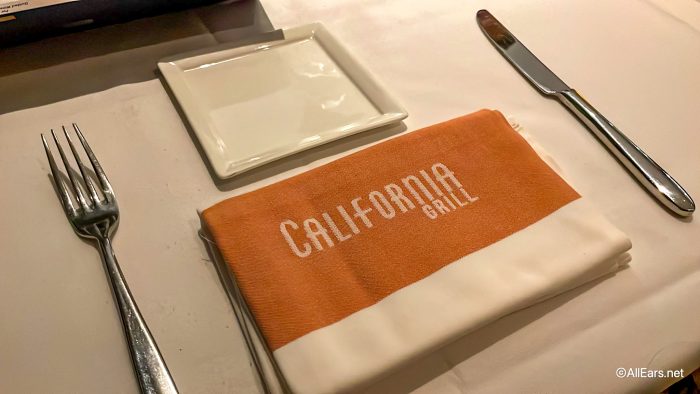 Ingredients:
1 1/4 ounces Remy Martin VSOP Cognac
3/4 ounce Amaretto Disaronno
1/2 ounce cranberry juice
Orange slice, for garnish
Directions:
Shake ingredients with ice and strain into a martini glass. Squeeze the slice of orange into the drink.
This one comes straight from Raglan Road at Disney Springs and has a mix of berry flavors that will work well with a heavy meal.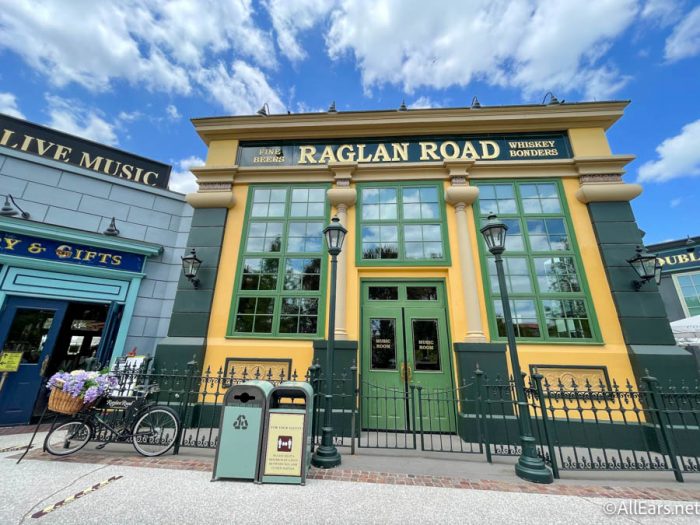 Ingredients:
1.5 ounces Finlandia Wild Berries Vodka
.5 ounce Chambord Black Raspberry Liqueur
.5 ounce Peach Schnapps
1 ounce fresh orange juice
2 ounces cranberry juice
1 ounce grenadine
Directions:
Fill a highball glass with ice and add the remaining ingredients.
Appetizers
Next, we're turning to an appetizer from Liberty Tree Inn at Magic Kingdom, where EVERY day is pretty much Thanksgiving.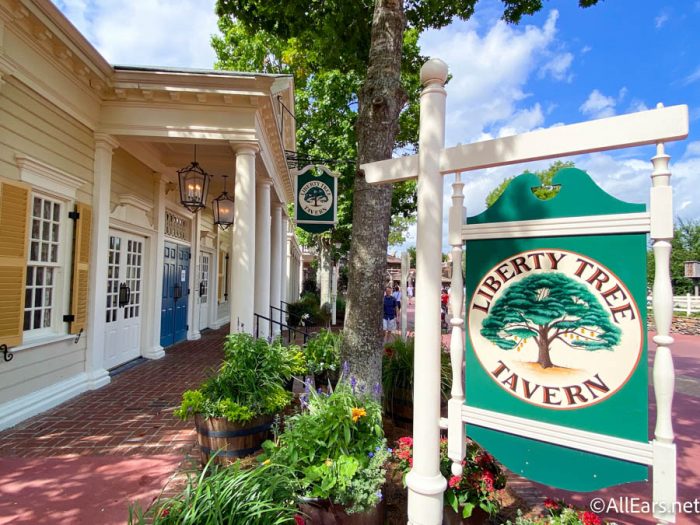 Ingredients:
7 oz. Mixed Greens
6 oz. Rotisserie Chicken Meat
3 oz. Diced Gala Apples
1.5 oz. Smoked Cheddar
3 oz. Honey-Shallot Dressing (recipe below)
1 oz. Candied Pecans
.25 oz. Chives
Directions:
Toss greens, chicken and dressing in bowl. Arrange mounded on plate and top with apples, pecans, and cheddar. Garnish with chives.
House Seasoning Ingredients:
1/2 cup salt
1 TB white pepper
Directions:
Mix thoroughly and store.
Honey-Shallot Vinaigrette Ingredients:

1/2 cup shallots
1/4 cup cider vinegar
3/4 cup canola oil
1/4 cup honey
1 TB Dijon mustard
Dash House Seasoning, or to taste (recipe above)
Directions:
Saute chopped shallots in pan until dark and caramelized. Deglaze shallots with a few ounces of vinegar. Cool shallots then puree all ingredients in blender or food processor until emulsified. Refrigerate.
And, of course, you can't have a Thanksgiving meal without a good stuffing, so again, we're turning to  Liberty Tree Tavern for inspiration.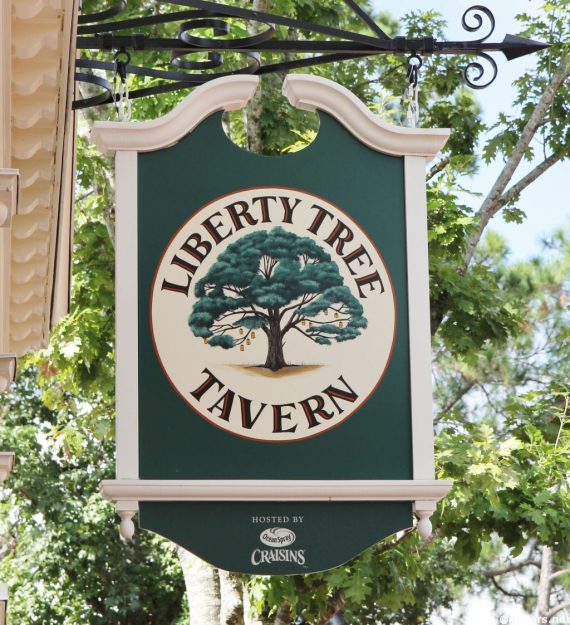 Ingredients:
12 cups cornbread cubes
1 tablespoon fresh chopped garlic
1 cup onion, chopped
1 cup celery, chopped
1 teaspoon rubbed sage
1 teaspoon dried thyme
1 teaspoon poultry seasoning
1 teaspoon kosher salt
1/2 teaspoon black pepper
1 1/2 cups turkey stock (chicken may be substituted)
Directions:
In a preheated 400° oven toasts bread cubes 5 to 7 minutes or until barely golden. In a large skillet over medium/low heat cook the garlic, onions and celery for 3 minutes or until softened. Transfer to a bowl and add the bread cubes, herbs, salt, pepper, and chicken broth. Toss well and adjust seasoning as desired. Additional broth may be necessary to achieve the desired consistency.
Breads
Bread is also an important component of any Thanksgiving meal. So here's the recipe for Corn Bread from Whispering Canyon Cafe at Disney's Wilderness Lodge Resort.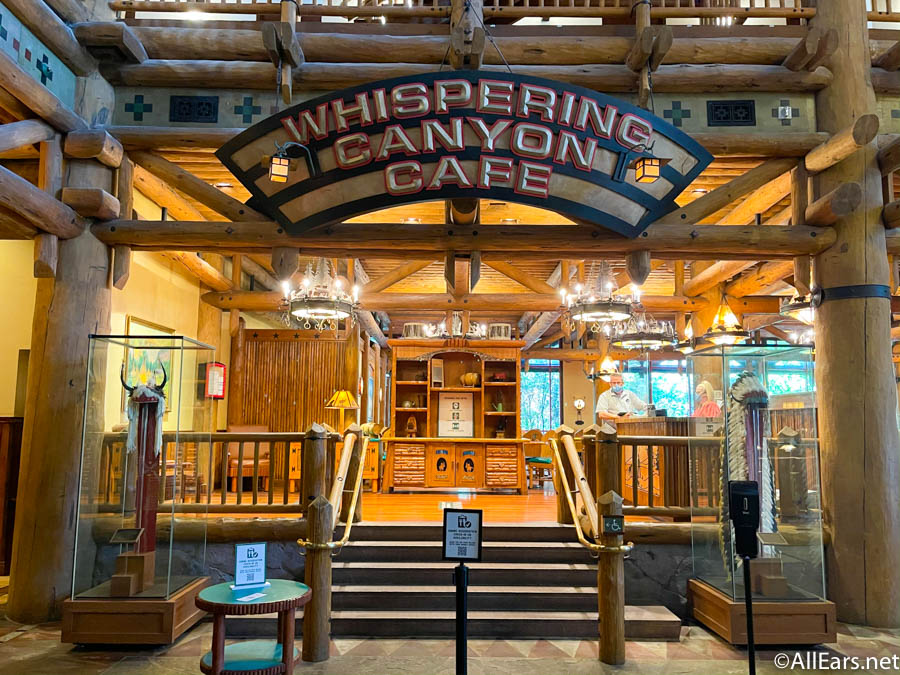 Ingredients
1/2 pound Cornmeal
12 ounces Granulated Sugar
1/2 ounce Salt
1 ounce Baking Powder
1 pound All-Purpose Flour
1/4 cup Salad Oil
1 Whole Egg, beaten
1 Pint Milk

Directions:
Place all dry ingredients in mixing bowl and mix slowly for one minute.
Blend milk, egg, and oil together.
Slowly add step 2 to dry ingredients, while on slow speed. Don't over mix, only mix to incorporate product.
Spray pan with a food release oil spray or line bottom of the pan with parchment paper.
Pour batter in pan and bake at 350°F for 15 to 20 minutes or until bread is firm and golden brown.
We're heading back to Raglan Road for that delicious brown bread they serve. It's the perfect accompaniment to ANY dinner.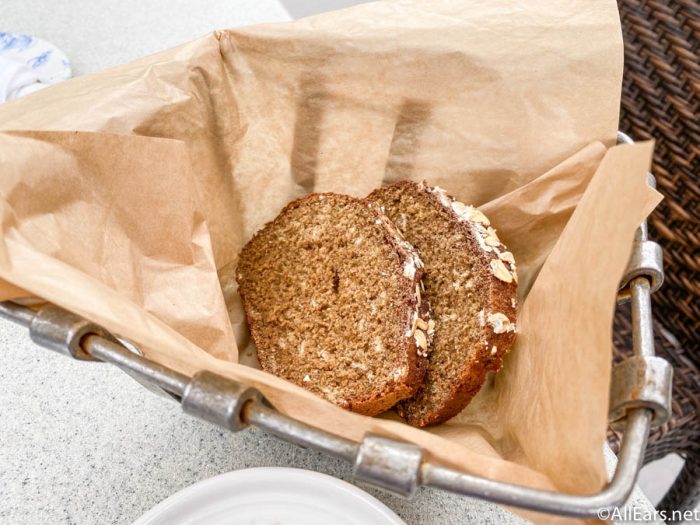 Ingredients:
½ cups Guinness
¾ pound Whole meal flour (whole wheat)
4 pounds All Purpose Flour
1 Tablespoon Salt
1 Tablespoon Baking soda
4 cups Oats, rolled
4 ounces Molasses
2 quarts Buttermilk
Directions:
Preheat oven to 350. Place all dry ingredients in a large bowl and add in the buttermilk in three batches as you mix and fold by hand lightly; the mixture should be quite sticky. Portion in to greased or buttered muffin pans. Bake in the oven until golden brown and it makes a hollow sound when tapped on the bottom. Enjoy with Kerry gold butter or Guinness reduction and Olive oil.
Guinness Reduction Ingredients:
1 pint Guinness
1 pint Sugar
Directions:
Combine the Guinness and sugar in a large stockpot. Bring to a boil and reduce to simmer until reduced by half (approx 1 hour). Remove from the heat and allow to cool at room temperature. Do not leave the pot unattended while it is coming to a boil as it may boil over.
Main Meal
It's not Thanksgiving without turkey, but why not do something a little different? Make the Turkey Pot Roast from Hollywood and Vine at Disney's Hollywood Studios instead.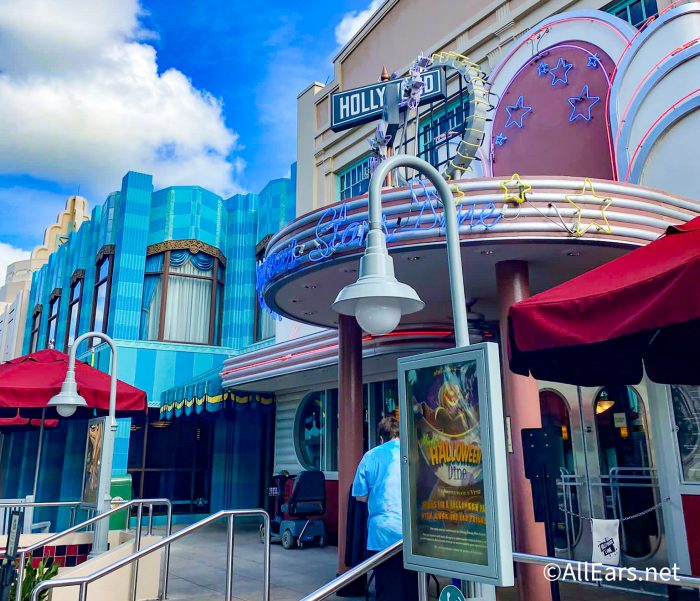 EDITOR'S NOTE: As with many recipes that come straight from the Disney kitchens, this recipe is designed for a large batch. You may want to recalculate amounts for smaller portions.
Ingredients:
5 lbs. turkey thigh meat, raw
1 cup onions, diced
1 cup celery, diced
1 cup carrots, diced
1/2 cup tomato paste
1 to 2 gallons brown gravy (demi sauce)
1 qt. burgundy wine
2 cups potato wedges (roasted)
1/4 cup oil
1/4 cup flour
Salt and pepper to taste
Directions:
Heat oil in roast pan. Add turkey meat. Cook until brown. Add onions, celery, carrots, continue cooking.
Add flour and tomato paste, mix well. Add wine and bring to boil. Add brown gravy, bring back up to boil. Reduce heat. Cover and place in oven at 350° for one hour until vegetables and meat are cooked.
(Note: the gravy is to cover meat and vegetables about 1 inch over top) Check seasoning. Add salt and pepper to taste. When done remove from pan and serve with roasted potatoes wedges.
Or you could serve up a pot roast with a recipe taken again from Liberty Tree Tavern. Not everyone loves turkey, after all. This could be a real crowd-pleaser for Thanksgiving!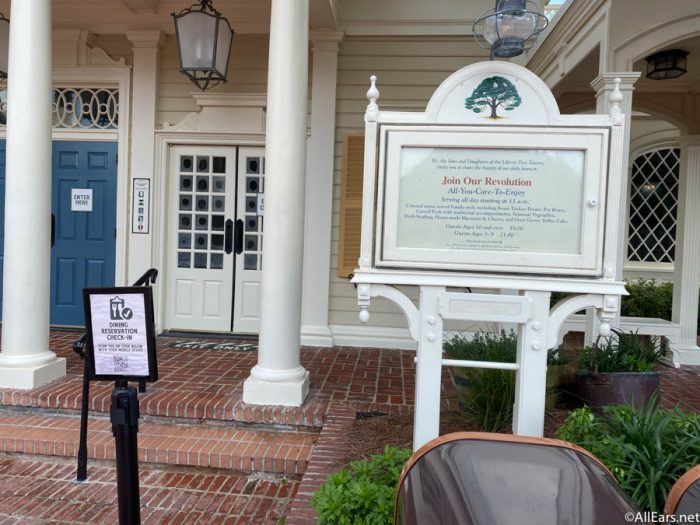 Ingredients
4 oz. butter
1/2 oz. garlic
1/2 lb. carrots
3/4 lb. onions
1/2 oz. fresh thyme
3 lbs. shoulder beef
4 oz. flour
6 TB beef base
1/2 lb. celery
2 diced tomatoes
1 cup burgundy wine
Directions:
Sear meat in stockpot in butter.
Add flour and wine, beef base and tomatoes. Dice carrots, celery, onion and add fresh thyme.
Simmer for 40 minutes to an hour, or until desired doneness.
Once cooked, remove meat and let cool before slicing.
Pour gravy through sieve to remove all the vegetables, saving gravy to use with meat.
Once meat has cooled, slice and place in a pan. Add gravy, wrap pan and reheat in oven to 165 degrees.
Sides
Cheesy potatoes are a great side ANY day of the year and even more so on Thanksgiving. This recipe comes straight from Boatwright's Dining Hall at Disney's Port Orleans — Riverside Resort.
Ingredients:
1.5 pounds Sliced Potatoes
4 ounces Pecorino Cheese
4 ounces Diced Onions
½ quart Heavy Cream
1 ounce Bacon Fat
½ teaspoon Salt
½ teaspoon Pepper
Directions:
Place all ingredients in a large mixing bowl and mix well. Place mixture in baking pan and bake for 45 min. at 375°.
Instead of that Jello-like cranberry sauce, why not make a delicious Cranberry Relish instead, like the one from Garden Grill at EPCOT.
Ingredients:
1 tablespoon olive oil
2 cups frozen cranberries, sliced
1 cup sugar
1 cup orange juice
½ teaspoon orange compound (dried orange peel – can be omitted)
½ teaspoon dried ginger
4 ounces mandarin oranges, in a can, diced
Directions:
In a sauce pan, add olive oil and heat.
Add cranberries.
When the cranberries begin to break down, add the sugar, orange juice, orange compound and ginger.
 Cook ingredients until they are incorporated, then remove from heat.
Add small diced mandarin oranges and chill.
Store in air-tight container in refrigerator.
Dessert
After eating all that amazing food, though, be sure to save room for dessert. And we think this one from Narcoossee's at Disney's Grand Floridian Resort and Spa will please everyone in the family.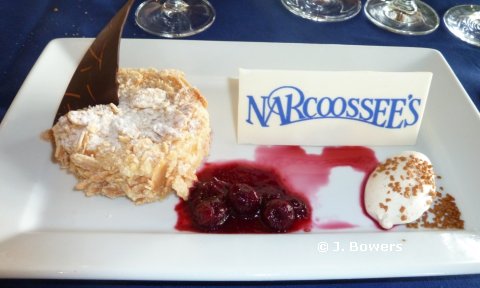 Ingredients:
30 ounces Cream cheese
7-1/2 ounces Sugar
2 ounces Sour cream
4 ounces Whole eggs
¼ ounces Almond essence
2 ounces Heavy cream
¼ sheet Yellow cake or a 1 layer pie dough
15 ounces Whipped cream
1 ounce Chocolate dust for garnish
2-1/2 ounces Semisweet chocolate for garnish
7-1/2 ounces Sugared almonds
10 ounces White ganache for garnish
Directions:
Grease individual molds. Roll out pie dough or cut sponge cake ¼ inch to ¾ inch thick – and line bottom of molds. Combine cream cheese and sugar in a mixing bowl. Blend in heavy cream and sour cream. Mix until smooth. Blend in eggs and almond. Mix until smooth. Pour mixture into the molds.
Bake in a water bath at 300o F. for approximately 2 hours, or until filling is set.
Serve cold and top with sugared almonds.
Sugared Almonds Ingredients:
6 ounces Sliced almonds
1 ounces Egg whites
6 ounces Sugar
Directions:
Mix all ingredients together and evenly covered with egg whites and sugar. Bake at 250 degrees for 10 to 12 minutes or until golden brown.
Lambert Cherry Sauce Ingredients:
1 cup Pureed strawberries (from fresh or frozen strawberries)
1 cup Pureed raspberries (from fresh or frozen raspberries)
1 cup Pureed blueberries (from fresh or frozen blueberries)
1 cup Pureed blackberries (from fresh or frozen blackberries) ¼ cup Sugar or to taste
1 tablespoon Water
2 cups Pureed black cherries (from fresh or frozen)
Directions:
Bring fruit purees, sugar and water to a boil. Add cherry puree and stir to incorporate. Let cool before using.
Another good choice for Thanksgiving, which IS a fall meal, is a the Ooey Gooey Toffee Cake from Liberty Tree Tavern (what can we say — everything there is perfect for a holiday meal).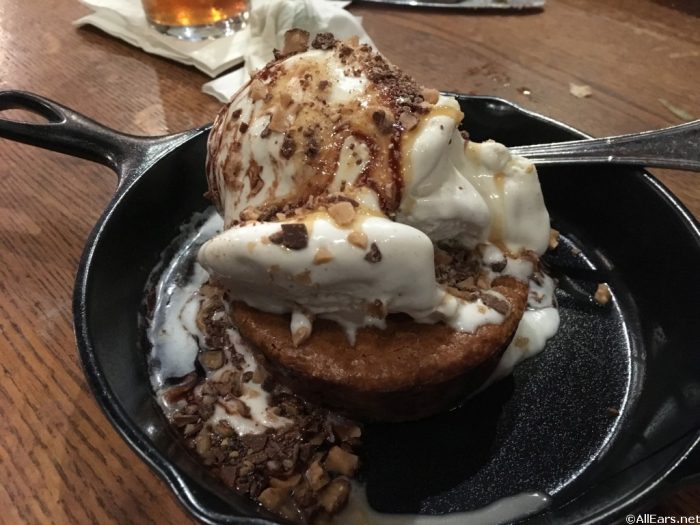 Cake Bottom:
Ingredients:
1 box yellow cake mix
1 each, egg
1/2 cup butter (1 stick)
Method of Preparation:
Mix ingredients and put in a greased baking pan 13″ x 9″.
Cake Filling:
Ingredients:
8 ounces cream cheese
3 each, eggs
1 teaspoon vanilla extract
1/4 cup butter
1 cup semi-sweet chocolate chips
1 cup Heath bar pieces
1 pound powdered sugar
Method of Preparation:
1. Put cream cheese in mixer.
2. Slowly add eggs and vanilla.
3. Add butter and mix well.
4. Put in powdered sugar, then add chocolate chips and toffee pieces.
5. Just mix; do not over mix.
6. Put on top of Cake Bottom in pan.
7. Bake at 325 for 35 minutes, then check.
What's your favorite Disney recipe to make at home? Let us know in the comments!
Join the AllEars.net Newsletter to stay on top of ALL the breaking Disney News! You'll also get access to AllEars tips, reviews, trivia, and MORE! Click here to Subscribe!