You have to make a lot of "tough" decisions when you're at Walt Disney World — where to stay, what to ride, which character to hug, and possibly most importantly what to eat.
There are so many choices of what to eat at Walt Disney World. From gourmet desserts to iconic snacks, the possibilities are seemingly endless!
I recently polled the AllEars team with the impossible question: "If you were going to tell someone to eat ONE thing in each Disney World park, what would it be?!" After the (friendly) fire settled, these were the winners! So I am happy to share with you our TOP choices (and runners-up) of the ONE thing you MUST eat in each Disney World park!
Magic Kingdom
Winner: Dole Whip
Is this a shock to anyone? Arguably one of the most iconic Disney Snacks of all time, you gotta get a Dole Whip at Magic Kingdom. Sure, you can now get them at other parks and even some resorts, but there's just something so quintessentially Disney about a visit to Aloha Isle after a trip to the Enchanted Tiki Room.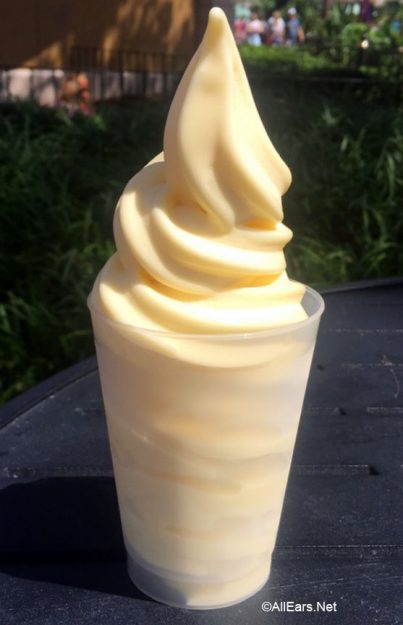 And while the classic is pineapple, you can now get several varieties of Dole Whip at Magic Kingdom. From strawberry to lime, you can basically eat a Dole Whip rainbow.
Runner Up: Spring Rolls
Adventureland takes home of the silver as well — in the form of the land's delicious savory egg rolls. These delights can be found at a cart, currently located near the entrance of the land. They are sold in a pair, and you can get two of the same flavor or mix and match! Usually they have cheeseburger and one other — we've seen pepperoni pizza, buffalo chicken, and cuban. And ALL are delicious.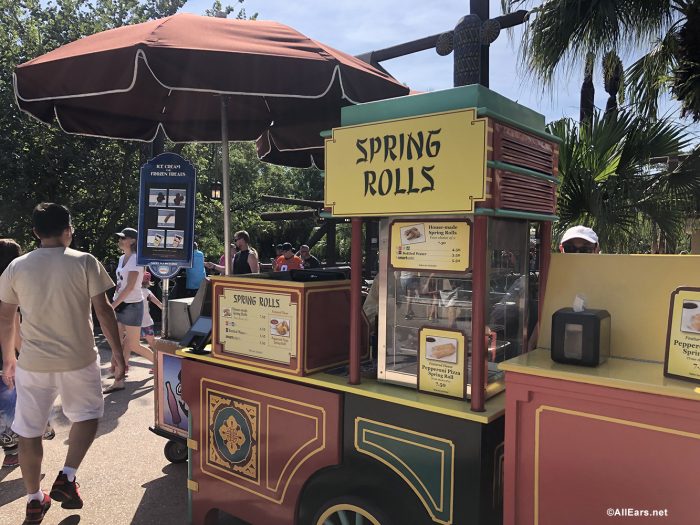 These hearty spring rolls are perfect to share for a snack — or could even be a light lunch if you've got a big dinner on the books!
Epcot
Winner: Anything from the Les Halles Bakery Case
While the team couldn't decide on ONE item from the French Bakery case, it was unanimous that you have to get something at Les Halles! Les Halles (full name Boulangerie Patisserie les Halles) is the quick service location in the France pavilion, and truly, you cannot go wrong.
Notable items the team mentioned include the Croissant Jambon Fromage (get it toasted!), quiche florentine, bacon roll, and Frangipane.
Runner-up: Fish & Chips
Sometimes simple is still the best, and there is often nothing better than an order of crisp Fish and Chips doused in Malt Vinegar. You can grab them at the Yorkshire County Fish Shop.
Personally, I like to eat them while I enjoy the British Revolution rock band. (And a pint.)
Disney's Hollywood Studios
Winner: Brown Derby Cobb Salad
This was the undisputed champ of Hollywood! The Brown Derby Cobb Salad is a signature item that's been on the menu since the park opened — and they use the original recipe from the real Brown Derby restaurant in Hollywood.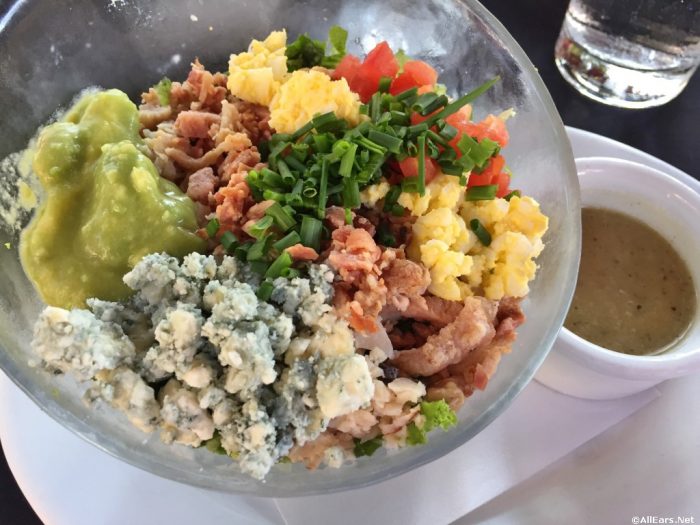 You can get the salad when dining inside the Hollywood Brown Derby, as well as a smaller version on the patio at the Brown Derby Lounge (which doesn't require an ADR!).
Runner-up: Ronto Wrap
Our favorite food item from the Galaxy was our second place choice. You can grab this delightful snack/meal at Ronto Roasters in Galaxy's Edge. It's a pork sausage, wrapped in a warm pita, cozied up to roasted pork slices, and topped with peppercorn sauce and slaw. It is SO tasty — we definitely recommend enjoying one after you've piloted the Millennium Falcon.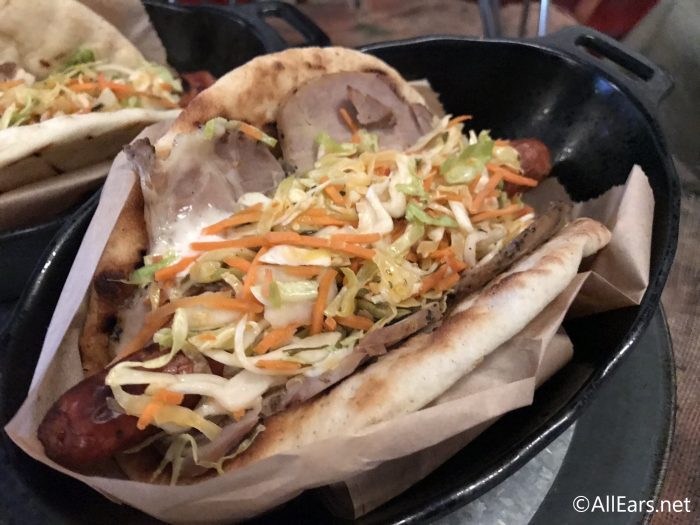 Bonus tip: the breakfast Ronto Wrap is the same sausage, pita, and sauce, but topped with eggs and cheese It may be even better than the lunch version. But we'll happily take either.
Disney's Animal Kingdom
Winner: Pulled Pork Mac & Cheese
Though she may be small, the menu at Eight Spoon Cafe is mighty! Located on Discovery Island, this stand serves up a few varieties of mac and cheese. The team favorite is the Pulled Pork Mac. Creamy pasta, sweet barbecue sauce, smokey meat, and crunchy, acidic pickles — what's not to love?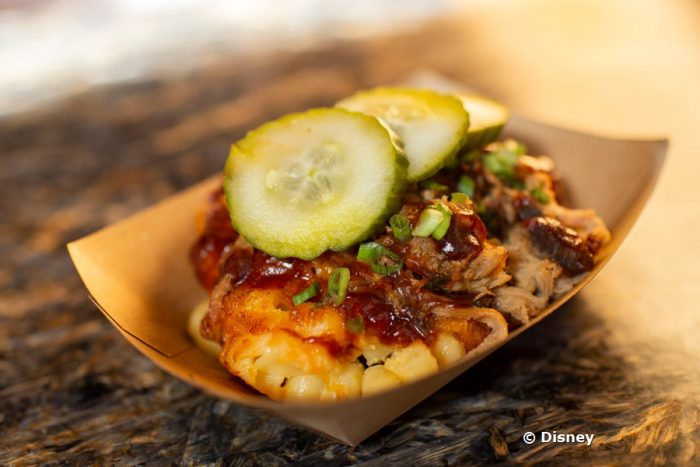 Bonus pulled pork goodness: Pulled Pork Fries at Flame Tree Barbecue. 
Runner-up: Cheeseburger Steamed Pods
Head to Satul'i Canteen in Pandora for our silver medal winner! These little cuties are on the kid's menu, but anyone can order them. (And, you can order an adult's portion if you ask a Cast Member. 😉 )  While they look other-wordly, they taste like a delicious cheeseburger! What a surprise and delight.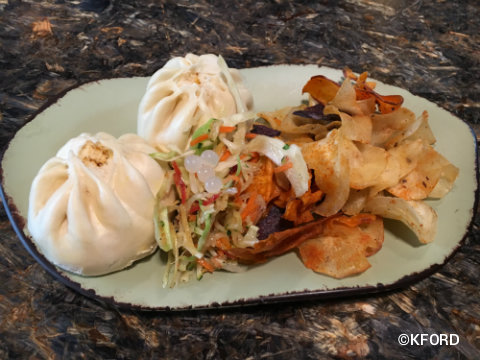 And there you have it!Our list of the best of the best when it comes to Disney World eats. What are your must-haves when you eat in the parks? Let us know in the comments!
Join the AllEars.net Newsletter to stay on top of ALL the breaking Disney News! You'll also get access to AllEars tips, reviews, trivia, and MORE! Click here to Subscribe!

Want to read more AllEars Reader Reviews or leave one of your own?