Disney Springs has come a long way in its transformation to becoming THE spot for exciting and elevated dining experiences on Disney Property.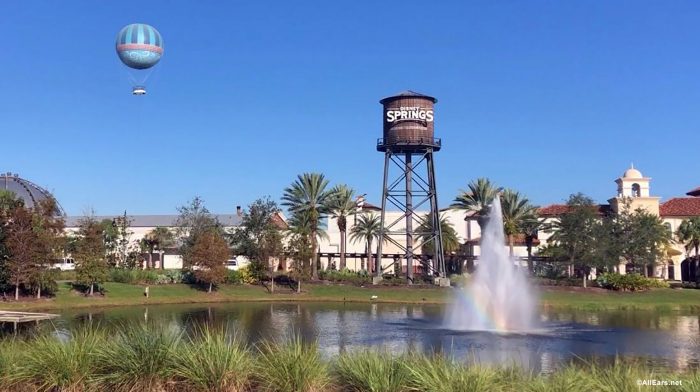 With cult-favorite treats, mega-chains, and star-powered celebrity chef ventures, there's truly something for every culinary taste and budget.
This post is for all you foodies out there! We're taking a look at ALL 21 of the table service restaurants in Disney Springs and sharing our definitive ranking!
#21: PLANET HOLLYWOOD
This mega-chain may have seen its heyday in the 1990s, but the Orlando outpost of Planet Hollywood continues to stay strong even while somehow churning out mostly inconsistent experiences and uninventive dishes.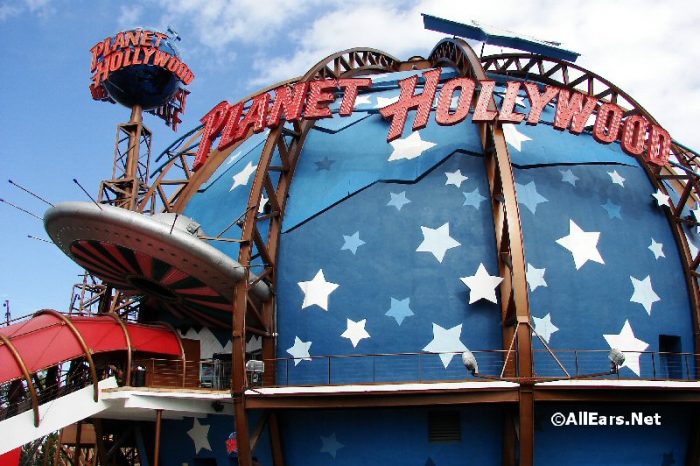 You're probably visiting here to gawk at their impressive collection of movie memorabilia displayed around the restaurant. While the food is quite pricey for the quality, we do recommend some of their creative (albeit sugar heavy) cocktails and wild milkshakes.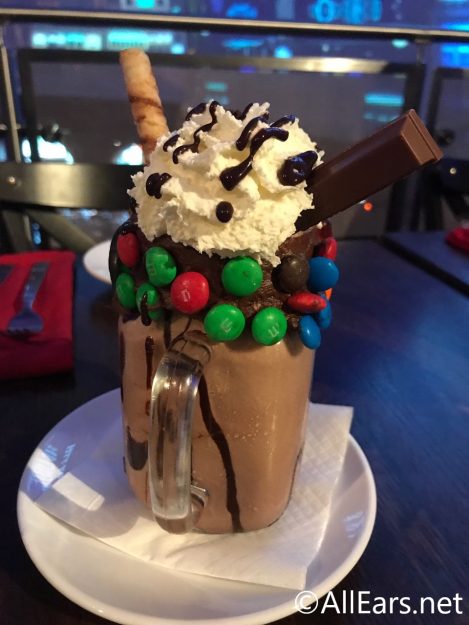 Perhaps instead of dining in the restaurant proper, pay a visit to the outdoor bar, Stargazers, which features live entertainment and karaoke on select nights.
#20: T-REX
Let's be honest, you're probably not dining  at T-REX for the food. The food here is nothing to write home about and consists of mostly Americanized classics.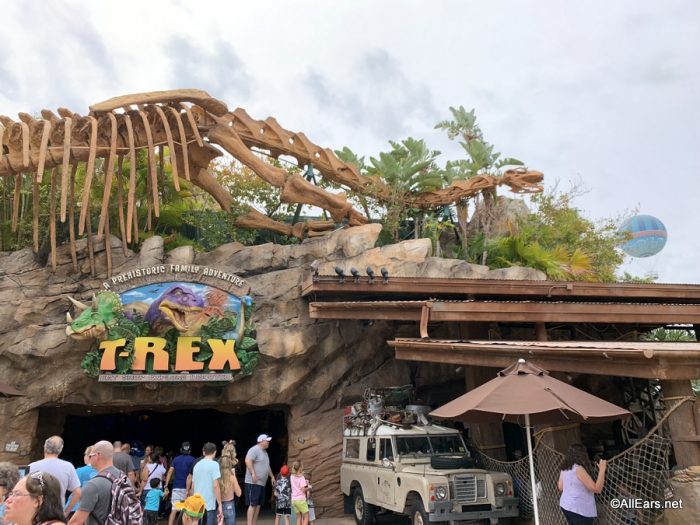 Guests are coming here for the prehistoric atmosphere. We must admit it's pretty cool to dine in an ice cave that changes colors! And if you've got a young one with a dinosaur obsession, it's a must.
#19: Rainforest Cafe
A sister restaurant to T-Rex, the Rainforest Cafe is another mega-chain with not one but two outposts on Walt Disney World property. Similar to T-Rex, the food is mediocre and consists of mostly Americanized classics.
The atmosphere is the absolute draw to this Marketplace spot featuring jungle-centric decor. If you do find yourself here, you can't miss the volcano eruption that happens approximately every 30 minutes.
#18: Splitsville Dining Room
There's a lot going on at Splitsville Dining Room, both in the sheer size of the facility and the menu. In addition to American classics, they are also serving up a pretty substantial sushi menu.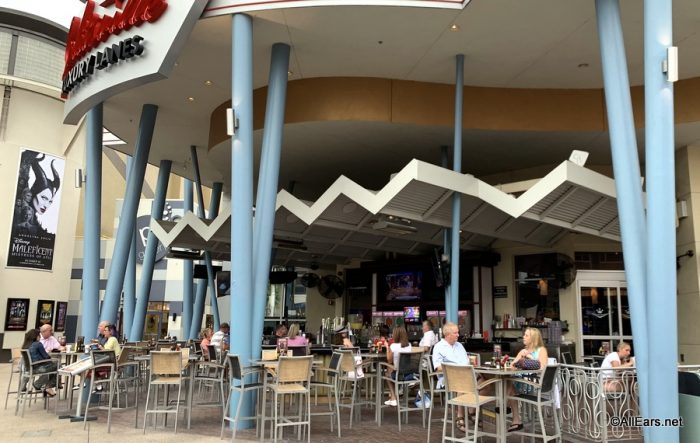 While essentially a more upscale Dave and Buster's for those not familiar, a good time can be found here thanks to the 30 lanes of bowling, plenty of bar space, and outdoor space. The patio features live entertainment on most nights and some yummy drinks to enjoy while watching the passersby.
#17: Paradiso 37
In the ever-changing landscape that has been Disney Springs in recent times, Paradiso 37 has stayed strong since its opening in 2009. The restaurant highlights cuisine from over two continents, including North, Central, and South America, as well as the Caribbean.
If you're looking for a laid back atmosphere that welcomes kids yet also has a more gourmet menu, this might be a good choice for you. It also ranks high on the affordability scale compared to other Disney Springs spots.
#16: House of Blues Restaurant and Bar
While known as a world-renowned music venue, this chain also serves up their rather lackluster twist on barbecue and cajun cuisine. House of Blues Restaurant and Bar features ample seating both indoor and outdoor as well as a ton of bar space.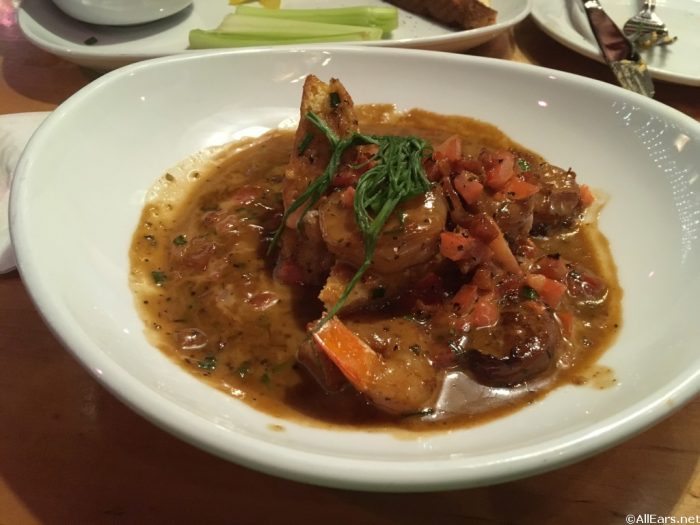 While the food selection is not the best, if you're looking for some pre-concert cocktails outside and live music, this could be the spot for you. On Saturdays and Sundays, a brunch buffet and live music is offered as part of their Bayou Brunch series (bottomless mimosas, too!).
#15 Terralina Crafted Italian
We had high hopes for Terralina Crafted Italian which features a multi-million dollar renovation from its previous occupant, Portabella Country Italian Trattoria, and a James Beard Award-winning chef at the helm.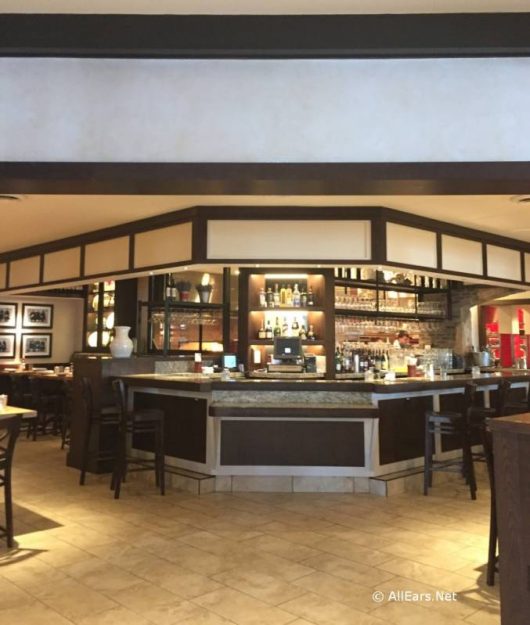 Despite an inspired atmosphere reminiscent of the Lakefront shores of Italy, the food has been a bit of a bummer. They do offer a solid happy hour during the week and an extensive wine list, plus an outdoor bar. Maybe stick to the Spaghetti Fritters and a glass of wine.
#14 Paddlefish
Fulton's Crab House emerged after a major renovation as Paddlefish. The riverboat got an upgrade turning the once turn-of-the-century atmosphere into seriously luxurious yacht vibes. The modern decor unfortunately does little to help the overly uninspired seafood menu, heavy on the seafood boils.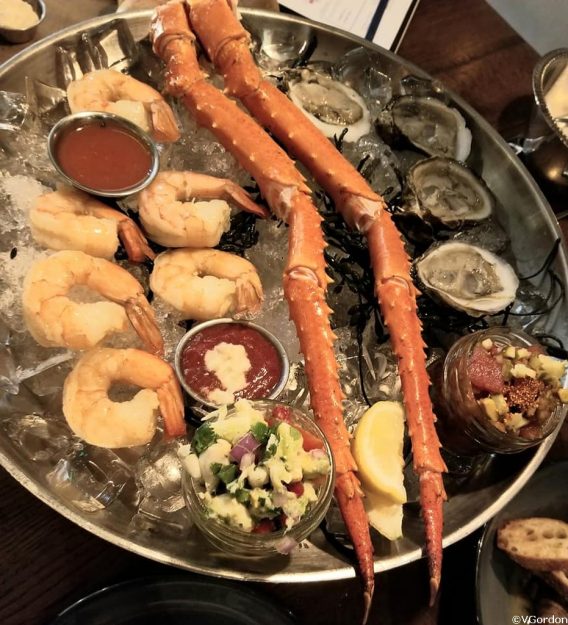 The upper deck is worth a visit for a cocktail (plus the easy winner on the menu: Lobster Corn Dogs) and stunning views of Disney Springs.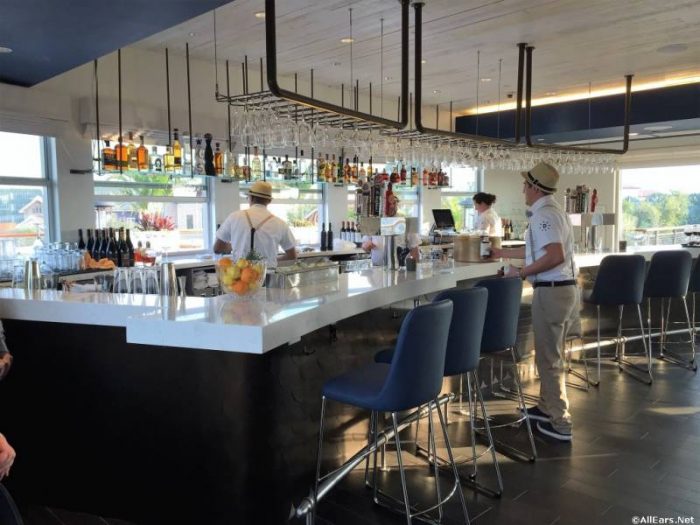 Stick to apps and the raw bar selections here as the entrees, sides, and desserts have been mainly inconsistent.
#13 Maria & Enzo's Ristorante
This kid-friendly spot is themed around a 1930s airline terminal. With influences from Sicilian cuisine, the open, airy dining spot, Maria & Enzo's Ristorante, features family-friendly Italian dishes and sky high ceilings.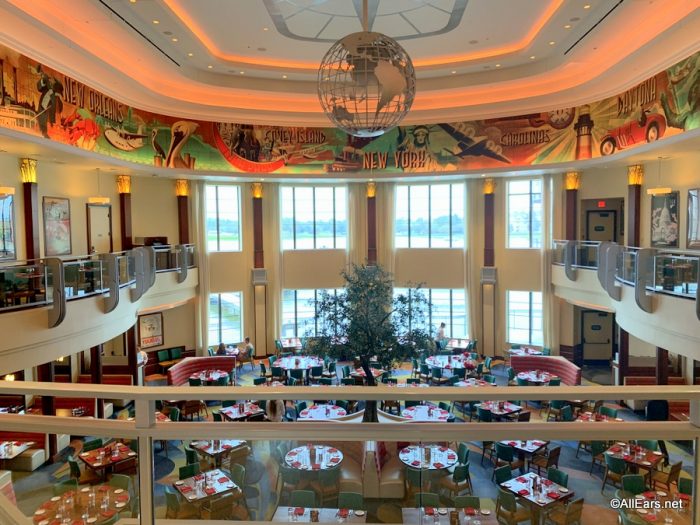 The highlights here for us are all the artifacts found throughout, including maps of historic flight paths. Dishes like the classic cheese ravioli make this a wise choice for the less adventurous in your group.
#12 Fronter Cocina
Six-time James Beard Award winner and celebrity chef Rick Bayless opened Frontera Cocina where elevated Mexican dishes are served alongside an impressive bar program.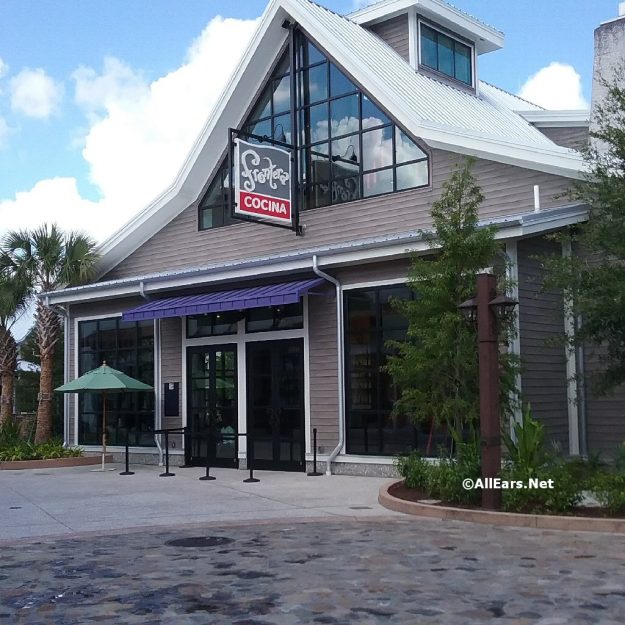 The margaritas here are handcrafted and fresh, and they pack a major punch. Signature dishes feature authentically prepared braised meat, and the menu is ever-changing based on seasonal offerings.
#11 The Edison
It's the roaring 20s every day and night at The Edison. The industrial-gothic-themed import from Los Angeles features multiple levels of dining, bar space, and excellent entertainment.
Try a shot from the roaming Absinthe Fairy or indulge in the decadent Clothesline Candied Bacon. Open for lunch and dinner, the restaurant hosts a slew of special events throughout the year, and you'll even find regular atmospheric performers interacting with guests. Late nights are grown-ups early, so if you've got kids, check the times they're allowed to dine with you.
#10 Enzo's Hideaway Tunnel Bar
Almost tucked away to the point where you could easily miss it near STK Orlando and The Edison, you can find the calm oasis of Enzo's Hideaway Tunnel Bar. Featuring a speakeasy vibe, this part lounge/part restaurant features prohibition-era cocktails in a unique atmosphere.
Accessible via stairs and a tunnel, Enzo's Hideaway is the perfect spot at Disney Springs if you're looking for somewhere chill and relaxed. The underground nature truly allows you to disconnect from your surroundings. Their signature cocktail, the Limoncello Gimlet, is worth a visit alone. The food is Roman-inspired, and a highlight is their hearty Sunday Night Suppers with no corkage fees!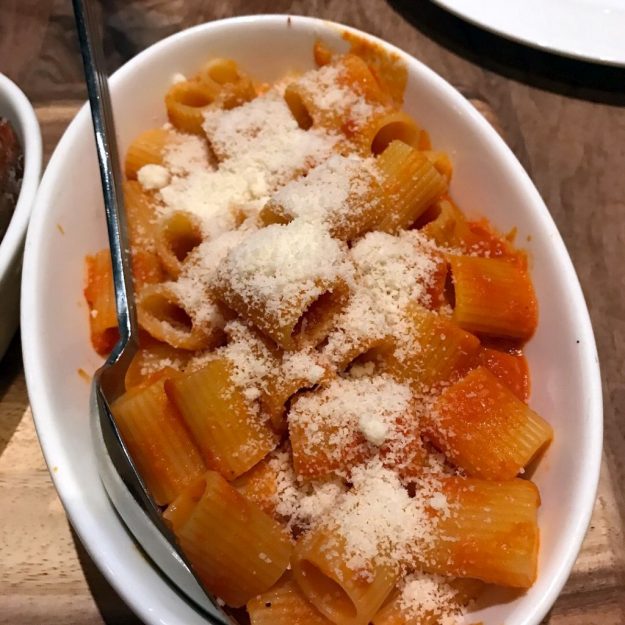 #9 Wolfgang Puck Bar & Grill
Located in Town Center, Wolfgang Puck Bar & Grill is the latest Disney spot for beloved celebrity chef, Wolfgang Puck. This restaurant features a much more modern feel in comparison to his previous spot, Wolfgang Puck Grand Cafe.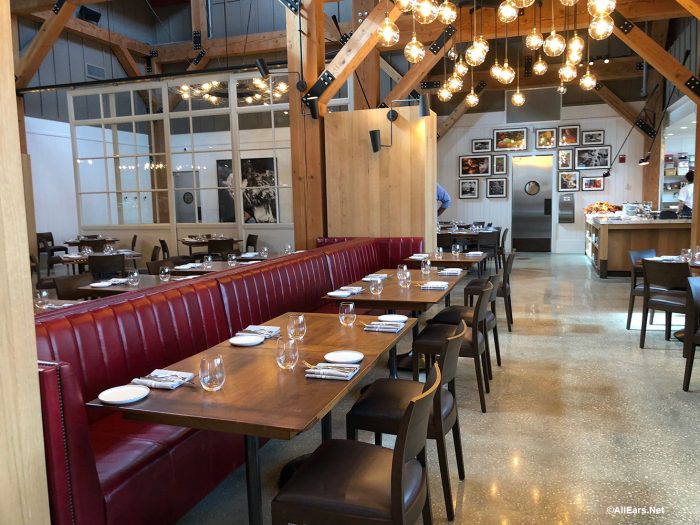 While under the umbrella of "Classic California Cuisine," the menu features something for everyone, including delicious pizzas and excellent pasta dishes.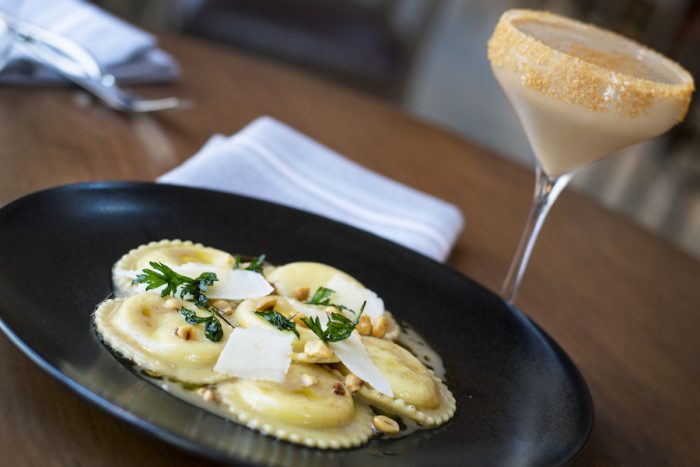 Fresh is the word we'd use to describe the solid and consistent dining experiences found here.
#8 Jaleo
Award-winning celebrity chef Jose Andres may be known for his dining spots all over the world, including Las Vegas, but his latest outpost, Jaleo, is drawing visitors to Disney Springs. The visually impressive spot features an extensive tapas menu, meats and cheeses, and hand-picked wines. Our must-have here is the hand-carved, 48-month cured Jamon Iberico.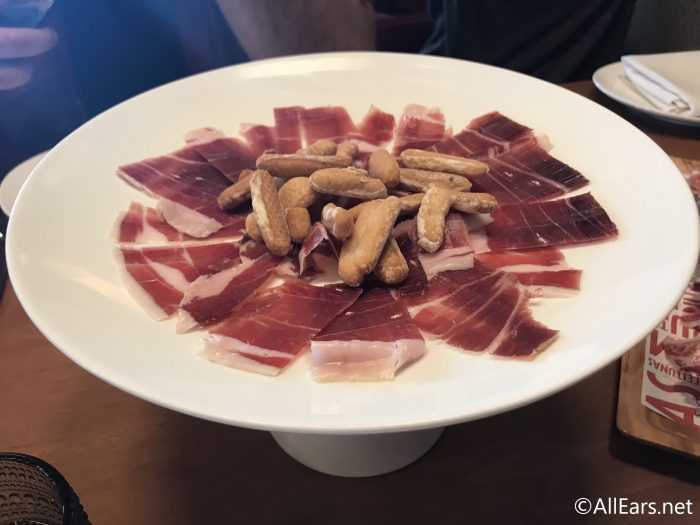 While your tapas bill can quickly add up, the restaurant features a midday happy hour that highlights their signature Sangria Roja along with a selection of their favorite Spanish tapas, offering an incredible value.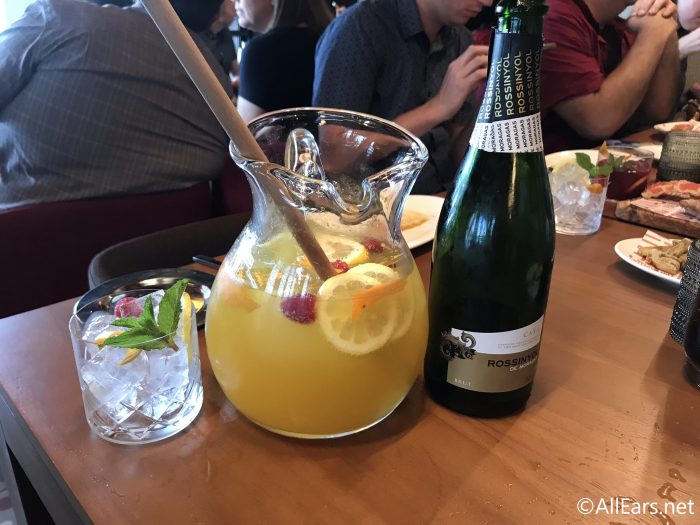 #7 STK Orlando
The steakhouse chain STK brings a welcomed vibe to the dining options in Disney Springs. The club-like atmosphere features multi-levels of dining and bar space and even a DJ. While definitely on the higher end of the budget, the cuts of meat here can stand their own to even the best on property, like Jiko.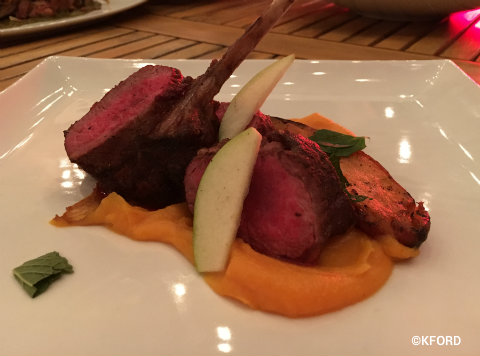 They offer a solid weekday and late night happy hour that features discounted raw bar and half-price cocktails (try their oysters and signature Cucumber Stiletto martini). Not a bad way to unwind after a long day in the parks! Do note that it can get loud in STK, so if you prefer to be able to talk normally to your tablemates, you might be better off elsewhere.
# 6 Jock Lindsey's Hangar Bar
While more lounge than traditional table service spot, Jock Lindsey's Hangar Bar serves up an ever-changing yet impressive small plates menu. Be immersed in all things Indiana Jones with an atmosphere that will have you missing the glory days of Pleasure Island.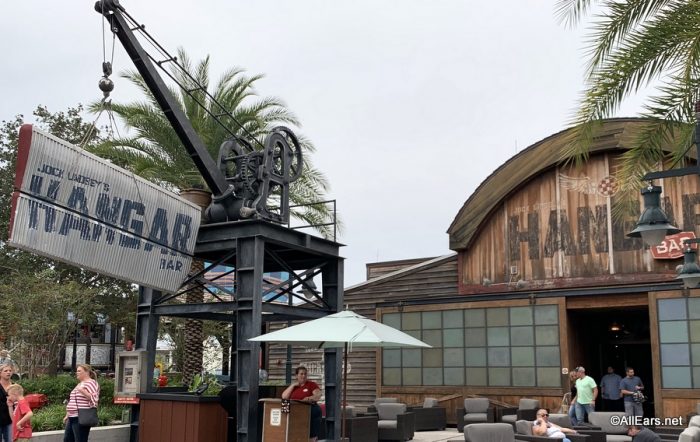 Enjoy both indoor and outdoor seating while munching on a menu mainstay like Air Pirate's Pretzels (served with an addictive beer-cheese fondue) or sipping on a Cool-Headed Monkey.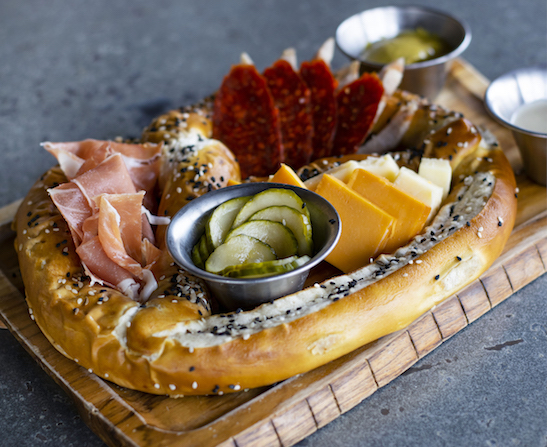 #5 Raglan Road Irish Pub and Restaurant
This beloved spot is known for its impressive dining, drink options, entertainment and all around shenanigans. You're sure to have a great time at the long time spot, Raglan Road Irish Pub and Restaurant, that features Fish & Club, Bangers and Mash, plus an excellent draft selection and beer flights.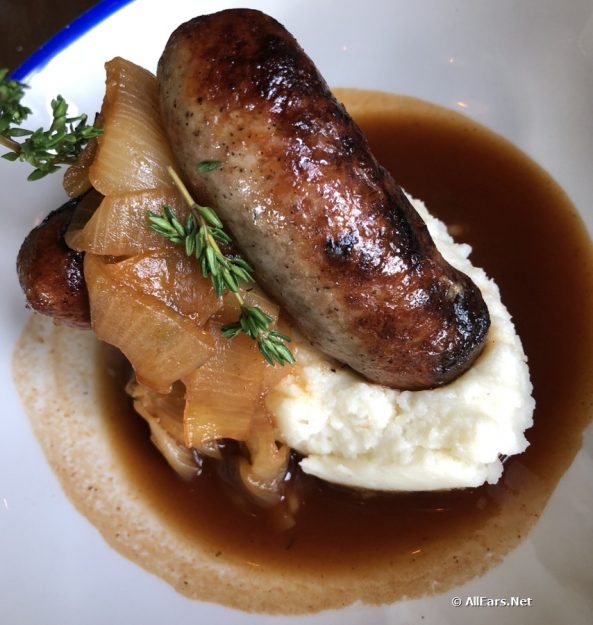 Your authentic Irish experience comes complete with quality entertainment (and dancing) most nights both indoors and outdoors. They are also a solid option if looking for some pub grub into the wee after hours. The Dalkey Duo (beer battered sausages) is an absolute must!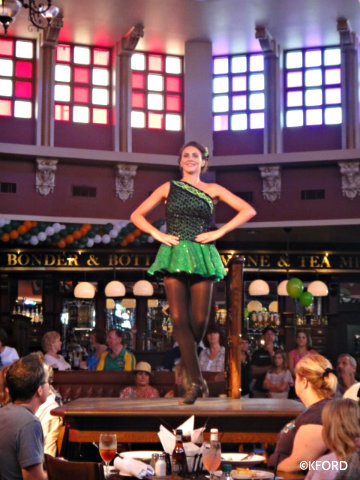 #4 Chef Art Smith's Homecomin'
Celebrated chef Art Smith puts the highlight on Florida cuisine with his Disney Springs outpost, Chef Art Smith's Homecomin.' They are consistently churning out the best fried chicken you'll find on property as well as an impressive cocktail list that features moonshine. (Tip: Try the fried chicken and donuts during brunch).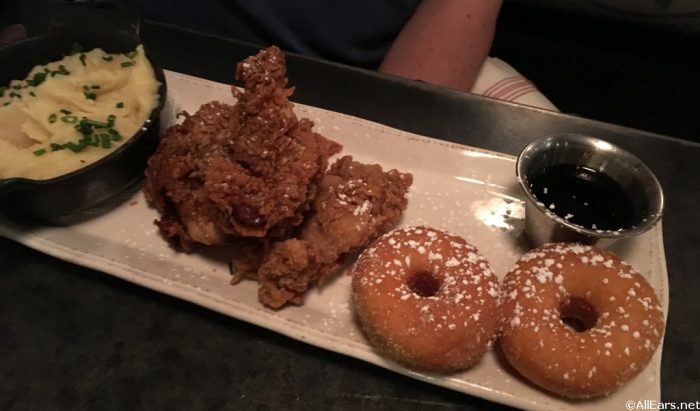 The Farm-to-Fork focus certainly stands out as a unique addition to on property dining. You also can't go wrong with his Fried Chicken sandwich and a side of cheddar cheese drop biscuits.
#3 THE BOATHOUSE
If you're a seafood lover, look no further than The Boathouse for an excellent selection of entrees and the freshest raw bar you can find on property.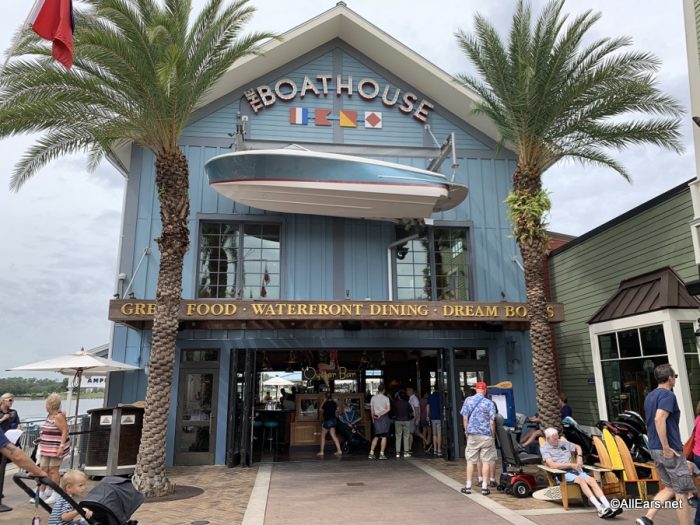 Watch the Amphicars drive by from the over-the-water Dockside Bar or enjoy some of the ample indoor dining space and sprawling bar. There's also a large selection for all the land-lovers in your party (we're talking filet mignon sliders).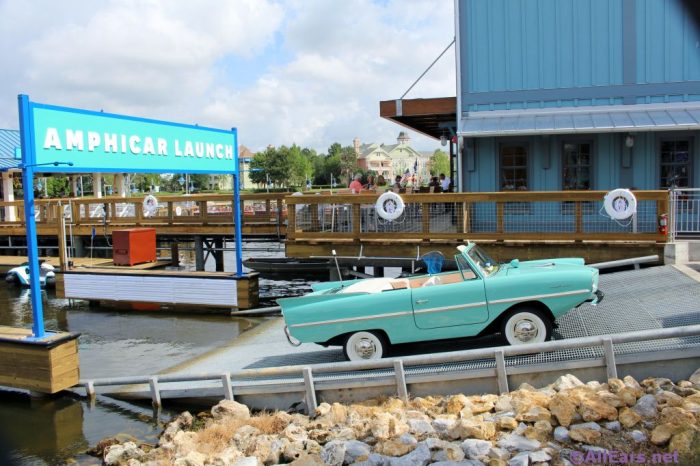 #2 Morimoto Asia
Iron Chef Morimoto may just be one of the most celebrated celebrity chefs of our current time — with Michelin Stars to boot. His Disney Springs restaurant, Morimoto Asia, is the destination in Walt Disney World for all the flavors of Asia, including ramen, sushi and their signature Peking duck.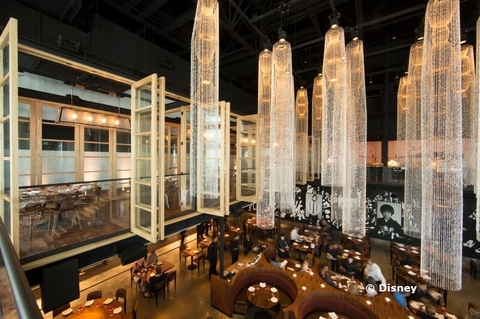 The atmosphere is upscale yet inviting, and the establishment hosts special events from time to time, including the 12 Beers of Christmas. If you're hungry in the late hours, they offer late night dining until 1AM on most nights that includes their addictively delicious Ramen.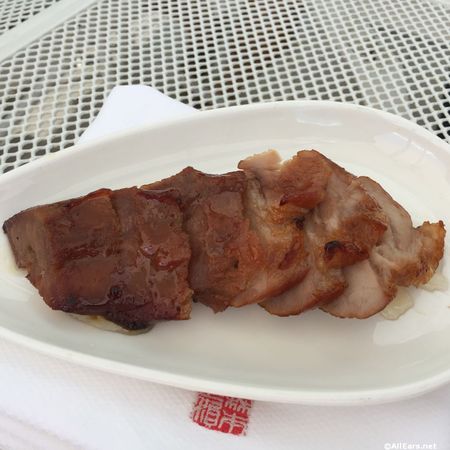 For the restaurant's elegant styling and top-notch food, Morimoto Asia hits number two on our list.
#1 Wine Bar George
This impressive wine-focused restaurant, Wine Bar George, is headed up by celebrated Master Sommelier George Miliotes. With over 150 wines available by the glass, bottle, and even ounce, the restaurant most recently landed on The World of Fine Wine's World's Best Wine Lists for 2019, the highest honor in the field.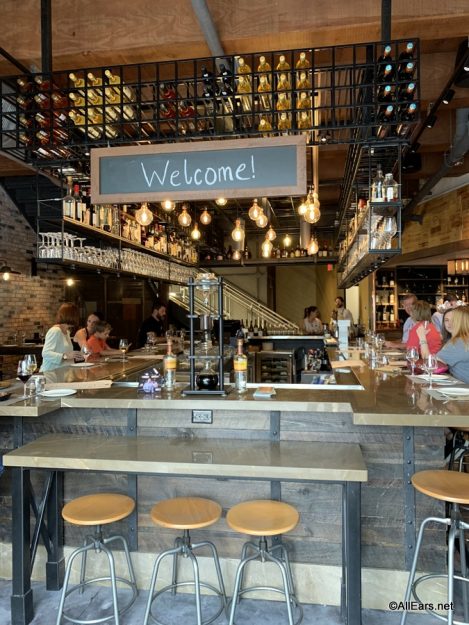 Rather impressive for theme park dining, eh? With a warm and inviting atmosphere and delicious bites (we highly recommend their burrata appetizer), this is must-visit spot in Disney Springs.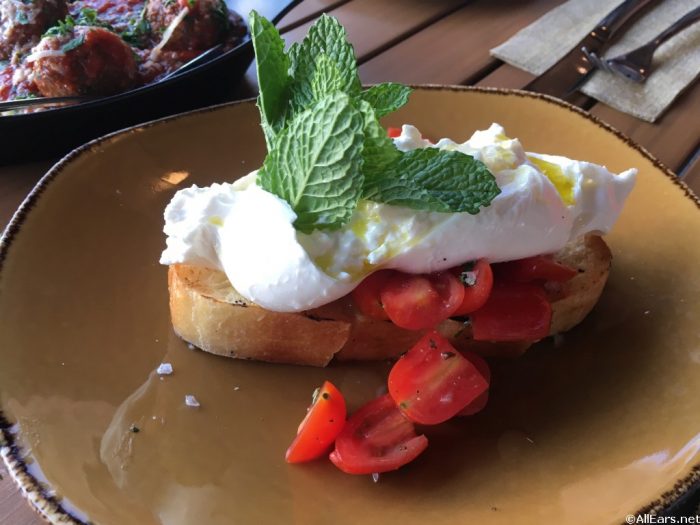 With a plethora of options to choose from, Disney Springs has become the destination at Walt Disney World for all the foodies out there!
Join the AllEars.net Newsletter to stay on top of ALL the breaking Disney News! You'll also get access to AllEars tips, reviews, trivia, and MORE! Click here to Subscribe!

What's your favorite spot to dine at Disney Springs? Let us know below!