Hello from Disney Springs! We recently had dinner at the Planet Hollywood Observatory and wanted to share a few photos of our meal!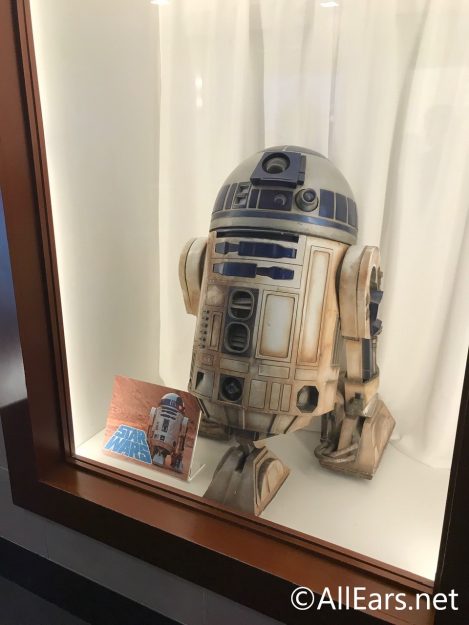 One of the biggest draws to Planet Hollywood Observatory is the movie memorabilia around the restaurant, like this ACTUAL R2-D2 from Star Wars (above) or the original sketch of the mechanical shark used in Jaws (below).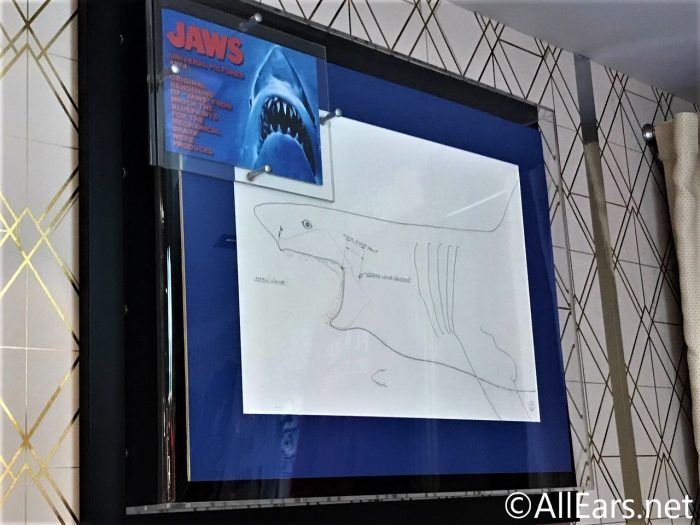 If you have a favorite classic film, make sure you ask your server if they have a prop from it somewhere in the giant three-story restaurant!
The menu at Planet Hollywood is HUGE. It features signature cocktails, photogenic and memorable desserts, and twists on American classics.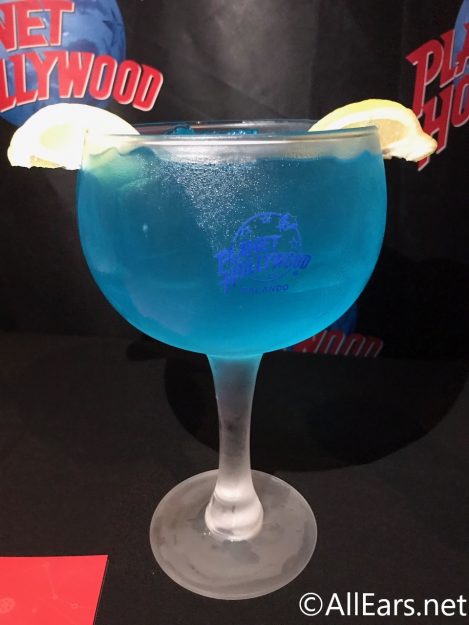 Two of the most fun drinks on the menu are actually GIANT 45oz. shareable cocktails. The Perfect Storm (above) is rum, vodka, gin, tequila, DeKuyper blue curacao, fresh sour & Sprite. The Fool's Gold (below) is vodka, pineapple & orange juices, fresh sour, & passion fruit juice.  You get to keep the giant glass with the purchase of either!
Also on the drink menu are the Supernova Shakes. These are MONSTER shakes topped with candy, cake, and more!
First up is the Strawberry Big Bang which is a strawberry shake and is topped with a WHOLE piece of cake.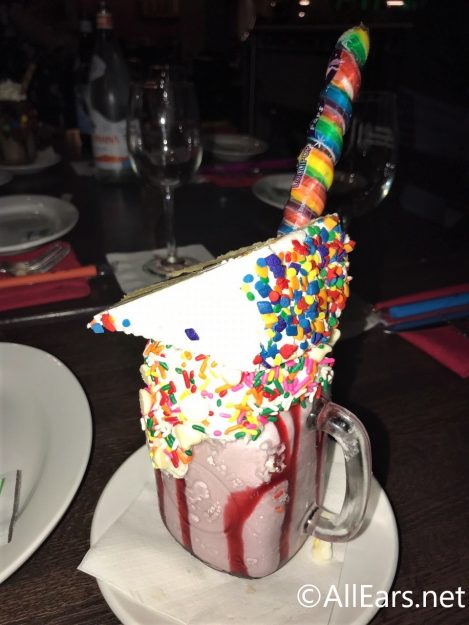 The Cosmic Cotton Candy is a cotton candy milkshake that comes with lots of candy toppings, including Cotton Candy (duh!).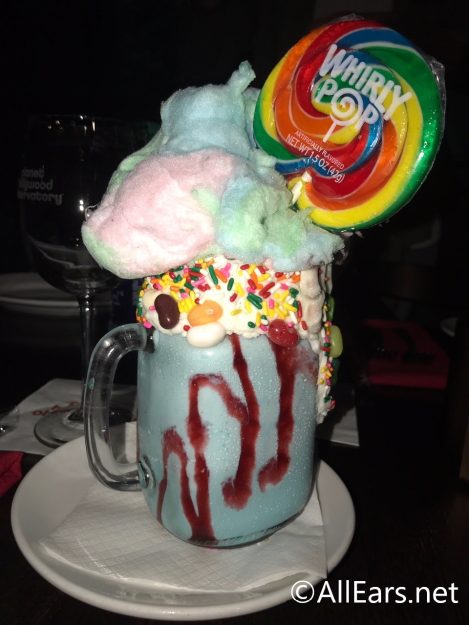 Lastly, the Chocolate Comet which is a chocolate milkshake with a brownie topper.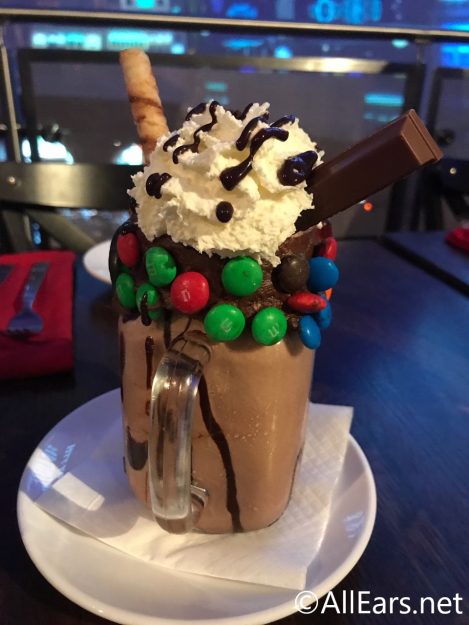 The Supernova Shakes are not the best milkshakes we've ever had, but they sure are FUN and a candy dream come to life! Plus they are great on Instagram.
For appetizers, we enjoyed the High Roller Sampler, which features five of the most popular starters on the menu and is served on a wheel!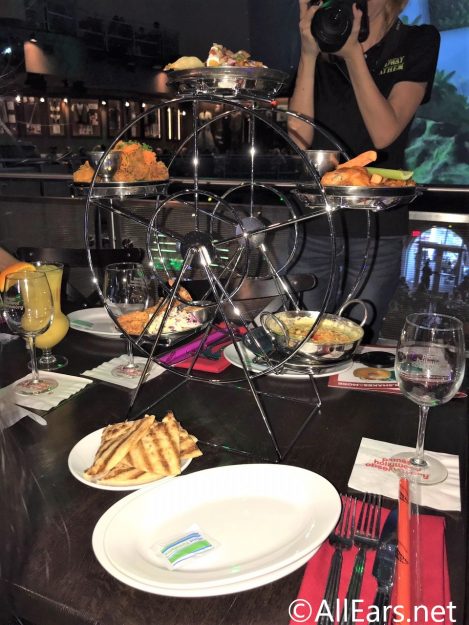 The sampler includes Buffalo wings, 5-cheese dip, Fried Shrimp, Texas Tostados, and the World Famous Chicken Crunch. All of these can also be ordered separately. If you get the Chicken Crunch on its own, it comes served in an adorable chicken basket!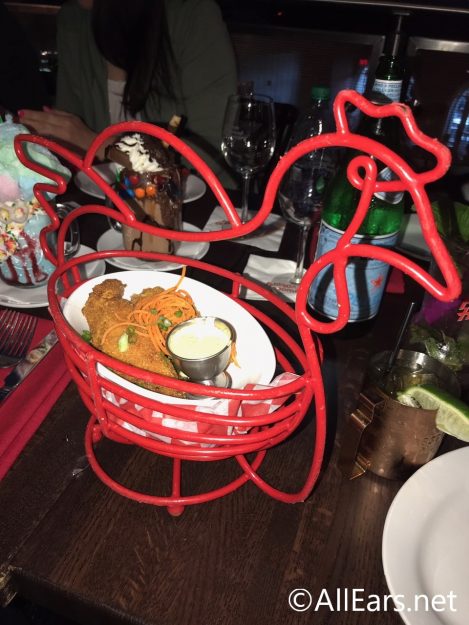 For a healthier starter, the Hummus Trio features Black Bean and Red Pepper, Edamame, and Garlic.
Also on the healthier side is the Citrus Kale Salad, which features grapefruit and oranges, and an agave dressing.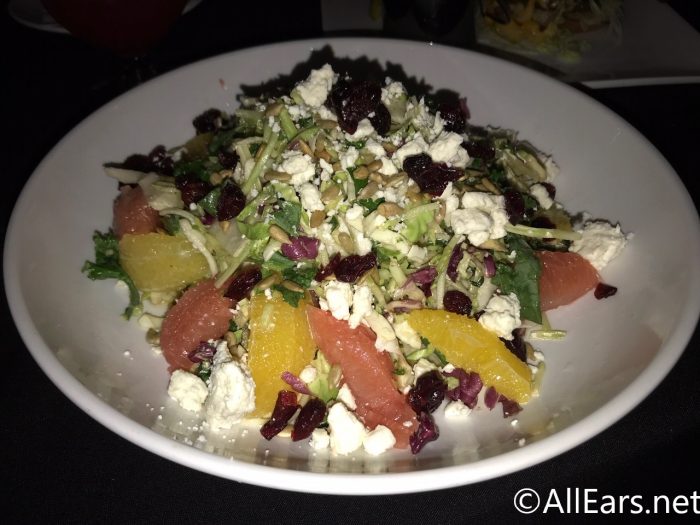 On the pasta portion of the menu, you can grab a hearty bowl of the Penne, Chicken, and Broccoli.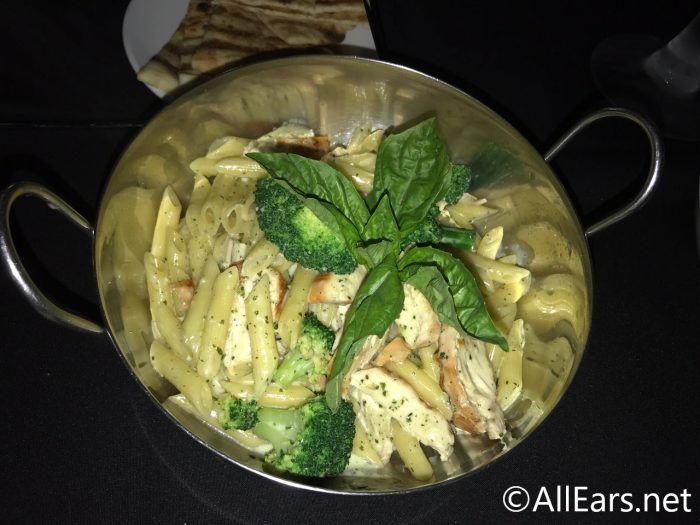 Or try their signature L.A. Lasagna, which is fried lasagna tubes stuffed with ricotta and Bolognese sauce, and then topped with tomato basil and roasted garlic cream sauces.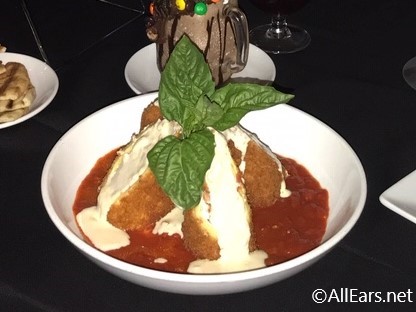 A special portion of the menu features creations from Guy Fieri! You can try one of his Big Bite Burgers, like the Bacon Mac-N-Cheese Burger.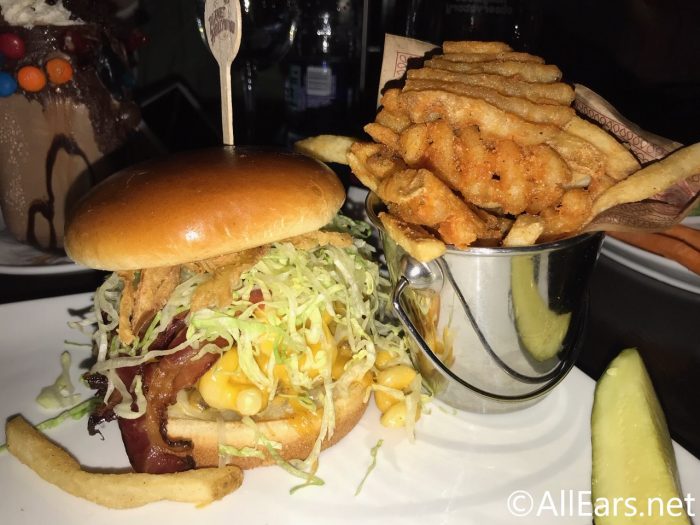 Or one of his Signature Sandwiches, like the Pimento Grilled Cheese, which also comes stuffed with Mac & cheese.
Off the grill, you can grab some BBQ Ribs which come served on a tiny picnic table!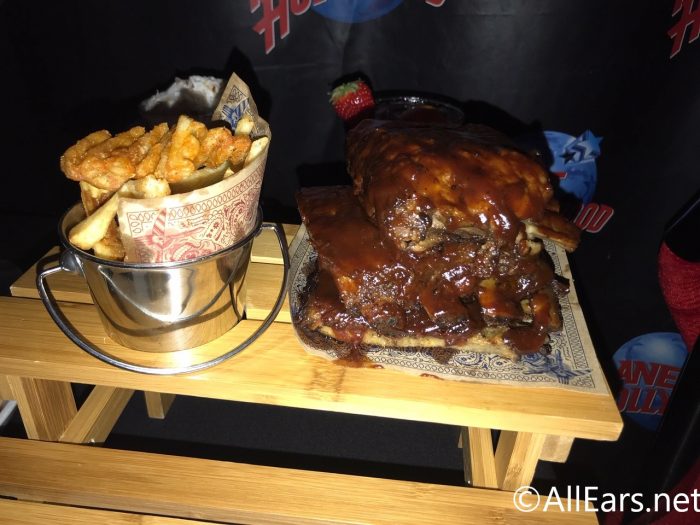 All of the burgers, sandwiches, and ribs are served with Triple Fries which is a bucket that has three kinds of fries — waffle, regular, and rounds!
But make sure you save room for dessert!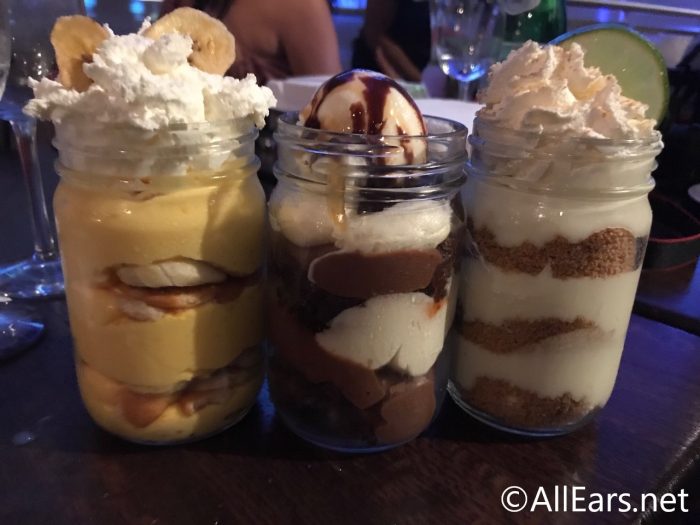 The Star Jar Desserts are cute desserts served in little jars. You can choose from Banana Pudding, Brownie Cheesecake, and Key Lime Pie.
Sweets are also shareable at the Planet.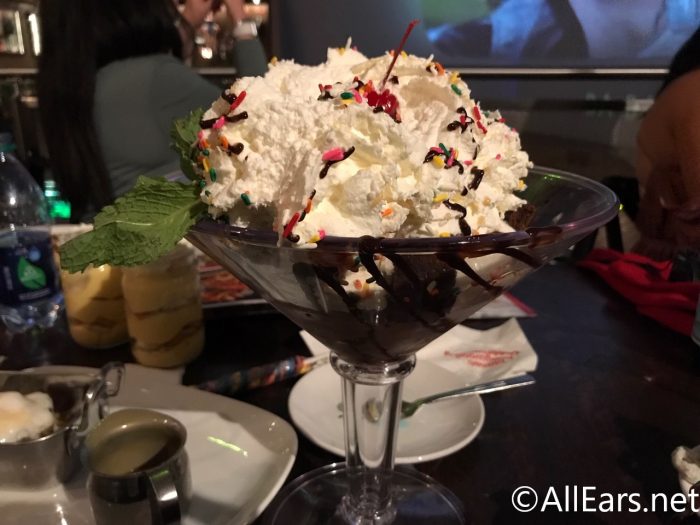 You can try the Brownie Sundae Martini (above) which is a giant martini glass stuffed with 12 brownie chunks, 6 scoops of ice cream, caramel and chocolates sauces, and whipped cream.
The Planet Meltdown is also a fun dessert to share! When you pour the hot chocolate sauce over it, the chocolate dome melts before your eyes revealing strawberries and fudge.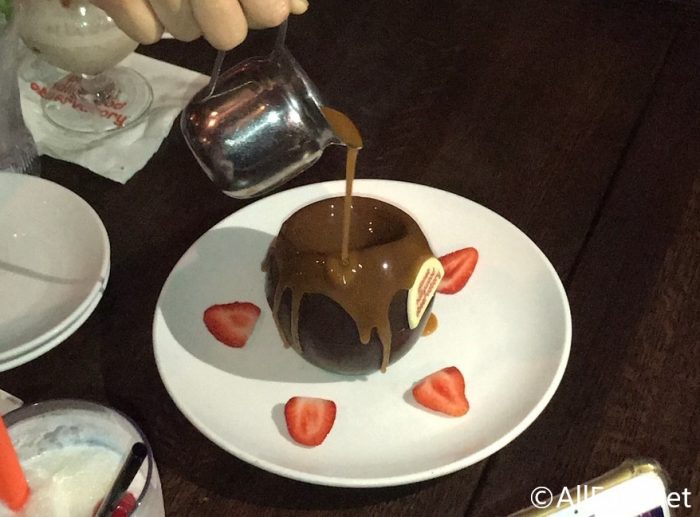 Lastly, the Toffee Pudding is a great and shareable treat featuring house-made bread pudding and caramel sauce, served a la mode.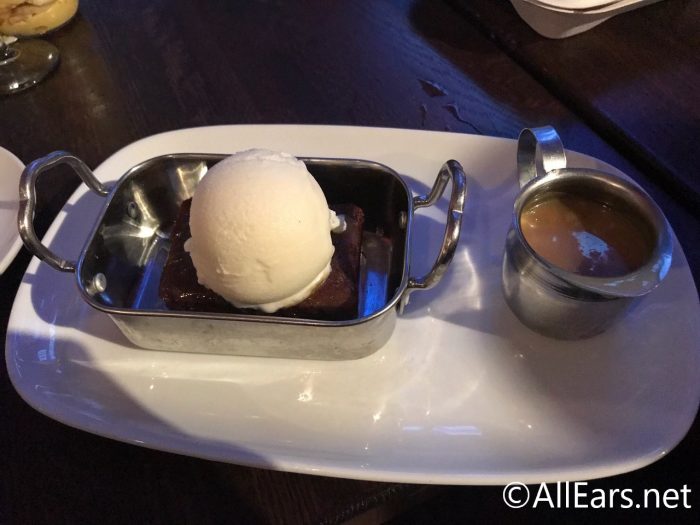 Overall, dining at the Planet Hollywood Observatory is sure to bring you a fun atmosphere, and very photogenic dishes and desserts. Our main criticism is that it's very expensive for the caliber of food, especially when there are so many great options at Disney Springs.
Have you dined at the Planet Hollywood Observatory? What did you think of the meal? Let us know in the comments, or click here to visit our Rate and Review section, and leave your comments there.
Remember! When you're in Disney tag @allearsnet in your photos!
Be sure to check out our YouTube Channel for reviews, news, information and more! 
Click below to subscribe to the AllEars® newsletter so you don't miss any of the latest Disney news!

AllEars.Net was an invited guest of Planet Hollywood at a Media Dinner. This did not affect our opinion; our opinion is our own.