Sitcom families aren't all that different from real-life ones. They go through the same ups and downs, and when it's time for those families to go on vacay, many want the same thing that we all do: to go to Disney World (or Disneyland!), of course!
Let's check out a few memorable times our favorite tv families packed up to visit the House of Mouse!
First, a little backstory. In 1995, the Walt Disney Company purchased ABC. At that time, for many families, Friday nights were all about TGIF — a 2-hour block of sitcoms on ABC.
Not surprisingly, after the merger with Disney, between 1995 and 1996, EVERY sitcom that was part of the TGIF family happened to take a trek to the Most Magical Place on Earth. Ever since then, Disney still periodically sends its ABC families on magical excursions to the Parks, and we don't mind one bit when they do!
Here are a few of our favorites.
Boy Meets World
Ah, young love! Cory and Topanga were one of the big "it" couples of the 90s. When Topanga broke up with Cory, what was the heartbroken teen to do? Follow her to Disney World to win back her affections, of course!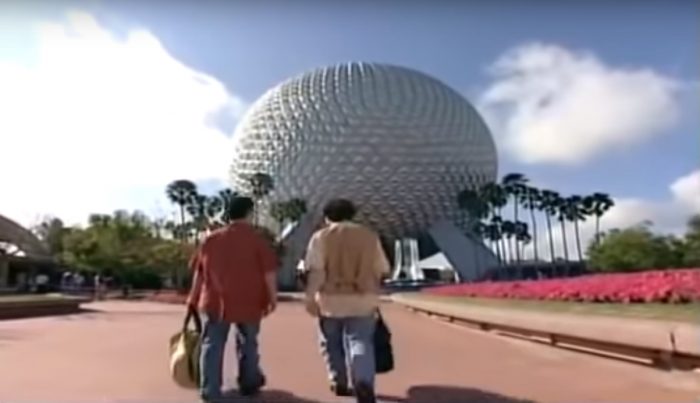 Most of the plots of these shows teetered on far-fetched more often than not, so it wasn't all that surprising to picture a teen essentially running away to one of the most expensive places on Earth!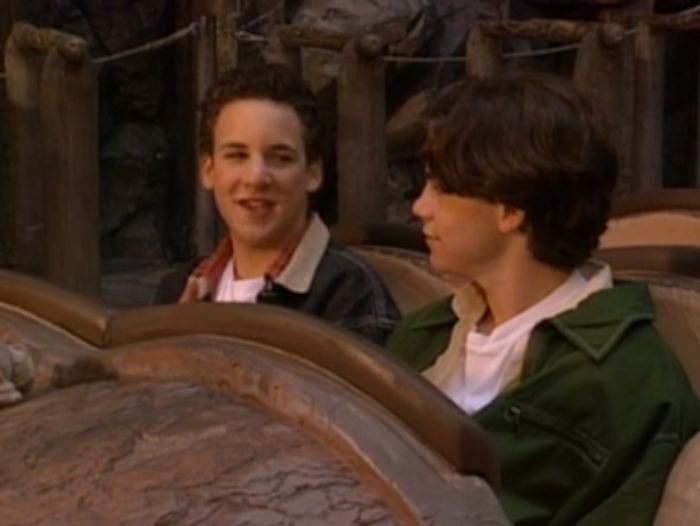 The episode centered on Cory and his BFF Shawn chasing Topanga around Disney World. The boys have no hotel, so naturally, they camp out on Splash Mountain for the night! Cory ends up on a wild goose chase around EPCOT, popping up in costume around various spots in World Showcase trying to win her over. Unfortunately, his attempts to woo her are unsuccessful.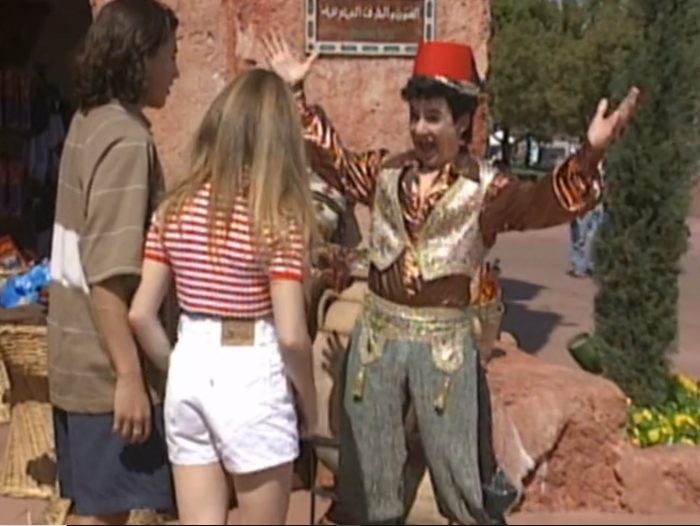 Cory finds himself all alone in the Seas Pavilion (Still The Living Seas, at the time) hanging out behind the scenes — as unsupervised children tend to do (!!!) — above the aquarium tank. He befriends a sick dolphin and tells him his sad story of love. But who's that behind him? Topanga is listening in!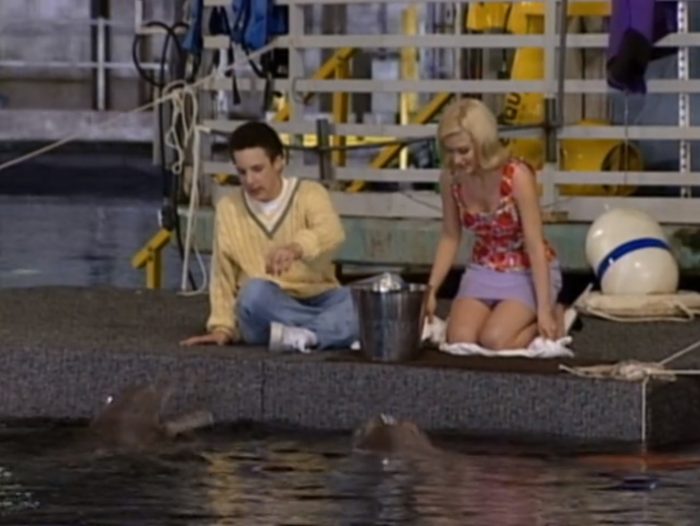 She chases after him and they reunite with a kiss timed perfectly in front of the Fountain of Nations.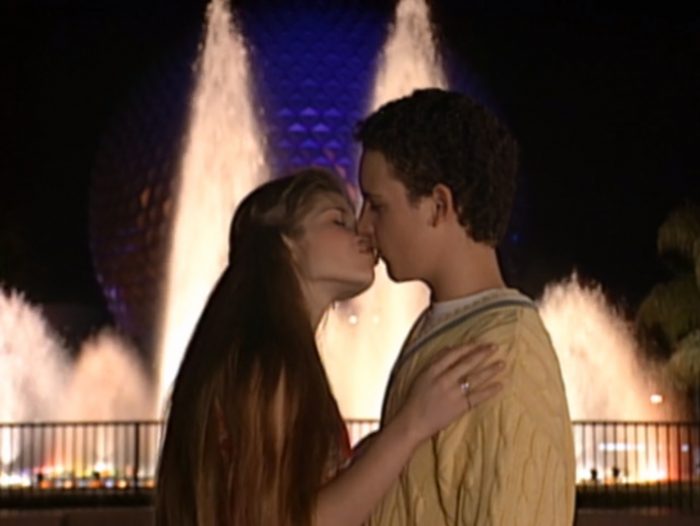 Awww! Cory returns home to be… grounded for a month. A small price to pay for the trip of a lifetime with your girl!
Family Matters
Lovable nerd Steve Urkel's transformation machine that turns him from a nerdy geek into suave, smooth-talking Stefan lands him a spot as a finalist in an invention contest at Innoventions in EPCOT. He transforms into Stefan to wow the crowd, but Laura, who wants to keep him as Stefan forever, breaks the machine before he can change back.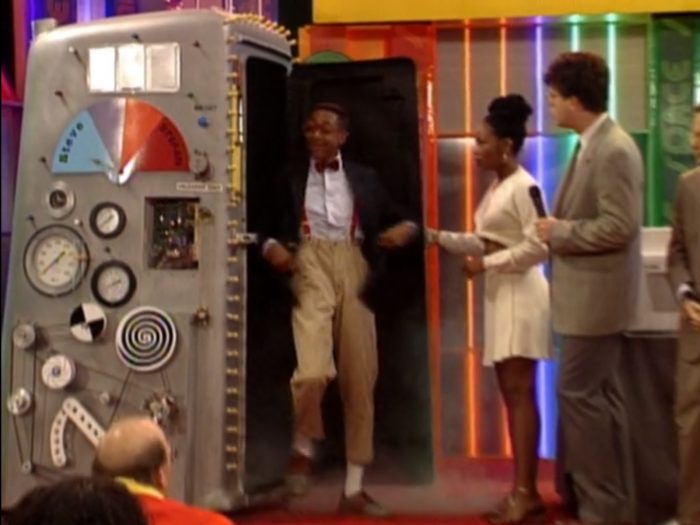 He has three days to fix his machine, leaving plenty of time for the lovebirds to explore the Parks! The Wilderness Lodge is featured prominently in this two-episode special as the family's home base, having opened shortly before the episode was released.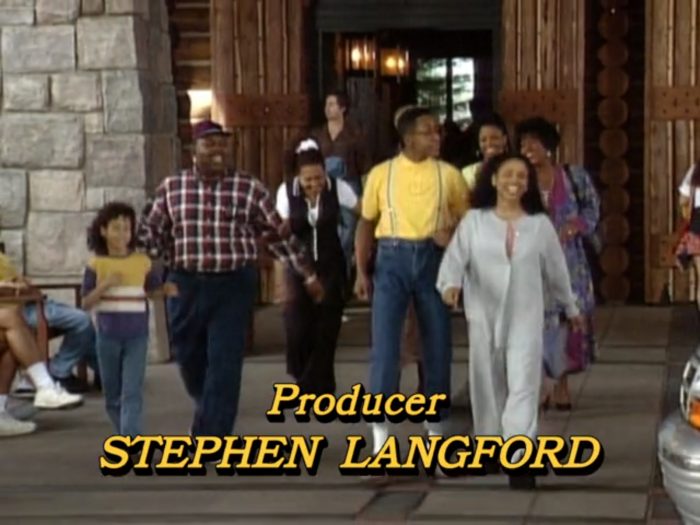 Stefan plans an elaborate proposal to Laura in front of Cinderella Castle, which she happily accepts.
But she ultimately has a change of heart at the last minute, asking Stefan to fix the machine and turn back into Steve forever. In doing so, he wins the contest only to decline the prize. He fears his machine is too dangerous and shouldn't be awarded for what it can do. This episode is such a blast from the past for Innoventions fans!
Full House
This was, in my humble opinion, the ultimate Disney World sitcom visit. Over two episodes, we watched the Tanner family's misadventures around Disney World. I still rewatch this episode today!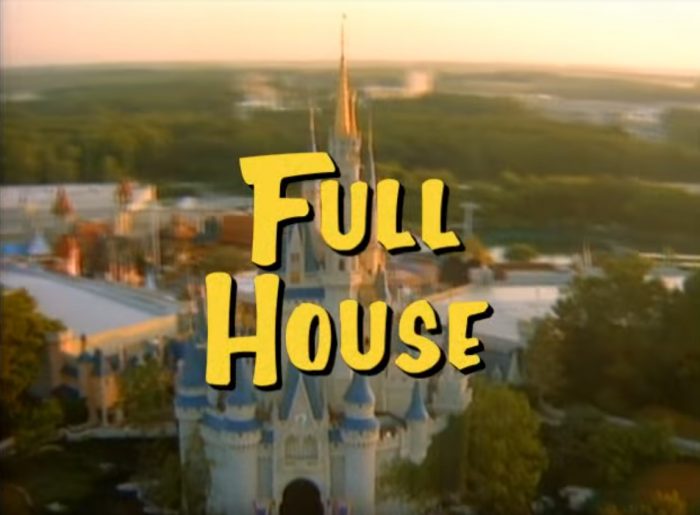 Danny Tanner spends the episodes repeatedly attempting (and failing) to propose to his girlfriend around EPCOT. He ultimately gets his chance with a custom-made fireworks display in the Magic Kingdom, literally spelling it out for her. Even a more than slightly creepy Mickey is on hand to congratulate the happy couple! (Seriously, who is these characters' contact for this stuff at Disney World?! Hook us up!)
The three sisters encounter a giant Aladdin-themed display on Main Street that declares Michelle princess for the day. She gets a crown, a ride in the parade, princesses at her beck and call, and the right to do basically whatever she wants all day (including running off and getting lost!)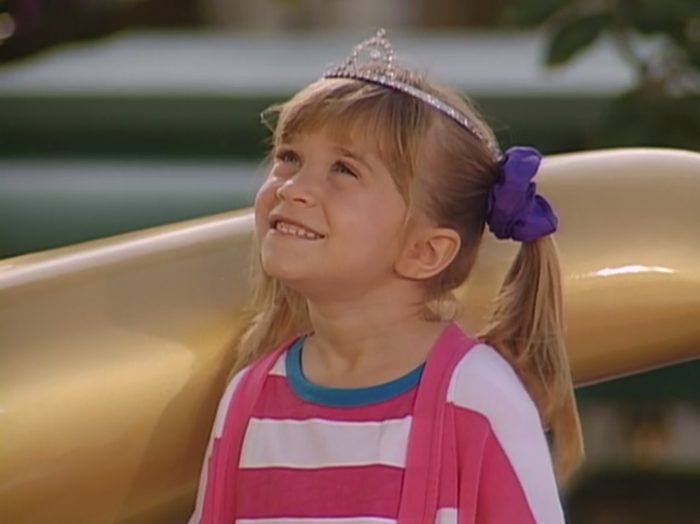 Aladdin was a big theme in this episode — Steve, DJ's boyfriend, was played by the same actor who voiced Aladdin in the animated film, Scott Weinger. He pops up in DJ's daydreams around the Park, even dressed at one point as that lovable street rat! Talk about art imitating art!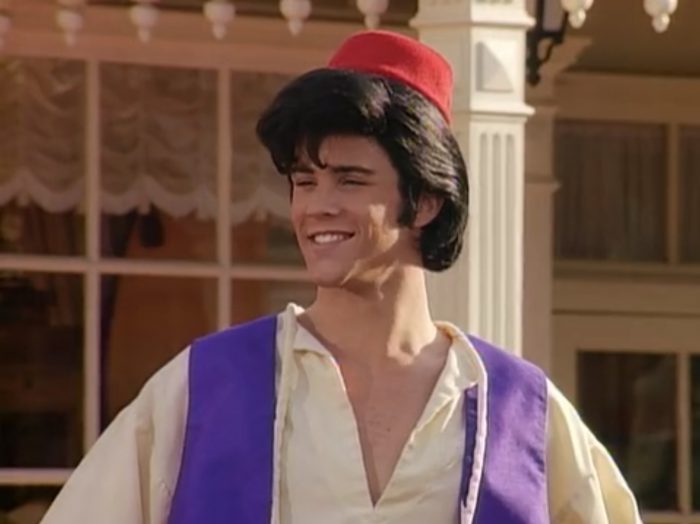 Joey gets to explore the now-defunct Disney Feature Animation Studio at Walt Disney World, where he hangs out with animators and gets to peek at them creating Beauty and the Beast.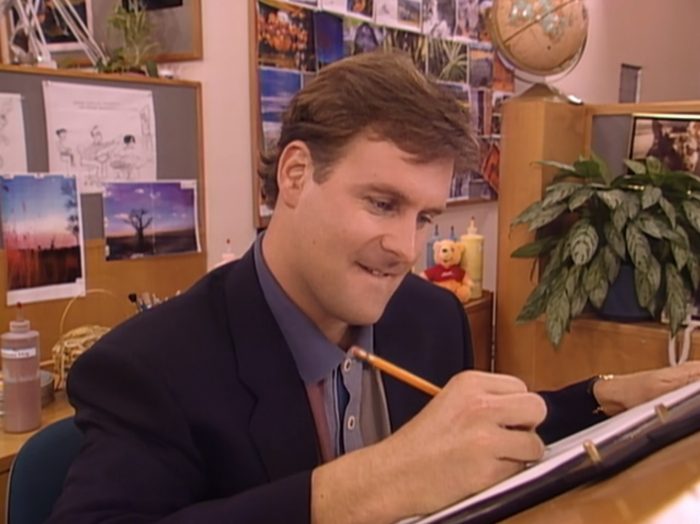 Uncle Jesse wins the "coolest dude at Disney" award, though, when he is too busy to meet his wife Becky for their anniversary and makes it up to her by serenading her from the grand piano in the lobby of the Grand Floridian. Have Mercy!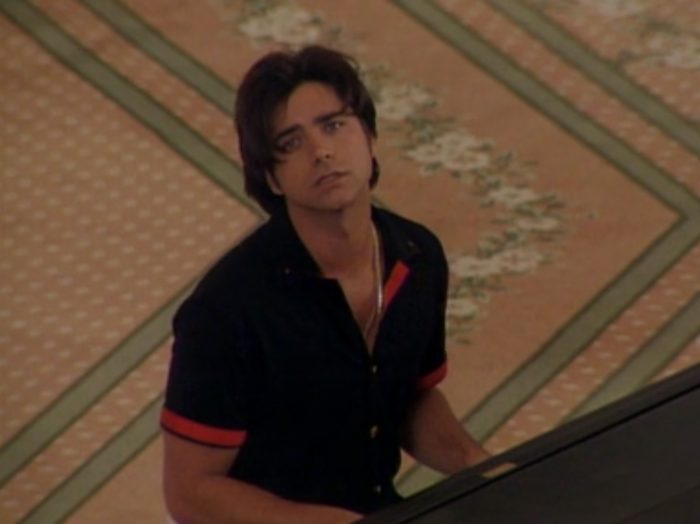 Black-ish
Let's head to the 2010s to see how a couple of modern families visited the Parks. Black-ish's Johnson family packed up to take a VIP trip to the Parks in style!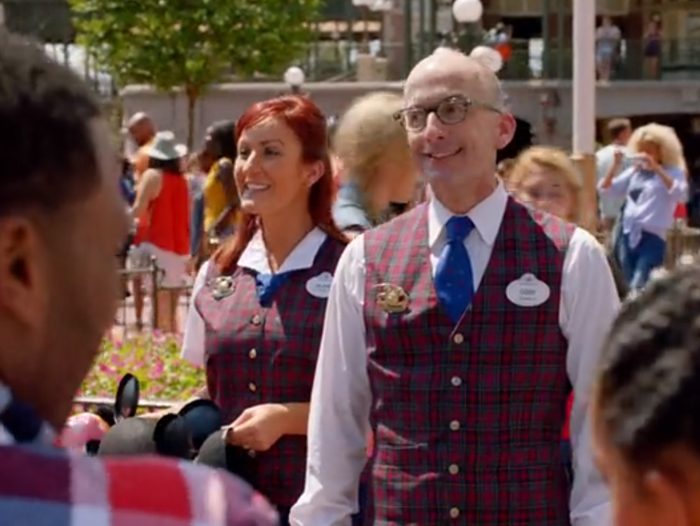 Andre is determined to show his family the Disney vacation he could have only dreamed of as a child. To do this, he pays for his family to have days of VIP experiences, complete with a Disney tour guide. Andre makes a point to repeatedly inform their guide that he "bought him" and can do as he pleases. He spoils his children, who quickly embrace skipping lines and being held to a higher level than other guests. That is, until their time with their tour guide comes to an end, and they have to wait in line like everyone else!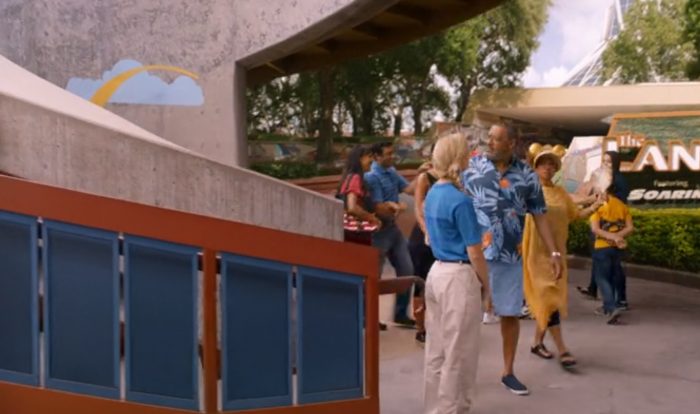 Pops and Ruby, the grandparents of the clan, are dead set on being the curmudgeons of the group — complaining about the crowds, rides, and heat. After a trip on Soarin' Around the World (you've got to see the bizarre CG Soarin' entrance they made in front the Land Pavilion!), they fall in love with Disney magic and spend the rest of the trip decked out in their Disney finest. They even hitch a ride in the parade!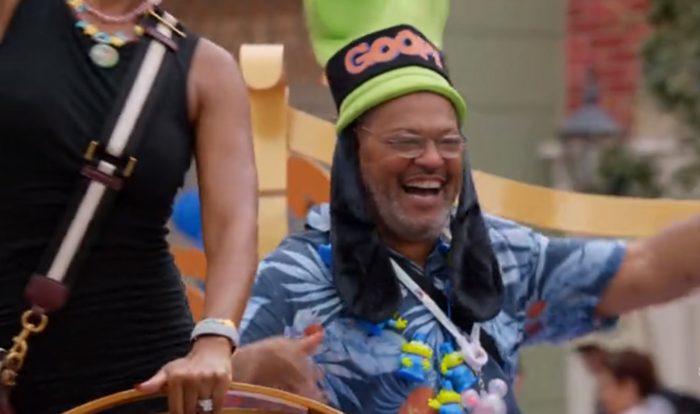 Modern Family
Lastly, let's head to where it all began — in Disneyland. The Southern California Dunphey/Pritchett fam took a memorable trip to the Happiest Place on Earth in 2012.
Patriarch Jay was dead-set on having a great family day at Disneyland, insisting they end with a family viewing of Great Moments with Mr. Lincoln, his favorite ride that his children collectively loathed.
Phil and his son Luke are dead set on riding every thrill ride as much as possible, but Phil is dismayed to realize he can't keep up with his young son anymore. He later learns that he's NOT turning into an old man, like he dreaded, but rather he has the flu!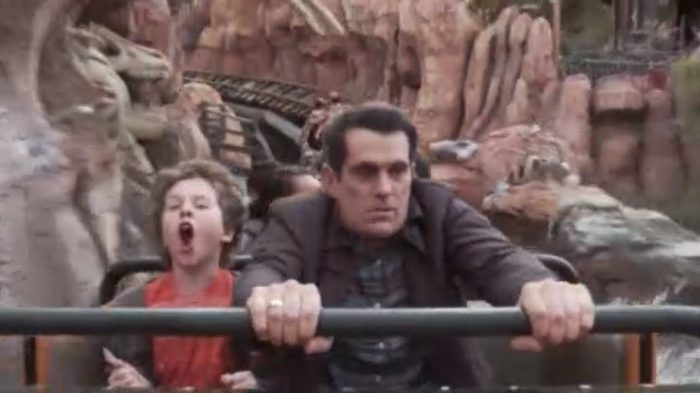 Mitchell and Cam learn that they can't be so overprotective of their daughter, Lily. Fearing she'd run away, she's leashed to them the majority of their trip. Jay's solution? Buy the tot some sparkly princess heels from the gift shop to slow her down!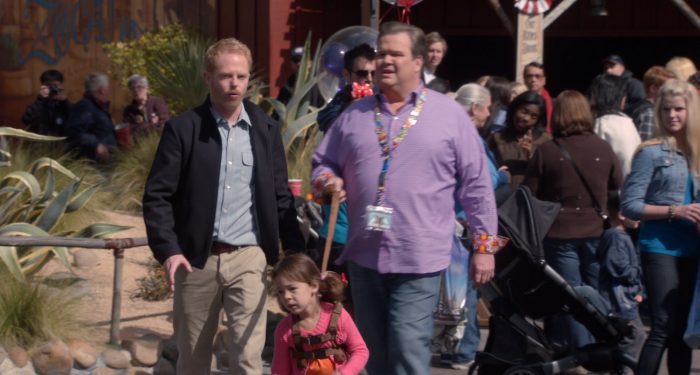 Haley realizes her ex has taken up multiple jobs in the Park, spotting him in costume as well as singing as a Dapper Dan. She falls in love with him (thanks to that Disney magic!), and they reunite at the park.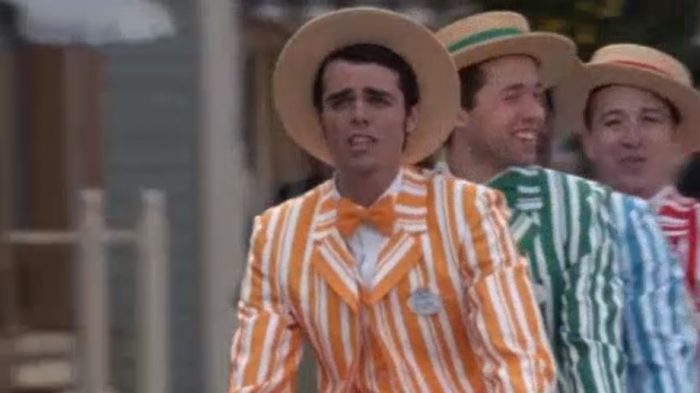 The family all come together at Great Moments with Mr. Lincoln when they realize how important the attraction was to their patriarch. He associated the ride with being close to his children during a time that he and their mother were having troubles. A sweet final shot of the family in the darkened theatre is the perfect end to a Disney-packed episode.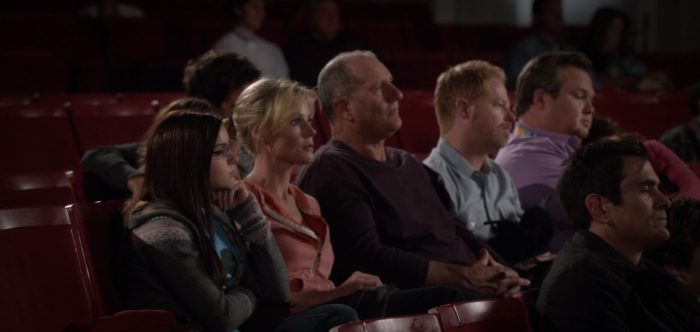 We love those old and new television episodes featuring our favorite magical places! We can't wait to see which sitcom families will get a chance to make a trip to Disney next!
Click below to subscribe to the AllEars® newsletter so you don't miss any of the latest Disney news!

Have you seen any of these episodes? Any favorites we left off the list? Let us know in the comments!