Innoventions Archive Future World Epcot
ARCHIVES
The Great Piggy Bank Adventure

– presented by T.Rowe Price. (closed end of April 2015).

This is one of the best learning experiences in Innoventions. It teaches children (and adults) the importance of saving and planning for the future with concrete examples. Guests actually carry their piggy banks from game to game. The Great Piggy Bank Adventure is something that parents should experience with their children because although the games are appealing to the younger set, some of the lessons might be lost without guidance. The good news is that the games are engrossing enough to keep adults entertained as well. (Opened May 2009)
For more information read our comprehensive blog (with photos) of the Great Piggy Bank Adventure!

Where's the Fire? – presented by Liberty Mutual (closed end of April 2015).

Highly Recommended for Families – This exhibition is divided into several hands-on activities. The first is an interactive game house where teams search to find the fire hazards in their "home." Each side of the house has six rooms to explore using special "flashlights." Children 5 years old and younger can learn how to exit their homes in the event of a fire in the Play It Safe Maze. Parents can participate in the maze, too. Nearby, learn how a fire truck operates and get your photo taken alongside the 30-foot rescue vehicle. Currently, this is the largest Fire Prevention exhibit in the United States. (Opened in 2004) For more information read our comprehensive blog (with photos)!
THINK – presented by IBM (closed end of April 2015).
Through a gesture wall, a short film, giant interactive stations and stories about key innovations, the exhibit explores how we can make the world work better. The film focuses on how progress is shaped through a common and systematic approach. Even with the interactive features, this display is better suited to adults than young kids. It's just not as engaging as "The Great Piggy Bank Adventure" and "Where's the Fire?" and the concepts are too difficult for young kids to understand. (Available until Winter 2014.) For more information read our comprehensive blog (with photos)!
| | |
| --- | --- |
| | xx |
| | |
Video Games of Tomorrow presented by Disney Interactive (closed end of April 2015).
This area features a variety of video games including "Brave," "Wall-E," "Cars 2," "Toy Story 3" and a variety of popular EA Sports games. Kids as well as adults will find something to amuse themselves here.
VISION House – presented by Green Builder Media (closed end of April 2015).
This model home showcases new and updated products for the home. The concept behind VISION House is sustainable living through environmentally friendly building choices. This exhibit really is geared more toward adults than children. Kids are unlikely to care that an electronic system can change the temperature of the house and its lights remotely, but homeowners surely are interested in the possibility of saving on their electric bills. Perhaps the biggest wow factor is the toilet in the master bathroom that has its own remote-control system. Users can warm their feet and seat, listen to music and raise the seat without touching it. (Opened on April 22, 2012 — Earth Day) For more informaiton read our Grand Opening blog and also our Family Review.
The Great American Farm (closed September 27, 2008) – Learn about the science and technology that goes into today's farm. A "bug tunnel" allows small children to crawl around, play a game of Hide and Grow Seek, or enjoy the Great American Pizza game! The Great American Pizza Game (bench seating no backs) is wonderful for youngsters as they learn about what foods and products are grown and manufactured across the United States.
Slap Stick Studios presented by Velcro
Play the "What's Your Problem" game and learn how Velcro can help solve your problems. Closed on February 11, 2011.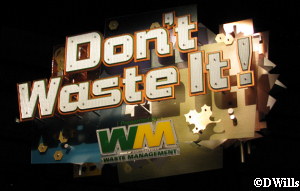 Waste Management unveiled its new sponsored exhibit, Don't Waste It!, a 4,000-square foot exhibit that entertains and educates about the trash disposal process, with a special ribbon cutting ceremony February 19, 2008. The interactive games include how to recycle, reduce and reuse "trash" and a personal "trash" profile.
The attraction closed on June 10, 2011.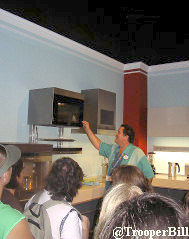 The House of Innoventions (closed October 2009) is a short (15 minute) walking tour of the House of Tomorrow! During your tour of the "smart home", you'll see a multitude of products that will help enhance and improve our lives. Using one small electronic pad, everything in your home from the coffee maker to the outside lights can be programmed and turned on or off. The House of Innoventions is updated many times throughout the year to reflect the newest technology. Recent additions include Home Automated Living (HAL), a system which allows you to control everything in your home via voice commands, new products from Kitchenaid and Whirlpool, and the LaScala Bathing and Entertaining Center from Jacuzzi, a whirlpool bath with surround sound and a 43-inch plasma high-definition television monitor. The Whirl washer and dryer duet can accommodate 22 bath size towels at one time!
Innoventions opened in 1994 in the area formerly known as Communicore. Communicore was the home of Epcot Computer Central and the World Key Information System.
Innoventions received a major update in 1999 in anticipation of the Millennium Celebration. The exhibits continue to change as new vendors come onboard.