Ever since the virtual reality experience Star Wars: Secrets of the Empire opened last December at Disney Springs, I've been wanting to give it a try. I finally had my chance last week, and am I sorry I waited so long! To say it was amazing is an understatement.
I found myself at Disney Springs Marketplace last week on a rainy afternoon, with no particular agenda, when I happened to pass by The Void building. I nearly walked right past it on my way to the Earl of Sandwich. It has a fairly unassuming facade, with no indication of the excitement that's going on inside.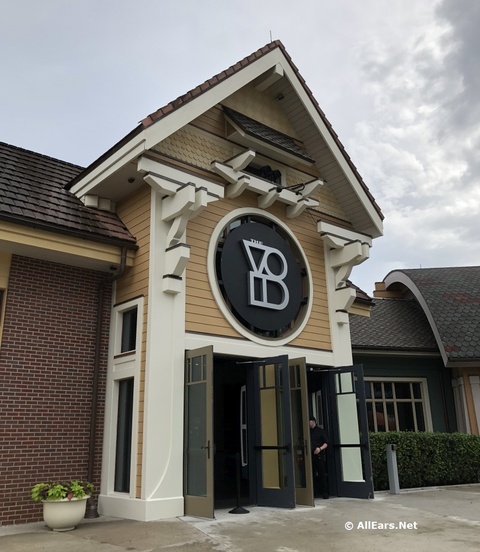 I walked in and asked the staff there a few questions — the cost, how long the experience would take — and they all encouraged me to give it a try.
I've never done anything with virtual reality — the closest I've come is playing some "augmented reality" games, like Pokemon GO! — so I really had no idea what to expect. But I decided, "what the heck?" and pulled out my credit card. After reading through and signing some waivers assuring that I was in good health and that I understood the risks entailed, I was put in the queue to await my "mission."
***SPOILERS AHEAD***
Unfortunately, no photos are allowed during the experience and, to be honest, there's really no good time during the whole show for you to stop anyhow. But we do have a few photos from The VOID that I can share interspersed below.
You go through the experience in teams of four, and as luck would have it, there was a group of three friends directly ahead of me. They graciously allowed me to tag along with their team, and fortunately for me, they had all done the experience once before. Somehow, that made me feel safer, as I was starting to wonder what I had signed up for.
We waited for several minutes to get started, and during that time a silent but instructional video was playing, showing how to put on the gear that you would be given. Finally it was our turn and we got our assignment, via video, from none other than Cassian Andor (actor Diego Luna), the ill-fated rebellion leader from Rogue One: A Star Wars Story. During the video and ensuing VR experience you also hear from other characters from Rogue One, the snarky droid K-2S0 (voiced by Alan Tudyk) and Athex (Sam Witwer).
According to Cassian, we would be traveling to the molten planet of Mustafar to recover Imperial intelligence vital to the rebellion's survival.
We were then "suited up" in a small dressing room area, which had lockers for us to store any personal belongings. (Even though the lockers are on the small side, they were large enough to accommodate my backpack.)
Be forewarned — the gear is heavy! You first put on a vest that weighs 15 or so pounds. Once you fasten it up the front, you adjust it with pull tabs to fit snugly. Then you put on your helmet, which is another few pounds. That, too, can be adjusted, and the staff member there informed us that the more snug the fit, the better you'd see and hear things — so I tightened up as much as I could.
Once properly outfitted, you're instructed to put your visor down and verify that you can hear the other members of your team and also see your hands in front of you.
Once everyone gives all thumbs up, you're ushered into a small loading area. When your visors go down again and you look around you see that you and the rest of your team have become white-uniformed Stormtroopers!
I don't want to spoil too much of the actual VR experience for you, but honestly, amazing doesn't begin to describe it! Suffice to say, the official description from The Void's website is merely just a tease: "Alongside the pragmatic droid K-2S0, your team must navigate through an enemy facility walking into danger at every turn. Disguised as Stormtroopers, grab your blaster, solve puzzles, and fight giant lava monsters in an effort to complete your mission."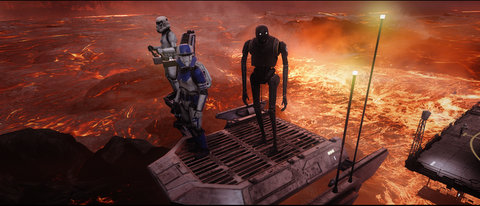 I found the whole experience to be incredible, but I understand why they warn that pregnant women, or those who have high blood pressure, should not participate. Even though jumping, running, and climbing are not permitted, and you only walk short distances during the program, there are times when you definitely feel in danger and your heart starts to race, you can feel your adrenalin begin to pump. Also, I feel mildly claustrophobic in some situations and was concerned that might be an issue, because of the closed-in spaces, and having my eyes and ears covered. The virtual reality was SO real that in the end I was fine, but I think that those who have serious claustrophobia might have a problem with this experience.
Some guests who need accessibility accommodations may be able to go through The VOID. A complimentary wheelchair is available, or guests can use their own wheelchairs as long they're not more than 34" (87 cm) wide. If you're in an ECV or scooter, you may need to transfer to a wheelchair, but don't hesitate to ask in advance.
Like any good Disney attraction, when you've completed your mission, you exit through a gift shop — in this case, it's the same area through which you entered, which has some apparel and other items. They even had their own ponchos! (This photo below is from the Disneyland VOID, but the set-up is very similar in Disney Springs.)
If you're still curious about the experience, here's the official teaser trailer:
Later this year, The VOID will introduce a new experience, Ralph Breaks VR,
based on the upcoming Wreck-It Ralph sequel,"Ralph Breaks the Internet." I have to say that after my Star Wars: Secrets of the Empire adventure, I can hardly wait!
Tickets for Star Wars: Secrets of the Empire at Disney Springs can be purchased in person or in advance at www.thevoid.com. Tickets are $32.95 plus tax and participants must be at least 10 years old. At the completion of your successful mission, you can have your photo taken — it can be purchased for an additional $15 plus tax.
Sadly, there are no discounts for this experience — well, cast members get 10 percent off, but nothing for Annual Passholders, Disney Vacation Club members, etc.
The Void is open at Disney Springs from 10 a.m. to 11 p.m. (last entry at 10:45) Sunday through Thursday, and from 10 a.m. to 11:30 p.m. (last entry at 11:15) on Friday and Saturday.
If you decide to make the visit to The VOID, I'd say to allow at least an hour from start to finish, especially if you don't buy tickets in advance — you never know how many space travelers may be ahead of you.
Have you done The VOID's Star Wars: Secrets of the Empire? You can leave a rating in our Rate and Review section HERE.
Does this VR experience sound like something you'd love? Are you anxious to see more? Let us know in the comments below.