It's been a few weeks since we've given you a rundown on all of the updates we've made to our Walt Disney World menus — but that doesn't mean we haven't done any! On the contrary, we've been so busy, we haven't had time to tell you how busy we've been. If that makes any sense!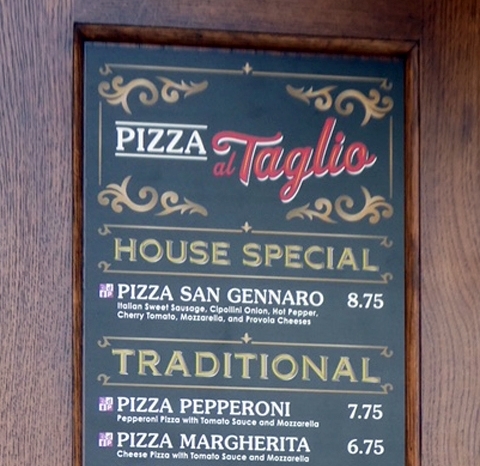 Without further ado, here's the latest on the ever-changing menus from around the World!
Epcot
In case you missed it, the biggest menu news from Epcot over the last two weeks was the reopening of the renovated pizza window in the Italy pavilion. Now known as Pizza al Taglio (Pizza by the Cut, or Slice), the window serves up huge slices of pizza, with several beer, wine and other beverage options. You can see the full menu here.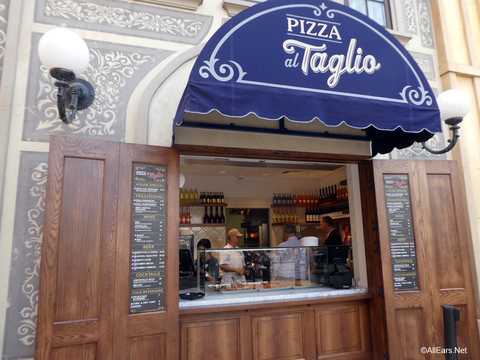 Disney's Animal Kingdom
— Pongu Pongu in Pandora has started opening for breakfast. They're just offering two items right now, French toast sticks and a breakfast sausage biscuit.
Magic Kingdom
There were lots of little changes to the menus all around the Magic Kingdom. Here are some of what we feel are the most notable.
— The Egg Roll Wagon has added Reuben Spring Rolls!
— Liberty Square Market added two new skewers — one featuring chicken, the other sporting candied bacon!
— We added Hush Puppies to the menu at Columbia Harbour House.
— The featured flatbread for September at Pinocchio Village Haus is scrambled egg. This spot has also added a Seven Dwarfs Mine Train Souvenir mug.
— We added sweet Thai chili shrimp, witch's frozen brew and a mermaid donut to Prince Eric Market in New Fantasyland.
— Casey's Corner has added a plant-based, loaded, slaw dog. In addition it's featured hot dog of the month is jalapeno popper, to go along with the similar featured fries. They've also added bacon, macaroni & cheese fries.
— Fall is in the air at Main Street Bakery, which has added Pumpkin Spice Latte, Salted Caramel Mocha, Pumpkin Bread, Morning Muffin and Maple Pecan Muffin.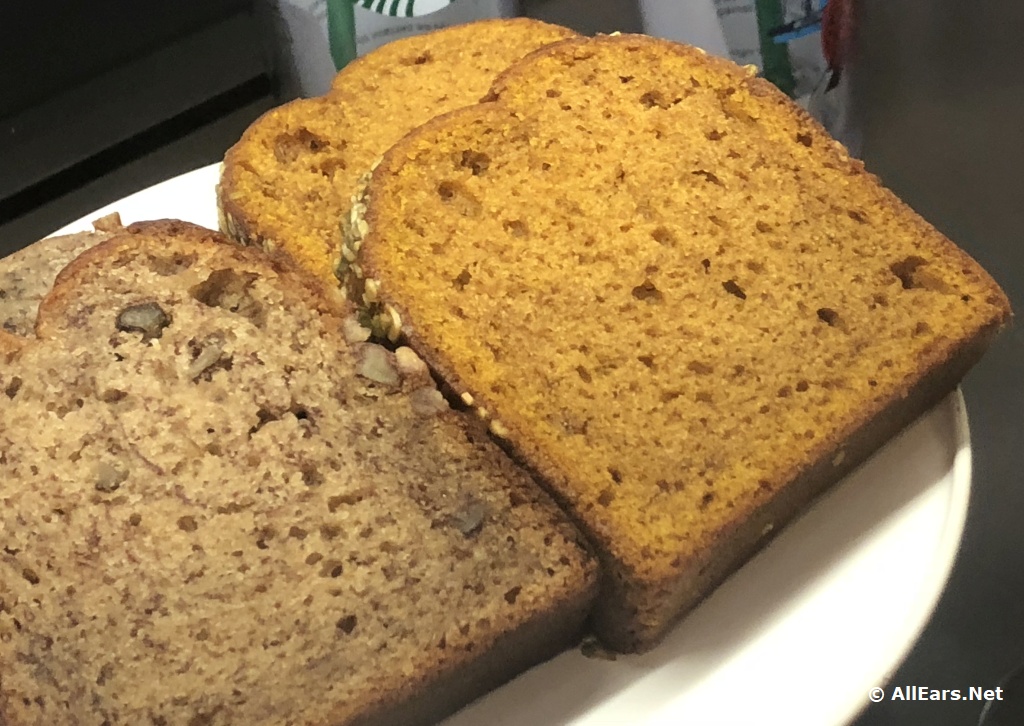 — The Plaza Restaurant has added a decadent "unbirthday shake" which sports cupcakes atop the ice cream concoction.
— A Greek Chicken Salad and Barbecued Pork Bacon Cheeseburger have been added at Cosmic Ray's Starlight Cafein Tomorrowland replacing some of the "Incredible Summer" novelty items.
Disney's Hollywood Studios
We last did a major update to our Disney's Hollywood Studios menus in July, but we took another walk through the park at the end of August to make sure everything was as up to date as possible. Take a look through the list HERE.
Disney Springs
Disney Springs is a hoppin', happenin' place these days, and the menus for the many, many eateries over there are continually changing, keeping us on our toes!
We updated the majority of the menus in the Marketplace and Town Center recently, and several others all over Disney Springs, but in particular you may want to note some of the "WonderFall Flavors" promotion items that have been added: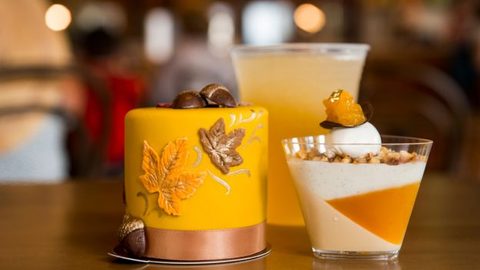 — Amorette's Patisserie has added a Fall Harvest Petit Cake and Mickey Pumpkin Macaron.
— Pumpkin Spice Churro Balls were added to 4R Cantina Barbacoa Food Truck.
— Fall harvest pork belly taco and apple cider whiskey sour have been added to The Polite Pig.
We also added some food photos to a number Disney Springs establishments, including Erin McKenna's Bakery, Blaze Pizza, and Vivoli Gelateria.
Resorts
— Saratoga Springs Resort's Artist's Palette has added a cute "Chosen One" green apple mousse featuring the Little Green Aliens from Toy Story.
— The food courts at all three All-Star Resorts added Spice Day of the Dead cupcakes, Cookies 'N Cream Spider web cupcakes and a Chocolate Indulgence Cake.
— We also added some food photos to Trader Sam's at the Polynesian Village Resort.
That's about it for this round-up of menu news! Now, it's back to work for us!
Be sure to check our Walt Disney World dining database often, as we update menus daily! And don't forget to check back here next week, when we'll recap what's new so you never miss a morsel!