"Who would have believed that in your hour of need, you would turn to us?"
"Not me."
–Luis and Dr. Hank Pym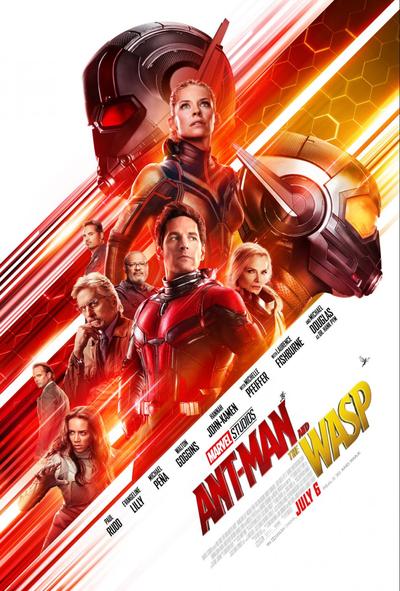 On July 6, Marvel Studios unveils the latest chapter of the Marvel Cinematic Universe in "Ant-Man and The Wasp." Starting up two years after the events of "Captain America: Civil War," we find Scott Lang dealing with the aftermath of getting caught on the wrong side of the Sokovia Accords. Facing the prospects of losing the family he fought so hard for in "Ant-Man," the choice between being a superhero and a father seems easy… until Hope Van Dyne and Henry Pym call on him once again to help protect their family this time–and possibly the world.
[Unattributed photos and video courtesy of Disney.]
To discuss Lang and Van Dyne's latest super-misadventures at a recent press conference were cast members Paul Rudd "Scott Lang/Ant-Man," Evangeline Lilly "Hope van Dyne / The Wasp," Hannah John-Kamen "Ghost," Michael Douglas "Dr Hank Pym," Laurence Fishburne "Bill Foster," and Director Peyton Reed and Producer Kevin Feige.
Video of the press conference (some potential SPOILERS):
Panel highlights: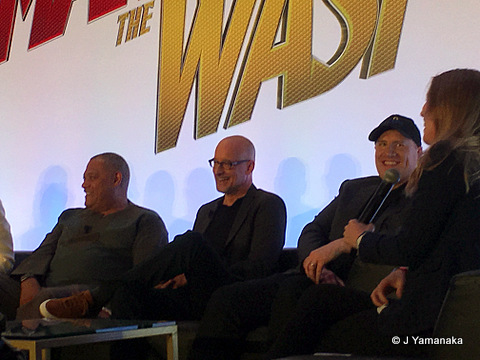 Reed on making a sequel that connected to both "Ant-Man" and "Captain America: Civil War:": "…It is a sequel to both movies. And what was cool about 'Captain America: Civil War' is we could not ignore what had happened to Scott Lang in that movie, in this movie. And it gave us an organic jumping off point, because my first reaction was… what would Hank Pym and Hope Van Dyne think about Scott taking the suit and getting involved with this and fighting with the Avengers? Well, they'd be pissed off. So it really gave us this whole… starting point where it's like, well, what if they were estranged at the beginning of the movie, as a result of this? You know, there are ramifications of the Sokovia Accords…and it really gave us a really, a natural starting point."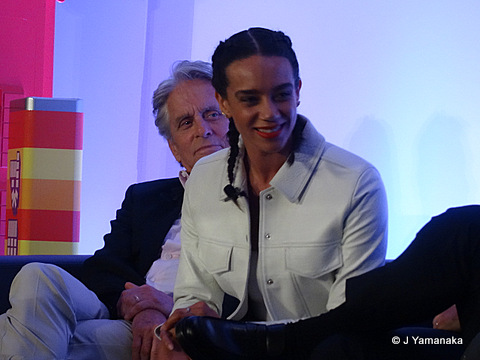 John-Kamen on the nature of villany: "I guess when you play a villain, you have to play it like you're the good guy and everyone else is bad. So everyone else is the bad guy, and you're the good guy. So…I mean, the stakes are so high–she has such a clear objective in the movie and you know, every man for himself. Every woman for herself."
Douglas on becoming digitally young again: "I looked pretty good, didn't I?…That was one of the nice parts–first of all, when we started this and I discovered that Michelle Pfeiffer was going to be my wife…Having (been) such a tremendous fan of hers, never have had any chance to work with her…I was totally ecstatic. And then in reading the script to find out that Michelle Pfeiffer and I were going to be 30 years younger…even made it all that much better. So, it… it was a treat and it remains to be seen where all of this can go."
Lilly on quantum physics: "I really love quantum physics and always did before this happened and that's one of the reasons I was excited about this brand…you know, at one point we thought the atom was the beyond all and end all; that everything ended at the atom. That was the smallest nucleus in the world. But actually we discovered that the atom is kinetic, and that atoms exist in multiple places at the same time…and that was scientifically proven. And once you discover that, then you know that matter is kinetic and matter is displacing all the time and if it can be displaced, it can be warped. So if you can warp it then you can warp size, you can warp matter and also, can you warp time? Can you warp reality? Can you warp universes? Right?"
Rudd: "What if the way you see blue is the way I see red?"
Lilly: "Oh, dude! Dude!"
Fishburne on playing in the MCU: "It is not the first Marvel role to come my way. In fact, years and years ago I… ran into a guy named Tim Story who directed the movie 'Fantastic Four: Rise of the Silver Surfer' and I said to him, 'I am Norrin Radd,' and he said, 'Who?' and I said, 'I am Norrin Radd and Norrin Radd is the guy who becomes the Silver Surfer and works for Galactus,' and all that stuff. So I voiced the Silver Surfer in 'Rise of the Silver Surfer' and then I've been a reader since I was eight and a fan, you know, my whole life. And really enjoyed the movies and everything that, you know, they've done with MCU has been fantastic, because what they've done is… brilliantly braid the source material with, and bring it on into, the now and so it's amazing."


Feige on giving Wasp equal billing with Ant-Man: "Yeah, I mean, that was, that was the first idea with the movie before…I think it was before even Civil War. Clearly that film, the first Ant-Man film, essentially is all about how qualified Hope is and her estrangement from her father, who's preventing her from doing these things. And it was without question, in that tag of… what ended up being the tag on the first Ant-Man film, was in there from the beginning, which is her finding that suit and saying 'It's about damn time,' so we always knew that the next one was going to be Ant-Man and The Wasp. And that it would finally be time to see her suit up and be the hero–as she said earlier, she was born to."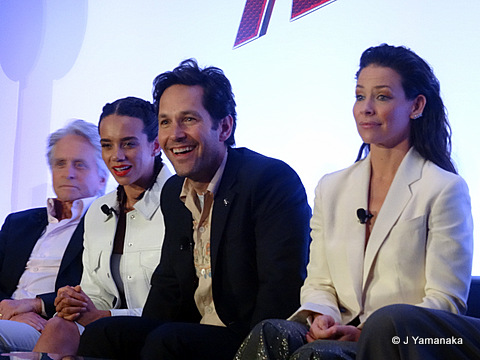 Rudd on grounding Ant-Man as a regular guy: "Well, it's true, this theme of… you know, parents and children run throughout the film, fathers and daughters. And it's something that's relatable because whether or not we have children of our own…we all have parents. And you know…the idea that I'm playing somebody that, like you said, doesn't have innate super abilities is a way in. I want it to be relatable. I can relate to the character that way. Certainly when I'm thinking about it and we're talking about story and script and everything; that's the approach. I have a daughter roughly the age of Cassie in the film; she's a little bit younger. And while I know for a fact she's going to want me to build a slide after she sees the film–which is really hard to do in a New York apartment–I, you know, I know what it's like to spend the evening playing with Barbie dolls.
"That's the glue. That's the soul of it. And… the love that a family shares and how we need each other. You know, parents need their kids; kids need their parents. And if we could somehow build a very funny movie, one that appeals to all ages that, you're right, that families and kids could see but that actually still has all of the elements that fits it in the Marvel Universe and all ages are going to be wowed by certain aspects of it–that idea that I can identify myself in that, in that role was huge."
Later, AllEars was privileged to get a brief chat with the charming Abby Ryder Fortson who plays Scott Lang's daughter Cassie.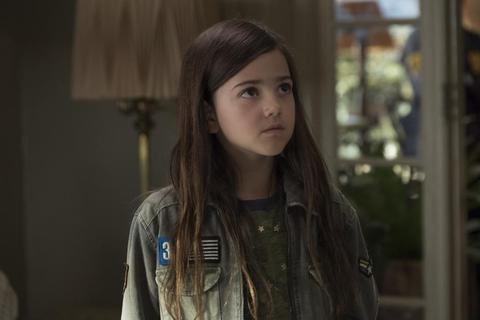 On getting into acting: "My parents were always actors, so I started working…I booked my first commercial with my Dad when I was four, and my Mom did a job when I was still in her stomach. I was going to so many auditions with my parents…they were having the auditions and I was just sitting in the room with them, one day I just said 'hey, when can I do this?'"
On becoming a part of "Ant-Man:" "I auditioned."
John Fortson, Abby's Dad: "Us all being actors, Abby just kind of came up to me one day, as I'm coaching my wife and friends, and she's like 'oh, ok, papa, you're coaching me' and we would just make up lines back and forth, and as she was an early reader, she just has an incredible ability to memorize. Right away she'd read something a couple times and she's got it down. She just really seemed to enjoy meeting people and the whole process and working and so she's been going ever since."
On the role of Cassie: "I think that Cassie is more independent and more aware of what her father is doing in this film, more than the first one…Cassie is really just like me, so I really just got to play with her."
On acting: "My favorite part of acting is getting to play different characters and just bringing different characters to life."
On Paul Rudd: "It was really fun to work with him, because Paul is just a really sweet, kind, wonderful actor–he's very funny!"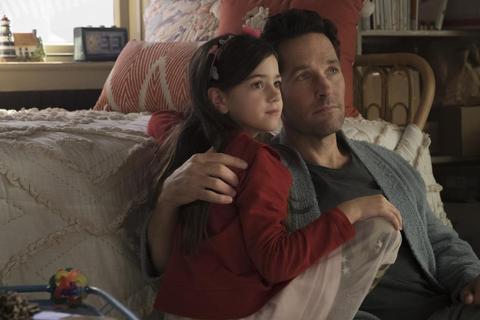 On whether she's visited the Disney Parks: "I've gone three times to Disney. Out here."
On her favorite ride: "I really like Pirates of the Caribbean.*"
"Ant-Man and The Wasp" hits U.S. theaters on July 6, 2018.
*This is the correct answer to this question.