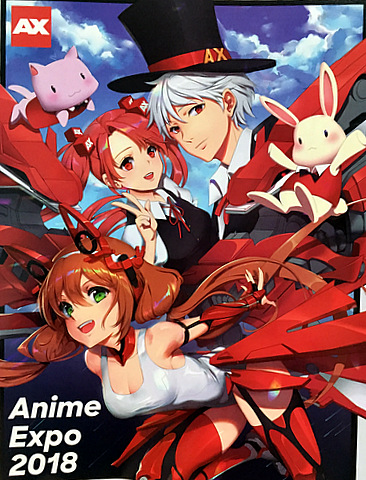 Anime Expo, the largest celebration of anime pop culture in North America, once again took place at the Los Angeles Convention Center this month. Virtually every facet of Japanese popular culture was represented with gusto as 110,000 fans devoured content for five days on video games, film, tv, cosplay, animation, music, and traditional arts.
Industry panels were held by a number of anime distributors and streaming platforms such as ELEVEN Arts, Pony Canyon, Crunchyroll, Funimation, Netflix, and Aniplex, announcing numerous new titles coming to theaters and monitors near you. Here are just a sampling:

"Maquia: When the Promised Flower Blooms"

"Liz and the Blue Bird"

"The Rising of the Shield Hero"

"MY HERO ACADEMIA: Two Heroes"

"Fate/Stay Night: Heaven's Feel"
I was particularly pleased at ELEVEN Arts' announcement that "Haikara-san: Here Comes Miss Modern Part II" would be coming to US theaters this winter, as the wonderful Part I ended on an abrupt cliffhanger.
For those whose exposure to animation has largely been limited to the Disney-centric Western styles, anime (the Japanese word for "animation") can serve as something of a culture shock. In America, I think it's fair to say that there is a much larger and harsher divide between things that are considered appropriate for "adults" (where "adult" is typically meant to encompass solely older men) and "children." Consequently, things that are fanciful or cute–the stereotypical view of animation, comics, theme parks etc.–have historically been considered the purview of children and not something a self-respecting grown-up would enjoy.
In Japan, this doesn't really exist to the same degree. The result of this is that things like anime or manga don't hold the childish stigma that they do here in the West, which has the interesting effect of broadening the subject matter that's considered appropriate for those art forms. While this comparative freedom of expression can produce astonishing works that you would never find in a more restricted publishing environment, it also means that establishing whether a thing is something appropriate for you, personally, takes a little more examination. In America, if a character is cute and has a big head and large round eyes, you can usually (not always, by any means) be comfortable in thinking that it's meant to be in a G-PG-rated product.
In Japanese art, this is not the case. In some ways, it is almost the converse of the Disney mode of seeking to produce one piece of art that all ages can enjoy; anime instead incorporates a vast variety of styles and subjects in which all ages can find something to enjoy that is specifically for them…it may just take a little work to find it. For people new to anime, I'd recommend the many gorgeous Studio Ghibli works which are great examples of the beautiful background illustrations that are also a strong characteristic of the form.

That's My Girl – Clip – Howl's Moving Castle
Next time: We hit the Exhibit Floor and attend some panels, including one moderated by frequent Disney contributor Charles Solomon.