To all who come to this photo trivia game, Welcome! Along the way, the photos can make us relive memories and see details Walt's Imagineers put into everything we love in Walt Disney World!
Sunday is…!

I don't have kids (other than my husband), but I did get some puppy kisses this morning. Not too shabby.

Now for Challenge #535

And here's the answer: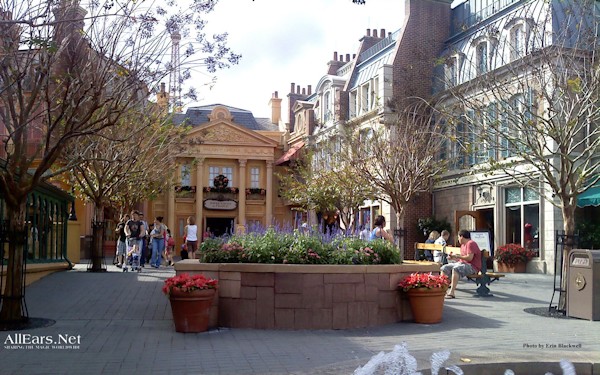 Copyright © Erin Blackwell
The entrance to Impressions De France in Epcot! Also from our desktop wallpaper section. I did take this at Christmas time as you Players picked out! My husband LOVES this movie, but I never let him forget the time he insisted on seeing it and then fell asleep (because we came from the heat to the comfortable air conditioning). 😊
Steve Knapp, we always get sidetracked by the food in France. I love the expanded bakery!
Ken Savage were the first to send in the correct answer! Congratulations to Ken and to all our winners this week! Adolph And Kimberly Timm, Tammy Warmouth, Sandie Albrecht, Theresa Rucando, Emily Hudson, Andy Hickey, Joann Albrecht, Belicia, Michael O'brien, Karen O' Brien, Scott C., Michaela O'brien, Claire Gregory, Jim & Lorie Sonnen, Tricia Petty, Linda College, Margaret Convery, Phyllis, The Gunnels Gang, Carol Baranowsky, Gloria Martin, Ed Suscreba, Susie Howard, Laurie Walker, Theresa Maradei, Linda Ranatza, Nan Amor, Joseph M. Zafia, Team Hill, Marsha Waidelich, The Nufranick Family, Martha & Justin Collins, Deb Ragno, Kris Nixon, Luis Rodriguez, Janet T Thorn, Chris Kelly, Diane Curfman, Linda Scrivano, Grumpy&quots Groupies, Andrew Carrieri, Ronnie Alvarado, K Beasley, The Rider Family, Smitty, Carolyn And Nick Bridges, Michael Haeberle, Brian Mcwithey, Stefan Owens, Steve Porter, Steve Knapp, Olszak Family, Maureen And Warren Handy, Josh Weiss, Lori Rienhardt, Hillary Waldroop, Jim Thompson, Karen Ramirez, Team Bonnie Sue, Vera And Izzy Williams, Carla C, Ruben Omeara, Ruth Woodhouse, Chris, Gretchen, And Katie Barnes, Erin Hammer, Arlene Vicek, Maryann Romagnano, Bruce Hinterleitner, Karen Adamakis, The Parker Family, Linda Hoffman, Shelby Watson, Jeff Blank, Kyra, Emma Ramsey, Mike Amor, Karrie Rodriguez, Wayne Chadourne, Brian Gallant, Paul Ignudo, Tim Johansen, Jeremy Reichelt, Rebecca Keenan, Melissa Littman, Patrick Broaddus, Jamie Steiner, Vicki Britt, Maddie Inman, Wendy T Faler, Carri Marotto, Michael & Jackie Mclucas, Scott Greenbaum, Barry Sklenar, Hobbes And Snorky, George Mundy Jr, Karen Bellamy, Jodie S., Jim Finley, William Allhusen, John Paul C., Mis Jamie Marie, Eric Berger, Jamie Poynton, Maureen Lowe, Donald Purney, Robert P. Flaherty, Jackie Graebel, Bob Hendrix, Brian Richmond, Barclay Bakkum, Jane Johnson, Renee Hardiman, Thomas R Higbee Sr, Sandy Ceplecha, Sue And Ed Adams, Mark Hardy, Eleza And Lara Crook, Leach Family, Carolyn Duff, Eric Enli, and Brent Lollar!
_______________________________________________________
Challenge #536 Where in the world is this?
Switching parks again AND we're going back in time. This is an official Disney photo and we talked about the person in the blue jacket recently.
Do you know? Do you have a guess? Please send in your answer, before the end of the day on Thursday, May 17th, by clicking on the blue box below.
Please do not post answers using the Feedback Form link at the bottom of this post.
See you soon, Players!


_______________________________________________________________________
Everyone who sends in a correct answer to a Where in the World Challenge this month will be entered in a drawing at the end of the month for some special AllEars® goodies!
–