As I take a deep breath now that Spring has arrived in the Northeast region of the United States, I am beginning to plan for my upcoming vacations. Two of them will be Disney related.
In September, I will be going out to sea again on the Disney Cruise Line's beautiful Disney Dream. This time I will be accompanied by my grandson who will be 19 months old or 1 year, 7 months. It will be fun sharing a Disney cruise with him. He is a very fun and busy little boy and I will make sure to bring my Nikon 50mm f/1.8 lens (aka the Nifty-Fifty) with me to be able to use fast shutter speeds in low light to keep up with him. The other lens will be the Nikon 28-300VR Superzoom lens. Both lenses will be used on my Nikon D750 Full Frame dSLR camera. Only other piece of equipment will be the Nikon SB-700 Speedlight (Flash Unit) for indoor and outdoor family portraits.
View of the Disney Dream from the Heads Up Bar at Castaway Cay.
Nikon D700/28-300VR, 1/125s, f/13, ISO 200, EV -0.3, 85mm Focal Length.
The other Disney trip will be at Walt Disney World in late November. All the parks and resorts will be decorated for the Christmas holiday. I will bring everthing I did for the cruise plus the Nikon 16-35VR Wide Angle Zoom lens and a tripod for night and fireworks photography.
Cinderella Castle at the end of Main Street USA during a Mickey's Very Merry Christmas Party.
Nikon D750/50mm, 1/125s, f/2.8, ISO 2000, EV 0.
The third vacation will happen before the Disney ones and will be a very special trip. Back in 1981 when I was fresh out of college, I interned at Olympic National Park in the State of Washington. Back then I used an old Minolta SLR film camera which was packed with Kodak and Fuji 36 exposure slide films. Like any 22 year old, I figured I would back soon after my internship was over with better equipment. Thirty-seven years later, I treasure those old slides and need to fully digitize them.
Below are examples of some of the locations I will be re-visiting which were taken back in 1981.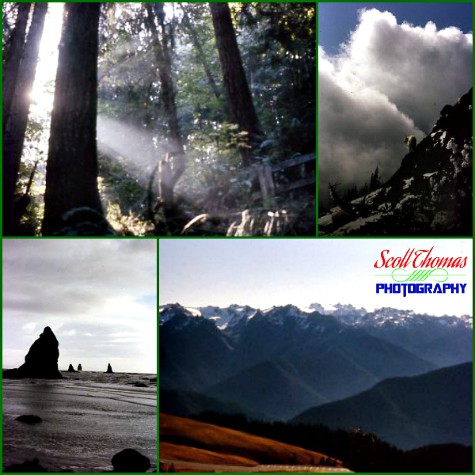 Collage of photos from Olympic National Park in the State of Washington.
For this trip I will be bringing everything I have listed so far plus a Nikon 70-200VR and Nikon 80-400VR lenses. These will be used for wildlife and landscape photography to compliment the wide angle lens.
As always I will have a Circular Polarizing Filter with me to cut down on glare and pull out the colors of the beautiful Olympic Mountains, Pacific Ocean and Hoh Rainforest.
If you have any questions or have a subject you would like me to cover, leave me a note in the Comments below.